Buy craft gins, rare wines and limited-edition whiskey in London
We are going to put together the best, in our opinion wine, gin and whiskey shops in the town for you to try out.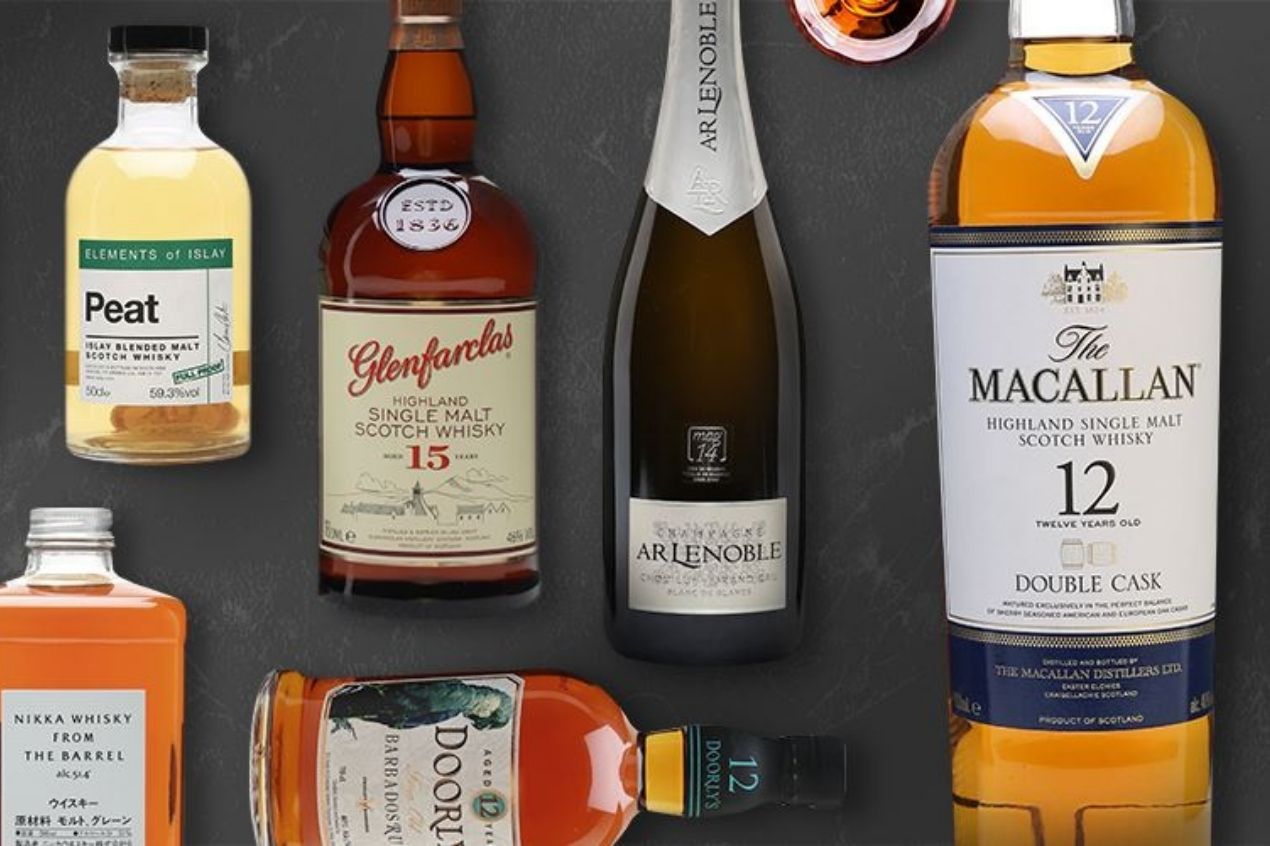 If we think about Gin, Whiskey and Wine we are inevitably going to the European capital of wine culture and arguably the best place to drink all three of them in the entire world. The City of London is an indisputable leader in the production of craft Gin, and despite the competition from New York and Hong Kong, London remains the center of fine wine in the world with plenty of auction houses, restaurants, bars and shops all dedicated to the grape juice we love so much. We are going to put together the best, in our opinion wine, gin and whiskey shops in the town for you to try out.
Bottle Apostle
Our first recommendation is a wine and spirit shop called Bottle Apostle with four locations in London, including Victoria Park, Clapham, Primrose Hill and Crouch End. It specializes in wine, craft and rare gin and whiskey, fine champagne, and has a vast selection of beer. They have been in the wine and spirits game since 2009, as their main aim is to offer to the wine & spirits lovers a great and rare selection of their future favorite beverages at a competitive price, without compromising on flavor or quality. The shop advisers are extremely knowledgeable and kind. They have as well self-service Enomatic machines that dispense wine directly from the bottle for a small fee.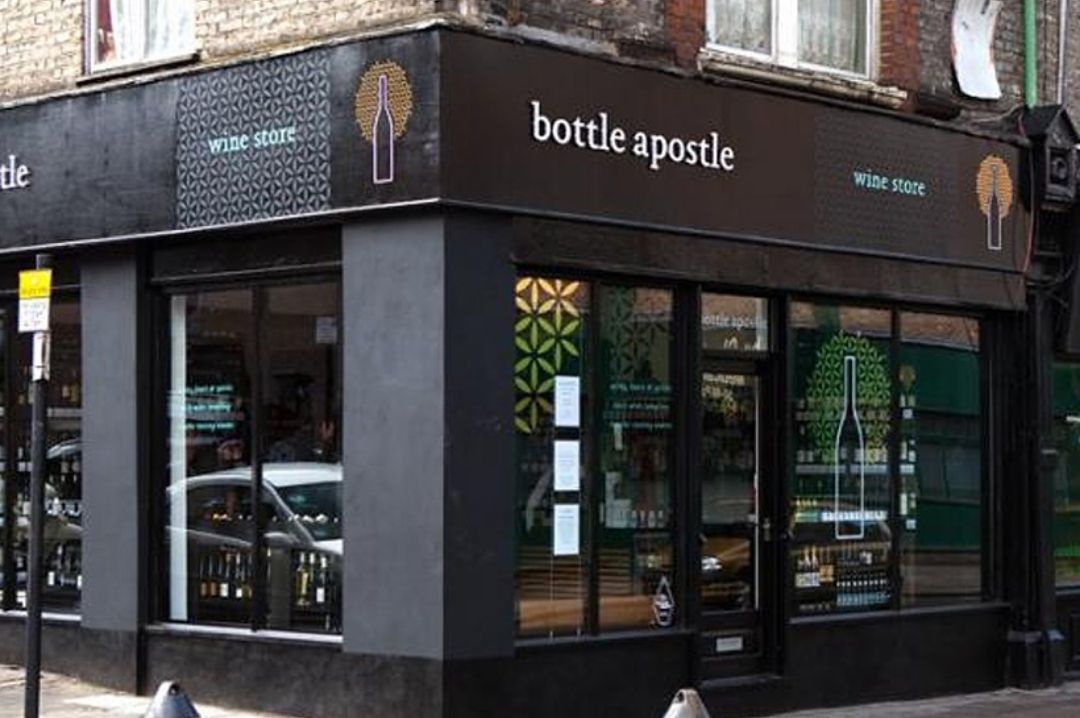 Opening Hours: Mon-Fra 11am -7pm; Sat-Sun 10am -6pm
Home deliveries available.
www.bottleapostle.com; +44 (0)20 8985 1549
Gerry's Wines & Spirits
Our next stop is one of the favorites in the heart of the City of London Gerry's Wines & Spirits shop in Soho. They are stocking one of the UK's largest selection of spirits and liqueurs as well as a fine selection of international wines. The gin, whiskey and rum portfolio are astonishing with some hard-to-find bottles and rare gems. The shop has become an institution for the locals and to the devoted customers of Gerry's, with their amazing spirit selection which has always something new to offer. If you are kind enough, the competent staff may let you behind the counter to browse between the rare bottles and fell like in the Aladdin's Cave. It is located at 74 Old Compton St, London W1D 4UW.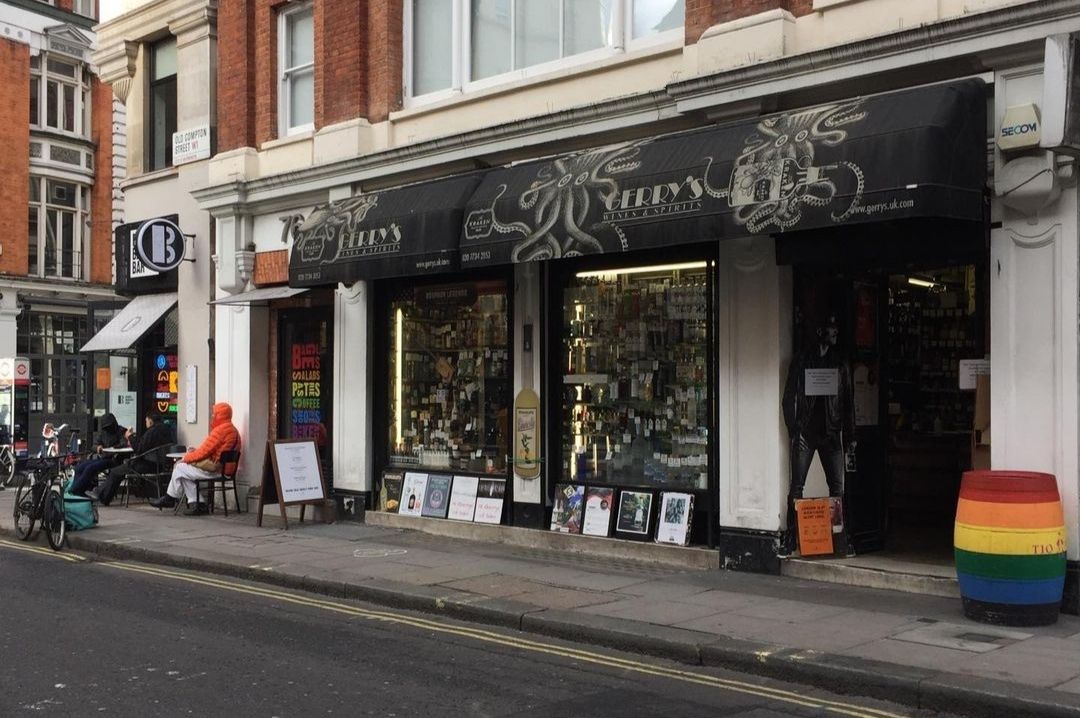 Opening Hours: Mon-Thru 9am -7:30pm; Fra-Sat 9am -9pm; Sun 12am -6pm;
Home deliveries available.
www.gerrys.uk.com; +44 (0)20 7734 2053
The Whisky Exchange
A next recommendation is a cult place for whisky, rum and gin enthusiasts located in the historical Covent Garden 2 Bedford Street, London WC2E 9HH. This shop is a two-floor dream for each spirit lover filled with thousands of bottles from all over the world. Not to be missed are the rare and fine collections of Champagne and the mind-boggling vintage Port selection. If by any chance you are lost inside, and unsure what to choose, the well-educated staff will be there to help you out with the difficult and important decision. The place hosts numerous tastings and has many bottles you can taste, which can help you identify your future favorite spirit or wine. The selection to be complete, there is a fine offer of cigars and chocolates suitable for each taste. Thе company has another two shops, one situated on Great Portland Street, and the other near the London Bridge.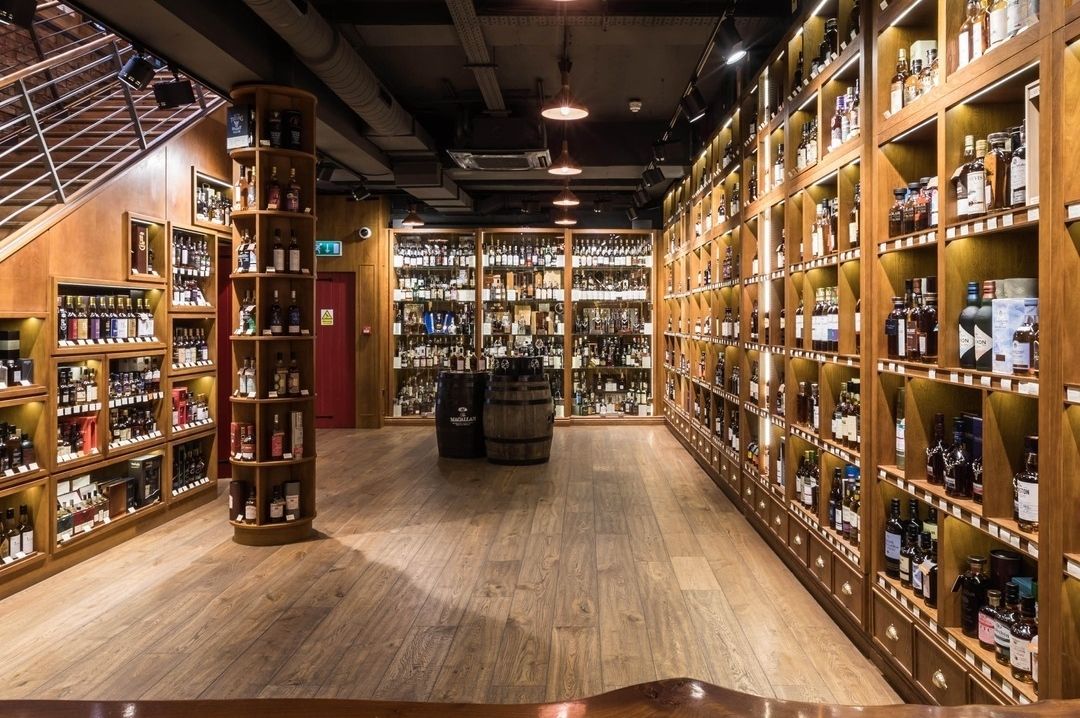 Opening Hours: Mon-Sat 11 am -7 pm; Sun 12 am -6 pm; Home deliveries available.
www.thewhiskyexchange.com; +44 (0)20 7100 0088
Amathus
Amatus is a family-owned drinks importer, distributor and specialist retailer with two shops in London's Soho and next to the historic Leadenhall Market as well as in Bath, Brighton and Shoreditch. The company is specializing in spirits, wine and beer, but they have pretty much everything you will need. The best selection consists of rare whiskies from all over the world and more than 200 different gins. They have as well fine wine collection and vast sake offer.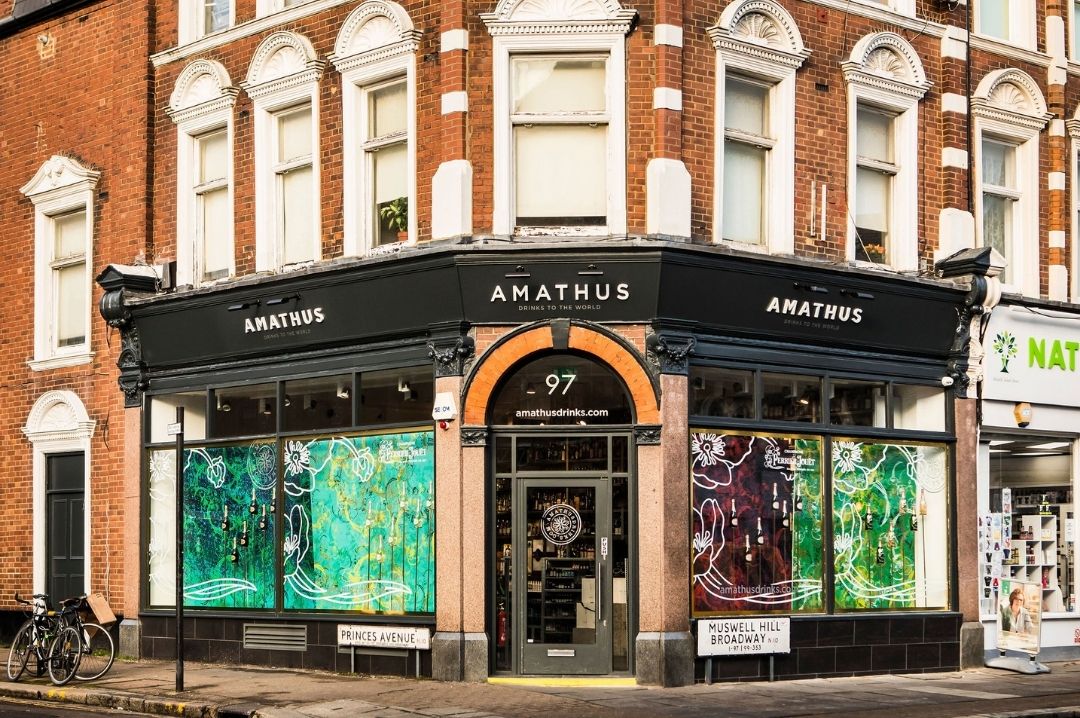 Opening Hours: Mon 11am -6.30pm; Tue-Fra 10am -6.30pm
Home deliveries available.
www.amathusdrinks.com; +44 (0)207 283 0638
The Good Wine Shop
Our last but not the least suggestion is the award-winning The Good Wine Shop. It has been an independent wine merchant in beautiful West London with shops in Kew, Chiswick, Richmond Hill and Teddington for more than 20 years. They specialize in small producers with characterful and unique wines. The team of the Good Wine Shop has an immense passion for wine, and that is easily seen by the customer care they provide alongside the rare wine gems they offer to the public. The selection is truly amazing full of wine producers you won't find elsewhere, and many of whom farm organically and vinify without additives, producing wines of elegance and finesse. They are very proud to be awarded from the Decanter magazine the Best Neighbourhood Wine Shop in London for 2019.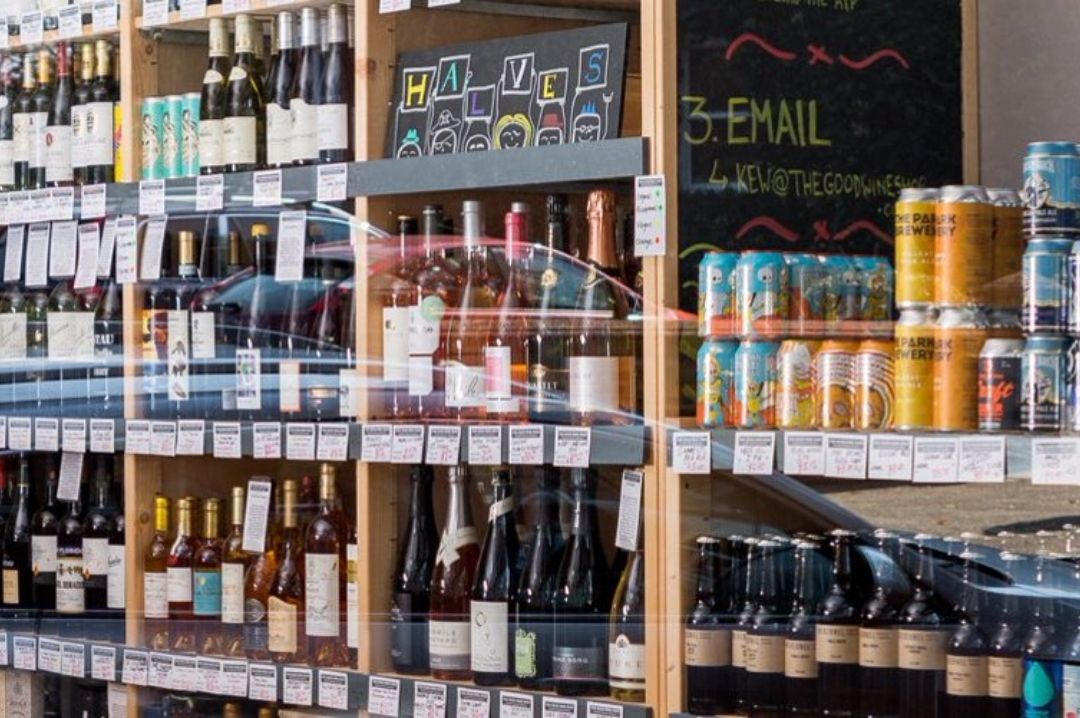 Opening Hours: Mon 11am -8pm; Tue-Sat 10am -9pm; Sun 11am -8pm
Home deliveries available.
www.thegoodwineshop.co.uk; +44 (0)20 8994 8184
Gin and Whiskey will always the most consumed spirits, together with wine in the City of London. We have tried to gather some of the best stores in town for you to visit and enjoy. Stay tuned for more in the following months.
Royal Horticultural Halls, London, The Lindley Hall, 80 Vincent Square, London SW1P 2PB, United Kingdom, United Kingdom
Register Now
Royal Horticultural Halls, London, The Lindley Hall, 80 Vincent Square, London SW1P 2PB, United Kingdom
Register Now