Hotham's Distillery - Hotham's Award Winning Gin School and Distillery
Virtually distil your own gin with an award-winning team, and enhance your gin drinking experience with Hotham's Distillery.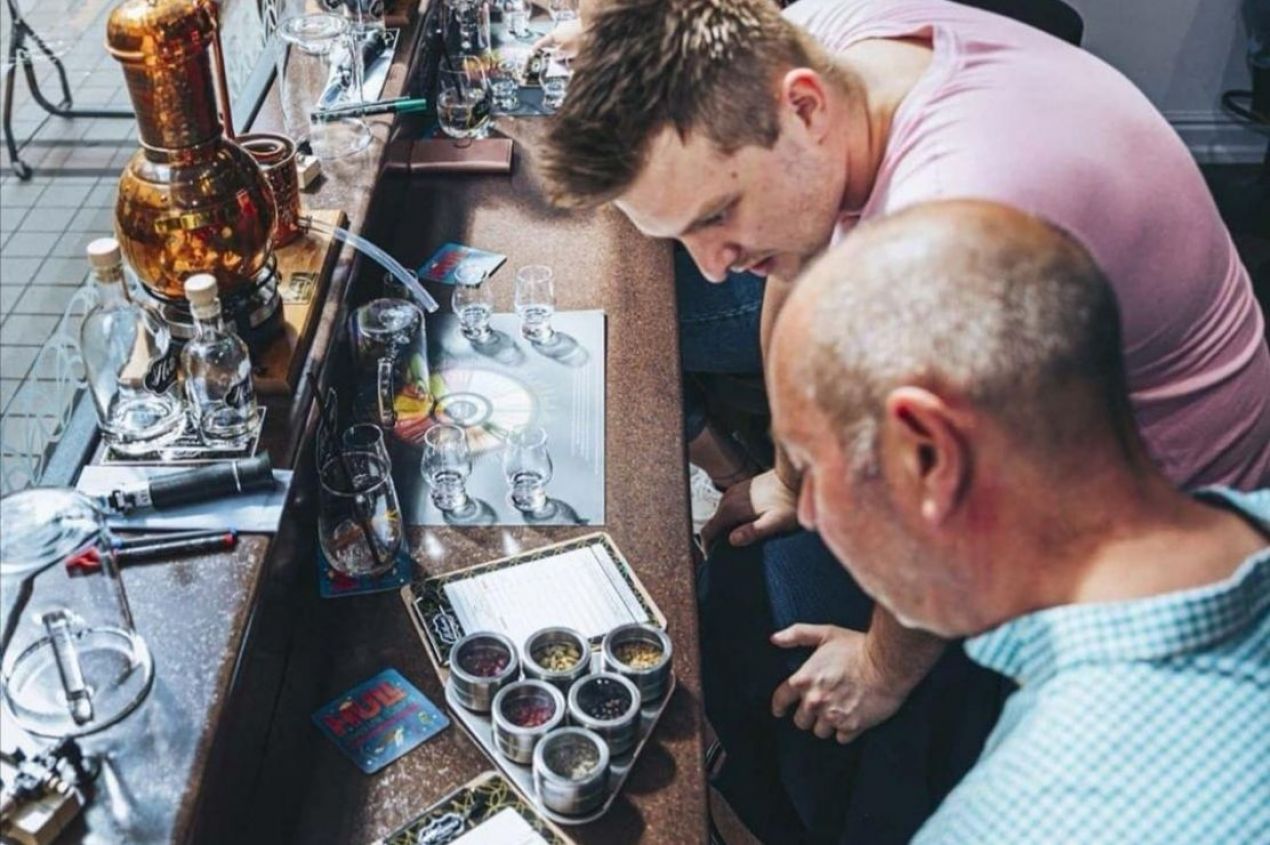 Hotham's award-winning gin school and distillery voted Yorkshire's Number #1 Visitor Experience is an immersive gin experience you'll never forget. Home to Hotham's Cardamom Gin, Hotham's Original and Hotham's Leeds Dry Gin, these award-winning gins are worth trying.
Hotham's range of gins and vodkas are distilled on-site in micro-batches of no more than 50 bottles. Produced by hand in traditional copper alembic stills, their gins blend cardamom, lime, basil, rose and lavender with juniper berries and coriander seeds, resulting in a range of fragrant tipples that are hard to resist.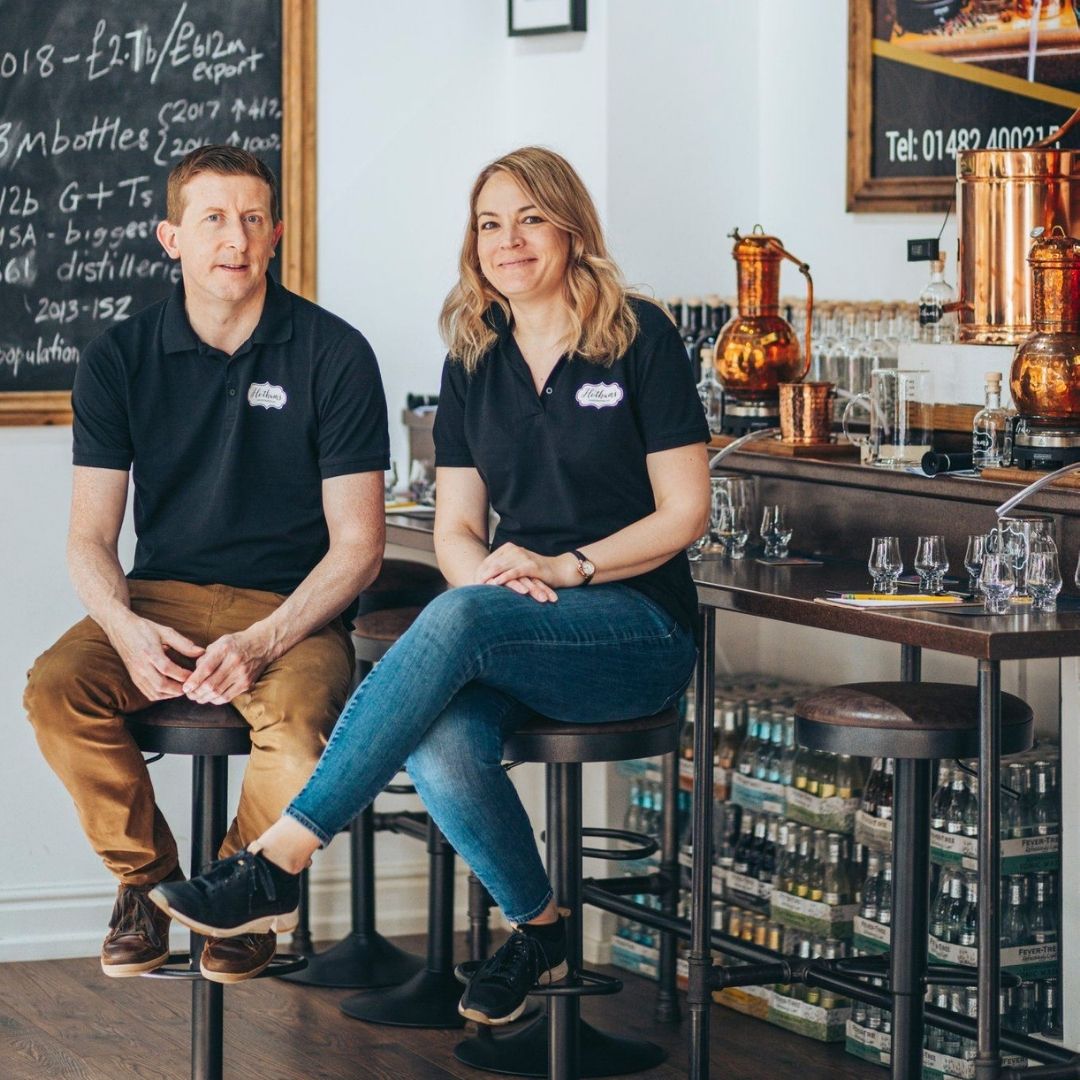 Increasing customer demand for Hotham's refined gin creations has led to the team creating a gin subscription service, allowing members to receive a limited edition bottle each month. The service includes free delivery and will launch with Hotham's Summer Edition - a citrusy blend that perfectly encapsulates the sunshine season.
Hotham's celebrated their second birthday recently. Along with this milestone, they launched the Hull Gin School in July 2018. Hotham's has enjoyed almost immediate success, thrilling both locals and critics alike with their expertly crafted gins and vodkas.
The awards came thick and fast for the boutique distillery, kicking off with the local Food and Drink Awards, where they walked away with the Yorkshire Drink Award for their Hotham's Cardamom Gin. This was closely followed with a Silver Medal at the 2019 International Wine and Spirit Competition, and four wins at the 2019 White Rose Awards .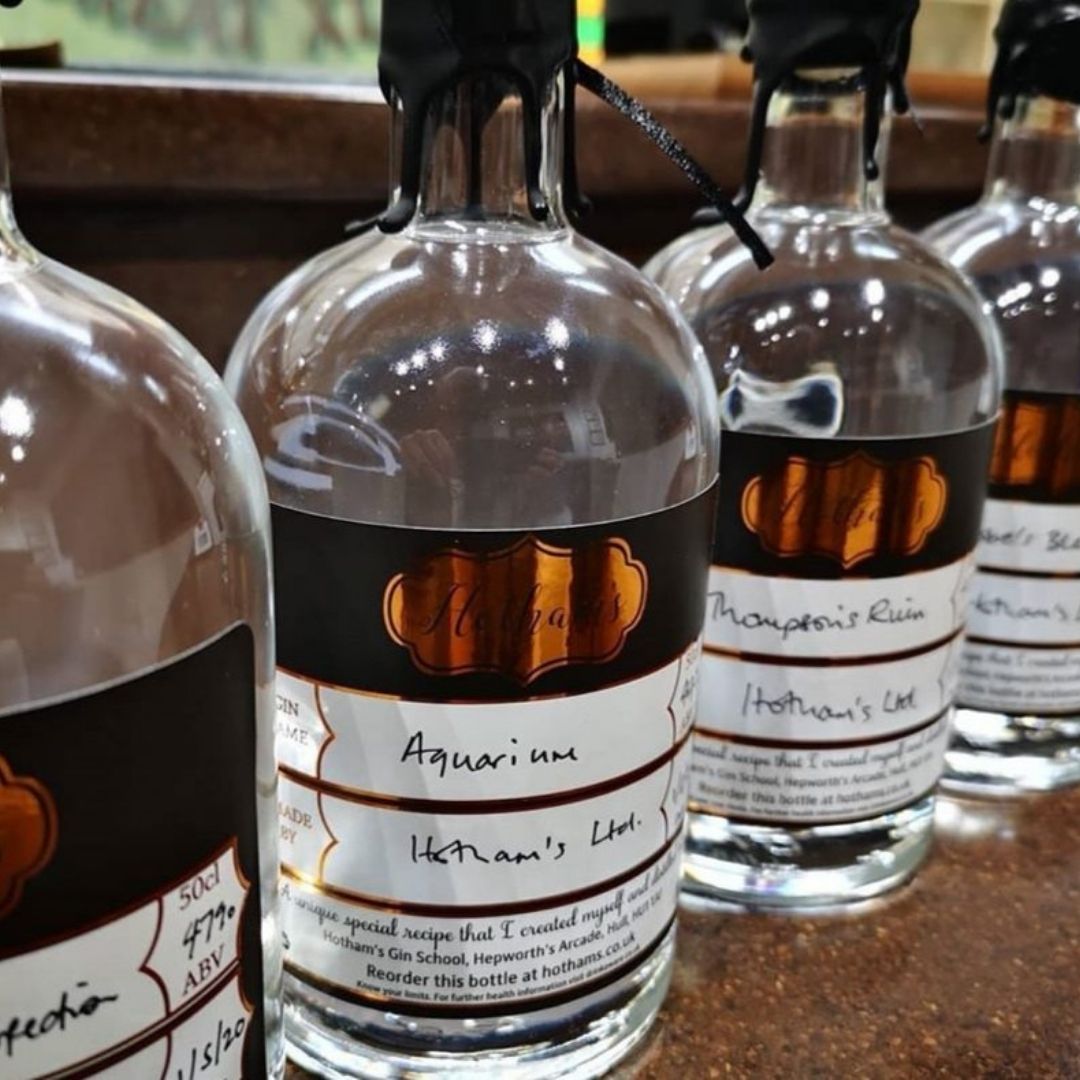 The White Rose awards included Gold for 'Yorkshire Experience of the Year', two silvers for 'New Tourism Business', and 'Small Visitor Attraction' and bronze for the 'Producer and Makers Award.' In July 2020, they received blog that Hull Gin School had once again been shortlisted for Yorkshire's White Rose Award for Experience of the Year 2020. Their Cardamom Gin continued its winning streak, bagging a silver medal in the London Spirit Competition 2020, and their newly launched Hotham's Leeds Dry Gin took bronze. The icing on the cake for Hotham came days later when they have announced a finalist in the prestigious national tourism awards held by Visit England. Considered the ultimate seal of approval within the tourist industry, each finalist is carefully selected based on quality, innovation, and best practice.
Experience Hotham's Gin School and Distillery, and their excellent range of spirits for yourself.
Products:
Hotham's Cardamom Gin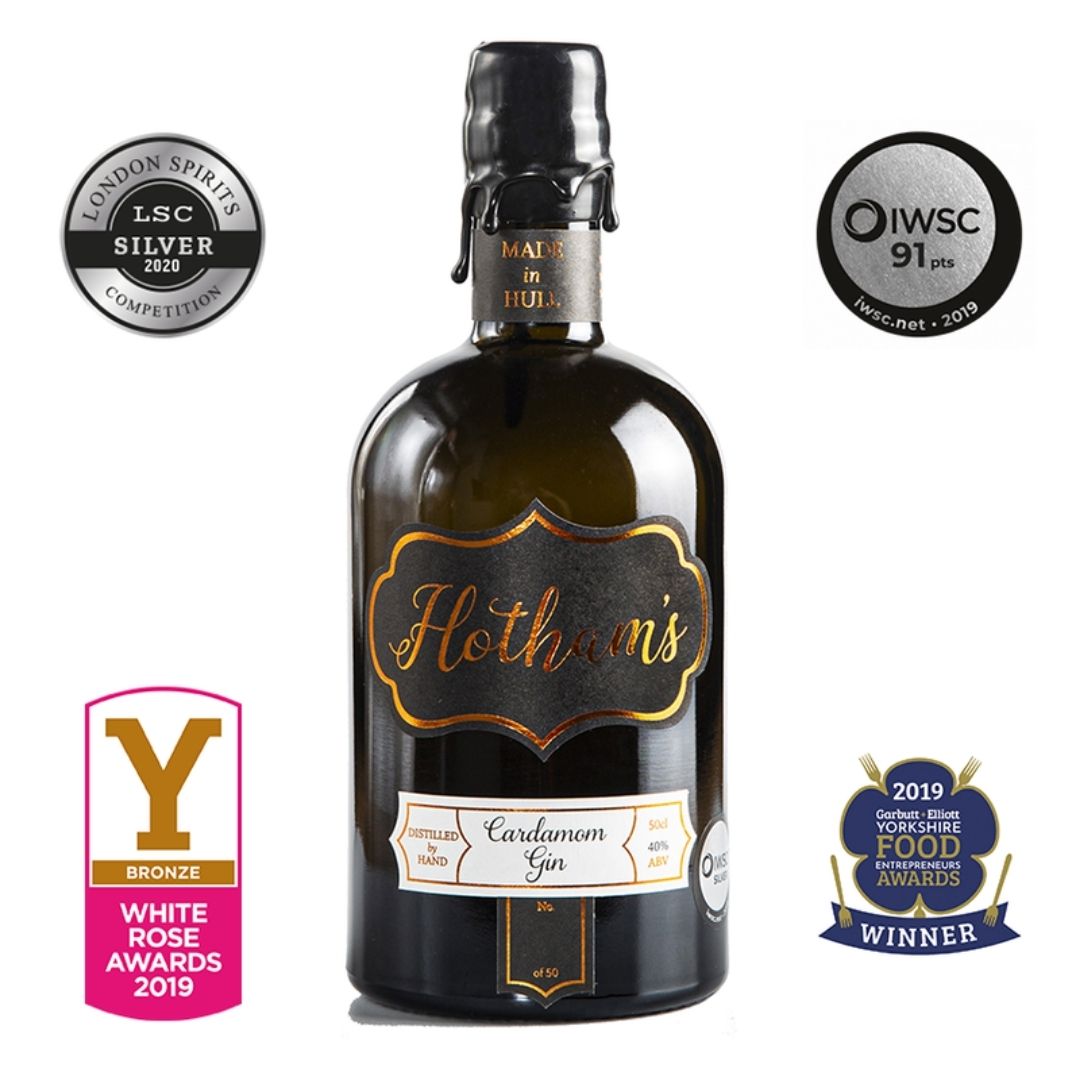 Micro-batches of no more than 50 bottles are distilled by hand in traditional copper alembic stills. Hotham's Cardamom Gin pairs perfectly with spicy foods. You'll smell the eucalyptus-like aroma of cardamom as soon as you open the bottle. Beyond the familiar taste of juniper, lies an unmistakable piquant, warm cardamom kick.
For the perfect serve, the Hotham's team recommends that you serve over ice with a quality Indian tonic, and garnish with a single coriander leaf. Traditionally, this spice was used to treat melancholy and depression - Hotham's Cardamom Gin really is a spirit to lift your spirits!
This truly exceptional gin has won a host of awards -
Winner of the Silver Medal for Flavoured Gin in the International Wine and Spirit Competition 2019 Winner of Deliciouslyorkshire - Taste of Yorkshire Award 2019
Highly Commended - The Gin Guide Awards 2020
Winner of a Silver Medal - The London Spirits Competition 2020
Botanicals: Juniper Berries, Green Cardamom Pods, Coriander Seeds, Gentian Root, Orris Root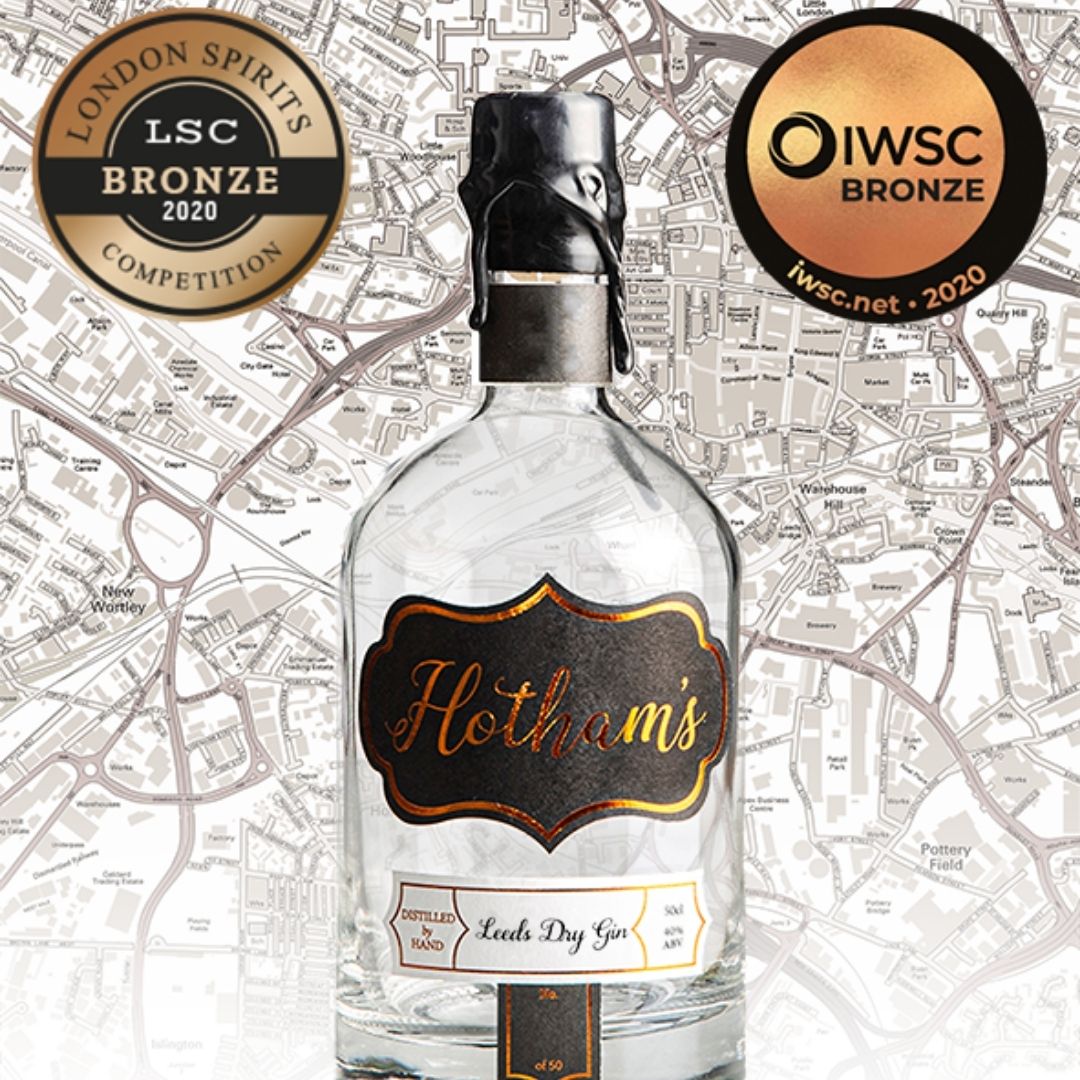 In the heart of Leeds, they distill micro-batches of no more than 50 bottles by hand in traditional copper alembic stills. Juniper berries and coriander seeds are joined by the fragrant and delicious flavors of lime, basil, and ginger, in a traditional London Dry style gin.
Botanicals: Juniper berries, Coriander seeds, Lime, Ginger, Basil, Angelica root
Dietary: Vegan, Vegetarian.
Where can you buy in the UK
Hothams.co.uk
House of Townend
Master of Malt
Hoppily.co.uk
Amazon.co.uk
Craft & Berry, Sheffield
Tanyalak, Hull
The Store on Pier St, Hull
Vittles & Company, Hull
Vittles, Grimsby
Robert & Speight, Beverley
2021 London Spirits Competition submissions are now open. Enter your spirits brand today.
Royal Horticultural Halls, London, The Lindley Hall, 80 Vincent Square, London SW1P 2PB, United Kingdom, United Kingdom
Register Now
Royal Horticultural Halls, London, The Lindley Hall, 80 Vincent Square, London SW1P 2PB, United Kingdom
Register Now