The journey of York's first legal distillery
Emma Godivala, Marketing Director at York's first legal distillery gives us a peek into the journey of York Gin, and what truly defines their spirits.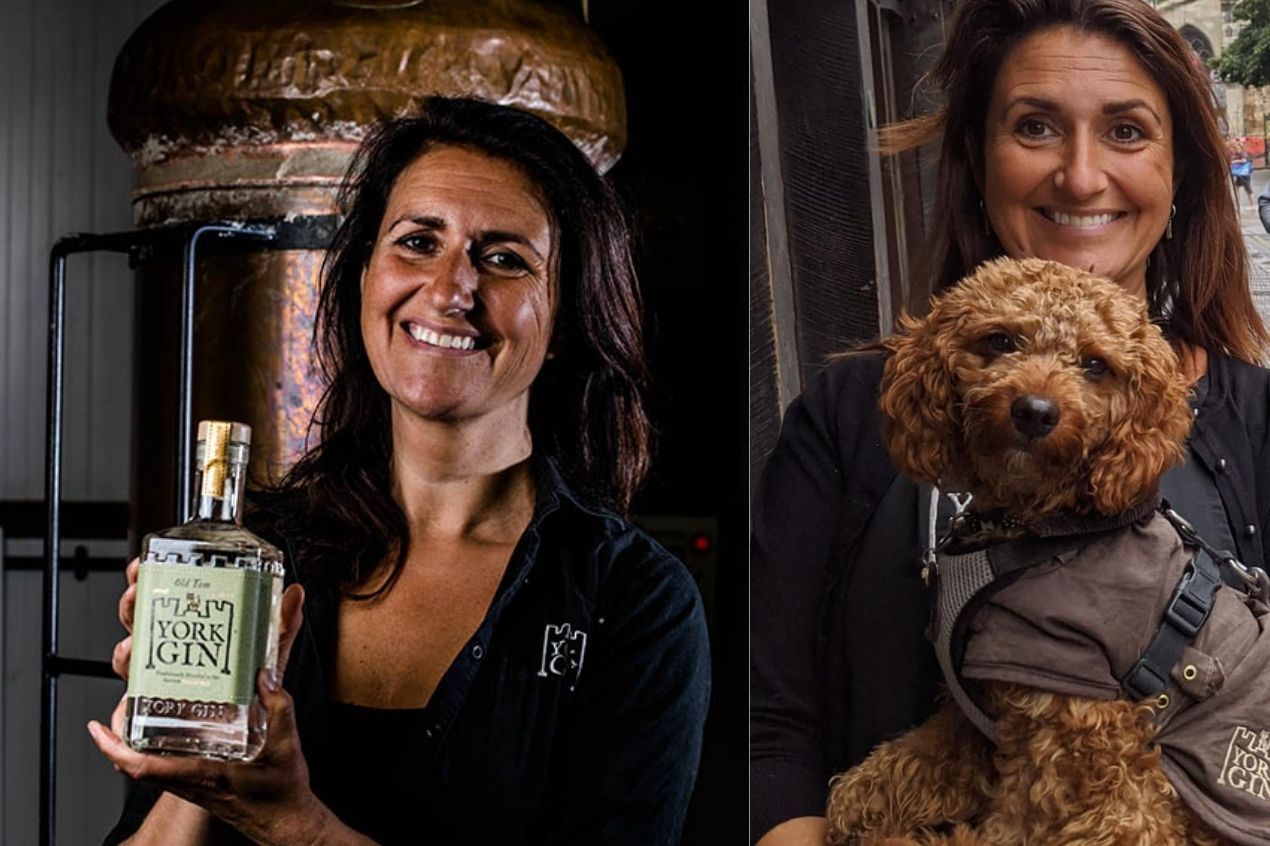 "I've had a lifelong love affair with gin - and now I'm lucky enough to part-own a brilliant gin company along with my fellow three founding directors. York Gin is a dream for all of us," says Emma Godivala, Co-founder and Marketing Director at York Gin.
Since its launch in 2018, York Gin has made a name for itself across gin lovers and experts alike. We spoke to Emma, who shared with us her journey at York, and what's next to come for the brand.
Tell us a little bit about yourself and your vision.
After a science degree at Oxford, I spent over two decades working in corporate marketing and branding, while raising two kids and researching gins from around the world.
I was instrumental in building the York Gin brand from scratch, including drawing our famous cat and castle logo. York Gin has been a sustainable and ethical company from the outset (for example, we've always used 100% green electricity, our vehicles are emission-free electric, we're a Living Wage employer and we buy local wherever we can).
But we want to go the extra mile now - with the climate crisis already upon us, we need to act right now. So we have a consultant auditing the business to ensure we are doing everything we can to minimise our environmental impact. I'm now the public face of our sustainable and responsible approach, so I will be encouraging other businesses to follow our example.
I also develop our non-gin-related products. I also ensure our shop is running smoothly.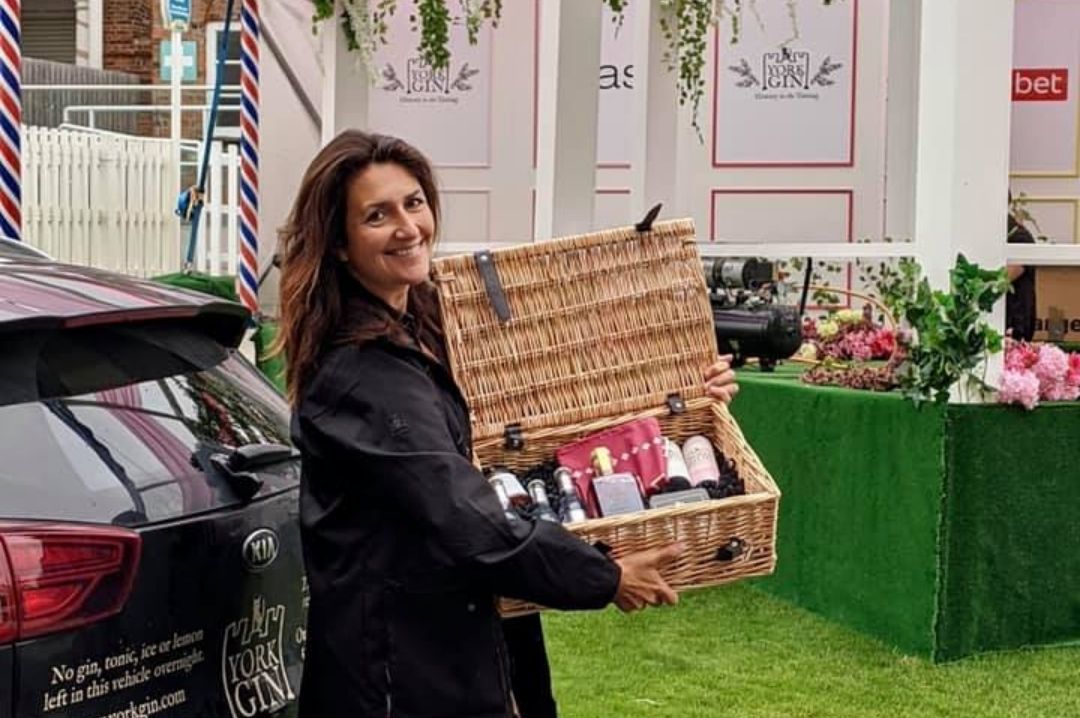 Emma Godivala
Tell us a little bit about York Gin.
We love the fact that so much of York's history survives to the present day. Our brand had to reflect this history. Our motto 'History in the Tasting' guides everything we do – right down to the traditional centuries-old vapour-infusion method of distilling.
York is famous for its ancient walls (reaching back to the Romans), its castle (the 13th Century Clifford's Tower), and its 'bars' (the four gates into and out of the city). The castle and walls are symbols of York's incredible history – a history that amazingly remains intact. The cat is one of York's symbols - visitors can follow a 'Cat Trail' of statues attached to many city-centre buildings. The cat is synonymous with gin – surviving gin bottles from the 19th Century have drawings of cats on them, and a type of gin is called Old Tom. So the logo is a homage to both York's and gin's history.
The York Gin cat is inspired by a cat that appeared in a 17th-century woodcut of the Bottesford Witches, with a cat named 'Rutterkin' meaning 'a swaggering gallant'. Little Rutterkin sits proudly on the city walls on every York Gin bottle. Meanwhile, the distinctive font we use on our bottles is a revival of 17th Century 'Fell Fonts' - widely used in print at the time of the 18th Century 'Gin Craze'.
York was almost certainly home to many illegal distilleries over the centuries. So-called Bathtub Gin will have been made in the city - as it was in many other cities – in private, unlicensed houses since the 18th century. York Gin's claim is therefore to be the city's first legal distillery. It is also York's only distillery today. The inspiration for our gins comes from York's two millennia and gin's three centuries of history. Thus our motto, 'History in the Tasting'.
Some of our inspiration comes from:
The Romans, who settled here 2,000 years ago.
York's outlaws, including highwayman Dick Turpin, 'Yorkshire Witch' Mary Bateman (both executed in York), and the city's most famous son, Gunpowder Plotter, Guy Fawkes, old boy of St Peter's School.
One of the city's many ghosts, the Grey Lady, said to haunt the Theatre Royal – York claims to be Europe's most haunted city.
York's chocolate history – specifically, the Terry's Chocolate Orange, invented in York in 1932 and made in the city for decades.
We've even given our Roman Fruit gin its own Latin motto: 'Veni, Vidi, Bibi' – 'I came, I saw, I drank'. We double-checked our Latin with the country's most famous Roman scholar, Professor Dame Mary Beard of Cambridge University. Incidentally, the professor loves a York Gin Roman Fruit Negroni.
According to you, what makes a great spirit?
A great spirit is one that makes you feel so much better about the world as soon as it hits your tastebuds. It has to be complex without being over-complicated, and smooth without being dull.
Actually, making your own spirits makes you far more appreciative of superb examples of any spirit you come across. You know just how much work goes into research, development, and refinement until you find the perfect combination.
What would be your typical day at work?
One of the joys of helping to run a small business is that there genuinely isn't a typical day at work. As I write this, I'm organising the launch of our second shop in York (in the train station). I'm simultaneously trying to organise photos from a Christmas photoshoot, work out who in the distillery team wants to do the Spirits WSET Level 3 course (we recently all did rather well in our Level 2).
Tomorrow, I'll be talking to our sustainability consultant who's working to get us down to net zero. I also have to rewrite our adverts for the local radio station York Mix, and yorkgin.com needs some attention after we decided to make UK delivery free for orders over £30.
What excites you the most about your brand?
Our founding ethos, which has guided everything we do three years on from selling our first bottles.
Here it is:
Only to create gins of the highest quality.
To treat the planet, our people, our business partners, and our customers with the utmost care and respect.
To be inspired by our city's and gin's long and incredible histories - hence our motto 'History in the Tasting'.
To make York proud of us.
To have as much fun as possible.
What spirits do you consider your flagship spirits and why?
York Gin London Dry is the basis for all our success so far. This is the original dry gin we spent many months working on before we launched to the world. We made the decision early on that we wanted to use classic botanicals available during the 18th Century Gin Craze – and eventually decided on just nine. We wanted it to be rounded, balanced and smooth, which as we found with experimentation, is easier to write than to achieve in real life. But we got there. It has won lots of medals in its own right but is also absolutely vital to the amazing success of our Old Tom, Navy Strength, and others which have seriously impressed judges and consumers alike.
Are you working on something new right now?
We are always developing - never standing still. One new device we're playing with is a dehydrator to create our own garnishes. Everyone is very excited about that. Tasting experiences are at the forefront of our plans. And Harry our Master Distiller is a taste fiend who loves experimenting. We'll let the world know when he's found the next big thing. The Chocolate & Orange he created for last Christmas will be our biggest seller from October until Christmas Eve this year.
Do you have a distillery tour/tasting room experience set in place?
We are currently moving distilleries – we are literally running out of space and we have some hush-hush separate plans. We do run off-site tasting events around the city with our wonderful events team, and we've recently got a horsebox all branded up for mobile tasting events. All our team are gin experts and make sure our customers know all the history as well as the way to try spirits and combine with mixers.
What are some of the spirits you have on your personal shelf?
As well as all six of our gins - I've quite a full spirits shelf - the WSET course definitely inspired me to try more. I have started to enjoy Armagnac, Rye whiskies, and Mezcals too.
Noilly-Prat vermouth has been ever-present for a while for a regular Gibson Martini (complete with pickled onions). I don't think you can beat a proper martini!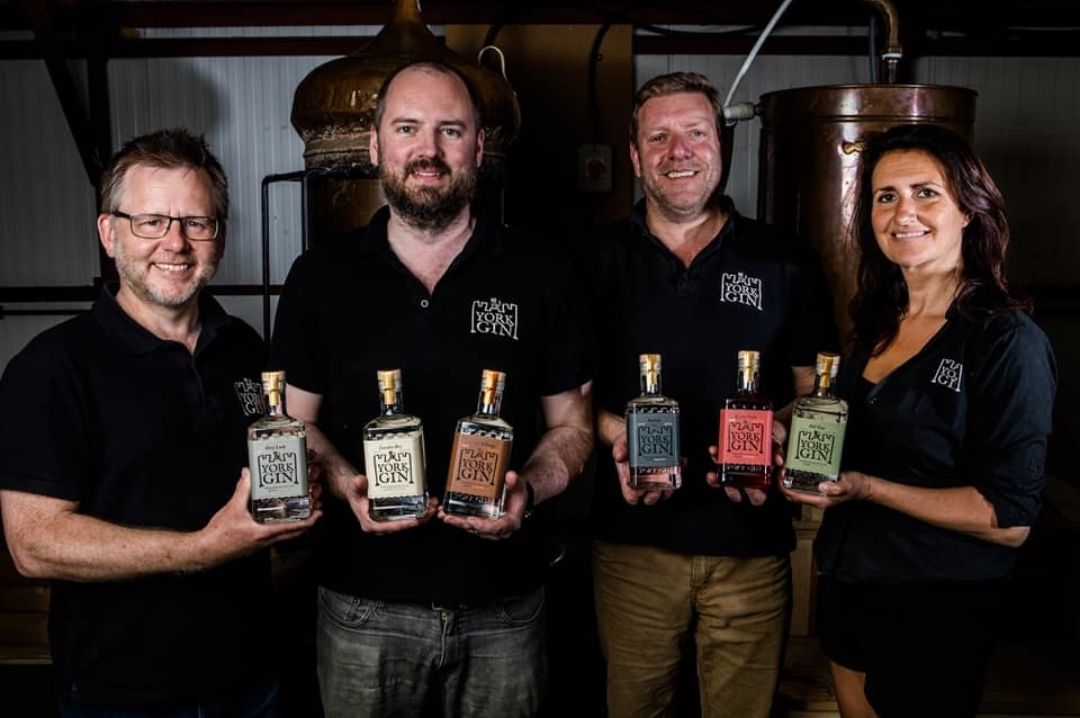 York Gin's People [from left to right]: Paul Crossman (People Director), Harry Cooke (Operations Director), Peter McNichol (Commercial Director), and Emma Godivala (Marketing Director)
Can you share some cocktail recipes with your favourite spirits from the brand?
These are our top serves!
York Gin London Dry: Fever-Tree Light. A curl of lemon peel or juniper berries.
York Gin Roman Fruit: Fever-Tree Mediterranean or Lemonade. Dried hibiscus or fresh strawberries and raspberries.
York Gin Outlaw Navy Strength: Fever-Tree Indian Tonic. Black pepper.
York Gin Old Tom: Fever-Tree Light. Pink peppercorns or Star Anise.
York Gin Grey Lady: Fever-Tree Light. Orange peel.
York Gin Chocolate & Orange: Fever-Tree Light or Clementine. Slice of fresh orange or cocoa nibs.
But - as summer leaves us and autumn beckons - we suggest a Chocolate & Orange Negroni
25ml York Gin Chocolate & Orange
25ml Campari
25ml red vermouth
Chocolate bitters
15ml lemon juice.
Ice, soda water (optional to taste)
Pour the three ingredients into a tumbler full of ice. Top up with soda to make a longer drink. Garnish with a burnt orange twist.
Lastly, what are you drinking right now?
A Gibson as it's just after 6 pm. A decent-sized York Gin London Dry, Noilly-Prat vermouth, some pickled onion juice. I like mine shaken into a Nick & Nora cocktail glass with a couple of small pickled onions.
Royal Horticultural Halls, London, The Lindley Hall, 80 Vincent Square, London SW1P 2PB, United Kingdom, United Kingdom
Register Now
Royal Horticultural Halls, London, The Lindley Hall, 80 Vincent Square, London SW1P 2PB, United Kingdom
Register Now