The Smoky Spirit: St. Kilian Peated Whiskey
A Captivating Blend of Peat and Elegance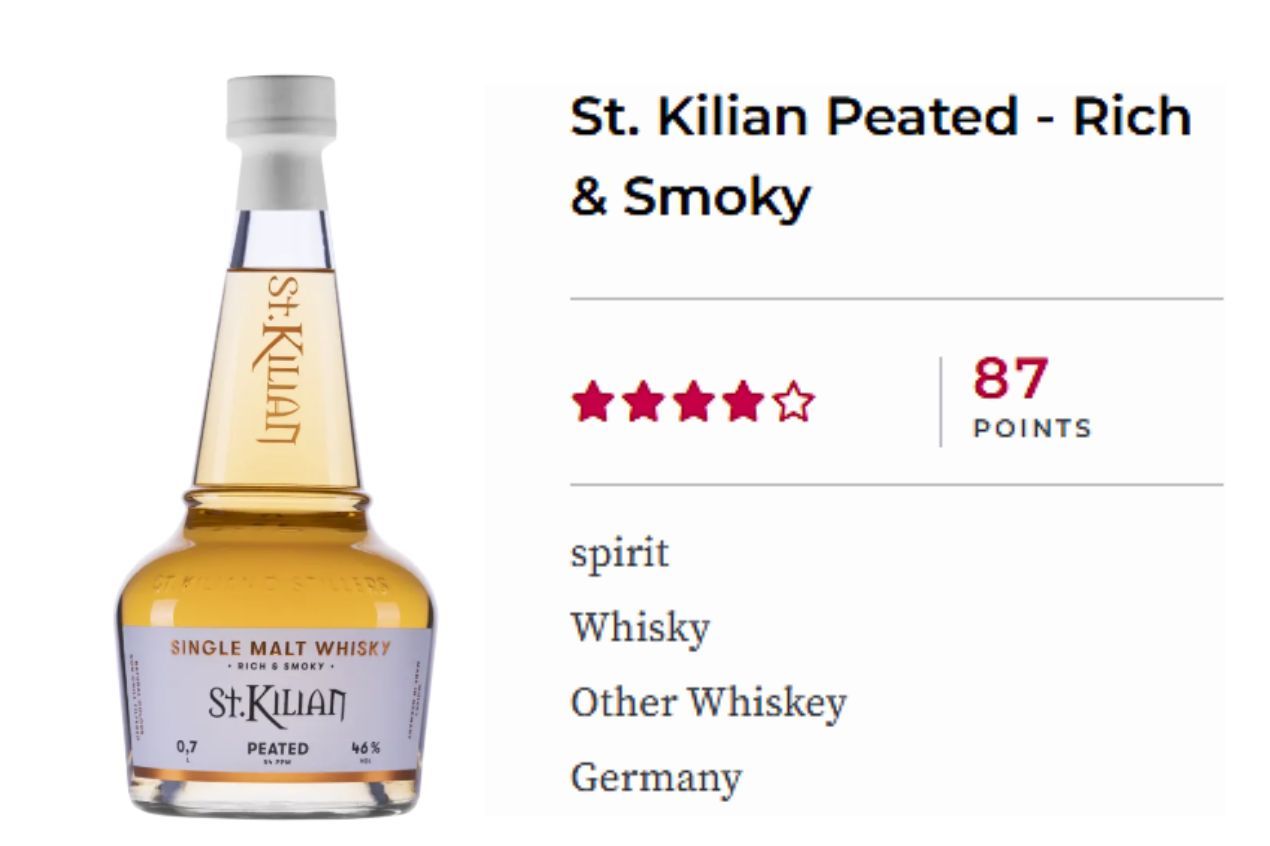 Crafted with precision and passion, St. Kilian Peated Whiskey showcases the distillery's commitment to traditional methods and uncompromising quality. This exquisite single malt whisky has been described as 'Smoky and Creamy', by our Judge Lorenzo Piscitello. Its creamy texture adds a luxurious touch, elevating the drinking experience to new heights.
The Whiskey has been ranked #10 with a score of 87 points at the Global Drinks Ratings, 2023. Get ready to embark on a journey of smoky indulgence with St. Kilian Peated Whiskey.
Facts To Know
ABV %: 46
Beverage Type: Spirit
Category: Whisky
Sub-Category: Other Whiskey
Producer: St. Kilian Distillers GmbH
Cask Type: 70% Ex-Bourbon, 30% PX & Oloroso
Country: Germany
Look: Gold
Tasting Notes
Aroma: The beguiling fruit bouquet of grilled apricots, juicy pears and ripe bananas is refined with sweet vanilla as well as a squeeze of lime, perfectly surrounded by mild peat smoke and complemented by dry ash tones with cooling mint.
Taste: Full-bodied sweet and fruity with vanilla, apricots and pears, in harmonious interaction with creamy toffee and delicate peat smoke, which elegantly underlines the warming oak spice with a pinch of white pepper and fresh mint.
Finish: Pleasantly warming with creamy fruit compote as well as dark toffee, which are long-lasting and underpinned by ashy smoke and subtle dry oak spice.
Production Process
The production process of St. Kilian PEATED Single Malt Whisky involves key steps: malting, mashing, fermentation, distillation, maturation, and bottling. Carefully selected barley is smoked with peat to impart a smoky flavor. The barley is then mashed, fermented with yeast, and distilled in copper pot stills. The spirit is aged in oak casks, blended, and bottled at 46% ABV. This meticulous process ensures a rich and balanced smoky whisky.
Our Judges Review
Michele Becatti (Bar Manager at Ginza St. James)
"Fabulous Bottle & Packaging", says Michele. He adds, "Sweet and fruity with vanilla, apricots and pears with a little kick of white pepper and mint".
Lorenzo Piscitello (Bartender at Artesian Langham Hotel London)
Lorenzo describes the whiskey as, 'Vanilla pear and cream notes".
About The Brand
St. Kilian Distillers, located in Rüdenau, Germany, is a renowned distillery known for its exceptional single malt whiskies. With a focus on craftsmanship and quality, they employ traditional methods and state-of-the-art equipment. Their whiskies are crafted from carefully selected barley, malted and smoked with peat for distinct smoky flavors. St. Kilian emphasizes long maturation periods using ex-bourbon and sherry casks, resulting in rich and complex flavors. Each bottle is meticulously produced, showcasing their commitment to excellence. St. Kilian Distillers' dedication to traditional techniques and exceptional whiskies has made them a respected name in the industry.
About Global Drinks Guide
Global Drinks Guide is quietly making an impact on those drinks enthusiasts who are keen to find out more about the wines, spirits, and beers they like to drink – and then go out and discover more in the right bars, and restaurants in their cities.
Header Image Source: St. Kilian Distillers