46 years behind the bar with Alessandro Palazzi
From messing up Madonna's order to finding flowers for a guest, Alessandro Palazzi gives us the skinny on his 46 years behind the bar.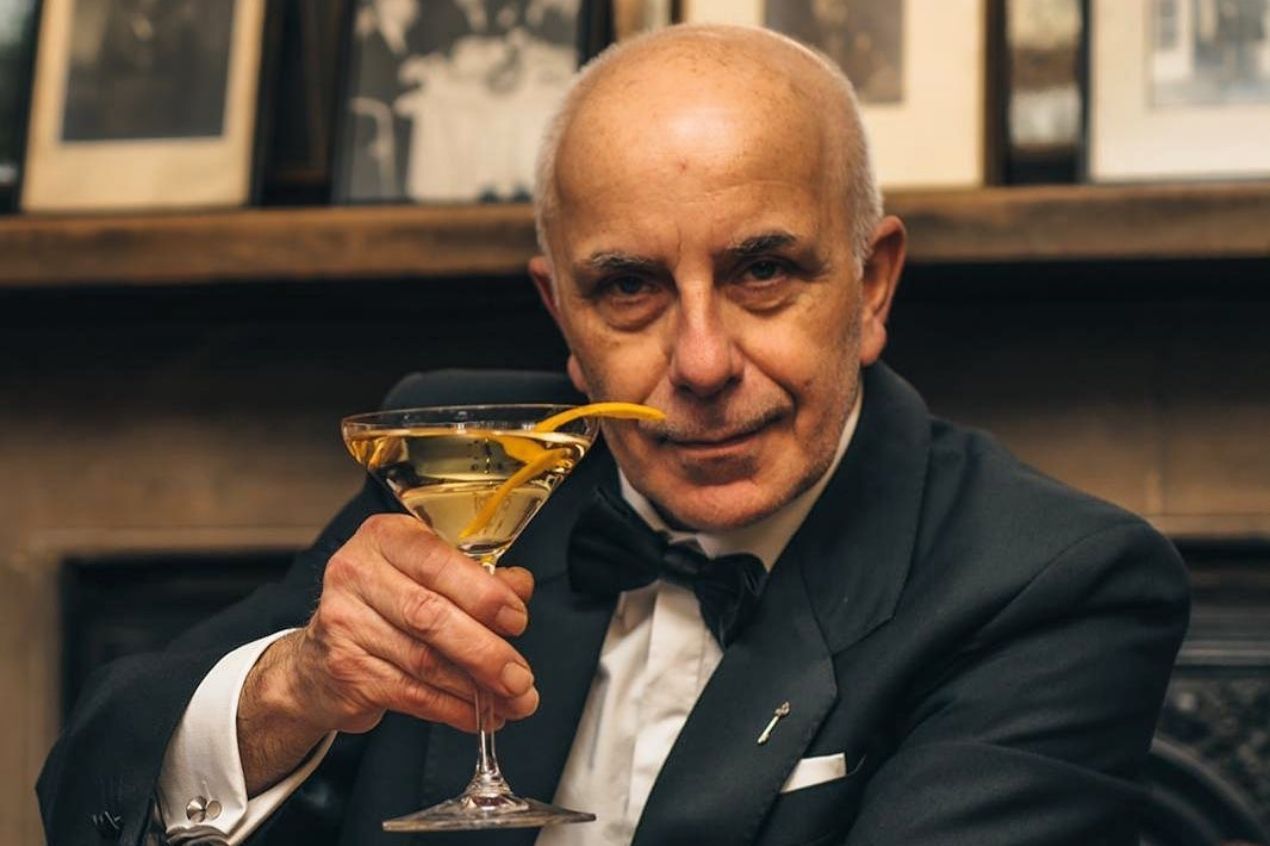 When you've been bartending for as long as Alessandro Palazzi (Head Bartender at Dukes, London), there are a lot of stories to tell. Some from Paris, some from Italy, and some from London. Today, Alessandro takes us back in time and shares with us his 46 years behind the bar.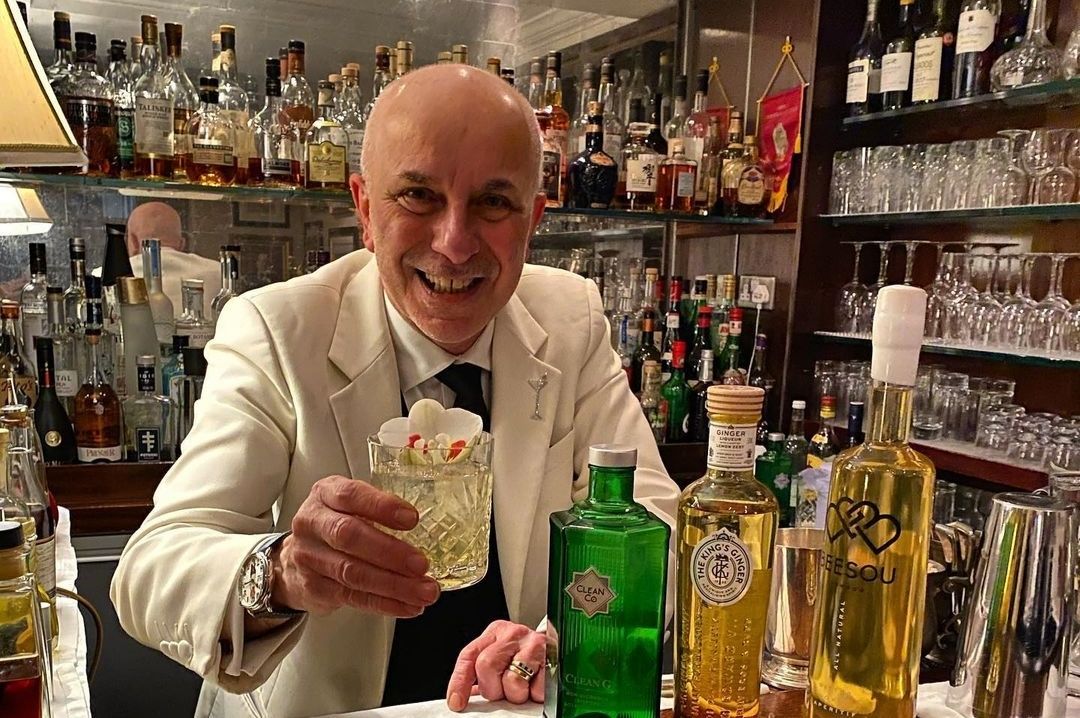 Alessandro Palazzi behind the bar at Dukes Bar, London
What inspired you to get into bartending?
I graduated from a catering college in Italy and then moved to the UK to learn English. I didn't start bartending from the beginning for two reasons mainly. The first one, I was 17 when I came to the UK, so I was too young to work behind the bar. Second, I didn't know any English. So my first step here was working as a kitchen porter. That taught me a lot. It taught me how to be humble and work with every person in an establishment. I then moved on to work at an Italian restaurant, which, honestly, I didn't want to do at first. I knew that if I worked at an Italian restaurant, I wouldn't learn any English. But living in London was expensive, so I had to work there. Again, I was too young to be behind the bar, so I just made coffee.
My first bartending experience was at a Manor House in Cobham, where I was assisting the bartender there. He taught me a lot - he taught me how to look and learn, which is very important in bartending. I was then promoted and went to work at the Excelsior, but then my boss over there got transferred to Paris, and since he knew I could speak French, he asked me to come along. They found me a job in the hotel's restaurant, where there was a LOT of wine. So at that time, my job title was Sommelier, but I didn't know anything about wine. Instead, I had my own little cocktail trolley and used to make cocktails. I learned a lot about wine there though.
Then I came back to the UK and worked as a restaurant manager, but I missed being behind the bar. But of course, being the restaurant manager taught me a lot too. It taught me how to work the floor and attend to guests, which is very important, even as a bartender.
After that, I went back to Italy to open my own wine bar, but that didn't work out for me. In the 1980s, I got a call from The Ritz in Paris, so I took the train there and worked at Bar Vendome. I was there for a while, and in 1997, I moved back to London, and have been here since then.
How did your vision of opening a wine bar change?
Unfortunately, that didn't work out really well. But for me, it was still a great experience. My first mistake was that I forgot that I was back in Italy. In Italy, we do things very differently, but I tried opening my bar the English way. The second reason was that we were played by the people. We were told that we had the license to put seating in our establishment, but later we found out that we couldn't actually put seating there. So that was sad, but it was a great experience. It taught me how to work with other people, and how to make sure everything is checked properly from my end.
According to you, what are some of the most important skills for a bartender to have?
This is something I always say. A bartender has to be diplomatic, acrobatic, and charismatic. Making a cocktail is not difficult, but you have to have a passion for hospitality to do it right. When I talk about being diplomatic, I mean that one should be able to adjust to what's going on at the bar. My philosophy is that what happens at the bar, stays at the bar. We are there to help the customer regardless of what they want, and keep it to ourselves.
Second, acrobatic. A bartender is not only known for making drinks. We do a lot of things. Sometimes, when a customer comes in, they want us to suggest places, or organize a surprise for their girlfriend/boyfriend, and we should be able to do it. This reminds me of a time when there was a beautiful couple at the bar, and the lady had a little too much to drink. I helped them get into a taxi, and did it in a very lowkey manner, and the lady apologised, and I told her it's not a big deal. How you treat your customers really matters a lot in our business.
Lastly, charismatic. As a bartender, you should be happy and enjoy what you're doing. You should be able to build relationships with your guests so they feel comfortable and confident around you.
Can you share a good memory of your time behind the bar?
Ah, there are so many. But since we are talking about being acrobatic as a bartender - let me recall this for you. There was this one time when one of my guests came up to me and asked me if I could take a video of his proposal. So then while setting up, I told him something is missing. He asked me what it was and I said flowers. Now, it was night time and we couldn't really find flowers anywhere. So I went to the reception and took the flowers from the vase there. They were going to be replaced the next day anyway. I got the flowers and gave them to him, and he was super pleased! This made me super happy too!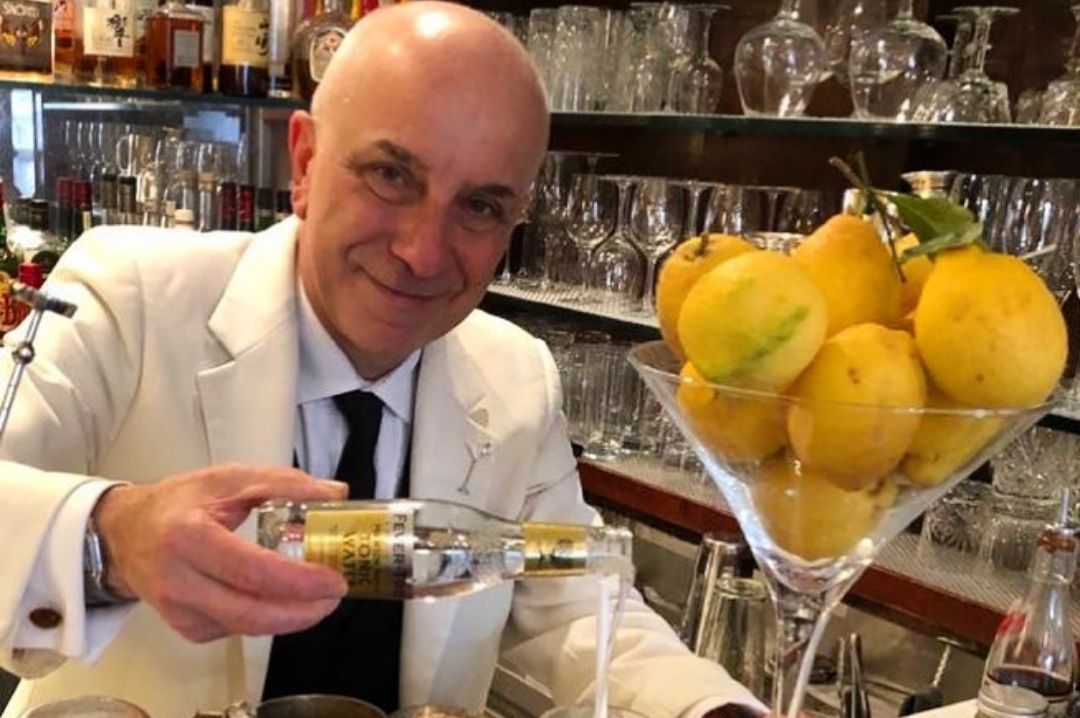 Alessandro Palazzi
What's one essential piece of barware to have at home?
A mixing glass or a jug to mix the cocktail, a cocktail shaker, vermouth, and a gin or vodka.
What's your favourite cocktail to make?
The classic martini is my favorite, made with gin and a twist of lemon. In my career, there are a lot of rules, but these days, we're always trying to do something new. However, if someone wants something nice, then a martini always does the trick.
I also love making my white truffle martini. I actually didn't intend to make a Martini with truffle, but once, I saw a lot of white truffle being wasted in the restaurant, so I took it. I didn't want to feel guilty about taking it, so I infused it with frozen potato vodka, added vermouth, and made a martini out of it. Now I have people coming in for the white truffle martini during the winter months.
What are some of your favourite places to drink at when you're not working?
I really like The Dorchester, and Connaught Bar.
What has been your most bizarre client request?
Once someone asked me to make him a half beer - half tomato juice mix in a tall glass. A few people were sitting at the bar and asked why I was doing that, and I said it's what the customer wants.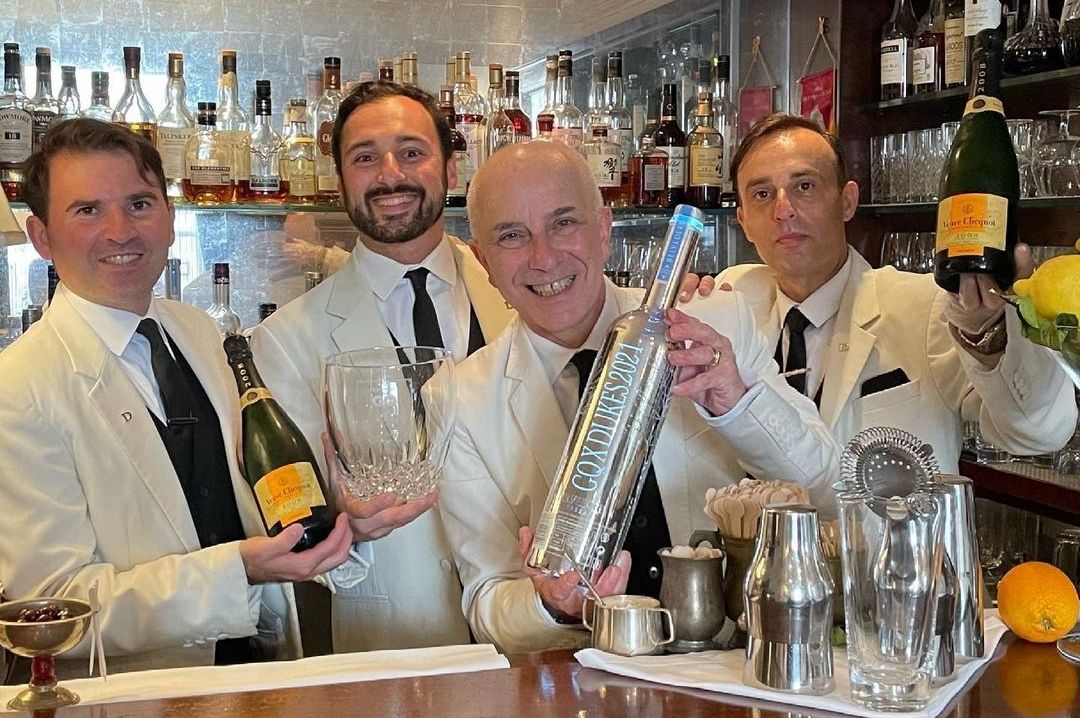 Alessandro Palazzi behind the bar with his team at Dukes Bar
Can you tell us about a crazy memory from back in the day?
I have so many, I might need a big book! But I would have to say that the one that still makes me laugh is when Madonna was staying at The Ritz. She asked for a Cosmopolitan, and I got confused and thought she was asking for the magazine. So I told her bodyguard that I didn't have time to go and buy one, and that's when he said to me, that Cosmopolitan is a cocktail! So I went to Madonna and told her I didn't know how to make one. This was followed by Madonna calling me stupid. But in the end, it turned out fine - and I made her a Kir Royale.
According to you, what is one spirit/ingredient that is underrated in cocktail making?
That's simple, vermouth. These days, vermouth is getting more popular, and that's good. But back in the day, vermouth was very underrated.
What are some upcoming drinks trends you see?
Here in the UK, the negroni is getting more and more popular. These days, we do negroni in different ways. We don't follow strict rules. I do this negroni with smokey whiskey. Amaro is also becoming quite popular.
Lastly, what are you drinking right now?
I don't drink during the weekdays, but over the weekend, on my days off, I enjoy gin, vermouth, and whiskey.
Royal Horticultural Halls, London, The Lindley Hall, 80 Vincent Square, London SW1P 2PB, United Kingdom, United Kingdom
Register Now
Royal Horticultural Halls, London, The Lindley Hall, 80 Vincent Square, London SW1P 2PB, United Kingdom
Register Now