Bar Hopping with Kyle Elwis
Looking for a drink around the country? Kyle Elwis has some great recommendations for you!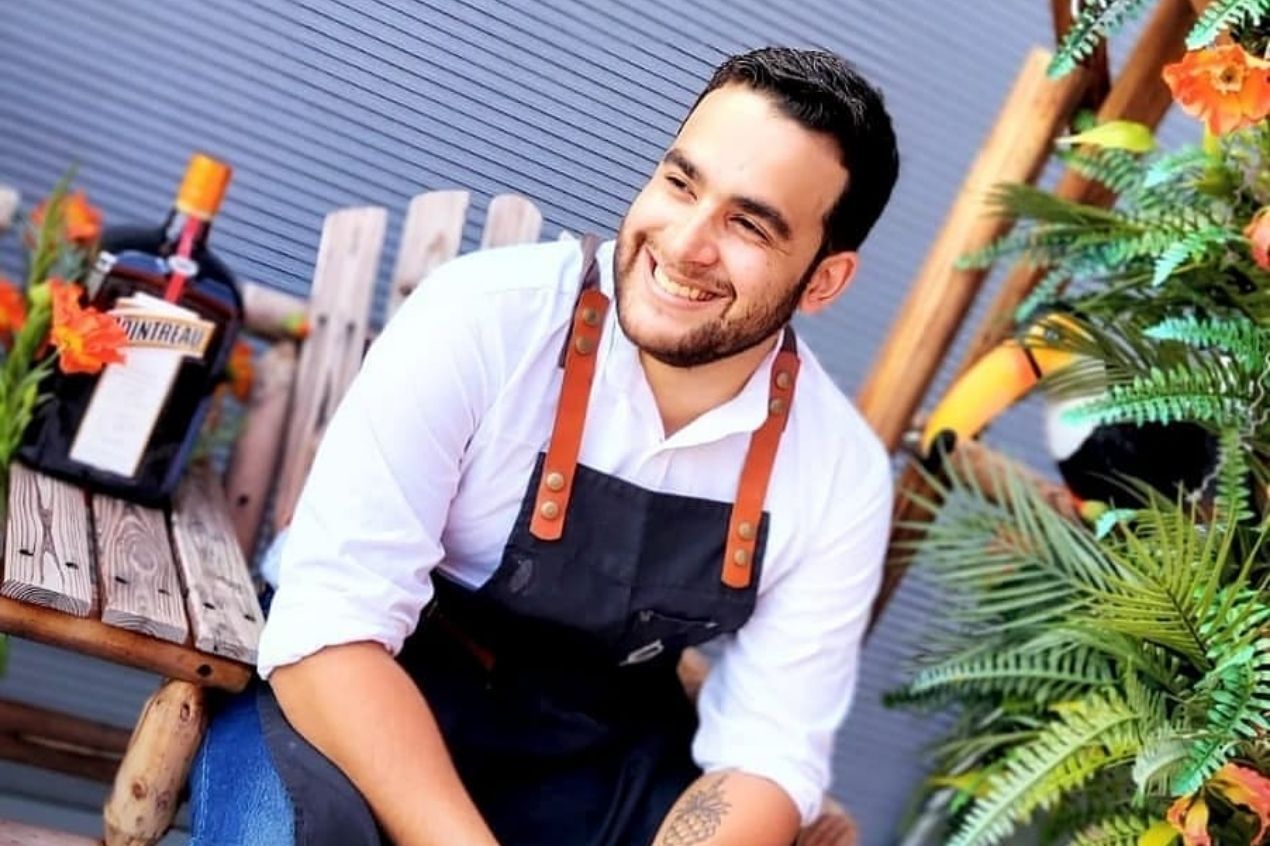 "I've been behind bars for just over six years now. Before that I was waiting tables etc, it was during this time I made a trip to a speakeasy bar in Lincoln called Vice & Co. The drinks were great, but it was the charisma and knowledge of the head-bartender that made me want to deliver the same quality and level of service to other people. Here I am, six years later hopefully doing my younger self proud," says Kyle Elwis, Assistant Bar Manager at the Lexington Rooftop Bar in Hull.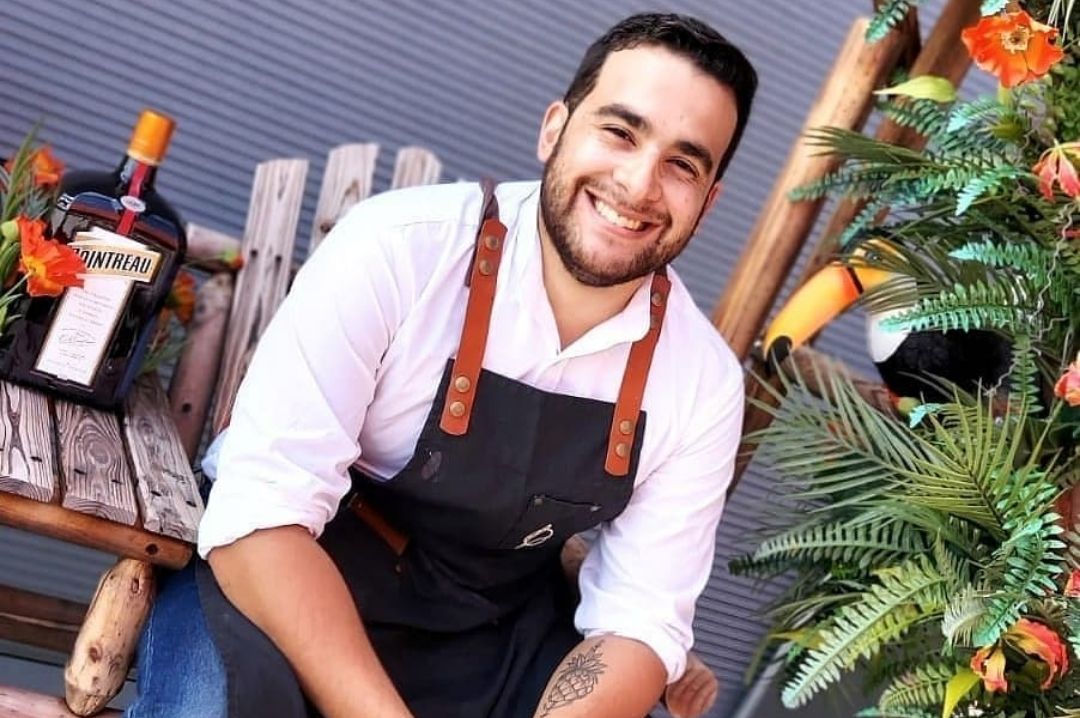 Kyle Elwis
What are some of the most important skills for a bartender to have?
I think there's a handful of skills you need. The big one is adaptability. You need to be able to alter your service to suit the individual needs of guests, as well as the capacity to manage different scenarios/environments. Sometimes we have to deal with guests that are a little tipsy and they may not be as cooperative as we'd like. A soft hand and a little patience in these situations can go a long way. In the same vein, sometimes you need to be a little firmer and authoritative to deal with guests. It's all about being able to assess each situation and finding that balance to achieve the best solution.
I think you also need to be creative both in your approach to creating drinks, but also in creating experiences for guests that can surprise and differ from the usual customer service "script". Engage your guests in slightly different ways from what they may traditionally expect to set yourself apart from other places.
Teamwork is the final piece of the puzzle. At the end of the day, we're all human and have our own tolerances, weaknesses, and bad days. I don't think it's possible to be the perfect bartender on your own, but if you find a team that can support your shortcomings and vice versa; together as a team, you'll achieve more than any individual could.
Also if you have an extra two sets of hands, you'll also go very far in this industry.
What is your favourite cocktail to make?
My favourite cocktail to make and drink will always be a daiquiri. It's a super simple, delicious, and refreshing drink. But very easy to get wrong if the flavours aren't balanced correctly. The spec for my perfect daiquiri is:
50ml White Rum
25ml Lime Juice
12.5ml 1:1 Sugar Syrup
Shake with ice, strain, and serve in a chilled coupe.
With that being said, all recipes are essentially guidelines, as the acidity of two different limes are never quite the same, nor are the tastes of two different brands of rum (which is why it's important to taste and adjust your drink as needed before serving).
What's one essential piece of barware that everyone should have at home?
I feel all barware can be improvised in a pinch if you're creative enough. The one essential thing I think people need when making cocktails at home is mixers! I've been asked so many times by friends what cocktails they can make with their vast range of a hundred spirits, but they have no juices/syrups or anything to mix it with. You can absolutely make some great cocktails made purely with spirits, but especially if you're new to cocktails and heavy liquor isn't quite to your taste, it's equally important to have a supply of syrups and juices to go with them.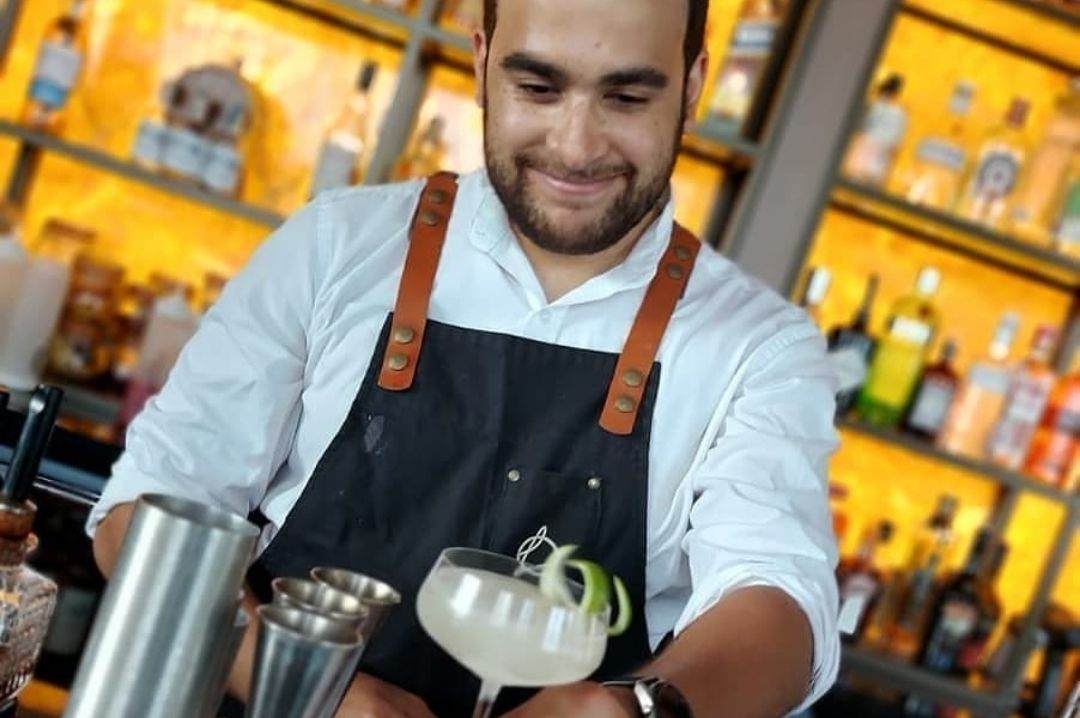 Kyle Elwis making cocktails
What are some of your favourite places to drink at when you're not working?
Some of my all-time favourite bars are:
The Brain Jar- Hull
These guys do some fantastic work collaborating with local street artists to bring recognition to their work, and also create some tasty cocktails.
Vice & Co- Lincoln
My "first" bar. These guys are incredibly friendly and the service is always fantastic. The bar will always hold a special place in my heart for being where it all started for me.
Strait and Narrow - Lincoln
Along with having an amazing range of drinks, these guys have an incredibly knowledgeable team with new, creative, and wacky ideas every month or so. I'm always looking to experience these ideas.
400 Rabbits - Nottingham
By far the best tequila bar I've ever been to. They offer an incredible range of tequila and mezcals and create some incredible cocktails with them. The décor is vibrant and exciting with even more bright and exciting staff.
Cottonmouth - Nottingham
From the instant I walked in, there was a feeling of 'I'm going to be taken care of', and I was. Very attentive service and attention to detail, and if you're in the area I can't recommend them enough.
When it comes to happy hours, to me, all hours are happy when you have the right drink and company. I honestly haven't visited a bar lately where I noticed the deals. I hope to visit and experience more new bars and cities this year now that we're easing out of lockdown.
Can you tell us a funny story you heard at the bar?
As I'm sure everyone has in this industry, I've listened to and overheard many stories at a bar, some more inappropriate than others. Unfortunately, I'm invested in keeping the trust of my guests and so what happens at the bar stays at the bar. Sorry - no secrets to be spilled from me this time.
What has been your most bizarre client request?
The strangest request I've ever had off a guest is if I can take a snake off their hands. Basically, they had found a small corn snake slithering around outside the venue and they brought it in. It curled up around my shoulder for around half an hour whilst I finished closing down the bar. Luckily I actually knew someone who cared for reptiles, so I rang them and they came along to take and eventually rehome the snake.
What are some of your favourite TV shows/movies?
I love anything Marvel or MCU. Spider-Man has been my favourite character since I was a kid and to be perfectly honest, I probably know more about him than I do cocktails. I've recently really enjoyed the Black Widow movie and I'm currently watching Loki. I won't spoil anything, but if you haven't started the Marvel TV shows, I think they're highly worth the Disney+ account.
What can guests expect from your bar right now?
I would recommend booking to avoid disappointment as particularly on sunny days our rooftop gets really popular.
In terms of safety, even after July 19th, we do intend to enforce certain rules such as maintaining masks on our staff and keeping table service. It may not be what everyone wants, but we do feel it's what's best right now in order to create the safest space possible for both our guests and staff.
What are some upcoming drinks trends to look out for?
In general, I'm finding more and more people are requesting spirits made from local or regional distilleries. This to me shows that people are starting to take more of an interest in their consumption choices and where it comes from; much like their choices when it comes to food.
Bars are becoming more like your local restaurants in the sense that you're not just drinking to get drunk, but more so to experience new flavors and textures. There's also a search for new, different, and creative ideas and experiences within venues that before may have been a little unthinkable for people. That includes a search for drinks that embrace a more moderate approach to alcohol and many are exploring and experimenting with flavors and spirits that are in fact 0% abv in an attempt to be more inclusive for those who aren't as keen on alcohol and give those people a place that they can be catered for.
What are you drinking right now?
Right this second? A cup of tea.
I had my birthday celebrations a couple of weeks ago and haven't been able to shake the hangover like I could when I was younger. so I'm trying to be good for now.
I was drinking a lot of rums that night. Some of my all-time favourites are from the 'Plantation' range. I've also been lucky enough recently to try a Santa Teresa Bicentenario, which was an incredible rum, but unfortunately, it is really difficult to get a bottle of, so I'm not sure if I'll be able to have that one again.