Whiskeying off to Portugal
Having worked with London's original whiskey specialists, Eddie is now ready to take off with his own whiskey business in Portugal.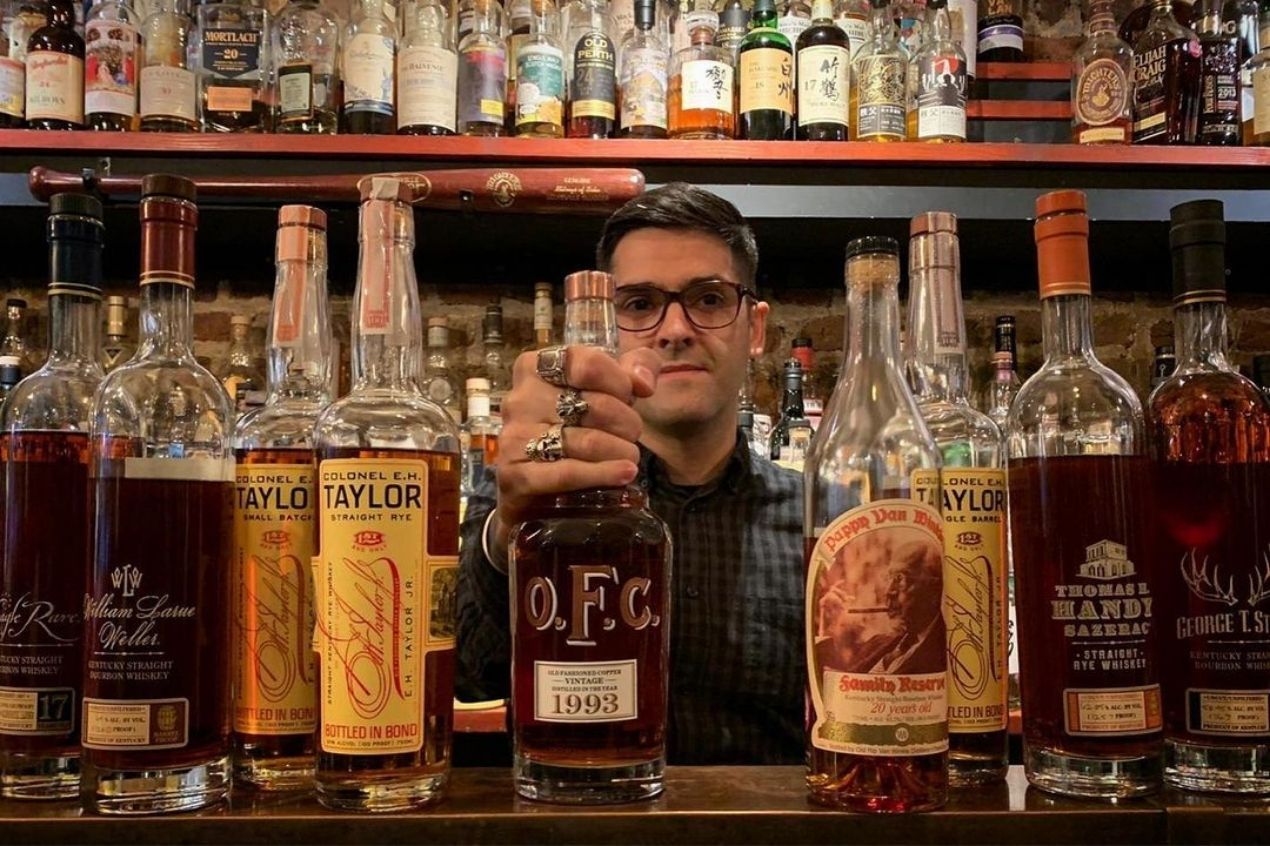 Eddie DeSousais a bartender at heart, having worked for most of his life behind a bar or in customer service. He discovered his big passion for whiskey when he arrived in London many years ago. That passion landed him a job at Milroy's of Soho as the Bar Manager, helping educate and evangelize the world about this spirit, one sip at the time. Under his management, Milroy's Whiskey Bar grew to a standard of international notoriety and undisputable place of whisky worship, somewhere to enjoy some of the best from around the world, always in great company.
He was part of the team-work behind the expansion of Milroy's of Soho to Spitalfields: a townhouse with a bar on the main floor (Milroy's of Spitalfields) with +1000 whiskies, a private members area (Dram House) with up to 300 whiskies, a private tasting room and a cigar terrace, rising from Bar Manager to Head Of Whisky Bars right after.
Outside work you'll find him enjoying a cigar with friends, when not busy taking care of his kids (one beautiful human and one very good boy of a dog), walking around nature, rock&roll gigs, or just chilling at home with a book about whiskey… and a whiskey in hand.
1. Hi Eddie, tell us a little about yourself.
Currently living in Portugal, working on my project to open a whisky specialist business, using my experience heading the whiskey bars for Milroy's of Soho, a project that comes with support from previous employers and clients. I had 4 wonderful years at Milroy's, delivering experiences and sales both behind the bar and in the shop. [I] worked with incredible people and met many of the industry giants along the way that enriched my experience. When I started in the bar, Milroy's was just an occasional place to hang up for a quick drink whilst buying your bottle or on your way to somewhere else. By the time I left, Milroy's became an icon of the whiskey pilgrimage around the world. The place many consider their home away from home, and where you go to discover new whisky, share your passion for it, or just chill and enjoy a drink with your family and friends. When I joined I was a stranger and very soon I became a family member, so I made sure to pass that on to everyone who went through the door, that they felt the same way. I loved my job daily!
2. Tell us about Milroy's of Soho; the design, the name, the concept.
Milroy's of Soho opened its doors in 1964 by John Milroy and soon his brother Wallace joined him. Initially a wine and spirits shop, soon they found their passion in whiskey and understood the potential behind this wonderful thing called malt whiskey that no one knew about in the late '60s, early '70s. They kicked it off in London (hence the 'London's Original Whisky Specialists') and 2 decades after, some incredible stories in the pocket, a malt whisky almanac with 12 editions, one of the most expensive bottles sold (in the80's), and touring Japan, giving birth to the single malt whisky passion that thrives nowadays in Japan, they are revered by the industry has a pinnacle of malt revolution of nowadays. Problems came in the '90s that made them sell the business to a big retailer, that eventually sold to another and another until a young entrepreneur who just had discovered his whisky passion heard the shop was for sale. He bought it in 2015 and transformed it into a whiskey haven, getting rid of all the wines and other spirits, opening a whisky bar for tastings on the main floor, and underneath, he opened a cocktail bar called The Vault Soho, hidden behind a bookshelf. Building a team was hard at the beginning but after 1 year, already with me in it, we got to start sharing the story and that passion within us, turning a small shop into a cult spot in the heart of Soho, bringing back to life that heart and soul that defined the ex-libris area of London nightlife and trade.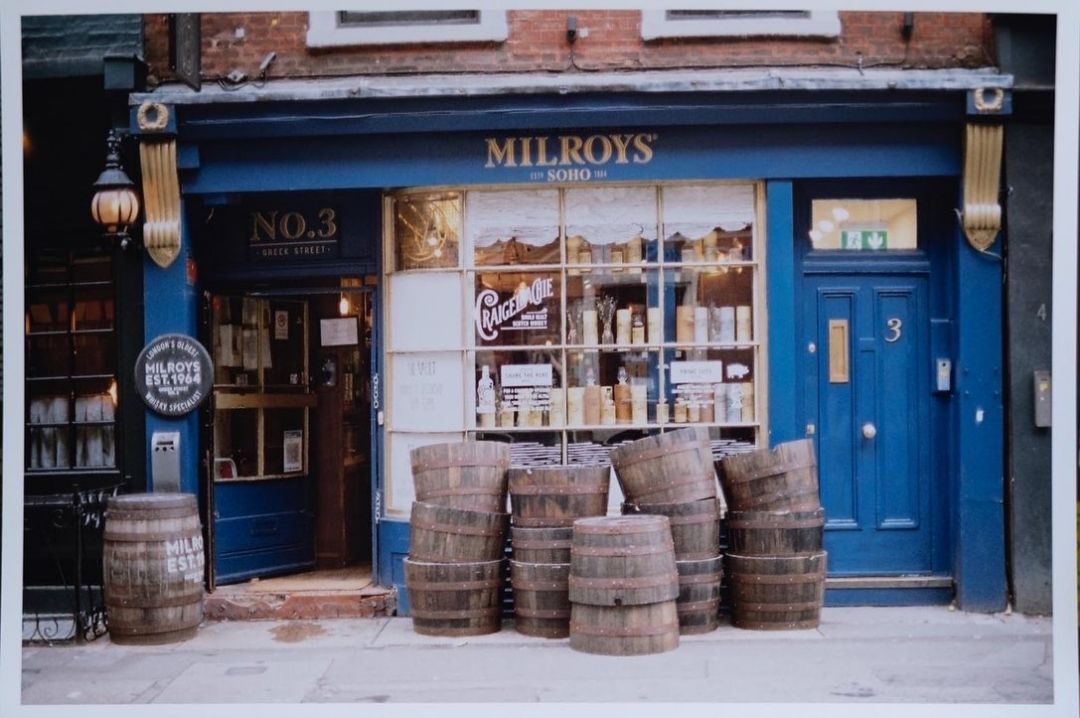 Millory's of Soho, Source: Facebook
3. How did you end up in this role?
I was working as Assistant Manager for a chain brand, part of the biggest Hospitality group in the UK, and with plans to move upwards to a GM position I started feeling demotivated with the path I was taking, something was missing. That time a family bereavement made me question everything I was doing, so I decided that whatever I was doing next had to be worth it, not money alone but motivational. 2 weeks after this event, I gave my notice, booked a whiskey training in Scotland, and one month later I was out of a job and determined to get a job in whiskey. My first job role with whiskey was with Boisdale as head bartender, and 6 months later I received a message on Linkedin from the GM at Milroy's who noticed my profile and asked me if I was keen to do a move in my career with a young and eager team like Milroy's had. Never looked back. Started as Bar Manager and after 3 years of delivering top results a new bar was open (Spitalfields) and I was made Head of Whisky Bars and branding.
4. How was 2020 going before covid-19? How did you respond to the crisis in terms of staff layoffs
2020 was playing out the same way, with similar results and everything was pointing to be another great year. We had a great team in place, with a great brand growing and lots of events up the sleeve. Then Covid hit and like everyone else we were floored. But the board took the decision that we had to stick together and plans were put in place that saved the brand from doom. Our customer base showed a lot of support and the shop kept open through e-commerce sales. We created some take-away drinks and, lots of Zoom meetings. By July, everyone was back at work, except my dear Frankie (head bartender in Soho) who decided to move back to his native Macau and open its own bar. Staff was furloughed in some sections and kept running in others, with safety measures in place we kept the business running as much we could.
5. Did all your operations close at some point? How did you pivot and manage the delivery side of things?
As mentioned before, bars had to come to a halt, obviously but the shop carried on with e-commerce and tastings sets called 'Drams to your door" carried on with staff fulfilling the orders, also a side project was developed by The Proofing Room (our Spitalfields Cocktail Bar) with Bacardi for bottled cocktails. This kept that part of the team doing some extra work and out of the furlough scheme.
6. What steps have you taken to limit touchpoints and make it safer for consumers to dine now?
Limited space to a quarter of capacity, menu with QR code (for the cocktail bar at least), and sanitizing cycle between seatings. Luckily the bars were very much ready to do this step and came quite easy for us to adapt. The hard part was definitely the loss of customers and becoming a quieter place. We did struggle to find things to do during this time.
7. Are there any lessons you can draw from what you have been through?
Safety and cleanliness have always been part of this industry standards and if people didn't understand this before they surely do now. The best lesson is that we must never rely on past wins to predict the future. Expect the best, but prepare for the worst. Many businesses wouldn't be at breaking point today if they followed this simple rule.
8. What do you think will be the key factors in growing back your lost revenue?
Create a safe environment for sure, but deliver higher quality service and products through more and thorough training, People will question why they should leave their money in our venue and not some other, so we must be prepared to answer those questions with self-confidence and product quality. It's not only money they are spending with us, but it's also their time, and that used to be undervalued.
9. How are you buying new products right now? Are you meeting sales reps and tasting whiskies?
We have a new office and a good team in it that is taking care of the buying process, using their knowledge and video conferences to handle deals. The tasting process still happens with the number of samples arriving daily.
10. Do you have any set buying process - like set days, times, process?
This all comes through the office mentioned before that handles the products for the shop. Every time we have a new product coming in, the sample is shared and decided by the staff on the job that day. If the product is good enough for the shop, very likely you'll find it in the bar.
11. What has been your biggest challenge during the pandemic?
Not working. I've been eating better, sleeping better, drinking a bit less (sometimes at least!), and reading more. Not working, not being able to see friends and customers, chat and do my daily job - it is the thing I really crave!
12. Have you seen changes in consumer behavior and in the wines they are drinking now?
More quality, less quantity. People care to read more and inform themselves about what's in the bottle and where it comes from. More conscious drinking with people caring what impact their beverages have on the environment, and this is only good. There're new trends to explore and soon as the bars open up, I believe that the old brands will lose their space on the shelf.
13. What are your digital and online direct delivery plans for 2021?
Since we been working quite hard on this site already, the delivery service is getting more 'oiled' and easier to deal with. There're some plans ahead for our online platform, to make it more efficient and deliver an easier and simpler service.
14. Why should Londoners shop from your store? What makes you different?
Personal service, with all the knowledge and zero pretension. We love what we do and we stand for our products, so every sale is a true experience.
www.thesmokingklub.com Instagram: @eddie_thesmokingklub
Header Image Courtesy: Eddie DeSousais, Source: Instagram
Royal Horticultural Halls, London, The Lindley Hall, 80 Vincent Square, London SW1P 2PB, United Kingdom, United Kingdom
Register Now
Royal Horticultural Halls, London, The Lindley Hall, 80 Vincent Square, London SW1P 2PB, United Kingdom
Register Now