Tour London's Most Iconic Pubs and Craft Beer Breweries
There are so many pubs in London and such little time! Visit the most iconic ones with AleHunters' specially designed tours.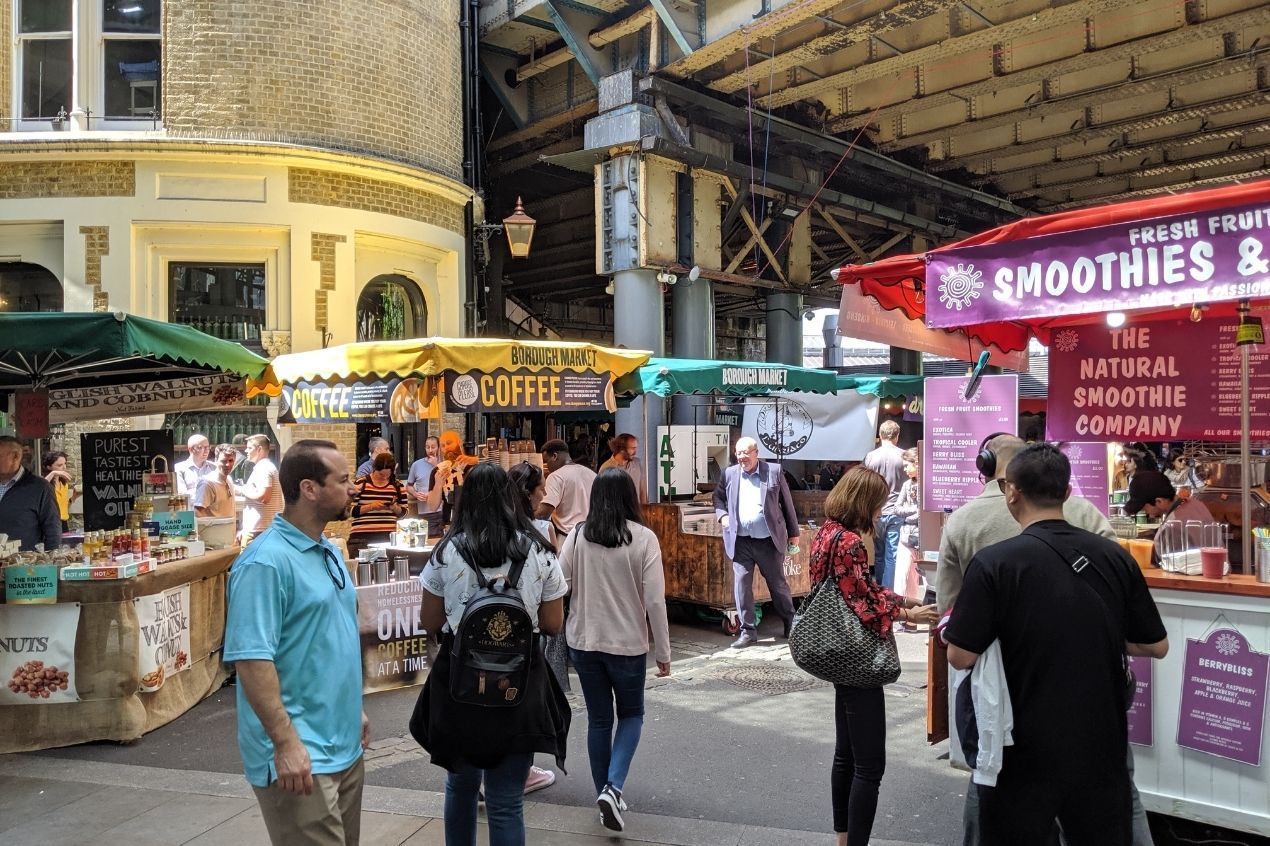 AleHunters hosts four themed pub tours around London: the heritage pubs of the City of London; the literary pubs of Soho and Covent Garden; the hidden pubs of Belgravia; and a tour of the pubs of Borough Market.
"Everyone knows that pubs are a key part of London culture, but a guide who can navigate the pubs and the spaces in between them on a well-designed walking tour is key. Hitting several spots, this tour is totally your money's worth and if done at the start of your trip, will give you a roadmap for later visits with other family and friends. Great fun meeting new people from all over the world (US, Korea, South Africa) – highly recommend both the tour and our guide Paul." This is a review left by David, a lawyer from Philadelphia who had arrived in London with his family that morning.
On 23 December 2019 at approximately 10 pm when I settled down with a well-deserved St Bernardus Christmas Ale, the note above was a welcome sight. For AleHunters Brewery Tours, that day saw me host our final London iconic pub tour before the Christmas holidays.
Heritage Pubs in the City of London
David attended our tour of the heritage pubs of the City of London. This tour explores the journey of the City of London from Roman times through to legal London picking up on the City's association with Shakespeare, Dickens, and journalism along the way. My view with regard to our tours is that the journey between pubs is as important as each pub and its beer.
Guests learn, for example, that London was settled by the Romans in 47AD as a river port, how many times St Paul's Cathedral has burned down, how Churchill and Nelson fit into our drinking stories, the location of Bard's indoor theatre, and where the Demon Barber Sweeney Todd would dispatch his victims. Fans of Dan Brown and Harry Potter will not be disappointed as we pass movie locations and the 815-year-old church of the Knights Templar.
Of course, showcasing history is a way to enliven the walk as we visit some of London's most iconic pubs – and it is always my round! This includes the Old Bell Tavern, built by Sir Christopher Wren, and Ye Olde Cheshire Cheese – so old that it has outlived 16 monarchs since being rebuilt in 1667. We visit a pub that has hosted illegal Catholic masses, one that has housed the Crown Jewels during the two world wars, and one that has hosted illegal cockfighting. The pubs themselves ooze character and history and are always stocked with premium beers to slake the thirst. How about an Imperial Stout to end the tour?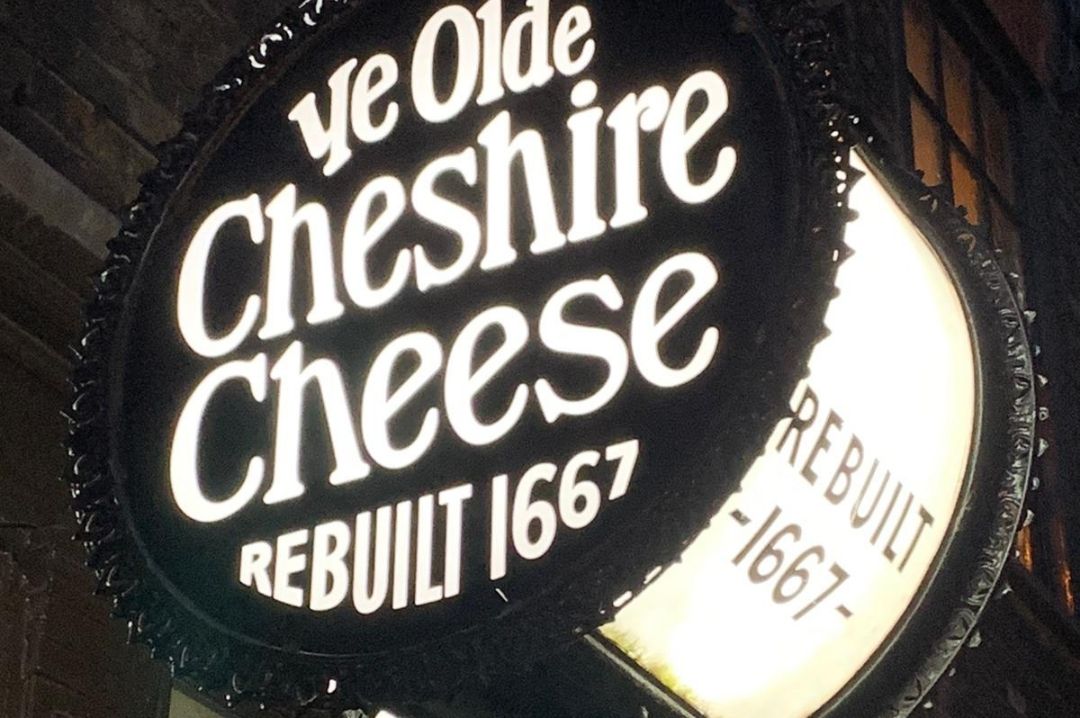 Outside Signage at Ye Olde Cheshire Cheese. Image credit: Paul Davies
The Literary Pubs of Soho and Covent Garden
If the City isn't trendy enough for you, then head over to London's West End with us. This legendary home to the best retail and hospitality that London has to offer used to be a hunting park for the Royal family. It's said that the name Soho derives from a battle cry – "So Ho!" – that became a slang used by the hunting classes. Nowadays, this bustling neighborhood is home to some of the most cutting-edge cuisine in the city, along with fringe fashion and a non-stop nightlife.
Here we stop to admire some of the oldest pub interiors remaining in Soho and drink in the atmosphere and stories associated with them. Stepping into the shoes of Dylan Thomas, we follow his footsteps through narrow terraced streets, see where Nell Gwynne (the mistress of Charles II) lived, discover how the poet Dryden escaped murder at the 'Bucket of Blood' and raise a glass to former customers Behan, Bacon, and Plath. We usually stop for refreshments at London's premier French pub, where the French Resistance was based during WW2 – and where Dylan once left his manuscript for 'Under Milkwood'. Or we may journey into Chinatown and charge our glasses at Dutch pub De Hems, sitting at the former table of Jack 'The Black Terror' Richmond. How about a glass of Le Trappe?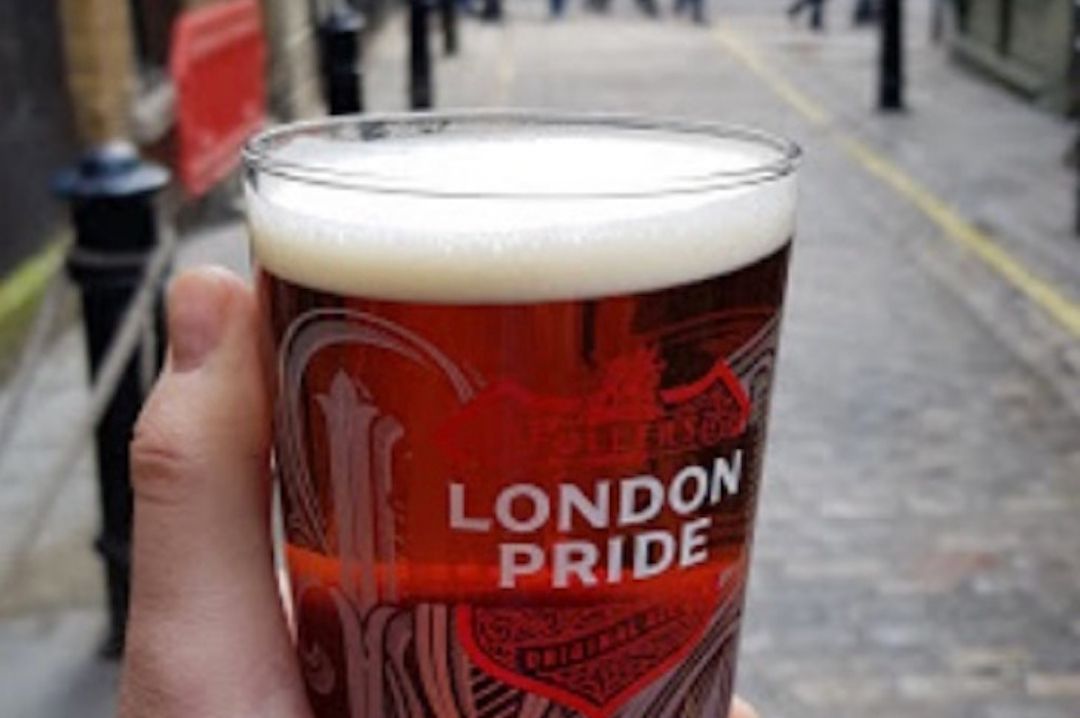 The Hidden Pubs of Belgravia
For an escape to some of the most exclusive addresses in London, our stroll around the mews pubs of Belgravia is a must. Quite a modern neighborhood by London's standards, Belgravia is part of the Grosvenor Estate and owned by the Duke of Westminster. It is named after another of his titles, Viscount Belgrave, and its grand terraces were first commissioned in the 1820s. Formerly known as Five Fields, the area has a grim past, rife with stories of violence and wrongdoing, but is now home to many embassies.
Our pubs are all hidden behind the main streets and located within mews lanes. Madonna, Bing Crosby, Princess Margaret, and Anthony Hopkins are known to be regular visitors. Each pub's story has a dark side, with the Grenadier being named after a poor fellow who was beaten to death for cheating at cards, and one the local haunt of the infamous 'acid bath murderer'. The Star Tavern is where the Great Train Robbers planned their crime, and we will drink some ESB here – a wonderful beer. On a brighter note, we also admire the collection of photographs at the Horse & Groom, which features The Beatles. They were regulars at the pub because their manager Brian Epstein lived around the corner. It is also used as a location in the movie Absolutely Fabulous.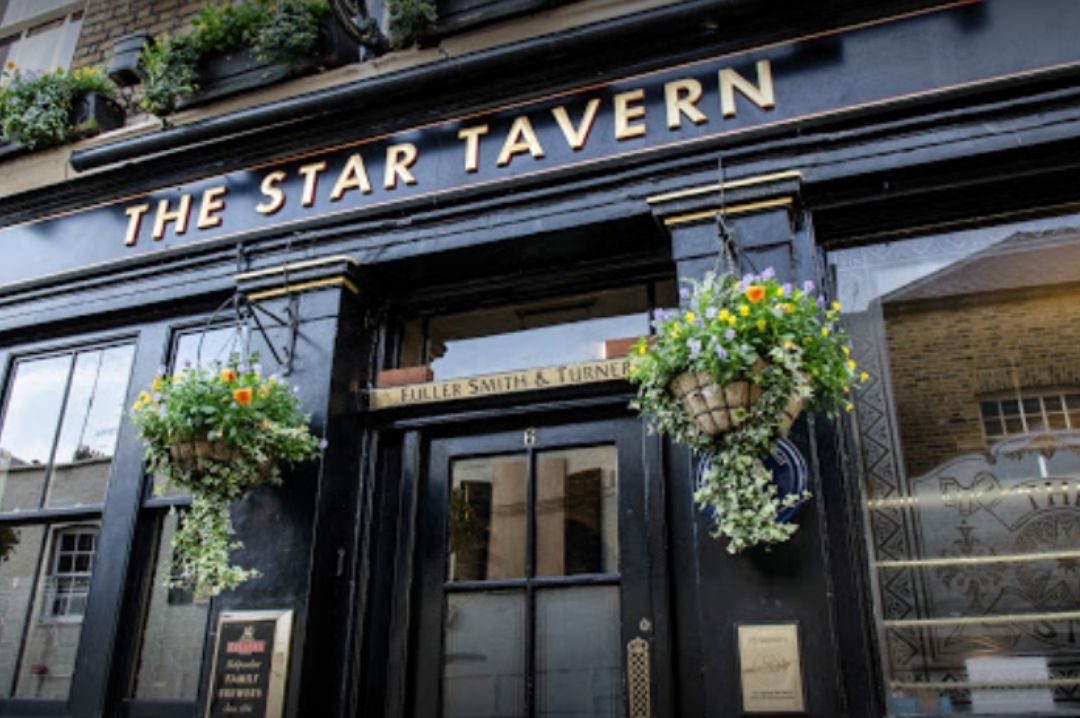 A Tasting Tour of the Pubs of Borough Market
Now one of the world's top street food destinations, Borough Market has been around for over 1,000 years. Its site was chosen due to its proximity to London Bridge, which was the only southern route to the capital at the time. The market is now within the borough of Southwark but for centuries the area wasn't part of London and outside of its laws. It developed such a reputation for illegal activities that Londoners were at one point banned from entering. It became a fruit and vegetable market in the 18th century, the market closed in the 1990s, eventually reopening again as a treasure trove of fine foods, artisan goods, and street food from around the globe. It is also home to some great restaurants and specialist bars.
We visit the Royal Oak, a typical street corner local blessed with the wonderful beers of Harveys of Lewes. I suggest you drink the Dark Mild. In fact, I will insist. The George Inn boasts the oldest pub interior in London and is one of its last remaining grand coaching inns. It was rebuilt after the second Great Fire, 10 years after the first one, and is featured in Dickens' Little Dorritt. We take a detour through London's brewing past, including the 19th century Hop Exchange where these useful flowers used to be traded, and on to the site of the former brewery Barclay Perkins, once the largest and most advanced brewery in the world. The only part of the brewery left is the old taproom, now the Anchor Inn, where the Pilgrim Fathers would have toasted each other before departing for the new world in the 17th century. We then bring our tour right up to date with a tasting of the world's best craft beer at The Rake in the market itself.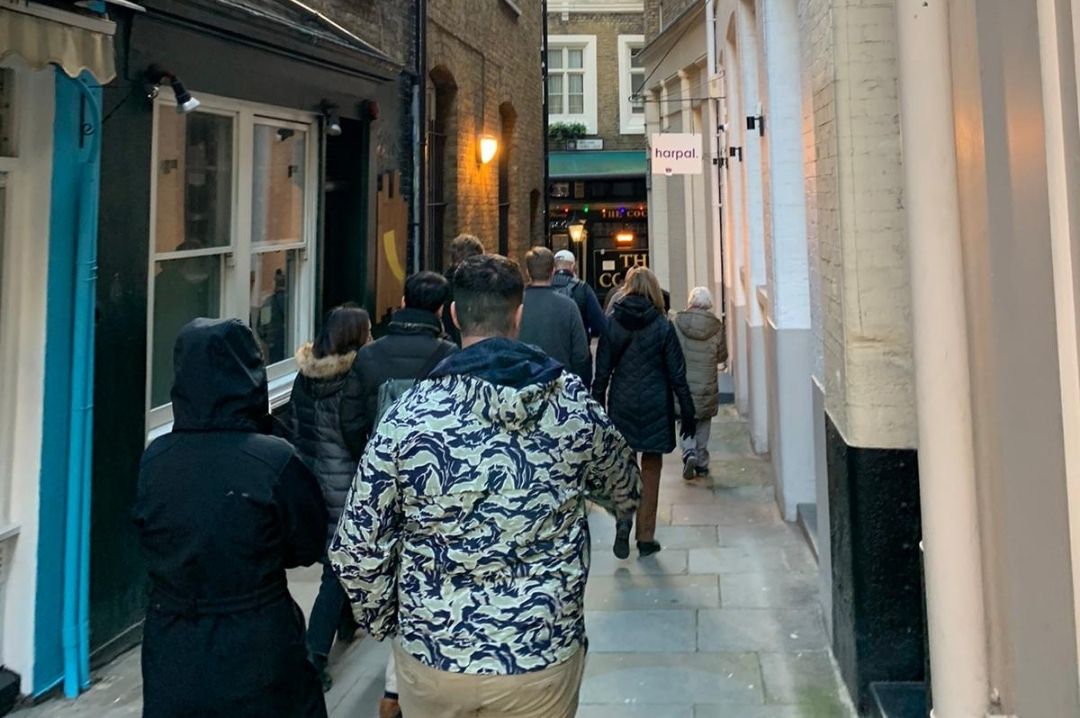 Bermondsey Beer Mile Brewery tour
The London beer scene now boasts more than 120 breweries, which is crazy considering that not long ago there were only eight still brewing beer. In Bermondsey alone we take can our pick from 16 craft breweries and taprooms. These tours focus solely on craft beer and the scene that has been fermenting in Bermondsey over the past 11 years.
Delivering these events on our own or in partnership with UK Brewery Tours we will visit four or five breweries, sampling the local brews as we go. Along the way, I like to present the history of the scene in Bermondsey and the stories behind each of the breweries or taprooms. We find out what inspired the honey beers produced by Hiver Beers, why the names of the beers at Brew By Numbers all start with numerals, who are Anspach and Hobday, and why Bianca Road Brew Co is obsessed with cycling. The beer to drink – A&H Porter.
These beery events come in a number of formats including a 2½-hour microbrewery tasting tour, a cheese, meat, and beer tour or a five-hour microbrewery experience that includes a brewer's master class.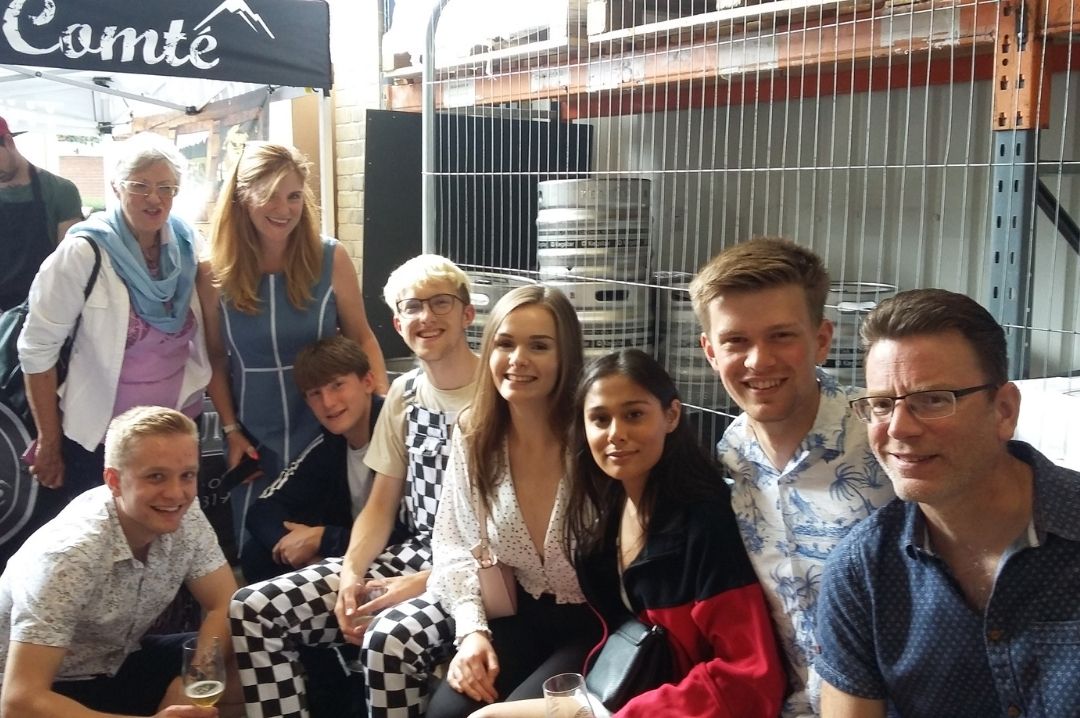 East End Craft Brewery Tasting Tour
If Bermondsey is the area of London most associated with craft beer, there is an equally cool, more intimate, and less crowded scene 'brewing' in Bethnal Green. Originally an area of farmland, 'the Green' has recently become home to a number of ethnic communities alongside a growing 'hipster' scene. Where else are you likely to meet an Australian brewer serving customers while dressed in Lederhosen, drink dank IPAs under the railway arches with a Polish master brewer, or receive a brewing master class at Boxcar, where co-founder and brewer Sam's passion is Dark Mild. These tours tend to go way past their allotted time and turn into an impromptu party. Fantastic. Beer choice? It has to be Sam's Dark Mild.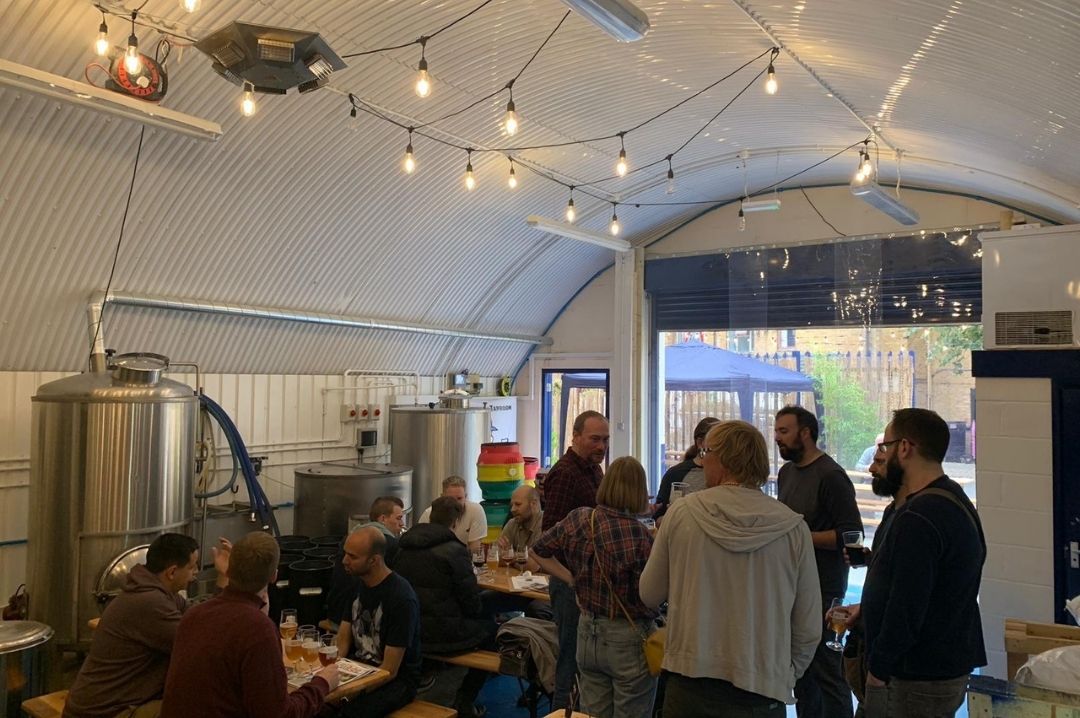 About AleHunters Brewery Tours
Founded by Beer Sommelier, Cicerone® international beer judge and Dr. Martens lover Paul Davies, AleHunters was founded in 2018 and specializes in pub and brewery tours in London and Belgium. They also deliver online beer-tasting events with their partner Brewery Market and provide tuition in beer faults and sensory development.
http://www.alehunters.co.uk
Header Image Credit: Borough Market
Royal Horticultural Halls, London, The Lindley Hall, 80 Vincent Square, London SW1P 2PB, United Kingdom, United Kingdom
Register Now
Royal Horticultural Halls, London, The Lindley Hall, 80 Vincent Square, London SW1P 2PB, United Kingdom
Register Now