7 cocktail recipes with Streeter Flynn Vodka!
Multi award winner Street Flynn Vodka is smooth, rich and versatile with great potential for easy cocktails to make at home.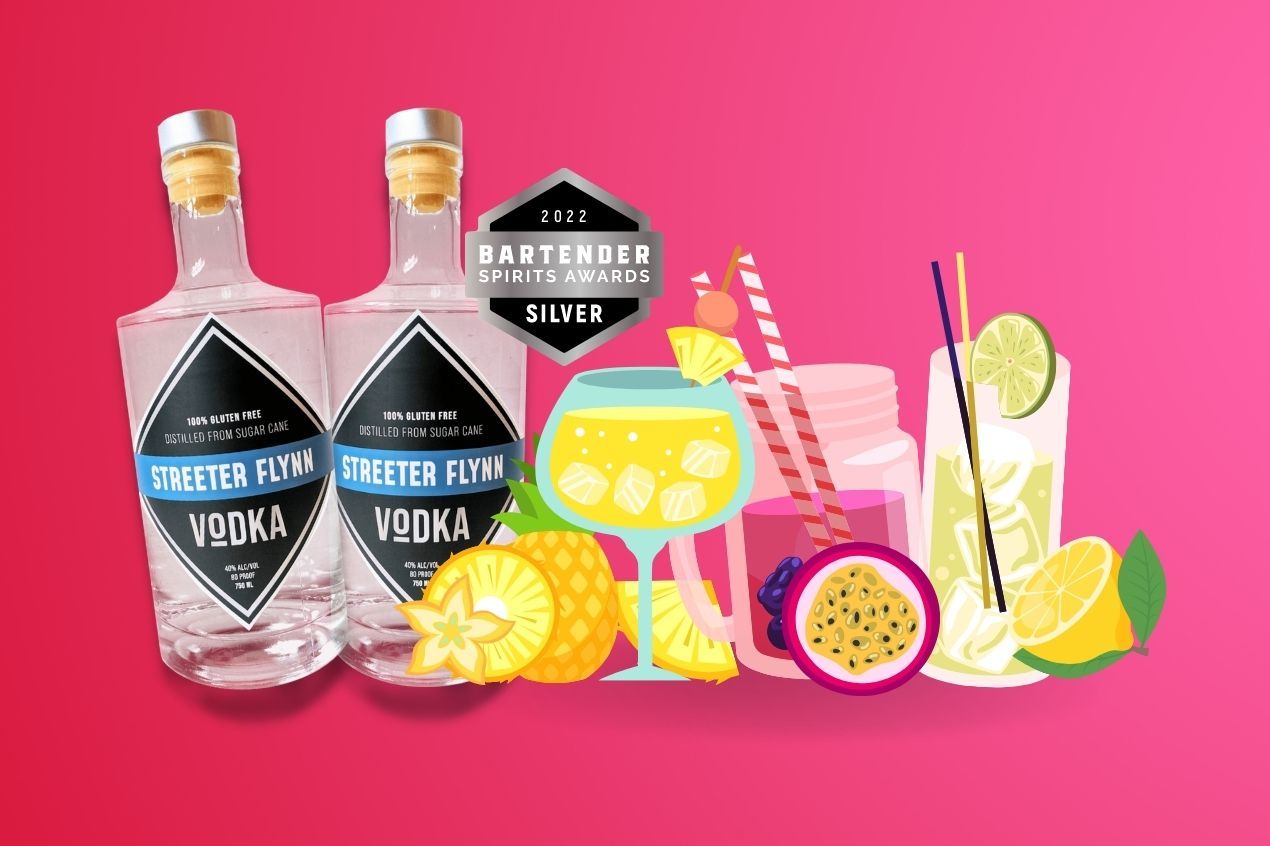 Streeter Flynn is an all-American vodka that is crisp, clean, smooth, and distinctive enough to enhance any cocktail. Naturally Gluten-Free, Streeter Flynn is created using only the highest quality sugar cane and distilled five times. The final finishing process makes this one of the smoothest Vodka available today, and a multi-award winner.
It earned 87 points at the Bartender Spirits Award 2022, thus claiming a Silver Medal, and 67 points at the London Spirits Competition 2022.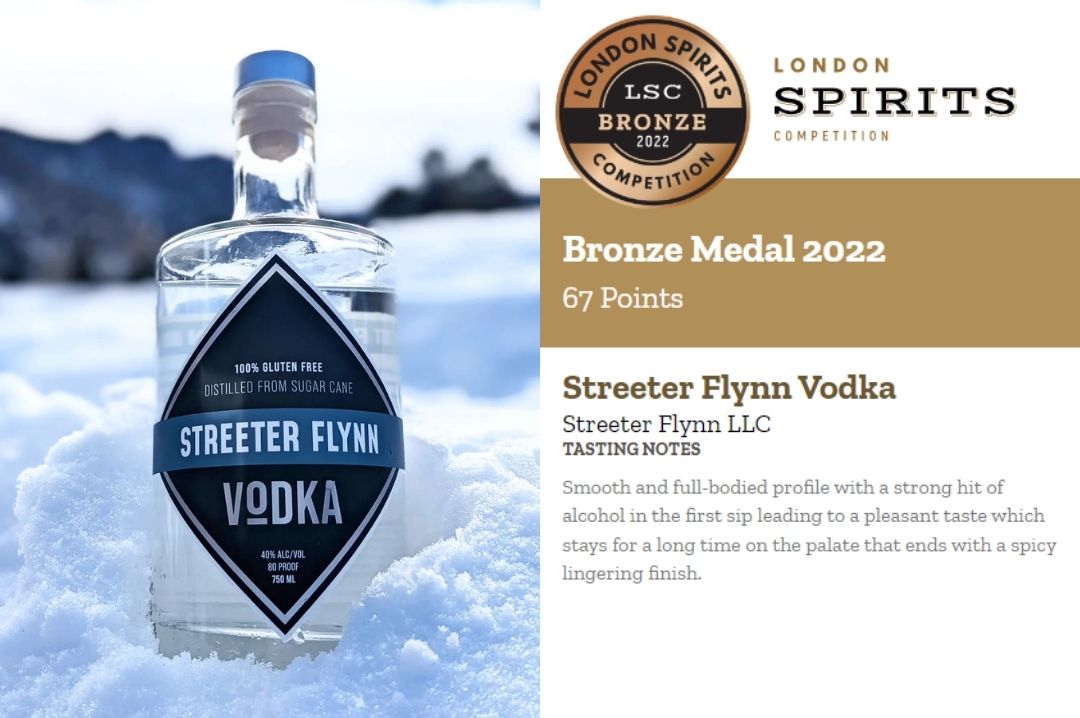 What to expect?
A smooth and full-bodied profile with a velvety and spicy aroma.
A strong hit of alcohol in the first sip leads to pleasant notes of cotton candy, coriander and peppermint with floral hints on the palate. Clean and silky mouthfeel with a spicy, lingering finish.
Needless to say, the cocktails that come from this vodka are smooth, flavorful and versatile.
1. The Streeter Spritzer
This flavorful vodka cocktail is a fresh take on the classic spritzer, and could not have been easier to make at home!
Ingredients :
1oz Streeter Flynn Vodka
3oz Sparkling rose
2oz Soda
Method :
Build up all the ingredients over ice in a glass of your choice, and stir gently. Garnish with a freshly cut grapefruit slice.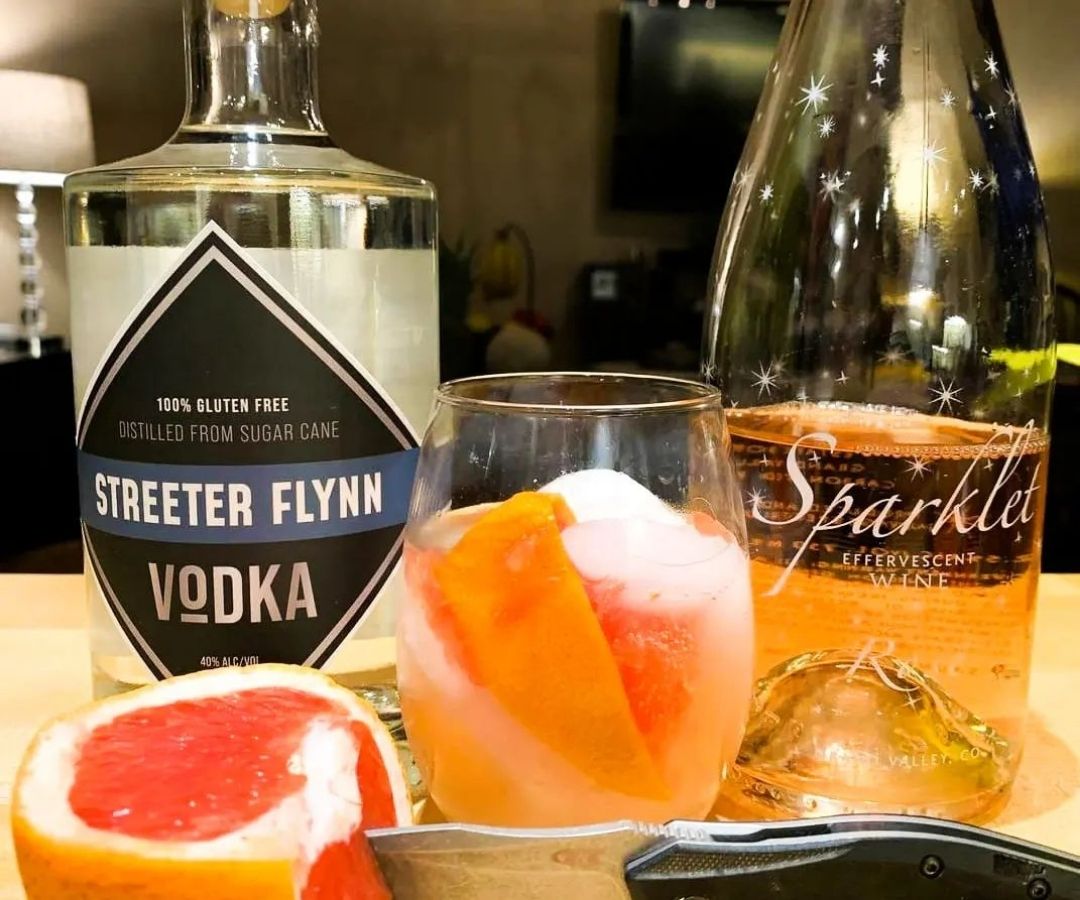 2. The White Sage
This is a fun brunch alternative to the Bloody Mary or a Mimosa. It's really refreshing especially after a morning yoga or morning run.
Ingredients :
1 ounce Streeter Flynn Vodka
1 ounce coconut water
1 T simple syrup
1 lemon wedge
2 fresh sage sprigs
Method :
Pour each ingredient into a shaker with a squeeze of lemon, one sage sprig, and ice.Shake and pour into glass with ice and garnish with a sage leaf!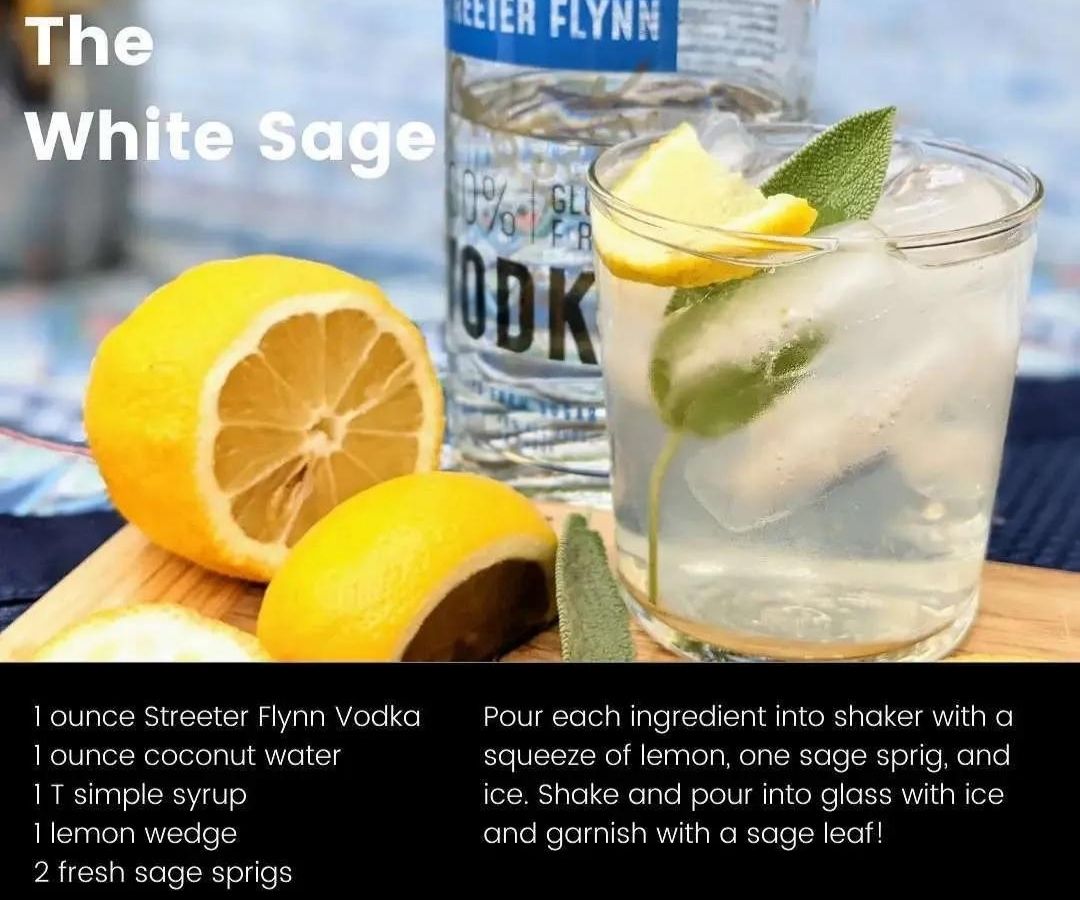 3. White Manhattan
The White Manhattan is a contemporary twist on the classic whiskey cocktail - Manhattan.
Ingredients :
2 oz. Streeter Flynn Vodka
1 oz. Dolin Blanc Vermouth
2 dashes Angostura Orange Bitters
Orange Peel for Garnish
Method :
Stir all ingredients together in a rocks or stemmed glass wiitih ice until it is chilled. Garnish with an orange peel.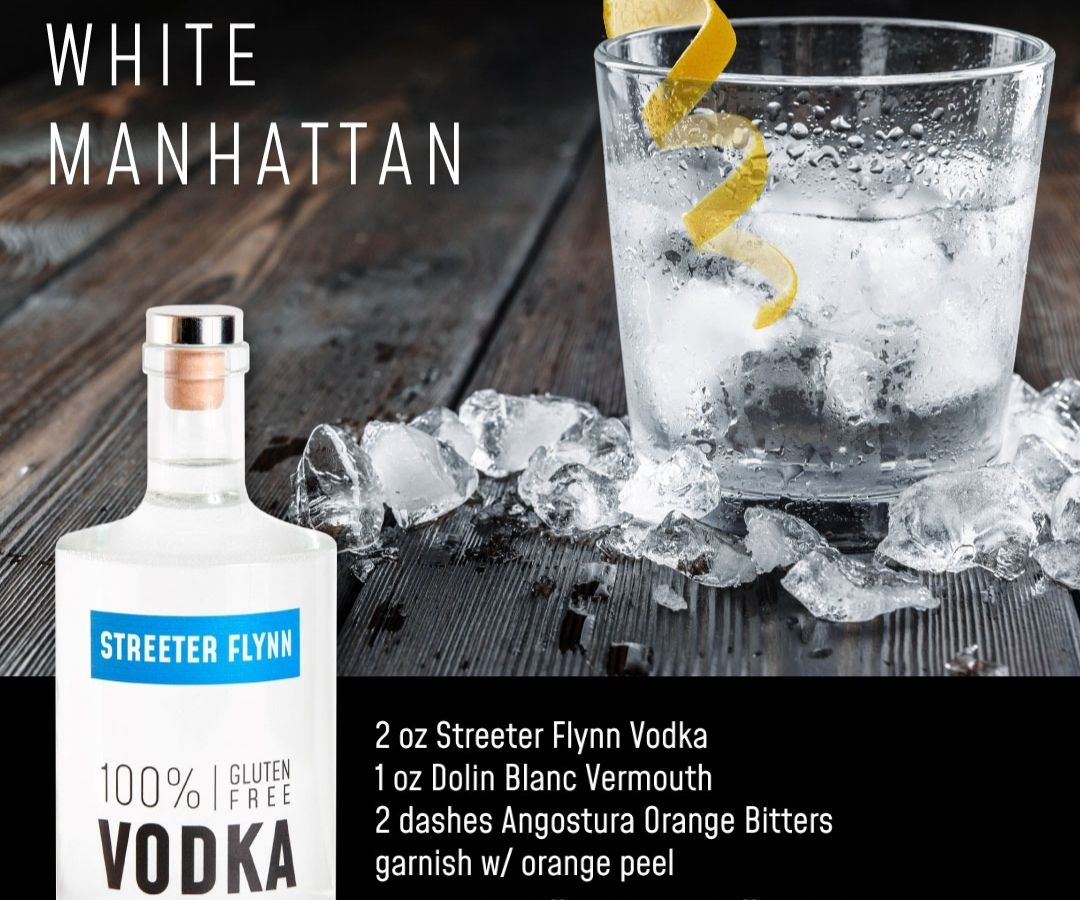 4. Summerthyme Screwdriver
This refreshing community pitcher is everything you need for your backyard party this summer!
Ingredients :
5 orange wheels, thickly sliced
2 lemons
11 oz. Streeter Flynn Vodka
5.5 oz. Aperol Aperitif
17 oz orange juice
Club soda, to top
Thyme sprig for garnish
Orange wheels for garnish
Method :
Lightly muddle the orange wheels at the bottom of the pitcher.
Squeeze the lemons into the pitcher, and discard the shells.
Add the vodka, Aperol and orange juice, and fill up the pitcher with large ice cubes.
Top with club soda and gently stir to combine.
Serve in Collins glasses with garnish of thyme sprig and orange wheel.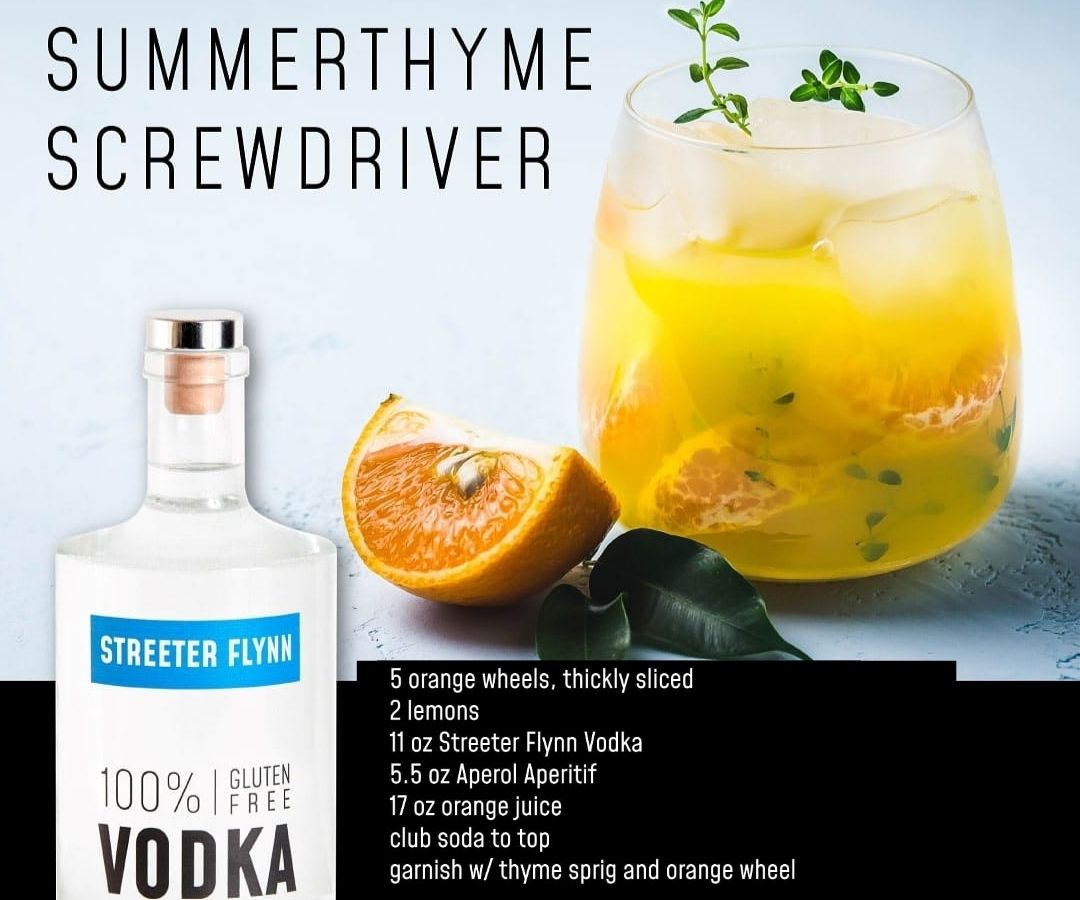 5. Oaks Lily
Ingredients :
1.5 oz. Streeter Flynn Vodka
0.5 oz Bauchant Orange Liqueur
3 oz cranberry juice
0.5 oz. lemon juice, freshly squeezed
0.5 oz. Cocktail Essential Simple Syrup
2 blackberries and a lemon wedge for garnish
Method :
Add vodka, orange liqueur, cranberry juice, lemon juice, and simple syrup into a highball glass, fill with ice and stir gently. Garnish with 2 skewered blackberries and a lemon wedge.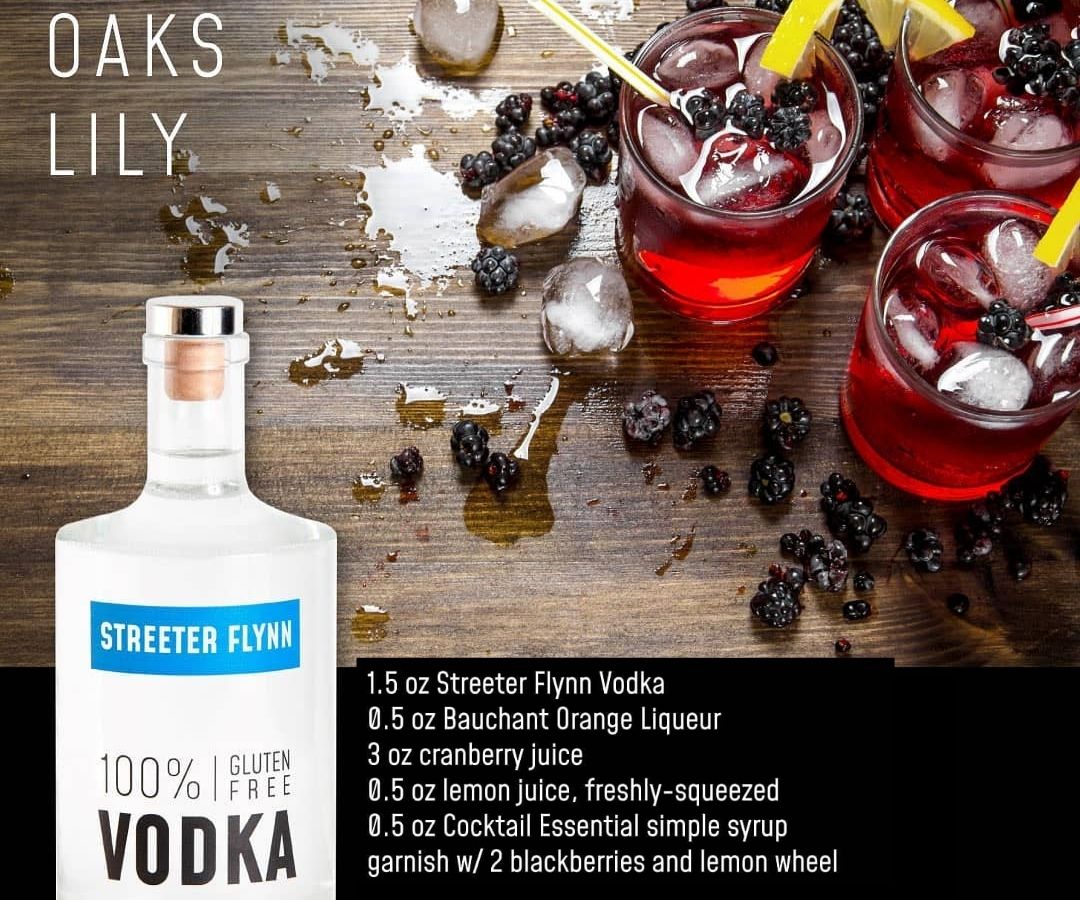 6. The Wicked Witch Martini
Multiply this groovy recipe and mix it in a punch bowl for a fun Halloween party punch!
Ingredients :
1.5 oz - Streeter Flynn Vodka
1 oz - Sweet Vermouth
0.5 oz - Simple Syrup
2.5 oz - Grape Juice
1/4 wedge - Lime
Splash - Maraschino Cherry Juice
Lime twist for garnish
Method :
Pour all ingredients into a cocktail shaker except the cherry juice and shake well with ice. Pour the mixture into a martini glass and finish garnishing with cherry juice and lime twist.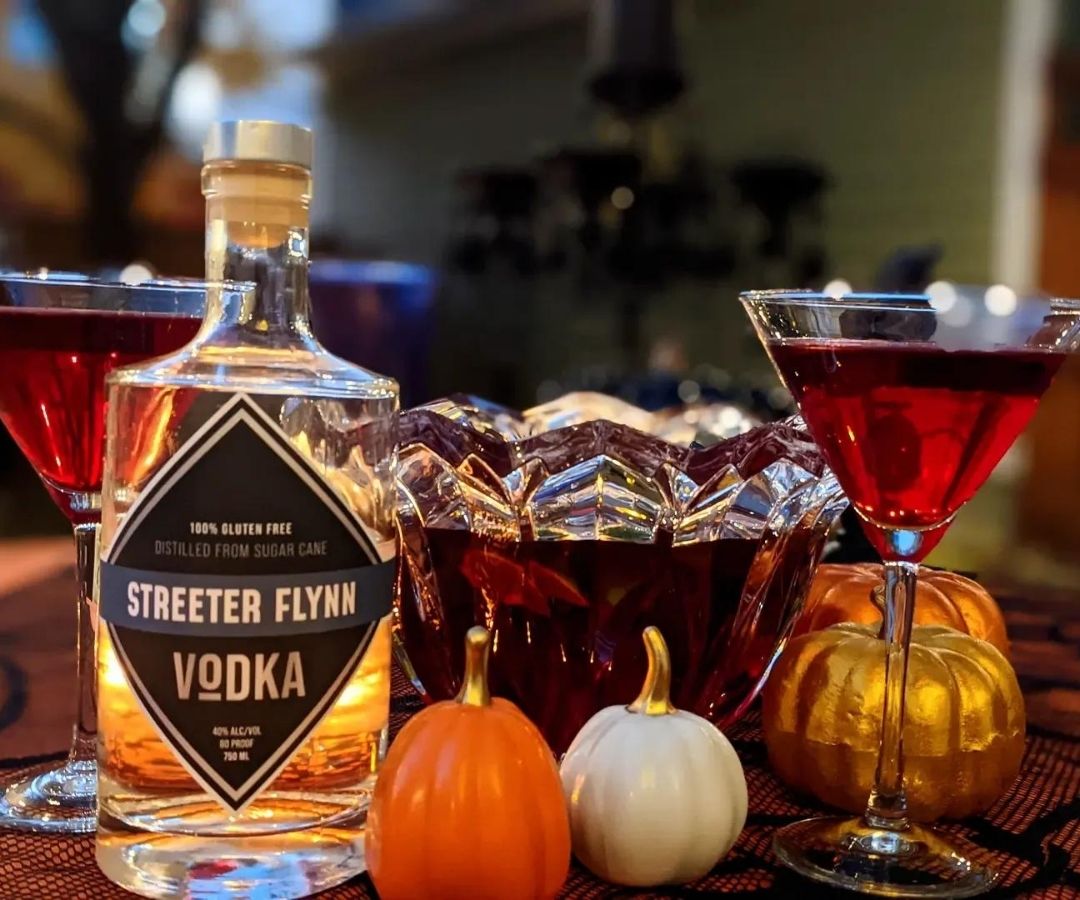 7. Espresso Martini
The classic Espresso Martini only gets smoother, better and tastier with Streeter Flynn Vodka!
Ingredients :
2 oz Streeter Flynn Vodka
1/2 oz coffee liqueur
1 oz espresso
1/2 oz simple syrup
Coffee beans for garnish
Method :
Add all ingredients to a shaker filled with ice and shake until well-chilled, strain into a chilled cocktail glass and garnish with coffee beans.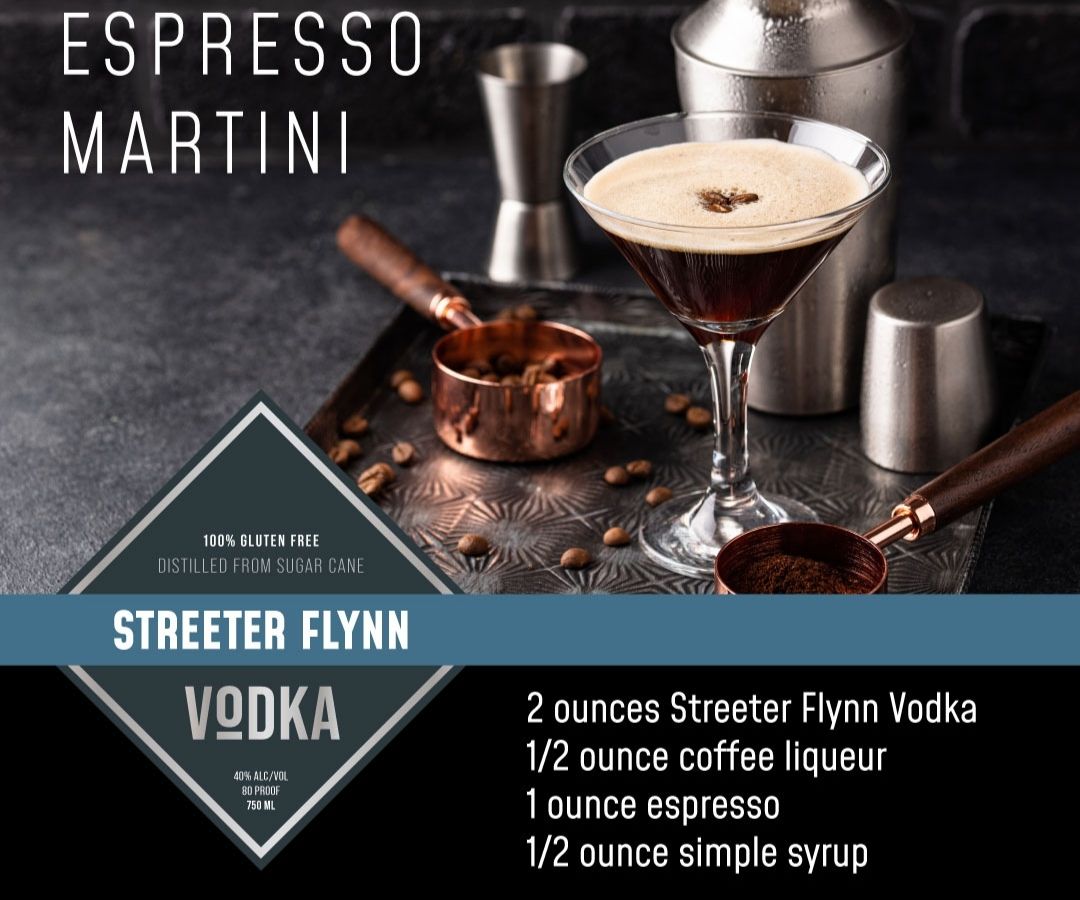 Written by Stuti Khetan, Beverage Trade Network