Two Good to Miss: The Carajillo Nixta and Maize Boulevardier
Whether you are looking for a cocktail that champions Mexican liqueur or a nice corn-based whisky, Casa Lumbre has it all in its ranks.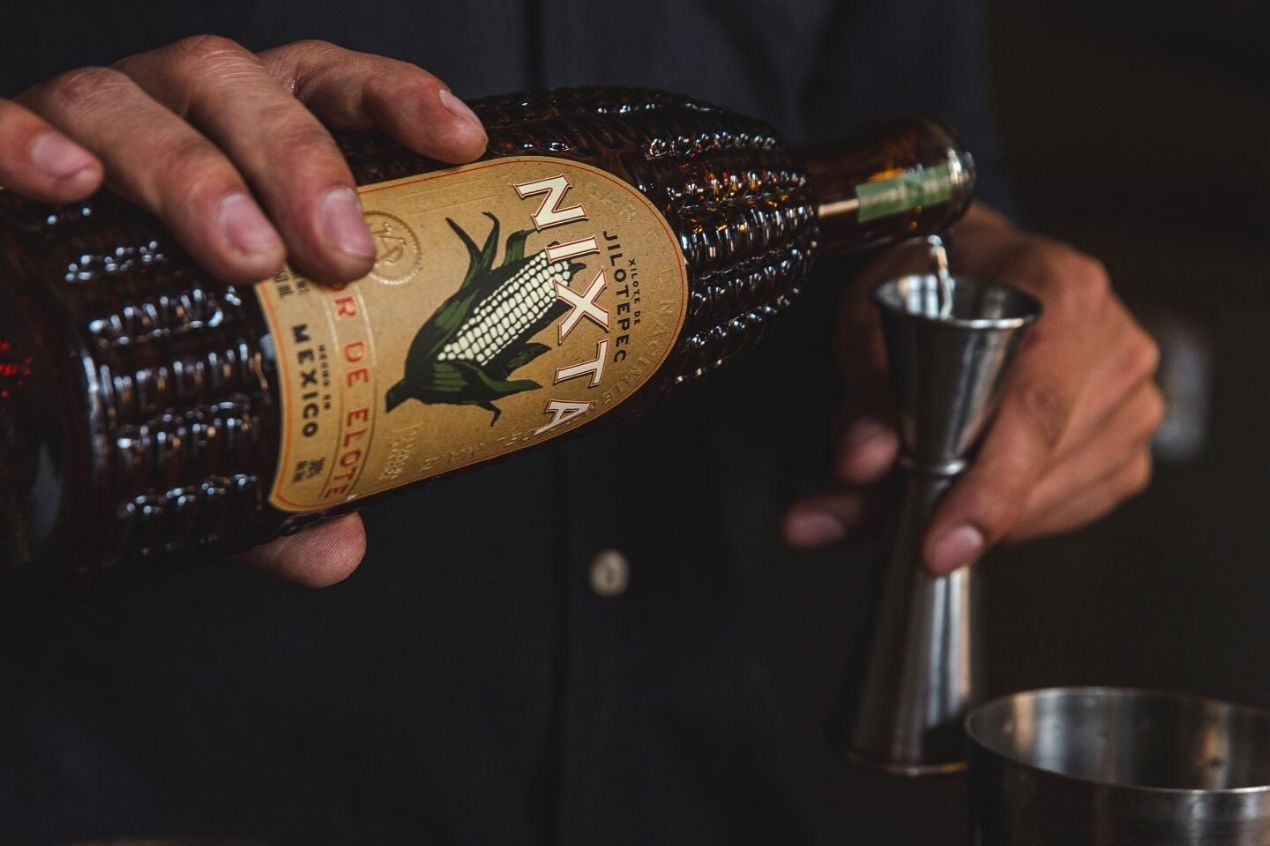 Mexico is a nation that has grown tremendously in stature and importance in the world of spirits. It is the epicentre of tequila creation and has, in recent years, brought to the forefront several spirits that have captured the imagination of drinkers the world over.
From celebrities joining the cult of the spirits business in Mexico to agave producers showcasing their merit in leading spirits competitions, Mexico is no longer the yellow-coloured country depicted in Hollywood films.
One company that has done its part in showing the world the brilliance of Mexican spirits is Casa Lumbre. A proud representative of Mexican craft and culture, Casa Lumbre is home to quintuple brands. Among the five brands that Casa Lumbre represents stands Nixta, a liqueur manufacturer that brought glory to Casa Lumbre with its win at the 2021 London Spirits Competition.
The annual spirits judging competition held in the English capital awards spirits that prove their mettle in three criteria of quality, value, and packaging. These parameters are chosen, keeping in mind what a regular drinker looks at before deciding on buying a drink whether from a retailer's shelf or at a restaurant.
Nixta Elote Liqueur was on an elite list at the competition with its gold-medal-winning score of 90 points. Made from a base of tender, ancestral cacahuazintle maize grown in the foothills of the Nevado de Toluca volcano, Nixta Elote Liqueur has an inviting, intense straw colour with golden highlights. On the nose, the liqueur exhibits a bouquet of cornbread, toasted corn, caramel, and vanilla.
On the palate, the liqueur retains these aforementioned flavours, developing in the glass a slight roasted nut scent. The liqueur, which finishes on a grassy note, is a great choice to make the Carajillo Nixta with.
A Mexican version of the classic Carajillo, this is how to make the cocktail that will add something new to your coffee cocktail list.
The Nixta Carajillo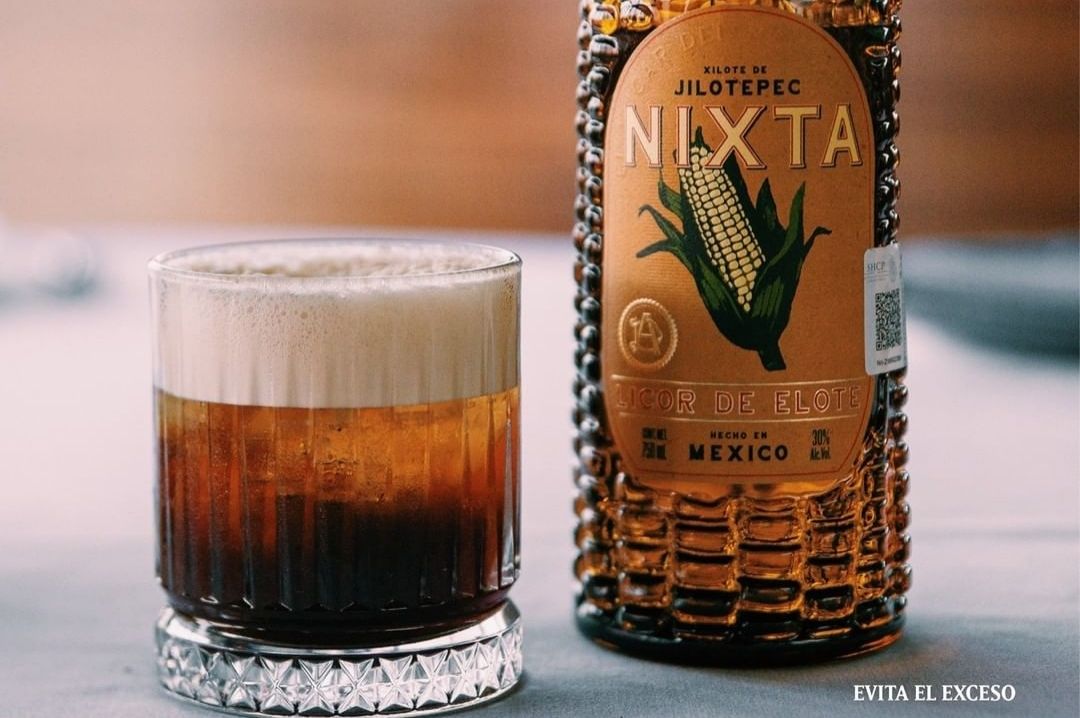 The Nixta Carajillo, source: Instagram
Ingredients:
2 oz Nixta Licor de Elote
2 oz your favourite espresso
Cinnamon for garnish
Method:
Put all ingredients into a shaker with ice, shake vigorously, double strain and serve in an old fashioned glass with ice. Garnish the mix with some cinnamon and serve.
Another brand from the Casa Lumbre family that was among the winners at the 2021 London Spirits Competition was Abasolo Whisky, whose product of the same name scored 85 points and a silver medal at the competition.
Similar to Nixta Elote Liqueur, Abasolo Whisky is also distilled from 100% Mexican cacahuazintle. Light and aromatic on the nose, Abasolo Whisky has aromatic hints of vanilla essence and corn. On the palate, there are deep, nuanced notes of roasted corn, honey, black tea, and leather. A very smooth whisky with a buttery popcorn finish, mingled with a light peppery spice flavour. To try the whisky as a part of a cocktail, opt for the Maize Boulevardier.
The Maize Boulevardier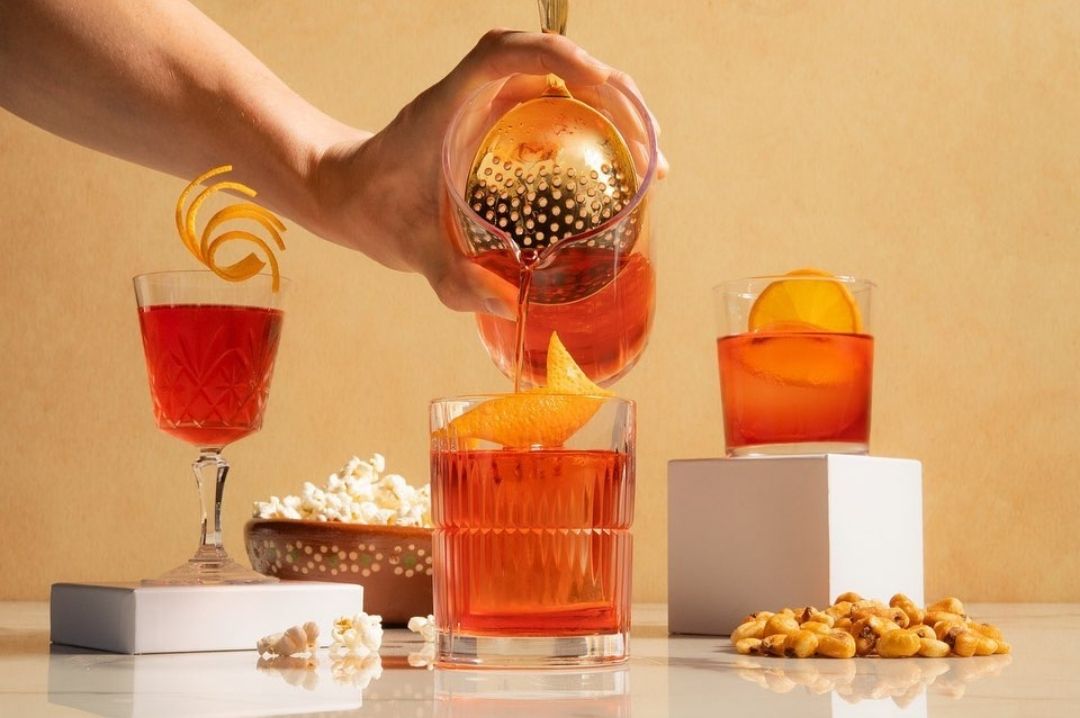 The Maize Boulevardier, source: Instagram
Ingredients:
1.5 oz Abasolo Whisky
0.75 oz Vermouth Rosso
0.75 oz Campari
Orange peel
Method:
Get all the ingredients together. Stir and serve in a coupé glass with an orange peel.
The three remaining brands that complete the Casa Lumbre collection are Montelobos, Ancho Reyes, and Ojo De Tigre. Montelobos is an artisanal mezcal producing brand created by biologist and expert distiller Iván Saldaña in collaboration with Mexican mezcal producers and agave growers.
Ancho Reyes is a liqueur-producing brand that champions Ancho Chiles in each of its products. Natural and handcrafted from chiles native to Puebla, Ancho Reyes has two spirits, the Ancho Reyes Original and Ancho Reyes Verde. Each of these versatile liqueurs is crafted using time-honoured techniques mastered and handed down by the artisans in the 1920s.
The final brand Casa Lumbre represents is Ojo De Tigre, another mezcal producer. Eye of the tiger in Mexican, the brand has collaborated with famed Mexican actor-producer Luis Gerardo Mendez. Crafted from Oaxacan Agave Espadin and Agave Tobalá, native to Puebla, Ojo De Tigre is a very inviting mezcal proposition.
Header Image - Nixta Licor, source: Facebook