World's Top 50 Cocktails
On this page you will find a list of top 50 cocktails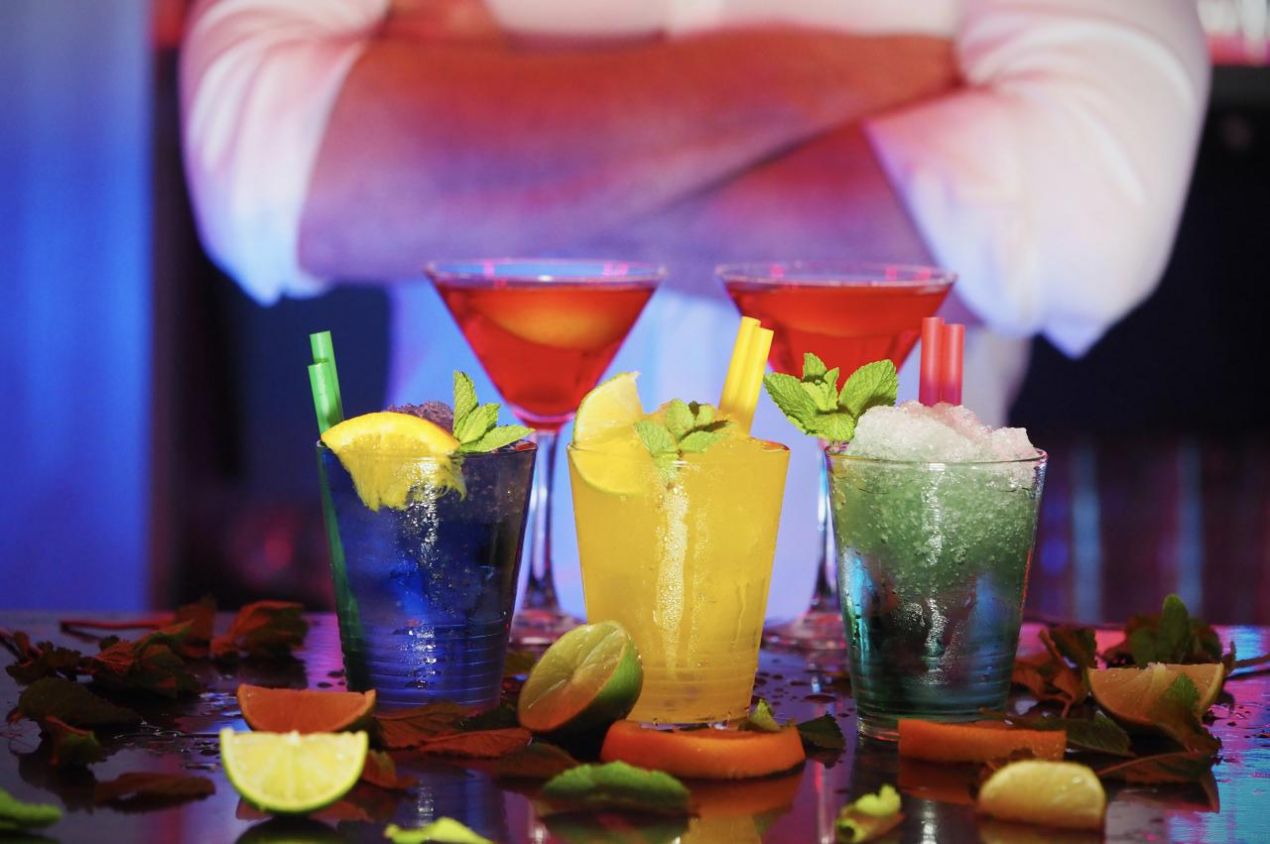 Our team has curated what we believe to be 2020's top 50 cocktails. In compiling 'World's Top 50 Cocktails' we used our own sales data, consulted several leading bartenders and bar owners around the world, and have taken into consideration what's trending.
There are many different types of cocktails on this list from classic to tiki to modern classics. Some are simple enough for the novice home bartender and some very complex.
Here are the top 50 cocktails of 2020.
Paloma
A minimalistic, yet elegant cocktail is known as Paloma consists of tequila and grapefruit soda such as Fresca or Jarritos, which makes it a perfect combination of sweet and tart. Paloma, which means dove, is one of the most popular Mexican cocktails that can even be found ready-made in soda cans.
Grapefruit soda can be substituted with freshly squeezed grapefruit and lime juice for a better, sourer flavor. The cocktail is typically served on the rocks in a highball glass with a lime wedge garnish. A good recipe on how to make Paloma can be found on Drink up London website and on Hamyard Hotel in London website.
Monkey Gland
It's a drink born in the glitz and the glamour of the 1920's, invented by a bartending maestro you have probably never heard of, Harry McElhone (author of Harry's ABC of Mixing Cocktails).
Flavour-wise, it's a fruity number with orange juice and grenadine, with a backbone of anise from the absinthe Holding the whole drink together is the spirit of the moment, your favoured London Dry Gin.
Bramble
Bramble is a spring cocktail that was created by Dick Bradsell in 1984 in London. The cocktail consists of dry gin, lemon juice, sweet blackberry liqueur, sugary syrup, and crushed ice. It is named after blackberry bushes which are commonly referred to as brambles.
This refreshing cocktail has a strong aroma of fresh berries such as blackberries or raspberries. It is prepared by stirring ingredients with crushed ice in an old-fashioned glass, then pouring blackberry liqueur over the combination in order to create a marbling effect. Before serving, Bramble is typically garnished with blackberries and a slice of lemon. Bramble recipe, along with recommended Gin from London Drinks Guide would be DryCat Gin.
Blood and Sand
First made in 1922 the Blood & Sand was inspired by the eponymous film. Fast forward 98 years and it's still found, with a cluster of top bars telling us it is among their top-10 bestselling classics. It is also only the second scotch drink in the top 50. Made with scotch, cherry brandy (the blood), sweet vermouth, and orange juice (the sand) this drink is possibly a little sweet for more discerning palates.
Manhattan
Manhattan is a classic cocktail that originated in the late 1800s on Manhattan Island in New York City. Traditionally, it consists of rye whiskey, sweet vermouth, and a dash of bitters, usually of the Angostura variety. However, in some variations, it can also be made with bourbon, blended whiskey, Tennessee whiskey, or Canadian whiskey, which was primarily used during the prohibition period due to its availability.
Regardless of the preparation style, it is typically served on the rocks in a cocktail or lowball glass, garnished with a Maraschino cherry. Movie lovers can see this famous classic cocktail in Billy Wilder's 1959 hit comedy Some Like it Hot, starring Marilyn Monroe, Tony Curtis, and Jack Lemmon.
Appletini
Appletini consists of vodka and one or more of these beverages: apple juice, apple cider, apple liqueur, or apple brandy such as Calvados. This modern cocktail was invented in Los Angeles in 1996, and it is also known as Apple Martini or Adam's Apple Martini. Vodka may be substituted with gin, and in some variations, vermouth can be included in the combination. One of the most popular variations is known as Rumpletini, made with light rum instead of vodka.
Typically, the drink is served shaken in a chilled cocktail glass, garnished with a cherry or an apple slice. Recommended Vodka would be Devon Cove Vodka.
Bombardino
Bombardino is the ultimate Italian winter cocktail made with a combination of brandy, VOV egg liqueur, whipped cream, and cinnamon. In order to prepare it, brandy and warm egg liqueur should be poured into a glass mug, and the combination is then generously topped with whipped cream and a sprinkling of cinnamon.
It is believed that the drink is named Bombardino after the fact that one of the first people to try it exclaimed that "it's like a bomb" after noting its high alcohol content and hot temperature.
Mitch Martini
Created in 1997, at Match Bar London by cocktail bartender Giovanni Burdi, it's damn fruity. A mix of bison grass vodka (try this if you haven't – it's great with apples), peach liqueur, passionfruit and balanced apple juice.Popular with those who have a sweet palate, if you like fruit this cocktail has your name written all over it.
Kalimotxo
Kalimotxo is a refreshing cocktail that originated in the early 1970s in Spain. The cocktail is made with a simple mixture of red wine and cola. Although some use cheaper wine in the mix, the best Kalimotxo is made with dry and tannic red wines of higher quality.A common way to serve Kalimotxo is on the rocks in a one-liter drinking glass (known as mini or maceta), garnished with a lemon wheel.
Woo Woo
Woo Woo is a fruity American cocktail which is considered a mix between Cosmopolitan and Hairy Navel. It is made with vodka, peach schnapps, and cranberry juice. The cocktail can be fixed shaken or stirred, and it is typically served either in a highball glass or a shot glass.
It is traditionally prepared on the rocks with a lime wedge garnish. Although Woo Woo is a popular cocktail, its origins are still somewhat murky, but many believe that it was invented in a (now closed) First Edition bar in Bayside, New York.
Rickey
Rickey is a cocktail made with gin or bourbon as a base, combined with freshly squeezed lime juice and carbonated water. It originated in the 1880s in Washington D. C. In 2011, it became the official cocktail of the city, and since then, it is celebrated every July, which has been declared Rickey month.The cocktail is prepared by blending all ingredients on the rocks in a highball or wine glass, and it is then served with a lime garnish.
Earthquake
Earthquake is a cocktail that was supposedly invented by a French painter named Henri de Toulouse-Lautrec. It is made with equal parts of absinthe and cognac, although some recipes suggest gin as the third component. As the name suggests, it is called Earthquake because of the powerful effects of this specific alcohol combination, which tends to shake up the consumer.
Japanese Slipper
The Japanese Slipper is one of the best of this bunch, created by Jean-Paul Bourguignon (great name) in Mietta's Restaurant in Melbourne. It's made with Midori Melon Liqueur, triple sec and lemon juice. So super fruity but with a much-needed acidity. It's pleasant enough and if you don't mind wandering around with a fluorescent green cocktail then this is for you.
Bay Breeze
Bay Breeze is a refreshing cocktail with Hawaiian origins. It consists of vodka and cranberry juice as its base, with the addition of pineapple juice and sugar. This elegant, layered cocktail is sometimes also referred to as Downeaster, Hawaiian Sea Breeze, or Paul Joseph.
Bay Breeze is typically served without stirring in a highball glass, and it is garnished with a slice of pineapple, lime, or orange.
Shandy
Shandy is a popular cocktail with a low content of alcohol, made with a combination of beer and soft drinks. Proportions of the ingredients are usually half-and-half, although they can vary depending on personal preferences. It is believed that Shandy originated in America, but nowadays it is more popular in western Europe, and almost every country has a name for the drink.
Mint Julep
Mint Julep is a cocktail that originated in the 18th century in Kentucky, and it is widely consumed throughout the American South. It contains bourbon, sugar syrup, water, crushed ice, and fresh mint leaves (usually spearmint). In the 18th century, Mint Julep was originally prescribed for stomach-aches, while bourbon was sometimes replaced with aged gin.Although it was traditionally served in a silver cup in the past, nowadays it is commonly served in a tall glass (collins or highball) with a straw.
Coquito
Coquito is a traditional Puerto Rican cocktail similar to eggnog. It is typically prepared and consumed during the festive Christmas season. The cocktail is made with a combination of coconut milk, rum, condensed milk, and vanilla.In order to prepare it, all ingredients should be blended, then chilled and served in small glasses. It is recommended to garnish coquito with nutmeg on top.
Bacardi
Bacardi is a classic cocktail that originated in Cuba at the beginning of the 20th century. It contains rum, freshly squeezed lime juice, sugar, and grenadine syrup, which adds a perfect amount of sweetness to the cocktail. Prior to the addition of grenadine syrup in the combination (which is a modern version with American origins), the cocktail was considered to be a cousin of Daiquiri.
Spritzer
The light and bubbly Spritzer is a refreshing beverage made with a combination of white wine and club soda. Although there is a story about its possible Hungarian origin, it is typically dismissed as a legend, and most sources claim that it originated in 19th-century Austria, when it was invented as a way to create bubbly wine.Spritzers are usually prepared in a tall glass with 3 parts white wine and 1 part club soda, and the beverage is especially popular during summertime.
Sazerac
Originating from New Orleans, the timeless cocktail known as Sazerac is made with a combination of cognac or rye whiskey, bitters, absinthe, and sugar. Rye whiskey and absinthe can sometimes be replaced by bourbon whiskey and Herbsaint or Pernod.The method of preparation involves two chilled glasses: one rinsed with absinthe, and the other one used for stirring the other ingredients with ice before the cocktail is poured into the first glass, which is typically garnished with a lemon twist.
Vesper
Vesper or Vesper Martini is a cocktail made with three shots of dry gin, one shot of vodka, and half a shot of Kina Lillet (nowadays known as Lillet Blanc), a dry French vermouth. It was invented by Ian Fleming, when it was mentioned in his first James Bond novel, Casino Royale, published in 1953.
Gimlet
Gimlet is a simple, yet classic cocktail that originated in England. The cocktail is named after Sir Thomas Gimlette, who supposedly invented it at the end of the 19th century. In the past, Gimlet was made with equal parts gin and lime juice (typically Rose's lime juice instead of freshly squeezed limes), but nowadays it is made in a less sweet version with one part lime juice and two parts gin.
John Collins
Collins cocktails are characterised by base spirit, lemons juice and soda. From there where you take it is up to you. The John Collins uses juniper heavy London Dry Gin as its base and a great result it is too. Fresh, zesty, zingy lemoniness make the ultimate adult lemonade.
Michelada
Michelada is a Mexican beer-based cocktail with a spicy kick. Since it is easily adaptable to different tastes and preferences, Michelada can be prepared in a variety of ways with beer as a base, and the addition of lime juice, salt, and assorted spices, hot sauces, and peppers.
B-52
B-52 is a layered cocktail that was invented in Banff, Canada in 1977, and was allegedly named after the long-range bomber used by the Americans during the Vietnam War. It consists of coffee liqueur (usually Mexican Kahlúa), Irish cream (usually Baileys), and Grand Marnier orange liqueur.The classic B-52 version is served neat in a shot glass, while the variation known as Flaming B-52 usually comes with a top layer of rum, which helps to ignite the flame.
Boilermaker
Boilermaker is an American beer cocktail that consists of beer and a shot of whiskey. There are a few ways of serving Boilermaker - with beer as a chaser taken after a single gulp of hard liquor, or as a shot of whiskey poured into the beer, which speeds up the effects of alcohol on the human body.While the exact origin of Boilermaker is still unclear, it is believed that the cocktail dates back to the early 1800s, when it was a favorite cheap drink of the American working class, hence the name.
Bijou
The Bijou is a pretty boozy cocktail, action packed with gin, Chartreuse and vermouth. Don't be put off by the alcohol content as you would be missing out on something extremely flavoursome.It's a very intriguing flavour combination. You have the botanical gin, softened somewhat by aromatic sweet vermouth and then a jump start of complex Chartreuse, which at turns is sharp, minty and herbal.
Whiskey Sour
An American classic that was created in the 1870s, known as Whiskey Sour is composed of whiskey or bourbon, sugar or Gomme syrup, and lemon juice. However, if an egg white is added to the mix, the drink is referred to as Boston Sour, and if red wine is included in the cocktail, it is then called New York Sour.Whiskey Sour is a shaken cocktail that is typically served on the rocks in an old-fashioned glass, usually garnished with a half of an orange slice and a Maraschino cherry.
Zombie
Zombie is a Tiki cocktail that was invented in the late 1930s in Los Angeles by Donn Beach. The cocktail is named Zombie after the way it affects the drinkers. The drink is made with demerara rum, golden rum, dark rum, 151 proof Lemon Hart, falernum, lime juice, grenadine, Pernod, Angostura bitters, and Don's mix.
Zombie is typically served on the rocks in a tiki mug or a hurricane glass, garnished with a cherry, an orange slice, and a pineapple slice. If it is served heated, the cocktail is named Hot Zombie.
Caipiroska
Caipiroska is a cocktail that is quite similar to Caipirinha, but consists of lime, brown sugar, and vodka instead of Brazilian cachaça. This refreshing, citrusy cocktail is a trendy beverage in Brazil, Argentina, Uruguay, and Paraguay, where it is often referred to as Caipivodka or Caipiroska.Both Caipirinha and Caipiroska share the same preparation process: lime wedges and sugar are muddled together before alcohol (in this case, vodka) is added to the combination.
Black and Tan
Black and Tan is a beer cocktail that contains two types of beer: pale and dark. As the name suggests, beer is layered into a pint glass to display a combination of light and dark beer. To prepare it, one should slowly pour stout beer over the back of a bar spoon into a glass that already contains light lager beer.
Sex on the Beach
Sex on the Beach is an American cocktail with many variations and two main types. In its most popular manifestation, the cocktail consists of vodka, orange juice, Passoa or peach schnapps, and cranberry juice. However, along with vodka, the other type includes Chambord, Midori melon liqueur, and pineapple juice.Sex on the Beach is typically served on the rocks in a tall, highball glass with an orange slice garnish.
Screwdriver
Screwdriver is one of the most popular highball cocktails, made with vodka and orange juice. Although the exact origin of the Screwdriver is unclear, it is believed that it had originated in the United States around the middle of the 20th century, when it was first mentioned in an issue of Time magazine.
Whiskey mac
Whiskey mac with the flavour mix of ginger and whisky a winner. A decent scotch whisky and Ginger wine are mixed over ice. Whisky purists might baulk at mixing the good stuff with a fortified wine, but to really enjoy the cocktail in all its glory, this is a must. It really is the perfect antidote to a cold winter's day. Full name Whisky MacDonald, it was first crafted by Colonel Hector MacDonald in the British Raj.
Death in the Afternoon
A decadent cocktail made with absinthe and champagne is known as Death in the Afternoon. Thanks to its inventor - Ernest Hemingway, it is often referred to as the Hemingway Champagne, or simply The Hemingway. The cocktail originates from 1930's Paris, when the writer spent time in the city writing and enjoying absinthe.Due to the emulsification of absinthe, the cocktail is milky in appearance, with a bubbly structure, and Hemingway's instructions were to drink three to five of these cocktails slowly from a champagne glass.
Mai Tai
Mai Tai is a popular rum-based cocktail originating from Oakland in 1944. Its name means good in Tahitian. In addition to rum, which can be both spiced and coconut flavored, the cocktail contains lime juice, orgeat syrup, and orange liqueur, typically curaçao, but in some versions it can include grapefruit juice, bitters, or grenadine.
Kir
A cocktail made with blackcurrant liqueur (typically crème de cassis) and white wine is known as Kir, a traditional French beverage that is usually consumed as an apéritif. The cocktail got its name after Felix Kir, who popularized it after World War II through the twinning movement, which promoted friendship between towns, cities, countries, and cultures.
Tinto De Verano
Similar to Sangria, Tinto de Verano is a cold wine-based cocktail that originates from Spain. It can be translated as Red Wine of Summer, so it is not a surprise that it is mainly consumed during summer as a refreshing drink that can be made at home or bought in supermarkets, where it is often readily available.
Tinto de Verano is made with equal parts red wine and gaseosa, which is a general term for mild-flavored sodas and carbonated drinks.
Moscow Mule
A classic cocktail that was created in New York City in the 1940s, Moscow Mule consists of vodka, ginger beer, and lime juice. Because it contains ginger beer, Moscow Mule is a type of buck (a mixed drink with ginger beer or ale, spirit, and citrus), so it is often referred to as Vodka Buck.The cocktail is traditionally served in a copper mug, on the rocks, with a lime wheel garnish.
Negroni
Negroni is a cocktail made with equal parts gin, sweet vermouth, and Campari. Although its origin is unclear, it is believed that this cocktail was invented in Florence in 1919 by Count Camillo Negroni, who wanted to improve his favorite drink - the Americano - by replacing soda with gin.Negroni is considered an apéritif, and it is typically served on the rocks in an old-fashioned glass with an orange wheel garnish.
Cuba Libre
Cuba Libre is a Cuban cocktail based on rum, with the addition of cola and lime. In Spanish, its name means Free Cuba, and although the exact origin of this cocktail is still a mystery, it was probably first mixed in Havana in August 1900, after the Spanish-American war, when Coca-Cola was available in Cuba.A common way to serve it is on the rocks with a lime wheel, but some variations (such as Rum and Coke) exclude the lime wheel or substitute white rum with golden or dark rum.
Haiboru
Haibōru or Japanese highball combines Japanese whisky and soda water, and though it may sound simple, the preparation of this cocktail entails tedious steps that have been elevated almost to an art form. The best versions would use a perfectly carved cube of ice that is first stirred until frost appears on the glass.
For a perfect Japanese highball, only the best-quality Japanese whisky should be used, and it is said that when the whisky is added, the drink should be stirred exactly thirteen times clockwise.
Cosmopolitan
A classic cocktail believed to have originated in the 1970s in New York City, the fashionable Cosmopolitan consists of vodka, orange liqueur, cranberry juice, and freshly squeezed lime juice. It simultaneously gained popularity and influenced popular culture in the 1990sThe ingredients should be vigorously shaken with cracked ice in a cocktail shaker before the combination is strained into a large martini glass with a lemon twist garnish.
Kamikaze
Although some claim that it originated during the 1970s as a classic disco cocktail, the elegant Kamikaze cocktail was probably invented in Tokyo after World War II, during the American occupation of Japan. Kamikaze, which means divine wind in Japanese, is made with equal parts vodka, triple sec (orange liqueur), and freshly squeezed lime or lemon juice.
Bellini
Bellini is a classic Italian cocktail made with a combination of Prosecco and white peach nectar or white peach purée. Peach purée or nectar is first poured into a chilled flute glass, and it is then topped with Prosecco before being gently stirred and served.
Outside of Italy, Bellini is often made with champagne, but any sparkling wine will do.
Caipirinha
A Brazilian national cocktail called Caipirinha is made with cachaça, sugar, and lime. Cachaça is the most common distilled alcoholic drink in Brazil, and it can be consumed by itself or used as a base for a number of mixed beverages.This refreshing cocktail is simple to prepare: sugar and lime that has been cut into quarters should be gently muddled together with a wooden spoon before adding cachaça and ice.
Ramos Gin Fizz
This half milkshake, half Gin Fizz concoction was named after the New Orleans bartender who created it in 1888 – Henry Charles Ramos. The original saw silky-smooth cream and orange flower put a new spin on the Fizz. While this cocktail has dropped five places from last year, you'll still find the occasional Ramos at the world's best bars.
Bamboo
Sherry is loved in the bar world, so it's no surprise to see a sherry classic make the 50. The stories behind the origins of this cocktail are quite conflicting, from songs about bamboo to bartenders in Japan… anyway, it's 1½ parts sherry, 1½ parts dry vermouth, two dashes Angostura bitters, two dashes orange bitters.
Pornstar martini
It's the first time the Pornstar Martini has shown up in our list. The passion fruit and vanilla vodka cocktail (with bubbles on the side), invented by Douglas Ankrah at LAB in London in 2002, was always assumed to be more of a mainstream cocktail in recent years, but is clearly made in the world's best bars on occasion too. The customer is always right.
Pisco Sour
Pisco Sour, the 1920s Peruvian cocktail, is down four places. Victor Vaughen Morris, an American bartender, opened his bar in Lima in 1916 and subsequently surprised friends with the Pisco Sour, a mix of Peruvian pisco and American sour. There are lots of versions of this classic but the basic recipe is three parts pisco, one part simple syrup, one part lime juice, egg whites and a dash of Angostura bitters.
2021 London Spirits Competition submissions are now open. Enter your spirits brand today to get super early bird pricing.