The story of the makers of Tonkiki Eierlikör Haselnuss
Tonkiki Eierlikör Haselnuss by Maennerhobby won a bronze medal at the 2021 London Spirits Competition.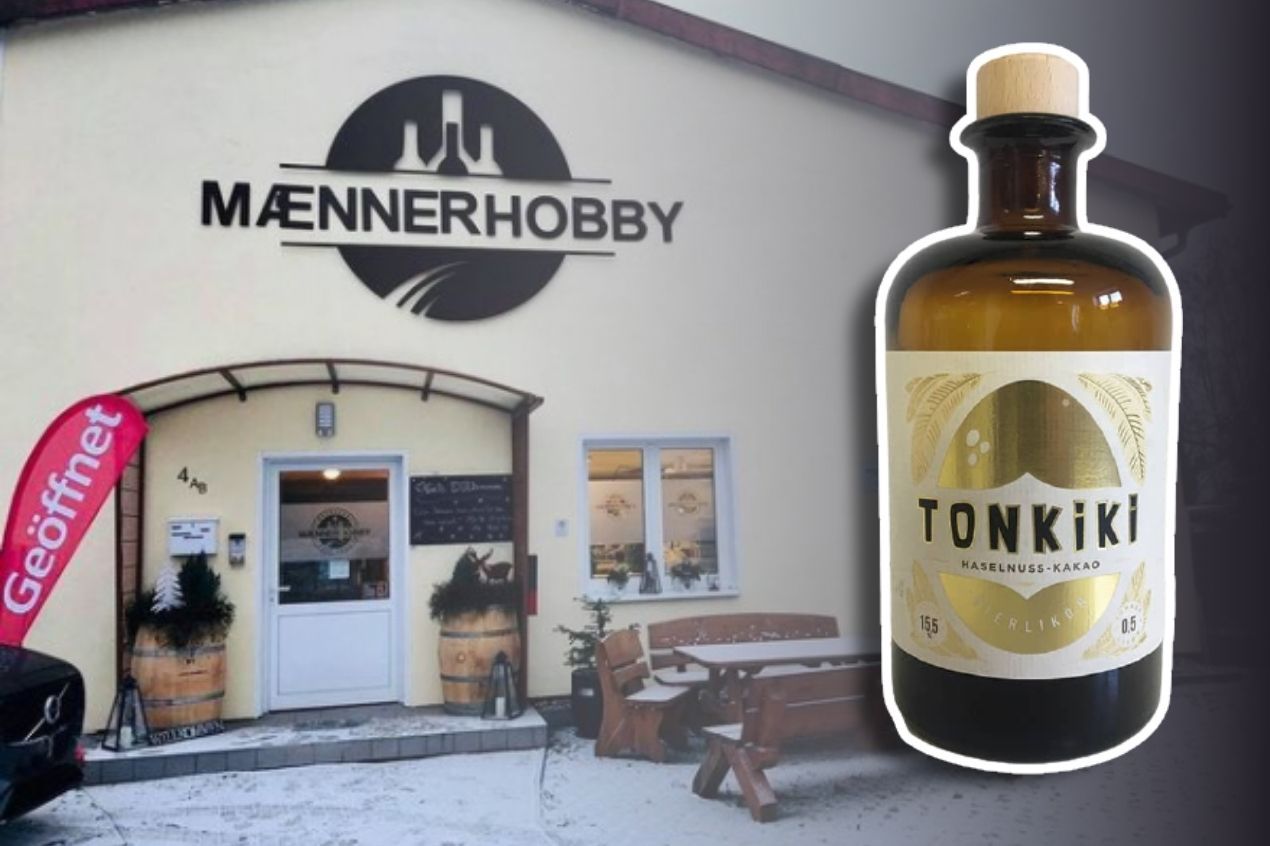 Tonkiki Eierlikör Haselnuss is a thick liquor with strong egg aromas and flavours and a very slight hint of nuttiness and a moreish mouthfeel. It has well-balanced sweetness despite its incredible viscosity. The distillery, Maennerhobby, does what others don't, they make the base of the spirit themselves. For this liqueur, they beat the eggs, separate them and mix the yolks with alcohol and with the spirit or Hanuka, then they gently heat it, stir it and let it cool. They have produced two variants of Tonkiki, one is hazelnut and cocoa and the other is strawberry. This liqueur goes well on special occasions like Easter.
Tonkiki won a bronze medal at the London Spirits Competition 2021. The London Spirits Competition is a competition where the top mixologists, bartenders, and buyers like Mariantonietta Varamo (Assistant Restaurant and Bar Manager), Tiago Vasconcelos (Head Bartender at Coupette, London), Gary Burdekin (Master Bartender at TGI Friday's UK), Daniel Susko (Head of Bars at Annabel's and The Birley Clubs, London), Nelson Reis (Bartender at Soho House & Co), and many more judge and recognise, reward and promote the worthy brands that provide the best quality, have good value for money and are well designed.
The History
It was a day in spring 2014 when the idea of spirits was born in the mind of two Maenner, Torsten and Martin, who originally come from the e-commerce and online marketing environment and longed to do something "old-fashioned and tangible". Something that did not just mean spending the day with numbers and a computer. Something that corresponded to their passion for good, honest and high-quality products. Something with which they could share their love with others. What exactly that would be was not clear yet. But they knew that they wanted to make something that did not exist in the region.
After a good meal that evening, they sat smoking their cigars and drank a few glasses of rum. The selection in the bar was clear, and they found that it was a pity that there were such few regional products in the bar. In southern Germany, there was a distillery in every village, and that was the decisive thought. That's when they realised that they could make spirits!
They wanted to create something with which they could identify very firmly, behind which they could stand with passion. As connoisseurs, they were always willing to spend a little more on great quality pleasure goods. Quality was a top priority.
The name was quickly found. Based on the fact that their new project was supposed to be more of a hobby than a full-time call, they came up with "MÄNNERHOBBY". Things turned out differently, and the hobby became full-time employment. But the name had to remind them that they wanted to do it out of passion and share it with others.
Torsten then went his own way, and since then, Martin has continued the company in Glanz and Gloria. More than 50% of employees are now women.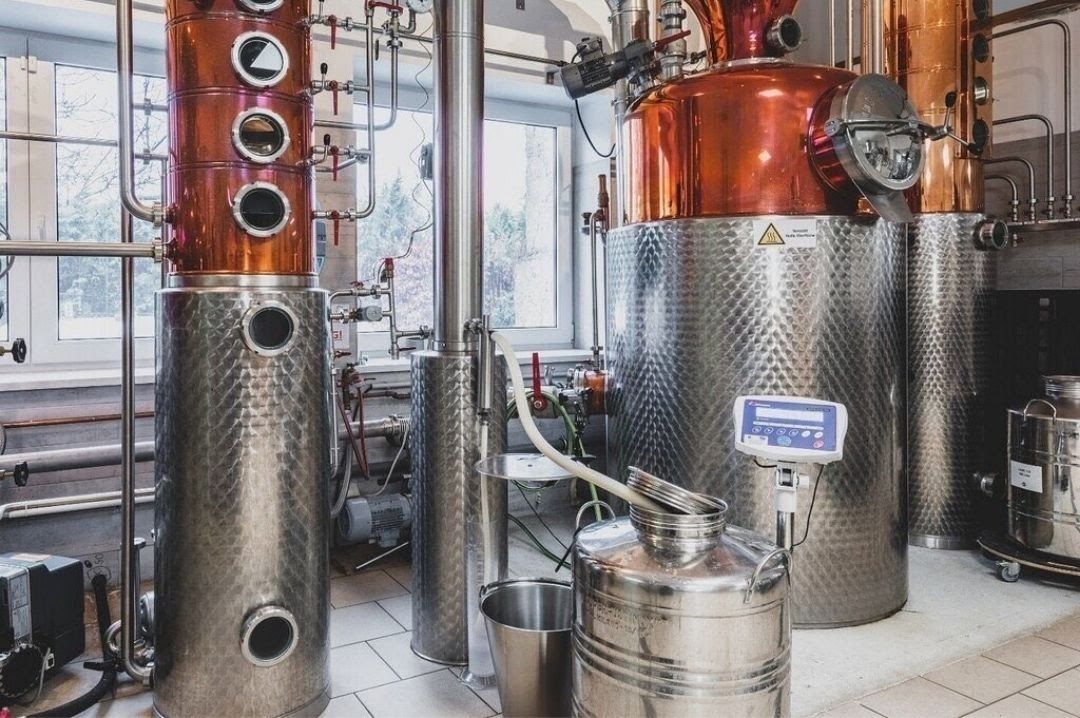 The Distillery, source: Facebook
The Distillery
In October 2015, their first distillery came to be. Now they were the proud owners of a "spirit bubble" with a filling volume of 250 litres. Manufactured by the traditional German company Kothe, this distillery was built after a year of planning.
The distillery is heated with a gas burner, and the modern control technology allows it to tune very precisely during distillation. Through the sight glasses and lighting devices, one can see the liquids dancing. If you would like to watch the distillation, then take a look at the calendar. There you will also find dates for guided tours. Then you can see how the products are made and how they work. And, of course, there is something to try.
For larger groups, they make individual appointments when it works for them. It is a good opportunity to experience something different with friends or colleagues.
They try to source all their raw material regionally. Mecklenburg-Vorpommern, as they print it on posters, is the country that does this well. There is a lot of fuzz in the drinks because of which the spirits are enjoyable.
They see themselves as regional producers. They want to use the local nature for this - agriculture, fruit, and wild growth. They always want to buy and collect from the area; it is the kind of company they want to create and the image of the company they want to keep.
First of all, the basis must be exact; the best neutral alcohol is from cereals, of course. These are sourced mainly from Mecklenburg, produced by the Baltic Distillery in Dettmannsdorf-Kölzow. In tower-high plants, they distill fine-grain neutral spirits every day.
The raspberries are from near Wismar, sea buckthorn from Darß, plums from Schwaan, strawberries from Rövershagen, currants from Teterow slumber. In their multiple award-winning Foerster's Heide Gin they process needles from the coastal fir. The caraway for Kaland cumin comes from Brandenburg. The lemons for it are from Italy.
The Spirits
Each of the spirits is produced entirely by hand. Sometimes it takes weeks, even months, for them to have the perfect composition. It takes time, sometimes it robs them of their nerves, even their sleep. This is the sign of the passion and love that they put into their work.They cannot reveal recipes, but you can assume three ingredients for each of their spirits: quality, honesty and a decent portion of regionality.
We think it's cool. Hopefully, you do too.
Some of the other spirits they produce are:
The Kaland -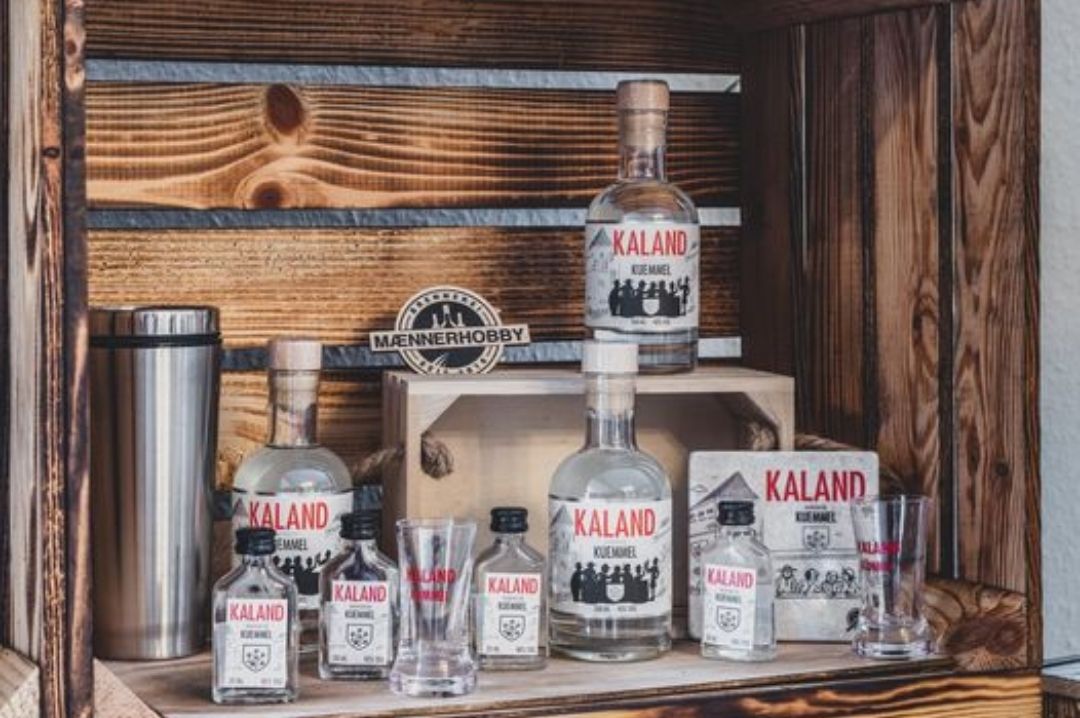 Kaland, source: Instagram
Distilled with the best cumin from neighbouring Brandenburg and using other exquisite spices, the Kaland is a good companion after a lush meal. Cumins are mixed with lemons from Italy from the Amalfi Coast. They are said to be the best in the world. In general, cumin and lemon is a perfect pair that crackles. In addition, a little anise and fennel and the Kaland has everything it needs to be an authentic North German dessert. Its intense aromas of cumin, lemon and anise make it unique and the perfect North German dessert.
Foerster's Heide Gin -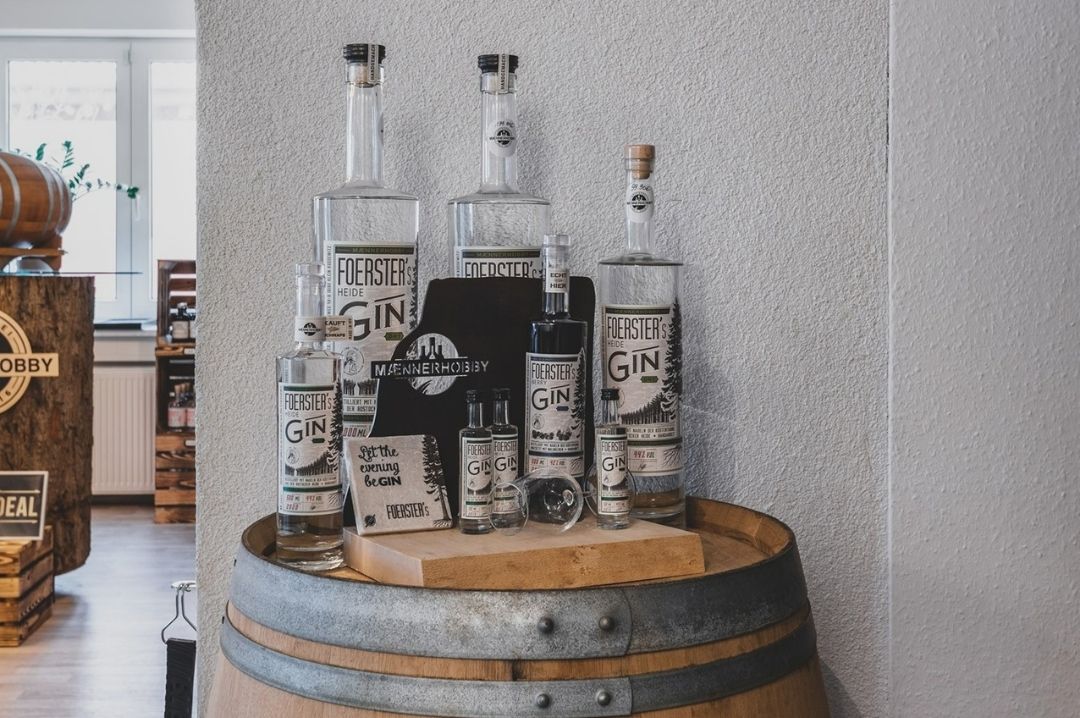 Foerster's Heide Gin, source: Instagram
The Foerster's Heide Gin receives a decent portion of juniper. It has the aroma of the coastal fir and other citrus aromas, with the floral notes of the local sea buckthorn. A total of 11 ingredients ensure the aroma of their gin. But all ingredients are first quality in their class. And they always harvest the needles of the coastal fir fresh in the Rostock Heath. The Foerster's Heide Gin won the best gin in Germany Award at the World Gin Awards.
Royal Horticultural Halls, London, The Lindley Hall, 80 Vincent Square, London SW1P 2PB, United Kingdom, United Kingdom
Register Now
Royal Horticultural Halls, London, The Lindley Hall, 80 Vincent Square, London SW1P 2PB, United Kingdom
Register Now