Bethnal Green's favorite cocktail spot - Coupette
Discover the world of French-inspired cocktails at Bethnal Green's very own Coupette.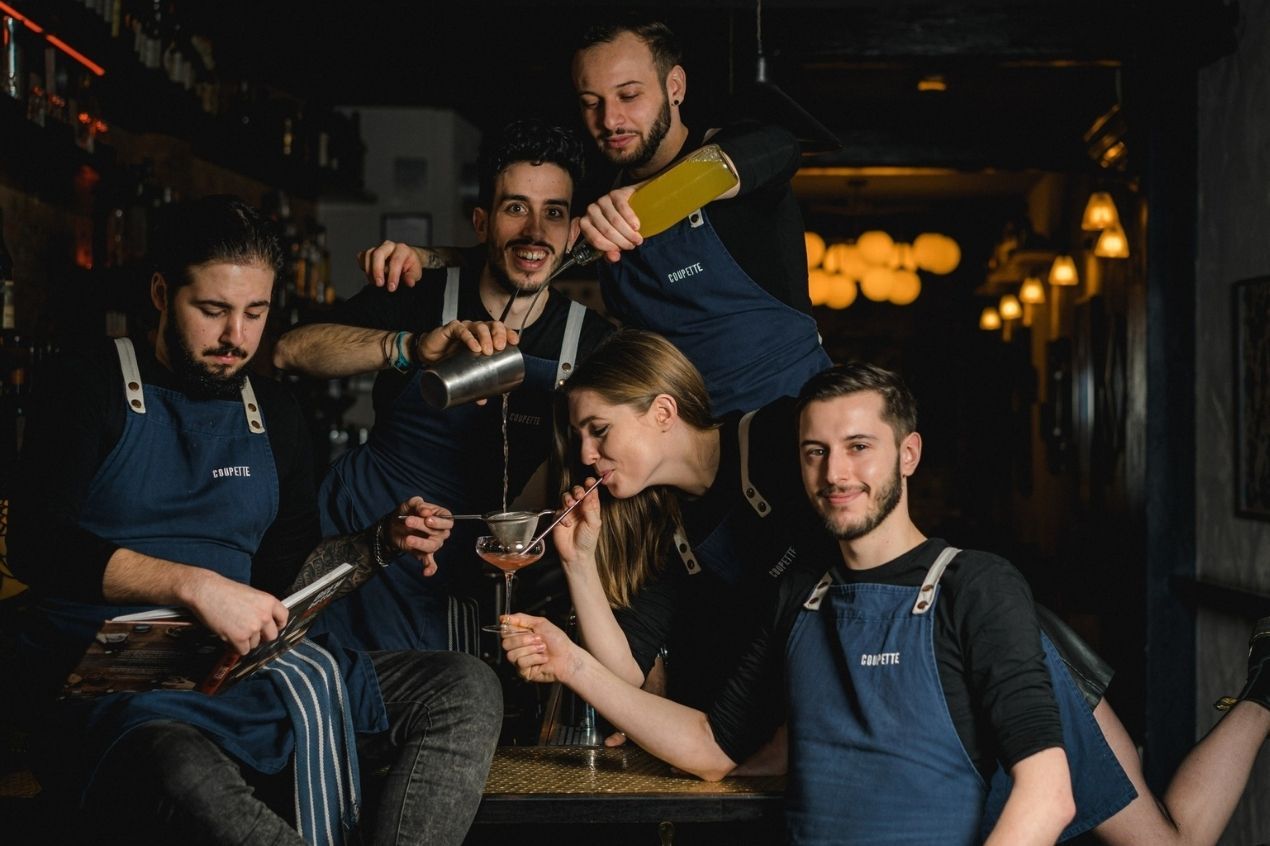 Coupette was brought to life in 2017, by mixologist Chris Moore who was inspired by his hometown Coventry and his love for French culture. After launching in June, Coupette soon became known for its authenticity and unpretentious style. Now, the name Coupette is on the lips of every bar fiend around the world, especially since Moore's bar has successfully retained its place on the 2019 'World's Best Bars' list as being the 23rd World's Best Bar.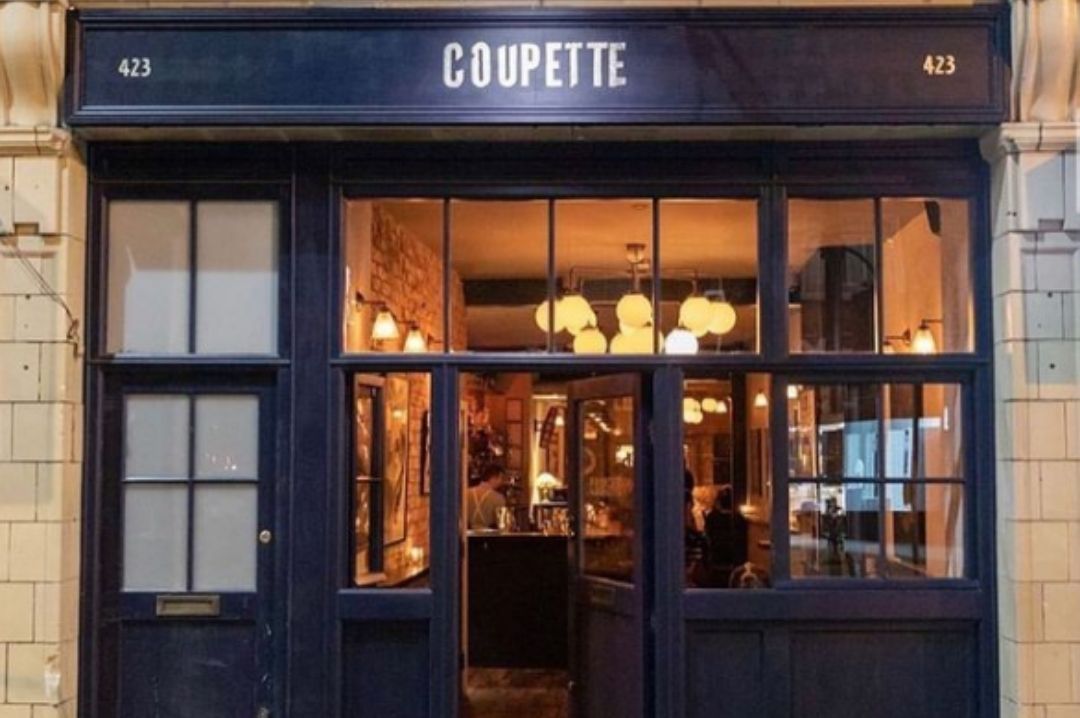 Coupette London, source: Instagram
Walk-in through the blue doors and step into a space with old-world brick walls with modern art prints and a bar designed around a mosaic of old coins. The aesthetic of the bar is typical of the French style that inspired Moore.
Drinking at Coupette
The cocktail menu at Coupette is designed carefully, with each drink combining intricate techniques and quality ingredients to create a cocktail that is perfectly balanced and thoroughly drinkable time after time.
Moore and his team like to focus on lesser-known spirits like Calvados, local digestifs, Eau de vies, vin jaune, and more. Coupette highlights those French libations that may have been forgotten over time or overlooked by trends.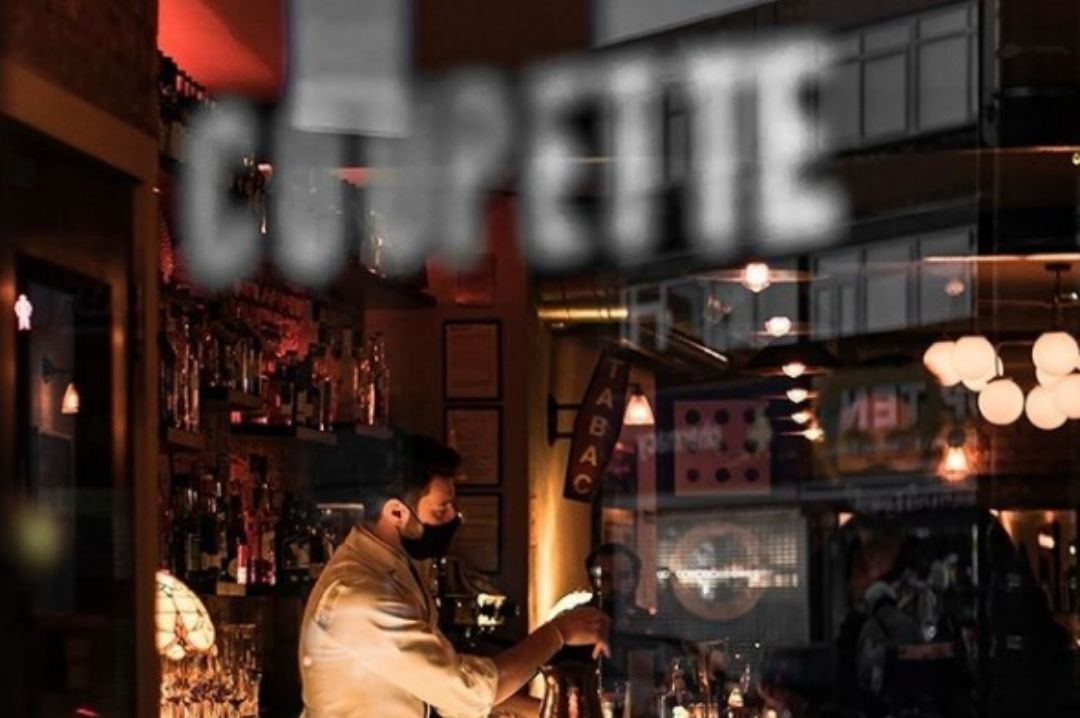 Behind the bar, source: Instagram
The bar's award-winning cornerstone cocktails include Apples, made using Calvados and apple juice which has been pressed, filtered, and carbonated, as well as the Champagne Pina Colada (Bacardi Blend, Agricole, Pineapple, Coconut, and Moet & Chandon) which is a lighter and more refreshing interpretation of the classic.
The bar prioritises results over techniques, with complex ideas and lengthy procedures taking place behind the scenes, rather than showy garnishes. Coupette's guests are free to explore the stories, flavors, and nuances of the drink they order.
Beyond the bar
The greatness of a bar doesn't only come from its drinks, but rather, those who put in the hard work and ingenuity in creating them. Coupette's bar team aims to create a friendly atmosphere, where bartenders and guests feel like one, and you feel like you're talking to a friend.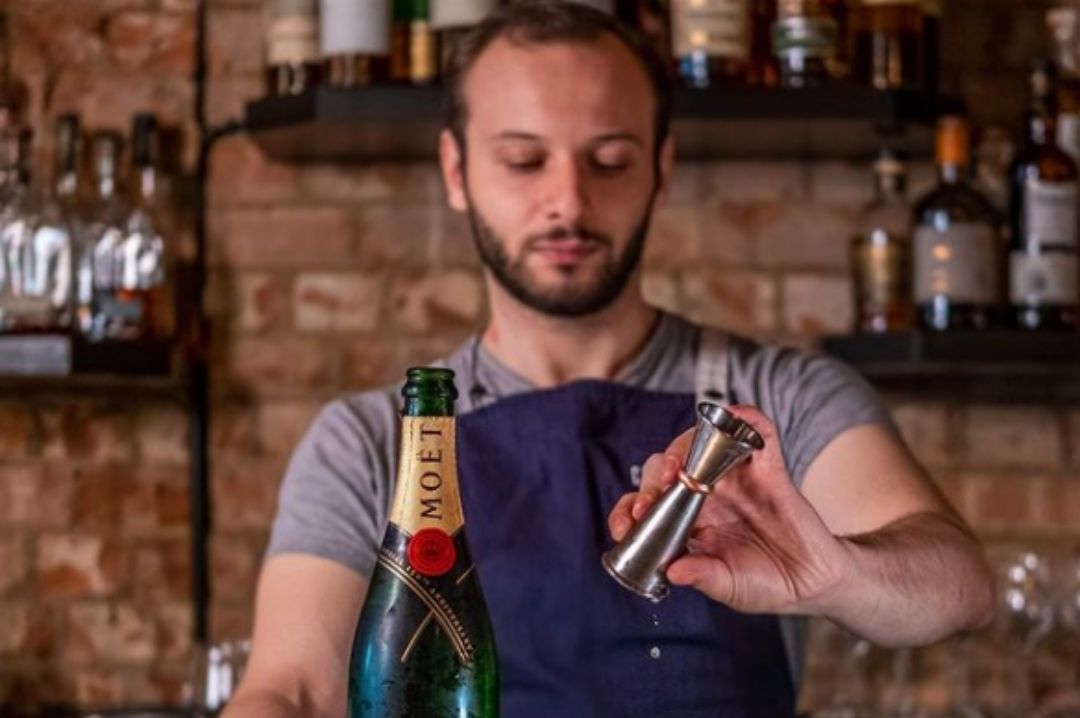 Andrei Marcu, Bar Manager, source: Instagram
In an interview with Bartender's Business, Andrei Marcu, Bar Manager at Coupette said "Personality. This is what I am looking for when we are hiring a new staff member. You can learn skills, recipes, spirits but personality, nope. Not a chance. And then I believe "reading the room" is the second most important skill to have as a bartender. If you "read" your guests and understand their mood and their need at that point of their visit, you win. You can match them and make sure your guests will leave the venue happier than they were [when they walked in]," when asked about what it takes to be a great bartender. Coupette works to tick these boxes and builds a team of those who have a striking personality and are ready to learn every day.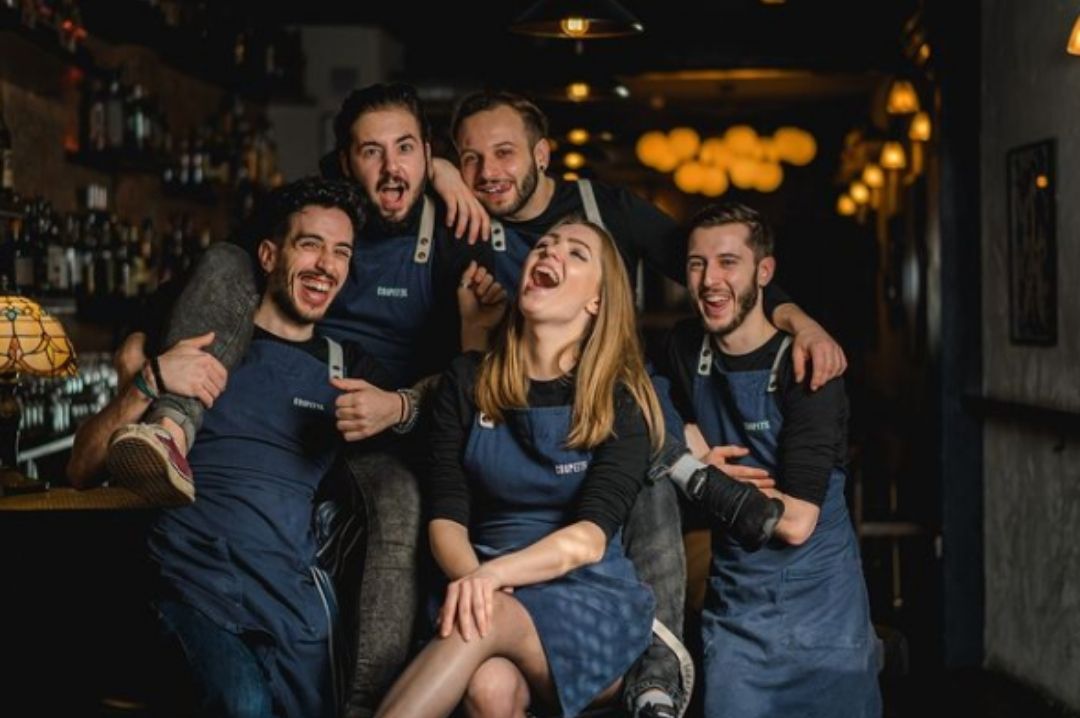 Coupette's Bar Team, source: Instagram
Our favourite cocktails at Coupette
While all their cocktails are worth a try, we do have a few favorites.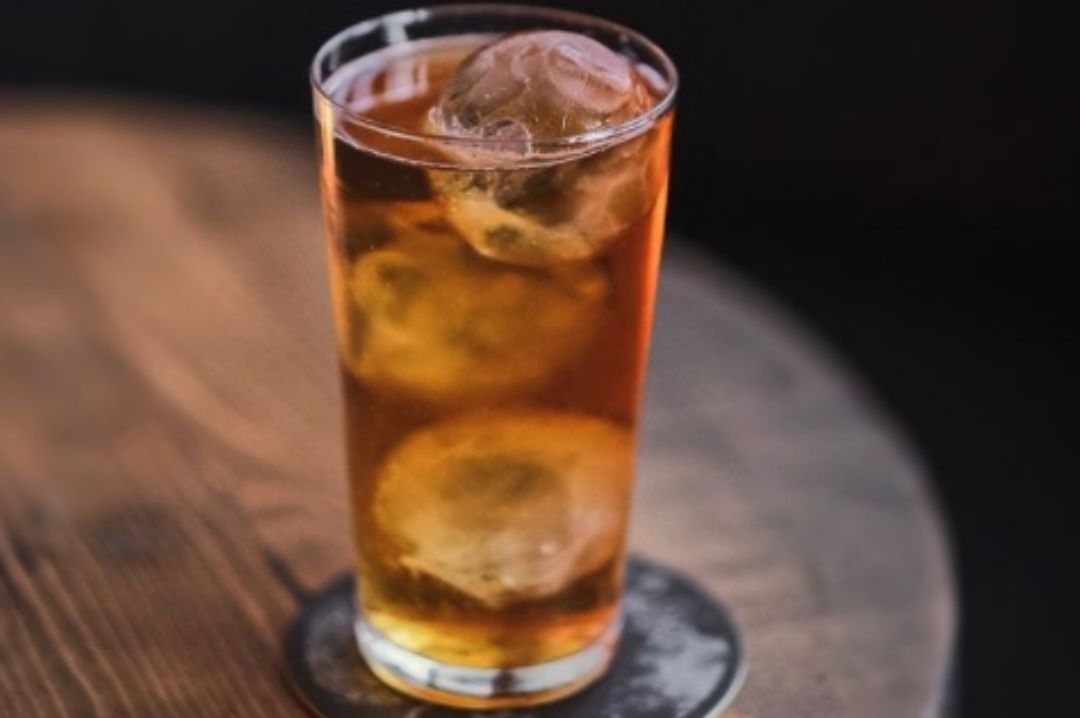 Apples Cocktail, source: Instagram
Apples - Calvados and apples, carbonated.
Rhubarb Bellini - Bombay Sapphire Gin, Lillet Rosé, Rhubarb, Sassy Cidre Rosé.
Corny Gimlet - Smoked salty buttered Plymouth, Woodford corn liqueur, Sour popcorn tea.
Code Rouge - Macallan Sherry Oak, Red Ale Vermouth, Whiskey barrel bitters.
The bar also serves a range of non-alcoholic cocktails, which are named guilt-free cocktails. As summer approaches, we enjoy the Stone Fruit Slush made with Mango, Apricot sorbet, and London essence peach soda.
While cocktails are the star of the show, Coupette also has a list of wines and beers to choose from, with a focus on French wines from regions like Gascony and Alsace.
Don't forget to munch along
The bar recently added a food menu, serving British-French cuisine. Start off with a charcuterie and cheese board, then move on to the mains, which include French delicacies like the Croque Monsieur, Jambon Beurre (Buttered Ham), Duck Confit, and a Savoury Crepe. You can also opt for some delicious sides, our favorite being Pomme Duchess served with a dollop of barbecue sauce.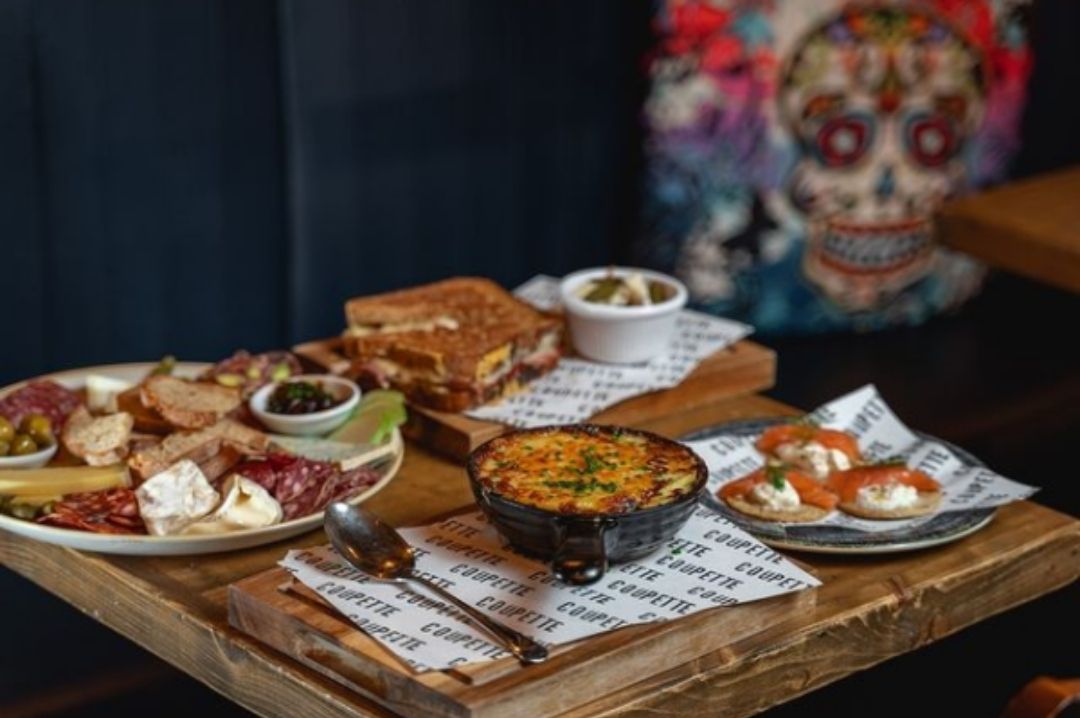 Bar Food at Coupette, source: Instagram
The food menu at Coupette has been kept to the point, playing accompaniment to the drinks.
Having already proven to be a success as both a local bar and a world-renowned cocktail destination, Coupette is now looking to expand and bring its signature timeless style to other locations, both in London and internationally. Creating a new personality for each potential new site, Coupette will maintain its core values of serving exceptional drinks at a reasonable price.
Awards and accolades
World's 50 best bars
Best New Opening Award – 2018
No. 18 At The Worlds 50 Best Bars – 2018
No. 23 At The Worlds 50 Best Bars – 2019
Tales of the Spirited Awards
Best New International Cocktail Bar – 2018
Nominated for World's Best Spirits Selection – 2020
The Class New Bar Awards
Nominated for Drinks Menu of the Year – 2017
Best New Bar – 2018
Best Cocktail of the Year – 2018
Best Cocktail of the Year – 2019
Nominated for Best Cocktail of the Year – 2020
IMBIBE
Nominated for Avant-Garde Drinks List of the Year – 2017
Nominated for Most Innovative Format List of the Year – 2020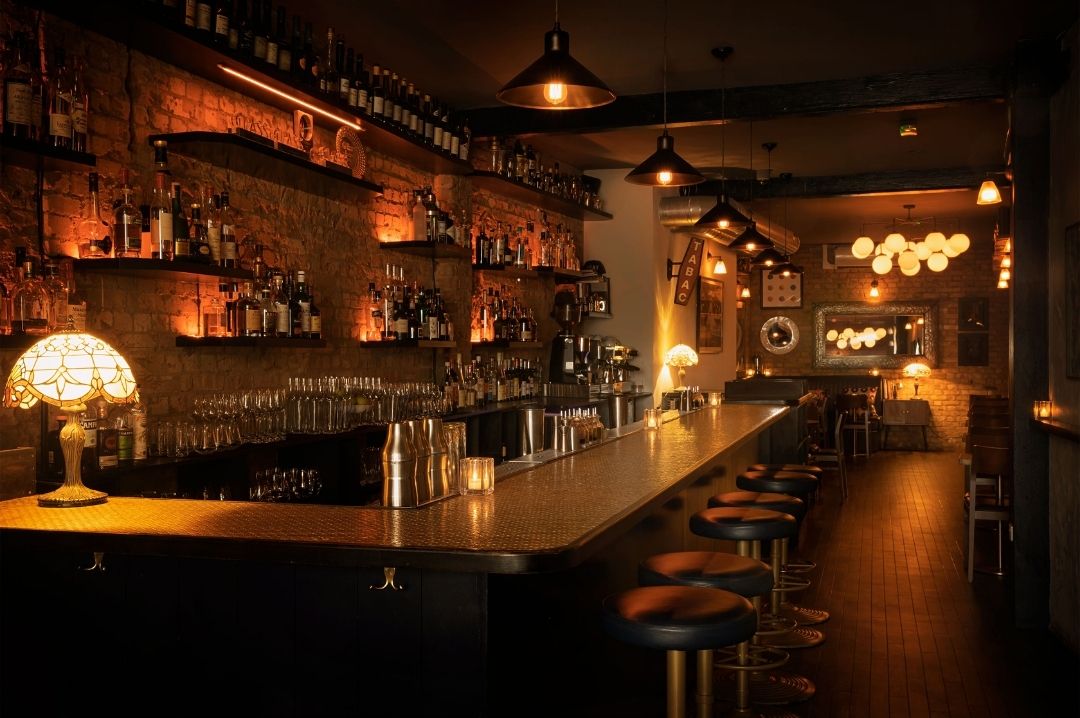 Bartop at Coupette, courtesy of Andrei Marcu
You can also shop their special edition hand-made cocktails from the Coupette Market.
If you're planning to pop into Coupette, don't forget to make a reservation. They're usually full, and you don't want to miss out on Andrei Marcu in action!
Location - 423 Bethnal Green Rd, London E2 0AN
Keep up with Coupette
[Header image: source, Facebook]
Royal Horticultural Halls, London, The Lindley Hall, 80 Vincent Square, London SW1P 2PB, United Kingdom, United Kingdom
Register Now
Royal Horticultural Halls, London, The Lindley Hall, 80 Vincent Square, London SW1P 2PB, United Kingdom
Register Now