Cahoots - Keep Calm And Carry On Drinking In This 1940's-Themed Underground Bar
On this page you will find information about a 1940's themed cocktail bar, Cahoots located in the heart of London's Soho.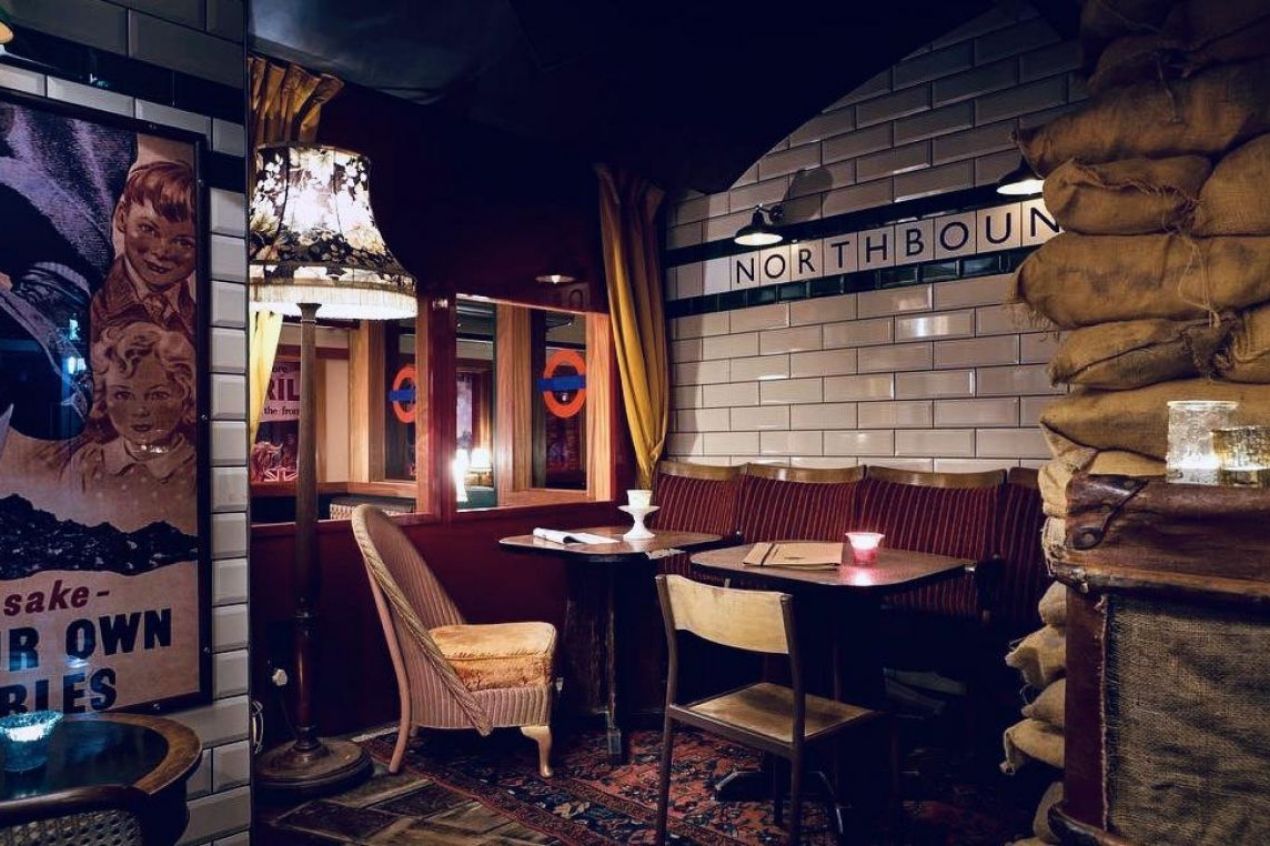 Step back in time and relive the blitz spirit of wartime London in this 1940's themed cocktail bar in the heart of London's Soho, Cahoots. This underground venue, once used as an air raid shelter during the Second World War, has been transformed into Kingly Court, a stunningly authentic replica of a tube station complete with vintage carriages, bunk beds and sandbags.
Legend has it that a German pilot shot down over London during the war was brought here for one last night on the town before being thrown into prison. Even if it's not your last night of freedom, Cahoots is still a great place for a fun night out complete with some seriously quirky drinks, live music, dancing and bar snacks too.
Walk down the steep steps to the entrance, situated a stone's throw from Oxford Circus tube, and you are instantly transported back in time to a world of rationing, doodlebugs and jitterbugs. You will be greeted by a cast of saucy be-stockinged sirens, sweater girls, GIs, spivs and sailors jiving to the sounds of 1940's big band music, jazz and swing - and you might even be persuaded to join in an enthusiastic Congo merrily snaking its way round the bar, or a sing-song around the piano with a pianist thumping out old War-time favourite hits.
Eat, drink and dance
The bar comprises of three separate spaces where you can eat, drink, dance and be entertained, including the Ticket Hall on the ground floor which in a nod to the bar's former incarnation is dominated by a vast railway clock, while the walls are plastered with vintage adverts and period timetables. In the Underground area, a full sized 1940's-era tube carriage has been recreated, including Northbound and Southbound platforms for complete authenticity, the perfect spot for an illicit reunion.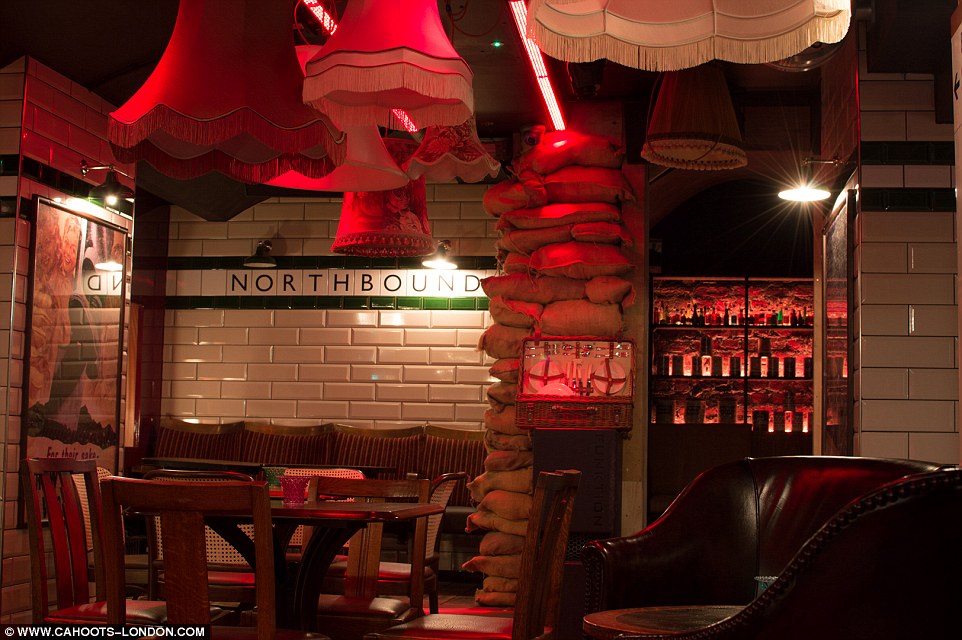 Downstairs in the bowels of the operation, the Control room, which was once the beating heart of the disused station, offers live music, late night hedonism and top-notch cocktails in a space that has been transformed into an underground speakeasy-style bar. Battered leather suitcases are piled up under the bar, a tangle of wires snake across the walls which are covered with pressure gauges and flashing lights, while the sounds of the era adds to the nostalgic 1940's ambience.
Quirkier the better
The drinks are wildly eccentric, and served up in vintage milk bottles, ration tins or thermos flasks, with quirky cocktails priced from £11 including: the Winston Churchill (Smirnoff Black No 55 small batch vodka, banana & coconut puree, caramel syrup, lime, topped with sparkling wine); the Judy Garland (Bombay Sapphire gin, rose liqueur, jasmine syrup, lemon and topped up with Moet & Chandon Brut Champagne); or the Battle Cruiser (Jack Daniel's Old No 7 Tennessee whiskey, lemon verbena liqueur, basil & raspberry sherbet, lemon, lime, blend of teas).
Thirsty pals might want to share the Punchadilly Circus for eight, served up in a glass punch bowl and including an intoxicating blend of Grey Goose Vodka, Bombay Sapphire Gin or Bacardi Carta Blanca rum, mixed with Chambord black raspberry liqueur - a steal at £200.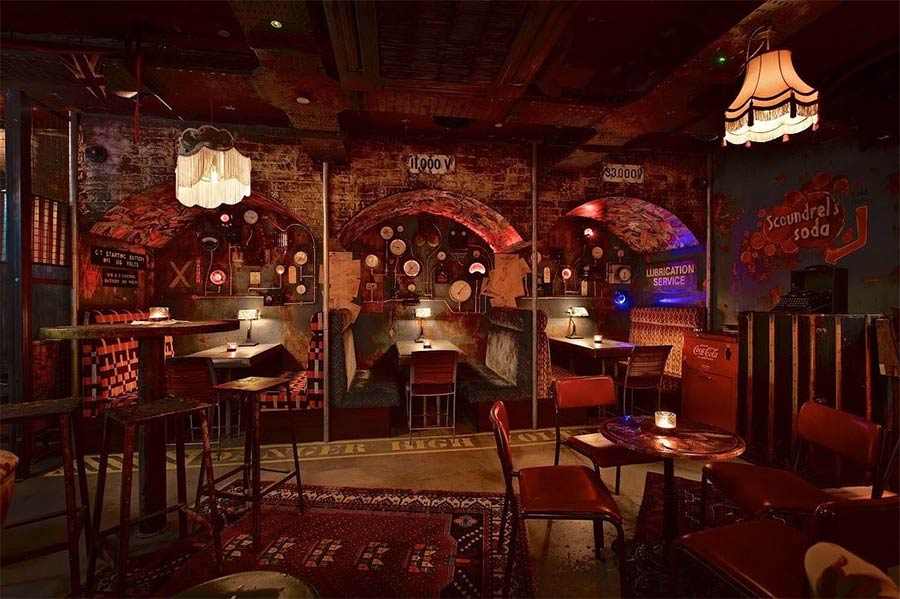 Time to snack
Bar snacks – or Rations as they are better known here - are rustled up using the type of traditional hearty ingredients you'd expect to salvage from your granny's larder, with Black pudding sausage rolls (£7), Spicy Shrimp Bangers (£8), Steak and Ale Pie (£6) and Chunky Chips (£4) being typical fare.
Alternatively you can order a 'Picnic Basket' presented in a wicker hamper to share with friends, with traditional picnic fare including hearty sandwiches and Victoria sponge cake - washed down with a bottle of Champagne.
With its pitch perfect period styling, vintage memorabilia and wartime rations, even Dame Vera herself would be enamoured by this vintage blast from the past.