Hang out at These Outdoor Bars in London That are COVID Prepared
Social distance and enjoy a night out at any of these wonderful outdoor spaces around London that are open for guests right now and observing Covid safety guidelines.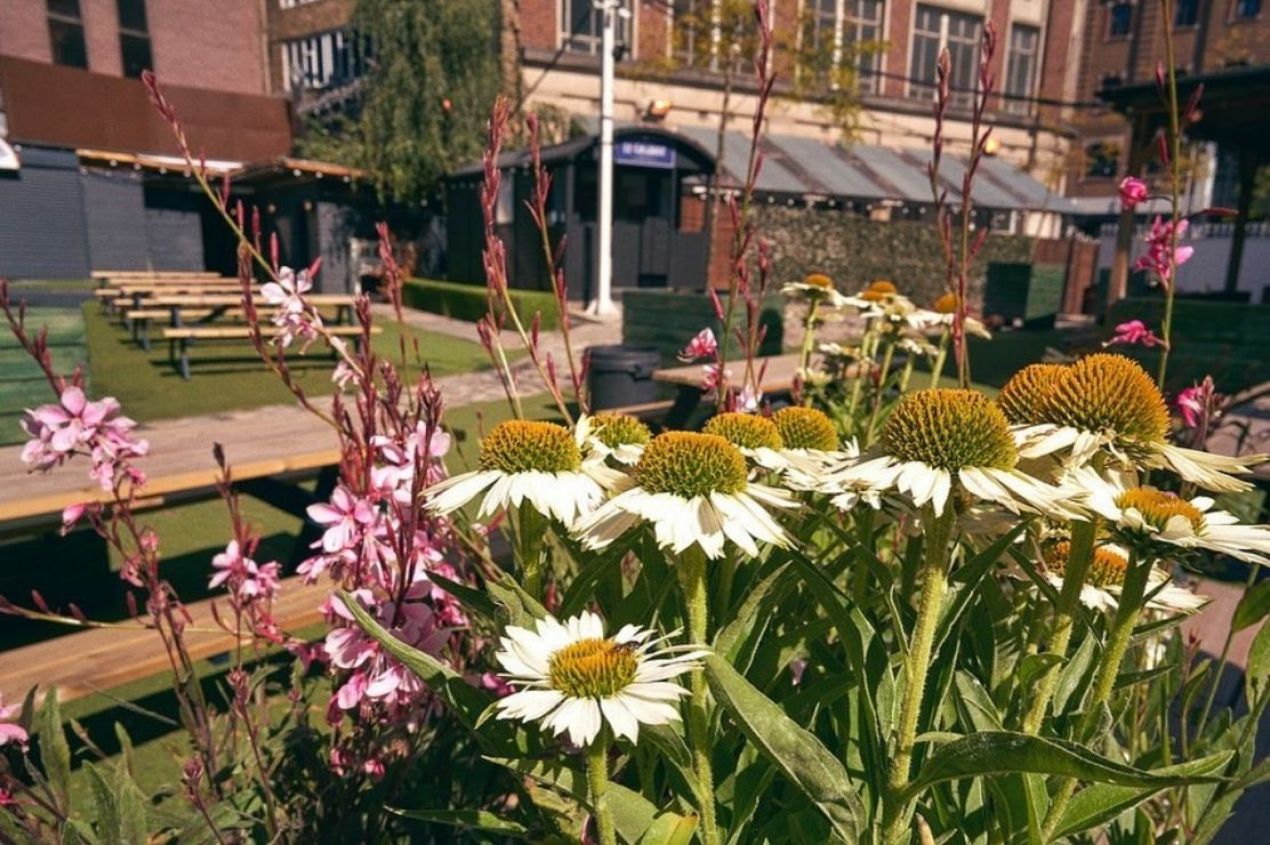 London and the rest of the world has been social distancing for months and now realized that vaccine or not, we will not be going out like before any time soon. If you want to be safe and still enjoy a night out about town, peruse one of these outdoor spots. They offer up multicultural cuisine, over multiple courses, great beers, wines, and cocktails, sometimes live music to awaken your senses, or even live performance acts for absolute entertainment!
Flat Iron Square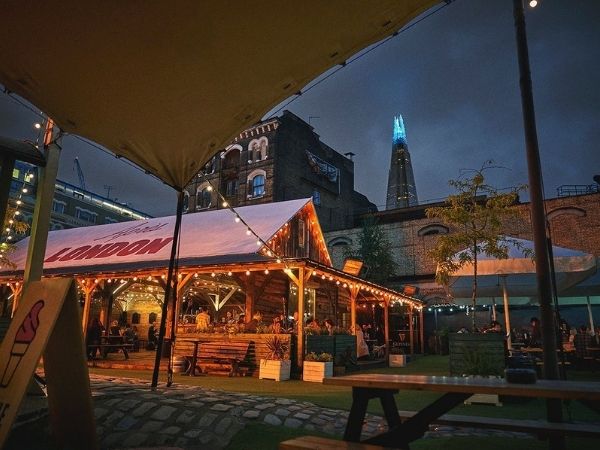 Our first recommendation is Flat Iron Square, a place for drinking, dining, and dancing with a vast open space near the Borough Market and London Bridge. The venue opened in 2016 with the concept to be different from various bars, food vendors, restaurants, and street food trucks. It is an outdoor space with live music that comes together to create a casual and vibrant environment. The area is great for socializing, having lunch, brunch or after-work drinks in the heart of the city. Seven differently styled bars satisfy all possible drinking desires of its guests including classical cocktails with a modern twist, beer from around the world as well as a wine bar with a fine selection by the glass and bottle. Not to be missed is the multicultural food from light bites to three courses, a quality culinary experience. The vibrant hub has over ten traders and three restaurants bringing together authentic dishes from all over the world with award-winning street merchants at the top of their game, and boundary-pushing dining concepts to create an environment unlike any other.
The Flat Iron Square is now re-open and takes bookings for up to 6 persons for a table.
www.flatironsquare.co.uk; +44 (0)20 3179 9800
Aeronaut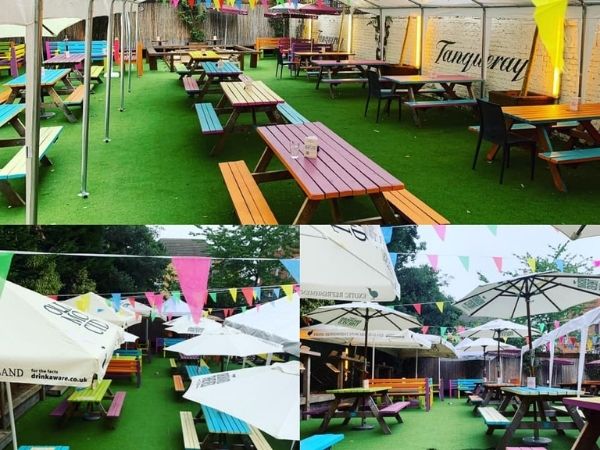 The next place is the Aeronaut, a venue that will blow your mind with its drinks, food, creativity, and eclectic design. Located in West London, this is an award-winning pub and entertainment venue. There is even a live circus show alongside a themed brunch and many fun games. You can enjoy a sleek cocktail or a refreshing Aperol Spritz under the sun, as well as a long brunch at the Festival Gaden. At night the place transforms into a completely different space. The pub turns into a disco with a stage with myriad performances taking place. Fancy disco balls throw colorful beams and intersect with acts of aero acrobats and glamorous gymnasts performing balancing acts with spinning sensations and circus show classics. An extremely entertaining place with a great vibe.
www.aeronaut.pub; +44 (0)208 993 4242
The Prince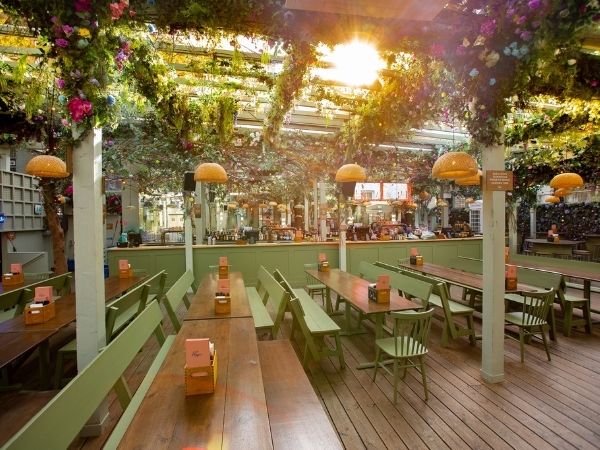 Our next recommendation is The Prince, which was a big old pub brought back to life located in West Brompton. The venue is famous for its large pub garden which is probably the biggest in London, perfect for socially distanced drinks with friends. The place is, actually, one street with four restaurants, three bars and a covered woodland garden which has a retractable roof. The concept is to gather in one spot tasty food, high-quality drinks, and fun, relaxing social experiences. It does not matter if it's day or night, The Prince will take you to a paradise-like place for as long as you wish with a refreshing rhubarb Martini in hand or a pint of draft beer or cider. For wine lovers, there is a large selection by the glass from small and artisanal producers from all over the world. The food provided from the three restaurant's menus is simple, rustic, and utterly delicious. There are modern British offerings as well, catering to all tastes. The Prince Bar is a hidden gem.
www.theprincelondon.com; +44 (0) 7496584766
Bar Elba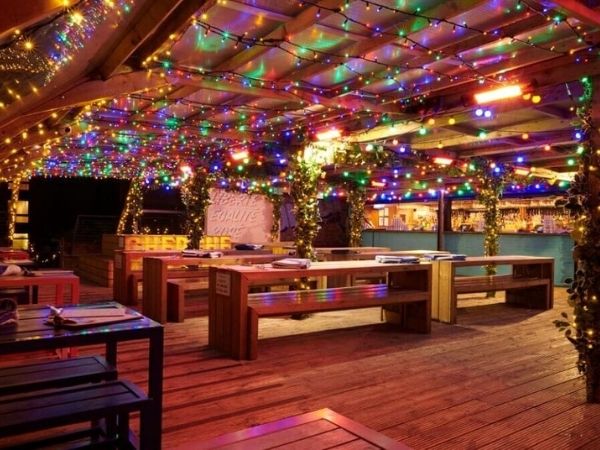 The last place to visit is located high in the open air. Bar Elba is on the Rooftop of Mercury House opposite Waterloo station. The epic view of the bar is combined with the boho-chic and colorful design which takes its inspiration from the tiny island of Elba near the Tuscan coast, where Napoleon Bonaparte was forcibly sent in 1814. The theme of the bar is definitely Napoleon offering a sizeable cocktail list, although this rooftop bar is more about the party than the 19th-century military leader. It also boasts a small wine, beer and cider menu, and a fine selection of bubbles for those with an emperor's budget. The food menu is small but fine with classic burgers to go with the drinks menu. The Elba bar has a vast events program varying from movie nights, sunset sessions, party pods, and Mexican-themed brunches all accompanied by a 360° view over some of London's most iconic buildings. Look over London's beautiful skyline with its iconic buildings such as The Shard & St Paul's Cathedral. The rooftop is perfect for birthdays, private hires, group bookings, romantic date nights, Christmas parties, and much more.
www.bar-elba.co.uk; +44 (0) 20 3892 8166
Header image credit: Flat Iron Square
Royal Horticultural Halls, London, The Lindley Hall, 80 Vincent Square, London SW1P 2PB, United Kingdom, United Kingdom
Register Now
Royal Horticultural Halls, London, The Lindley Hall, 80 Vincent Square, London SW1P 2PB, United Kingdom
Register Now