London's most instagrammable cocktail bars
Show off your uber cool cocktails with even cooler backgrounds that are sure to pull your Instagram's attention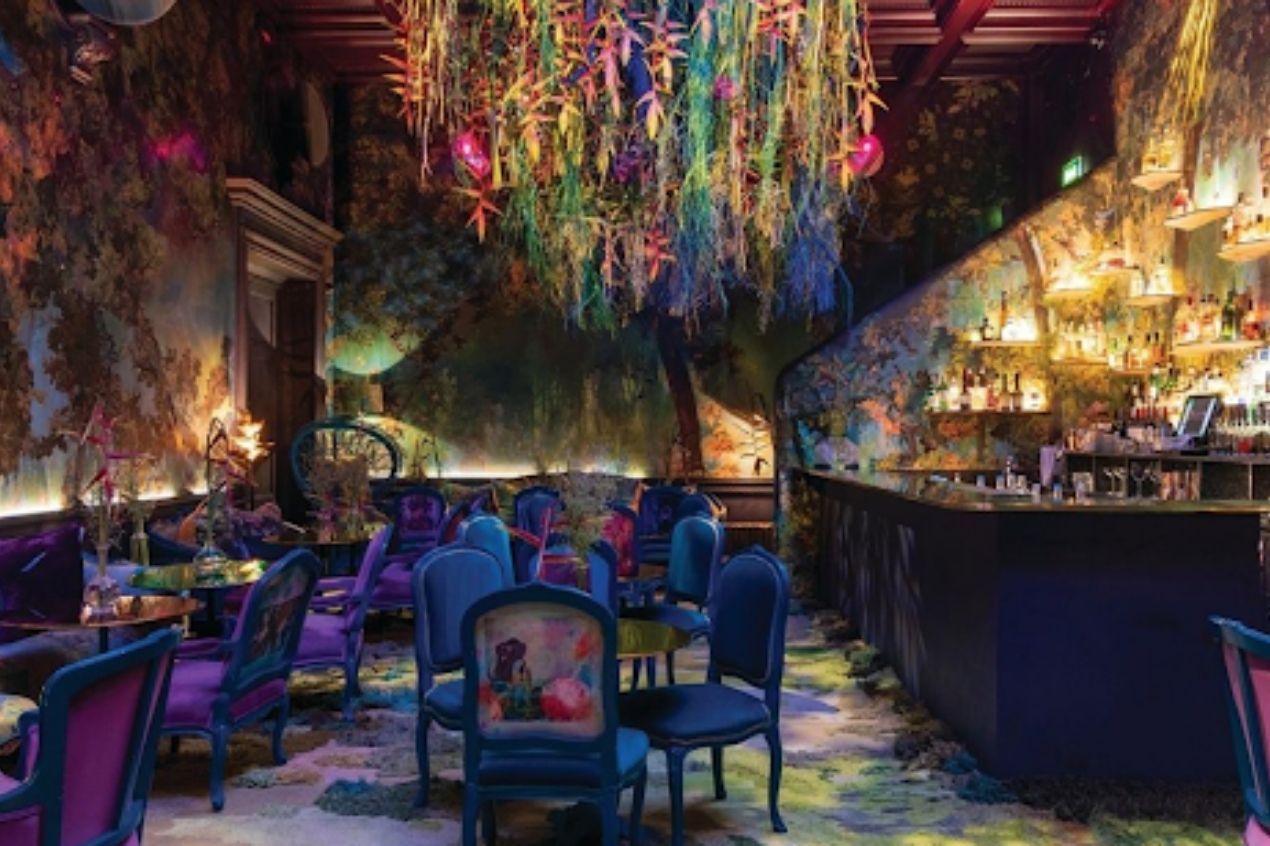 The cocktail scene in London is arguably one of the best on the planet! But are kickass cocktails enough to pull in the big crowds? In this digital age of likes, comments and "feed aesthetics," it is only fair that the new criteria to catch some spotlight is instagram-ability.
Tonight Josephine
With its glittering pink walls, neon signs and mirror ceilings, Tonight Josephine is a millennial dreamland. The story behind French empress Josephine and her attitude of 'c'est la f*cking vie' though, is as old school as it gets! The homage to Josephine started in Waterloo and found itself travelling all across London with branches at Shoreditch and Clapham, and even Birmingham and Cardiff.
The connotation of 'well behaved women don't make history' is rather obvious with sign boards, bar posters and celebrity mugshots - creating a bunch of photo ops in every corner.
Tonight Josephine also boasts of the sassiest, wildest and sexiest events including cocktail brunches, live music, and more drag than most can handle!
Follow on Instagram : Tonight Josephine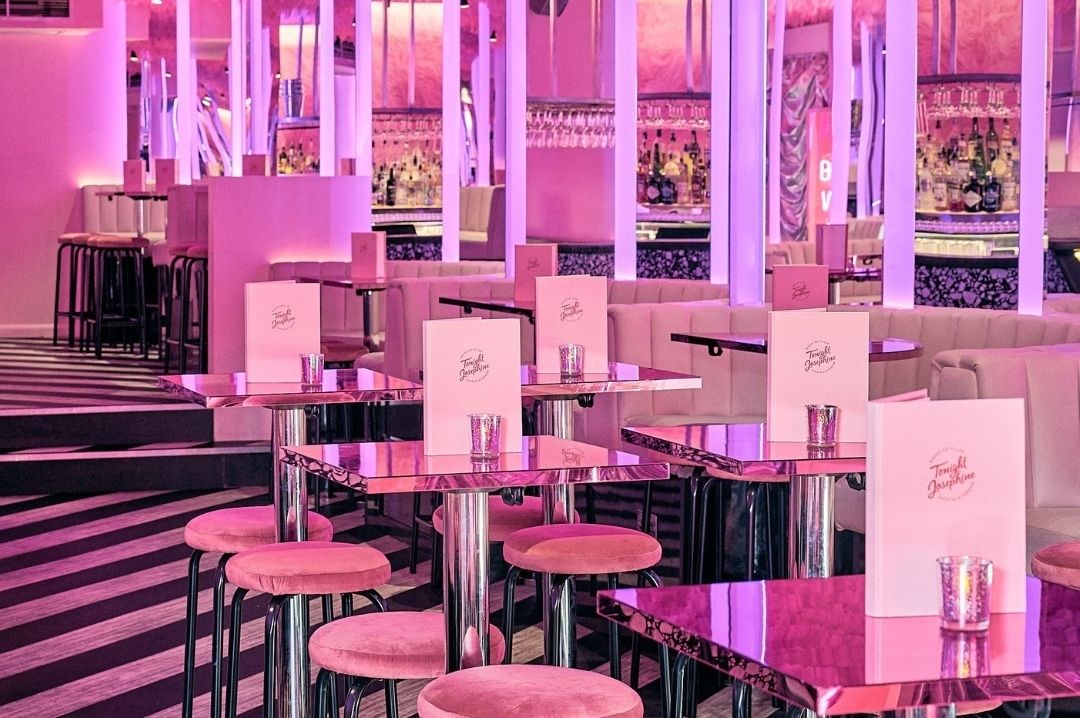 Image Source: Instagram
Sexy Fish
Berkley Square gives what can be considered the city's most flamboyant restaurant - Sexy Fish. It apparently took up £15 million to build – and we aren't surprised! With two Damien Hirst mermaids guarding the corner of the bar and the giant, iconic, Frank Gehry fish floating overhead, it could not have been more Insta-worthy.
While you're in the market for more than a highly filtered interior shot, why not taste from the world's largest collection of Japanese whisky (400 bottles and counting) taking pride-of-place behind the bar?
Another quirk that really caught us is the private dining - at the Coral Reef Room : A unique gastronomic experience amid some of the world's largest live coral reef tanks. Phones ready?
Follow on Instagram : Sexy fish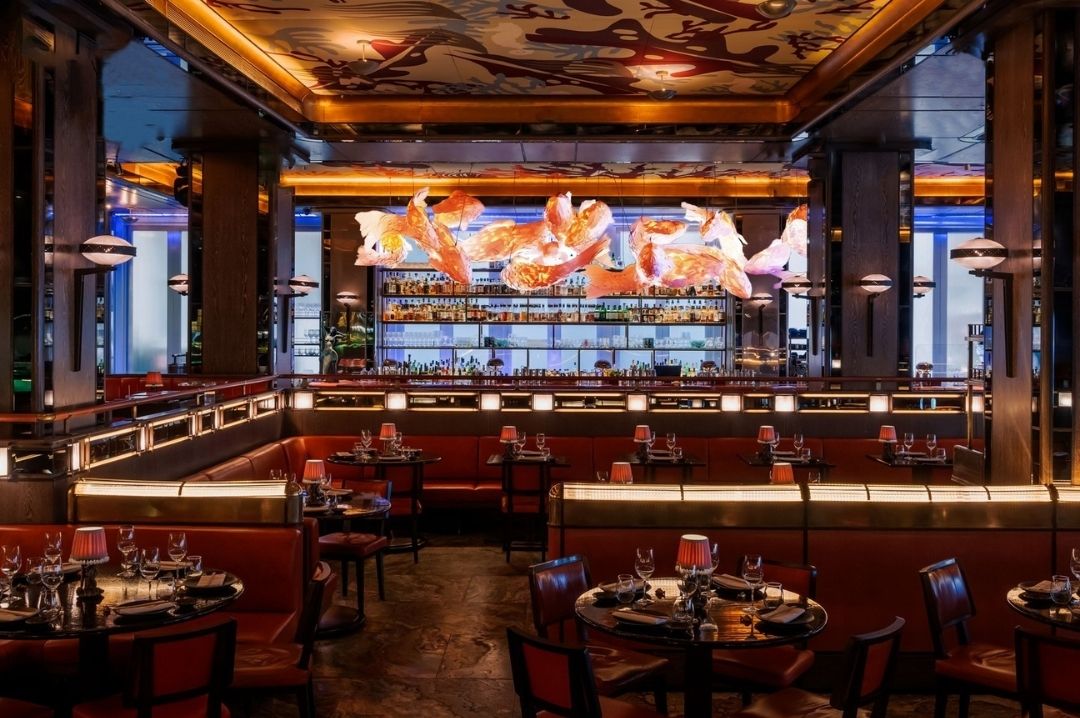 Image Source: Instagram
Sketch
Bringing to you yet another eye candy for all your followers.
The place is exactly what the name denotes - a sweet sweet haven for the artists of Mayfair! No seriously, art is infused in everything : the walls, the doors, the food and cocktails, even the bathrooms! You cannot miss the extra-terrestrial themed bathrooms.
A sum of five parts, sketch is made up of:
The Gallery, a pink paradise famous for its afternoon tea;
The Lecture Room, a fancy sunset-themed room serving Michelin-starred food;
The Parlour, a more affordable affair with chairs dressed in ballet shoes;
The East Bar & Pods : a circular, sunken bar - with some quirky cocktails;
The Glade, which can only be described as a mesmerising, mythical forest.
There is also a Sketch Shop where you can, well, shop! Once you're done snapping the heck out of the place, that is.
Follow on Instagram : Sketch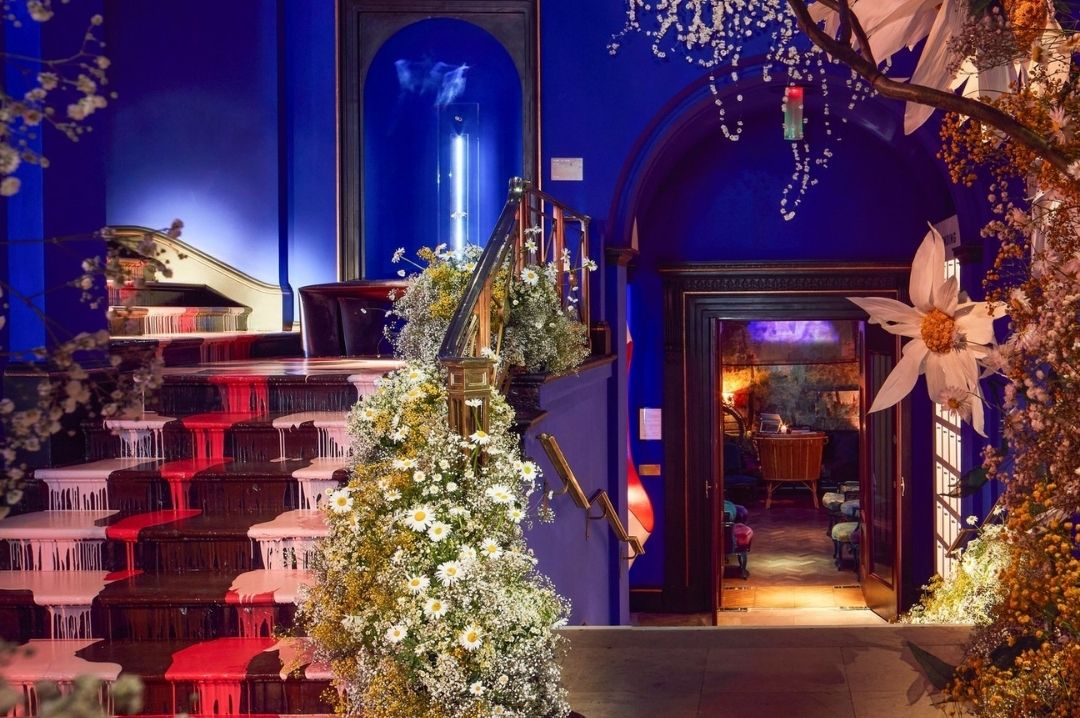 Image Source: Instagram
Mr Fogg's House of Botanicals
Cocktails + plants + Instagrammable interiors = a millennial dreamland.
Proof? Mr Fogg's gin-heavy drinking spot - the House of Botanicals. With an abundance of natural light (well, as much as London can offer) credited with the bloom of shrubs, vines and flowers, who wouldn't want to escape from the city for a hot second?
The libations are as floral and botanical as the venue too! Mr Fogg's has spread its vines across multiple locations in the city including Covent Garden, Liverpool Street, Tottenham Court and Mayfair.
However, the Ground Floor Room at Fritzovia remains the most popular, and most gramm'd.
Follow on Instagram : Mr Fogg's House of Botanicals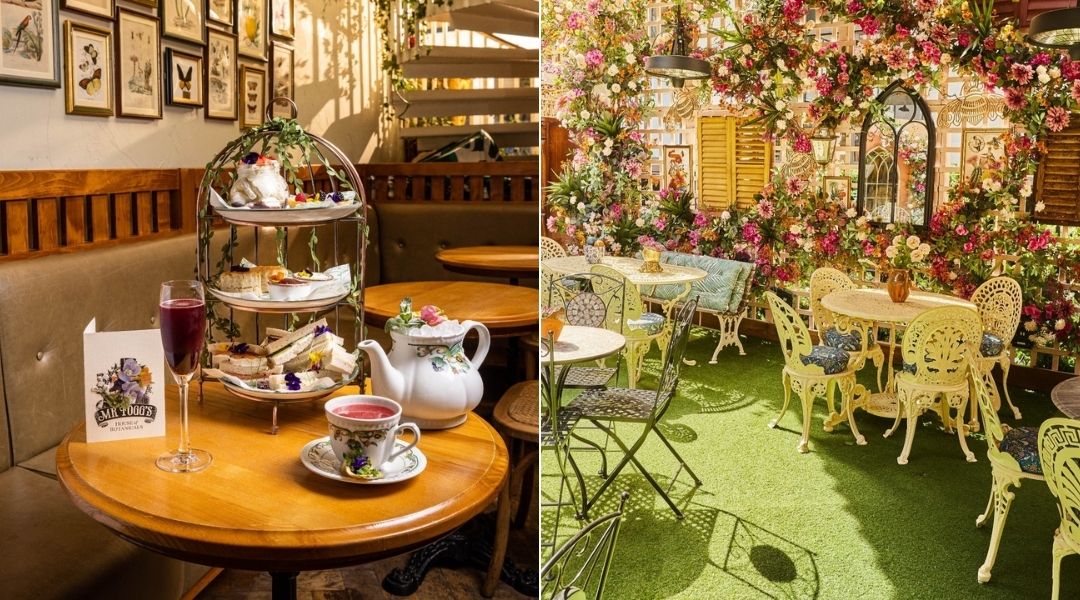 Image Source: Instagram
Little Orange Door
This place feels just like home, which is exactly the point! With top notch food, killer drinks, silly games and a free roam of the "flat" - this is like the ultimate house party. And everybody is invited!
The Little Orange Door literally has a kitchen, living room and bathroom - and all of it is designed for never ending, comfort drinking. Needless to say, they follow a heavy orange theme. They also have quirky rooms on hire for private parties, or legit photoshoots - from the gorgeous botanically inspired conservatory with its own private entrance and gin bar to the Flatmates' funky nostalgic Blue Room with its own Nintendo 64 and fancy dress box, you'll be spoilt for choice!
This might just be the most interesting bar of Clapham Common, and it looks like an ordinary house from the outside.
Fulham's Little Blue Door, and Nottinghill''s Little Yellow Door work on the same concept and can act as colorful switch ups in case the orange gets too much!
Follow on Instagram : Little Orange Door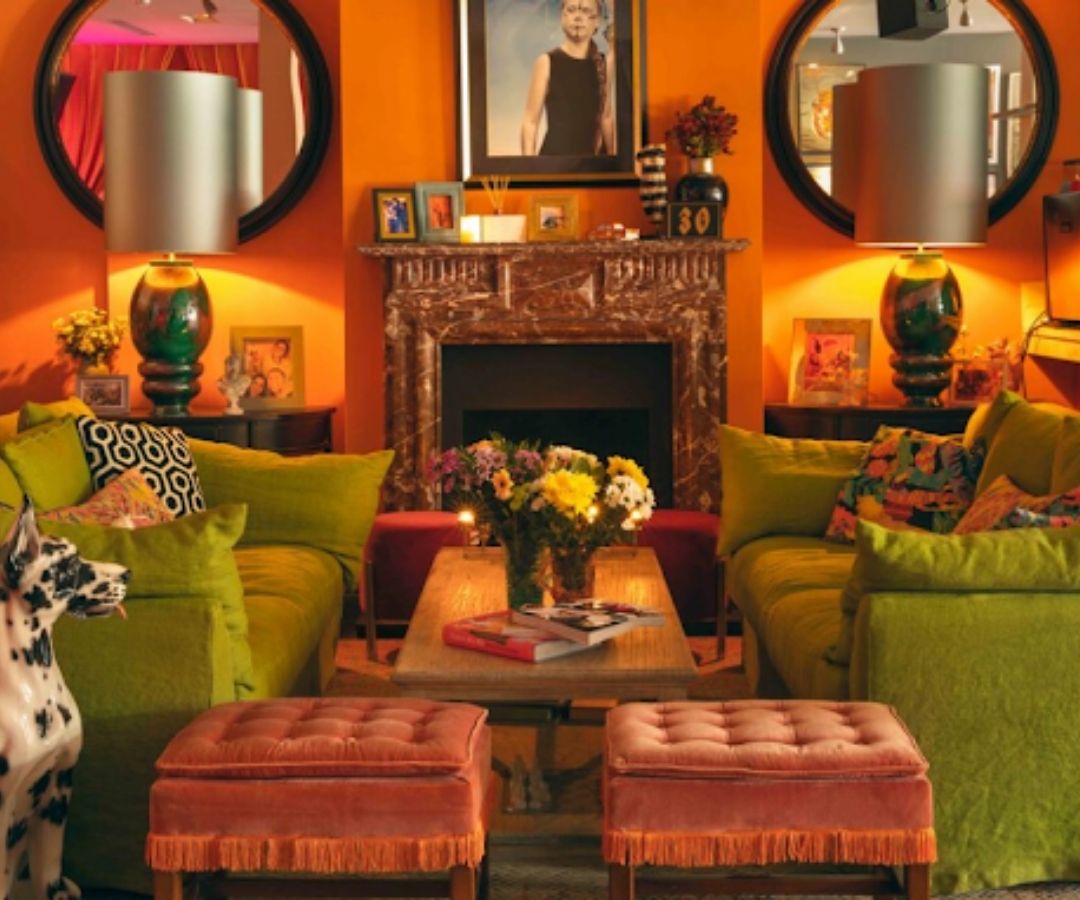 Image Source: Instagram
Waeska Bar at The Mandrake Hotel
Another treasure from Fritzovia is this boho-deluxe boutique hotel hosting high fashion guests. The Mandrake is renowned for a fusion of art, culture and design. The centrepiece right above the bar is undoubtedly what catches most eyeballs : A stunning, larger than life installation of what seems to be a cross between a wild mammal and a peacock. But that isn't even the strangest part of the bar.
The drinks are inspired by ethnobotany, a study of how people from different cultures use indigenous plants. To be honest, all of Waeska is a fantastical riot of trippy paintings, bizarre prints and patterns and strange statues.
They also have a wide collection of treasured artefacts, objets d'art and psychedelic artworks housed behind the expansive bar.
Follow on Instagram : Waeska Bar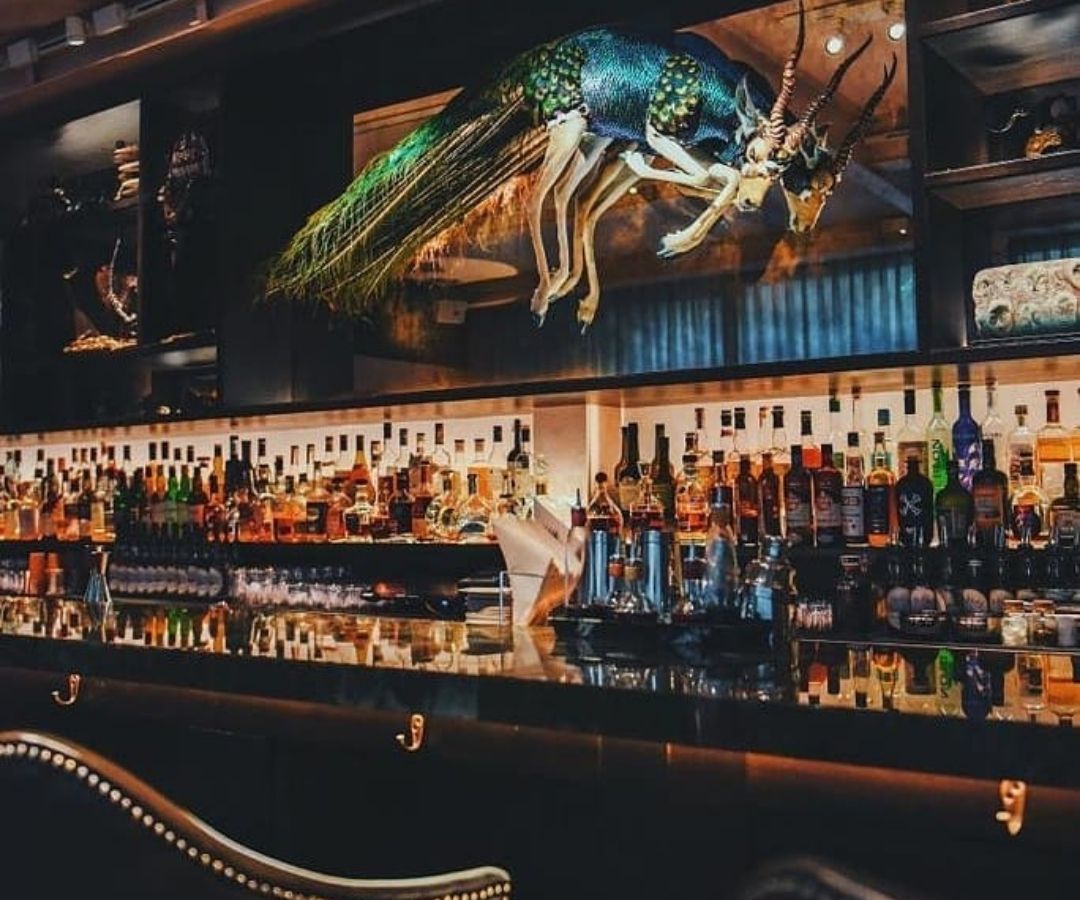 Image Source: Instagram
Blame Gloria
Find yourself in Covent Garden late at night? Head straight to Blame Gloria for one of the trippiest nights of your life.
Open your mind, make sure your dancing shoes are on, and get ready to go wild.
Blame Gloria might as well be a sister pub to Tonight Josephine - after all, both have the kind of back stories that make you question the guts of the fine ladies that are tributed in either case.
What's intriguing is that the pool of colours on the interiors compliment everything, right from DISCO nights to the morning brunches the next morning.
Whacky, fun and stylish, this underground bar beguilingly beckons to Instagrammers, and who are we to argue? Just blame Gloria!
Follow on Instagram : Blame Gloria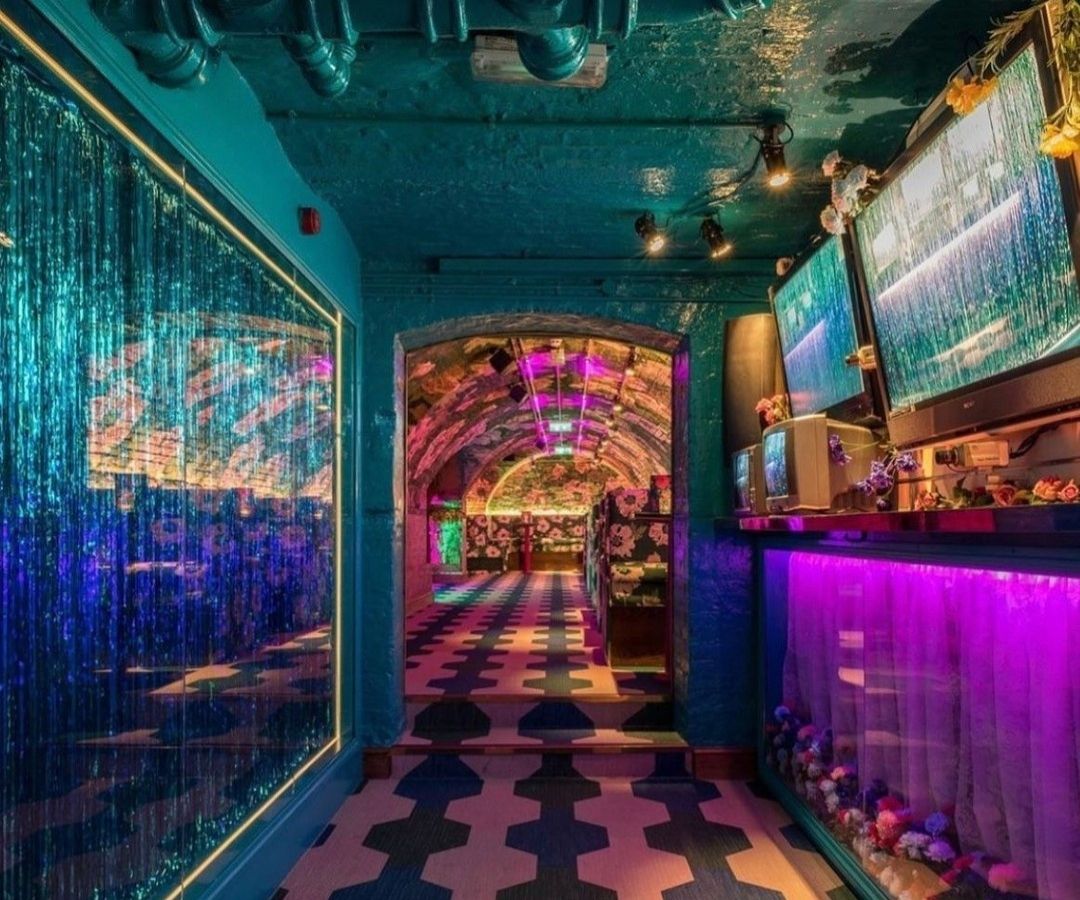 Image Source: Instagram
Article by Stuti Khetan, Beverage Trade Network
Royal Horticultural Halls, London, The Lindley Hall, 80 Vincent Square, London SW1P 2PB, United Kingdom, United Kingdom
Register Now
Royal Horticultural Halls, London, The Lindley Hall, 80 Vincent Square, London SW1P 2PB, United Kingdom
Register Now