Best bars with fireplaces: Chesham Arms, Holly Bush and more
Grab a drink by the fireplace at one of these to-die-for bars, from The Pineapple to Fire Stables, Chesham Arms, Holly Bush, and more.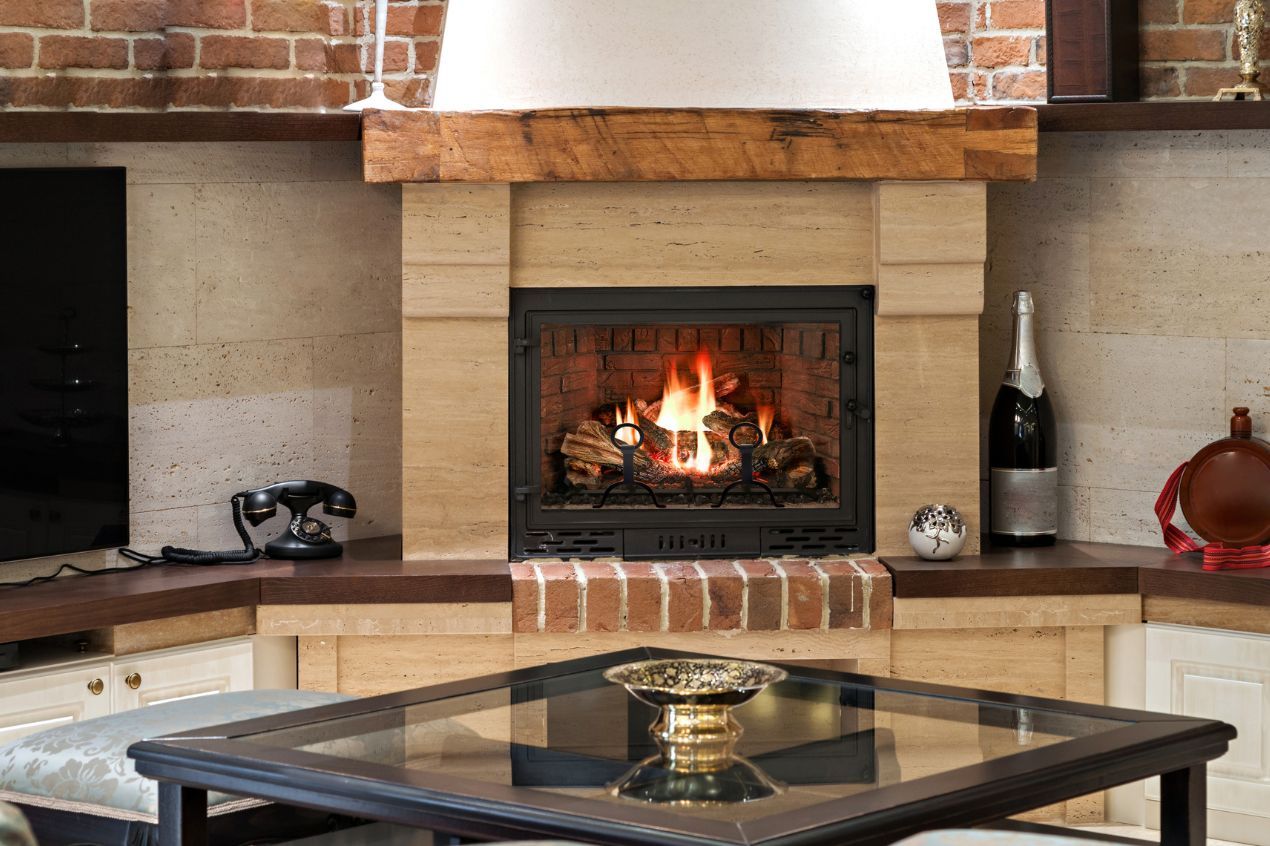 As you look for places to snuggle up this winter, London retains its heat with the disposition of several historic and opulent bars within the city's radius. Whether you wish to grab a pint with the lads or plan a romantic date with someone special, these gastropubs are here to meet your requirements with piping hot dishes, abundant beverages, and cosy fireplaces.
We have scouted the premier bars in London with some warm and fuzzy fireplaces hosting comfort food, and hot drinks for when the temperatures drop.
Chesham Arms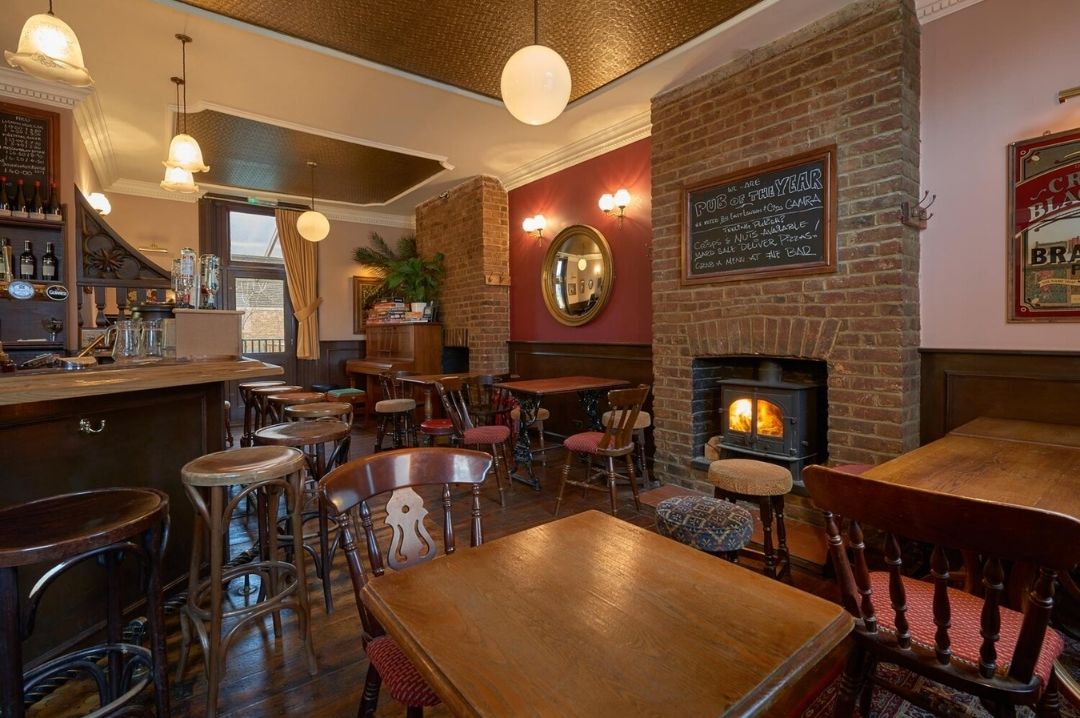 Chesham Arms in Hackney, Source: Website
Settled in the heart of Hackney, Chesham Arms is a dog-friendly gastropub wrapped in the warmth of claret walls and a compact fireplace. Serving draught beers and spirits with pork pies and sausage rolls, the bar is a popular fare amongst the neighbourhood locals.
You will find friends, family, and all kinds of groups gathered at this traditional Victorian-styled British pub house. From sheltering patrons during the harsh cold in the winter to opening up their leafy backyard beer garden in summertime, Chesham Arms is Hackney's prized possession worth making your way to.
Location - East London Public House, 15 Mehetabel Rd, London E9 6DU.
Timings - 4 pm to 11 pm (Monday to Friday)
12 pm to 11 pm (Saturday)
12 pm to 10 pm (Sunday)
The Jerusalem Tavern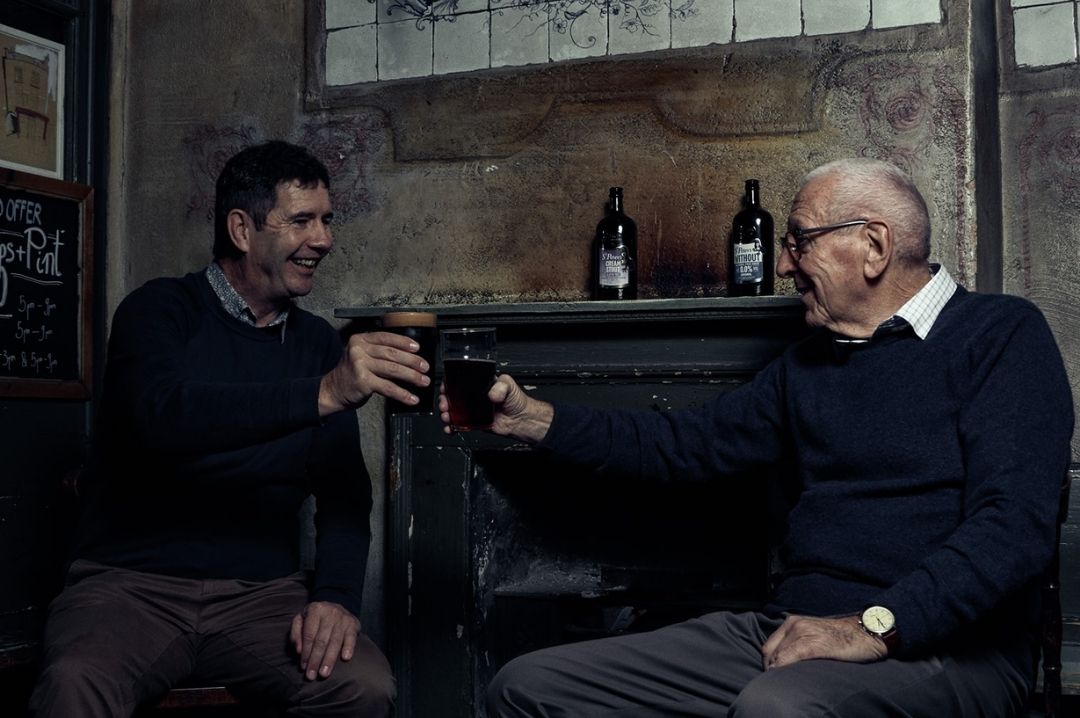 The Jerusalem Tavern, Source: Facebook
Situated in a 1720 building in Clerkenwell, The Jerusalem Tavern oozes old-school vibes with its rough floors, unpolished wooden tables, and a close-packed interior that keeps everyone warm. While claiming the table next to the fireplace can be a stretch, there is plenty of room for you to chug your pint as loud chats make their way to your ears.
You will not run out of alcohol options at this traditional English pub, presenting brews from St. Peter's Brewery. Hoarding pale ales, stouts, lagers, and whiskey underlined ales, The Jerusalem Tavern also offers takeaway mini-kegs filled with the brews available at the establishment.
Location - 55 Britton St, London EC1M 5UQ.
Timings - 12 pm to 10 pm (Monday)
12 pm to 11 pm (Tuesday to Friday)
Closed (Saturday to Sunday)
Fire Stables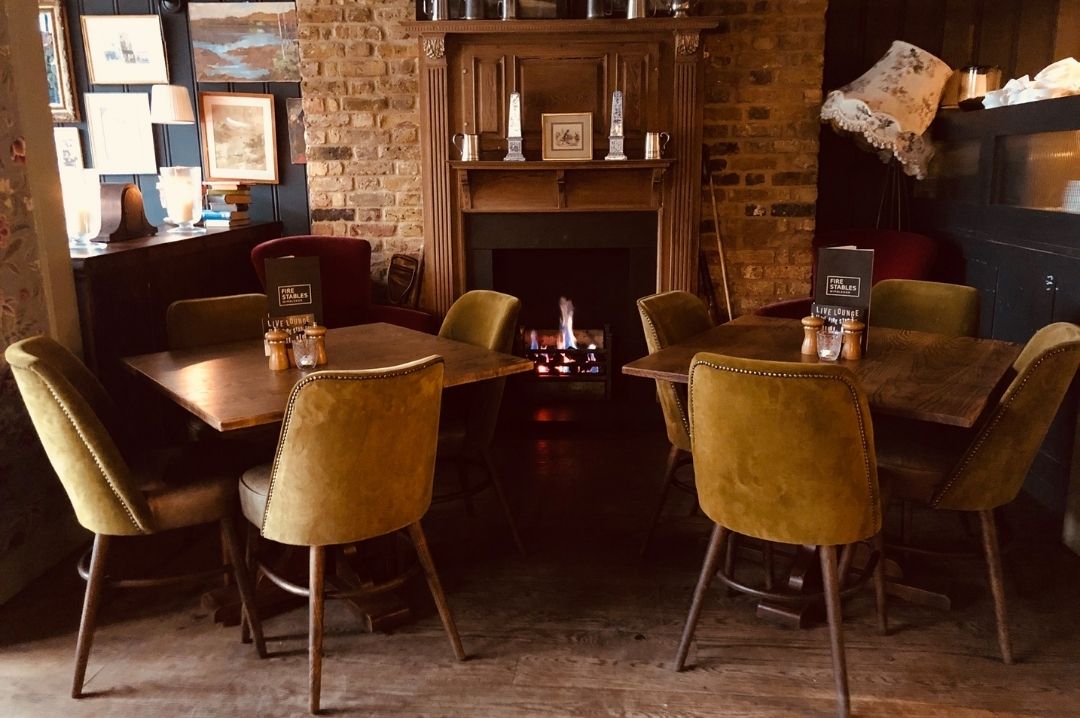 Fire Stables, Source: Facebook
One of the finest spots to eat and drink in the Wimbledon village, Fire Stables has a few fireplaces tucked in and around the corners, with each offering a distinct setting. If you wish to activate the relax mode with your mates, take the one with brown leather sofas. For an intimate date night, we suggest a table for two. And if you are riding solo, the red velvet armchair will do just fine.
The elaborate food menu will require your attention with dishes designated for lunch, dinner, brunch, and a separate menu for kids. For drinks, you can go for classic cocktails like the Cosmopolitan, Espresso Martini, Mojito, and more if you are looking to take a break from the usual pint.
They have a cocktail masterclass program in place, sharing cocktail-making techniques which are recommended if you are hosting a party.
Location - 27-29 Church Rd, London SW19 5DQ.
Timings - 11 am to 11 pm (Monday to Friday)
10 am to 11 pm (Saturday)
10 am to 10.30 pm (Sunday)
The Holly Bush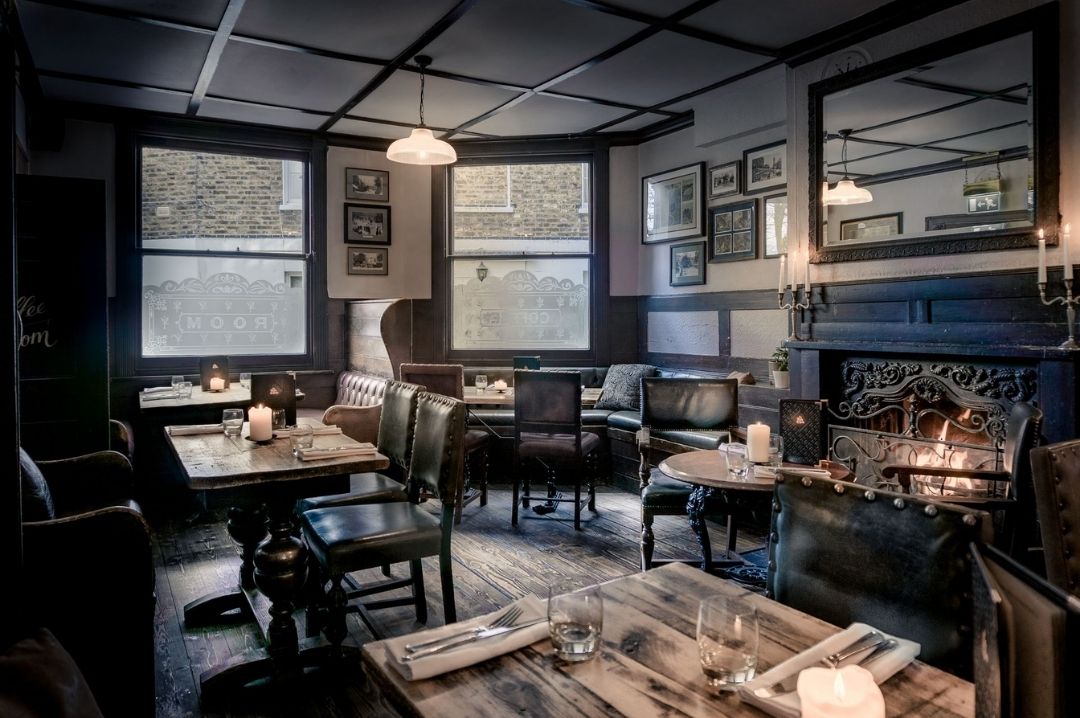 The Holly Bush, Source: Website
A historic pub in Hampstead, The Holly Bush stands out as a bright white coloured building from the outside, and a cosy, well-furnished gem from the inside. Once you enter, the plush chairs and sofas will invite you to take a seat in the midst of the warmth of the chimney.
With a rotating lineup of beers on the tap and a well-decorated stock of spirits, you are sure to find your drinking tune at this posh bar. A selected range of cellar wines are also on the cards from Villadoria Barolo DOCG, Opawa Sauvignon Blanc, Fuller's Reserve Port, and more to dazzle even the most meticulous wine drinkers.
Location - 22 Holly Mount, London NW3 6SG.
Timings - 12 pm to 11 pm (Monday to Saturday)
12 pm to 10.30 pm (Sunday)
The Pineapple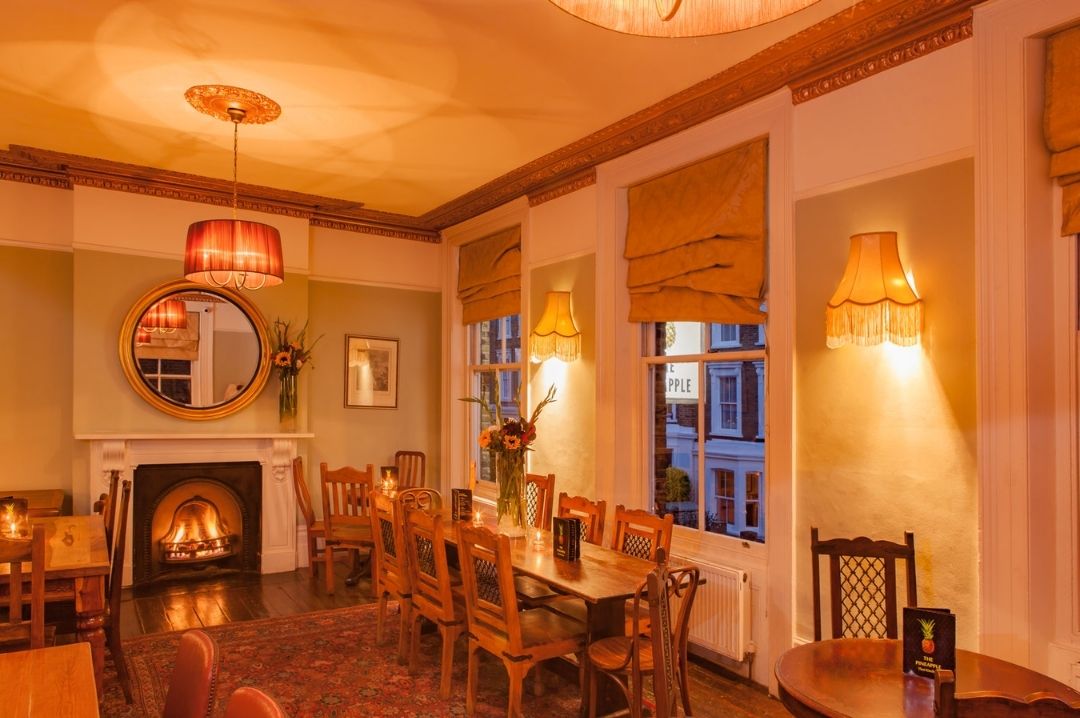 The upstairs function room at The Pineapple, Source: Website
Listed as an English Heritage site, The Pineapple was built in 1868. The crowded streets of Kentish Town huddle the bar in the quiet section of the area, from where it operates in full flow. Apart from hosting frequent beer festivals and events of such kind, the Grade II listed bar puts forth the opportunity to warm your tinkie toes next to the fireplace in the upstairs function room.
You can indulge in some authentic Thai food for a decent price from the kitchen while sipping on unique locally crafted brews.
Happy hours - 3 pm to 7 pm (Wednesday to Monday)
12 pm to 11 pm (Tuesday)
Location - 51 Leverton St, London NW5 2NX.
Timings - 12 pm to 11 pm (Monday to Thursday)
12 pm to 12 am (Friday to Saturday)
12 pm to 10.30 pm (Sunday)
Seymour's Parlour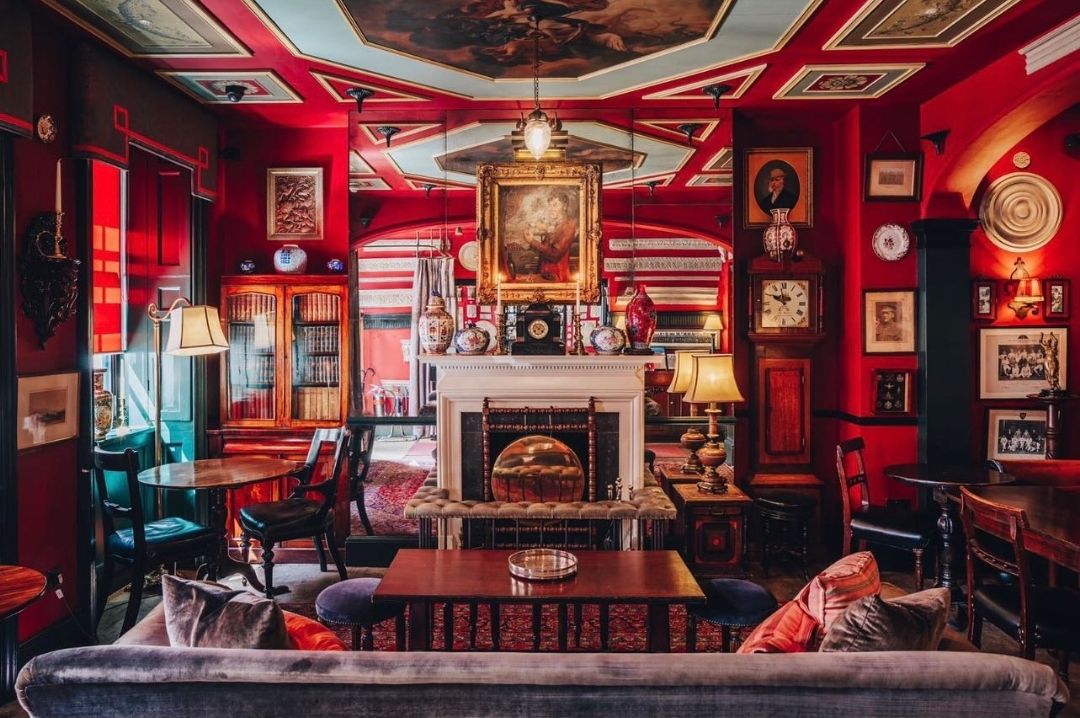 Seymour's Parlour at The Zetter Townhouse, Source: Facebook
Found in the middle of Marlymore, Seymour's Parlour is a dark and decadent lounge at The Zetter Townhouse. A perfect spot to pamper yourself with afternoon tea and cocktail soirees, the posh and vibrant bar is a preferred spot for many travellers.
The almond tart and lemon curd posset are the delicacies you must have a bite at along with a creative cocktail such as the Verbena and Heather, as jazz music envelops you in the bar's exorbitant ambiance.
Location - 28-30 Seymour St, London W1H 7JB.
Timings - Closed (Monday)
12 pm to 10 pm
Double Standard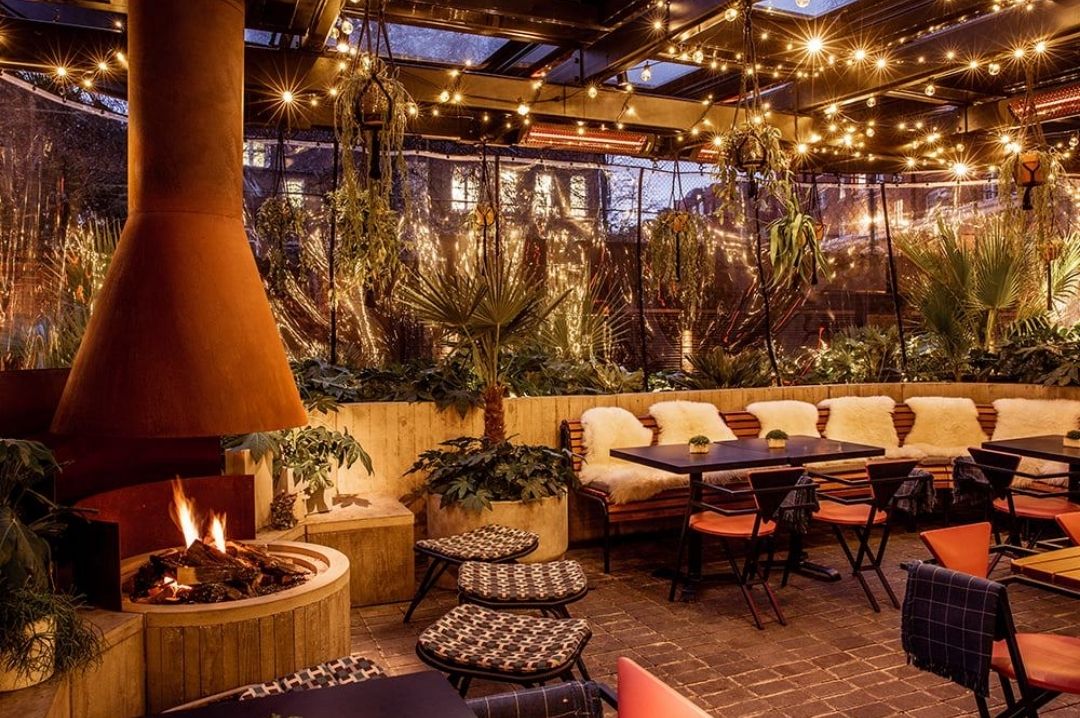 Double Standard, Source: Facebook
Coming into the light as a terrace bar with sumptuous burgers, electric music, and Sunday bottomless brunch, Double Standard dons an impressive fireplace you wouldn't find anywhere else.
Sparkling in yellow lights, the oasis on top of Standard Hotel offers a mammoth of tasty snacks (Gherkin relish, truffle fries, and more), charcuterie boards (meat, cheese, and more), mains (burger, fish & chips, and more), salads (avocado, chicken, and more), and dessert choices you can pick from.
As far as drinks go, there aren't many that offer slushies, cocktails, and on-the tap liquid refreshments (paloma and pear & white tea fizz) like Double Standard do. Beers on tap, wines and spirit options are plenty at the bar in case you like a quaff of the usual.
The Real Kombucha Dry Dragon and fresh juices (orange, apple, grapefruit, and cranberry) found in the non-alcoholic beverages are a great pick if you're looking for something without the abv.
Location - 10 Argyle Street The Standard, London WC1H 8EG.
Timings - 8 am to 11 pm (Sunday to Wednesday)
8 am to 12 am (Thursday to Saturday)
Header Image: The Pineapple, source: Facebook
Royal Horticultural Halls, London, The Lindley Hall, 80 Vincent Square, London SW1P 2PB, United Kingdom, United Kingdom
Register Now
Royal Horticultural Halls, London, The Lindley Hall, 80 Vincent Square, London SW1P 2PB, United Kingdom
Register Now