Celebrate Negroni Week with a Twist in these London Bars
Visit these top bars in London to celebrate this Negroni Week with a twist.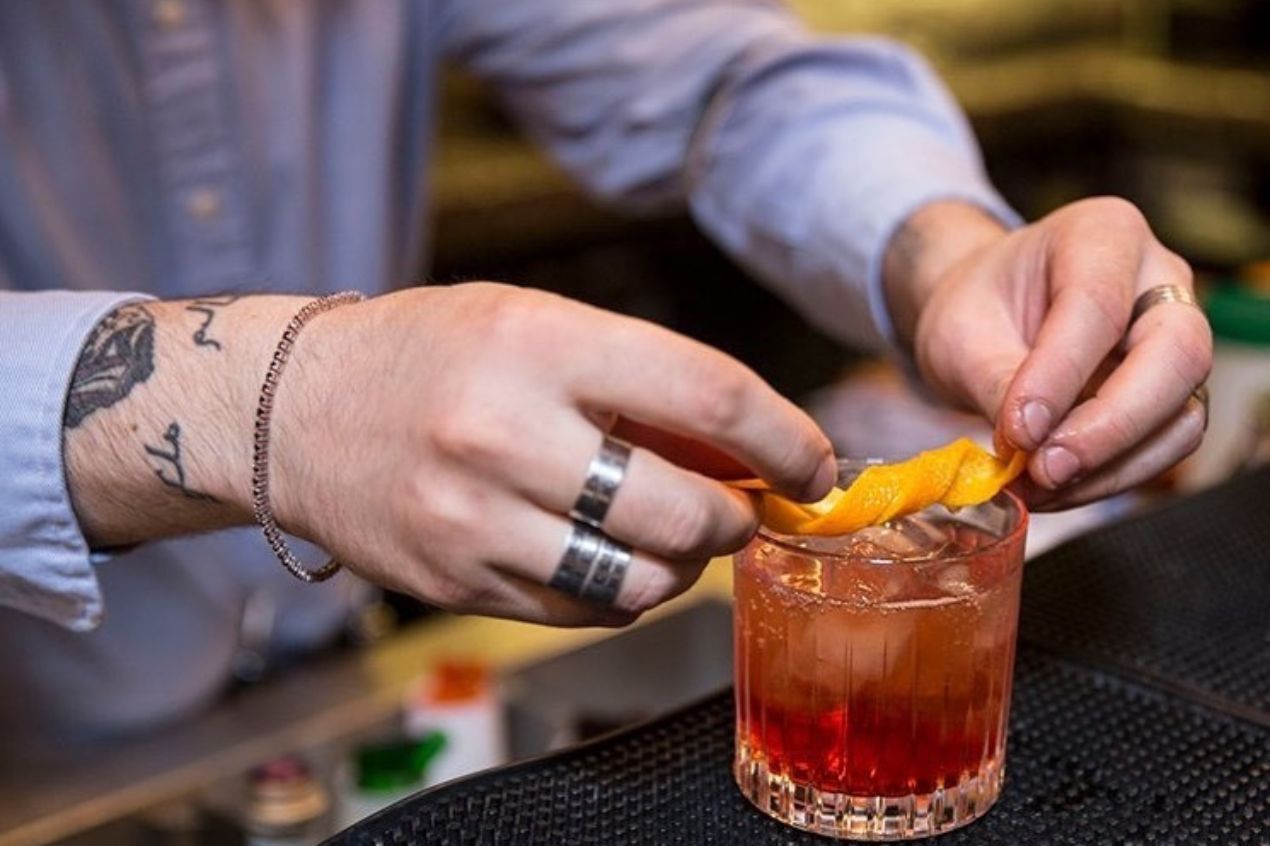 Get ready to celebrate Negroni Week starting on September 12th which will continue till September 18th, 2022. The cocktail was created by Count Camillo Negroni in Florence in 1919 and was around for more than a century.
But it wasn't recently that Negroni became a big deal! Nowadays this classic cocktail has become a favorite drink option in London pubs. It's a very boozy drink that produces the ideal Italian aperitif by mixing gin, red vermouth, Campari, and an orange garnish.
Whether you're looking for a unique take on the favorite or prefer the classic mix, here are some of the top locations in London that can serve you the best Negroni cocktail.
American Bar at The Stafford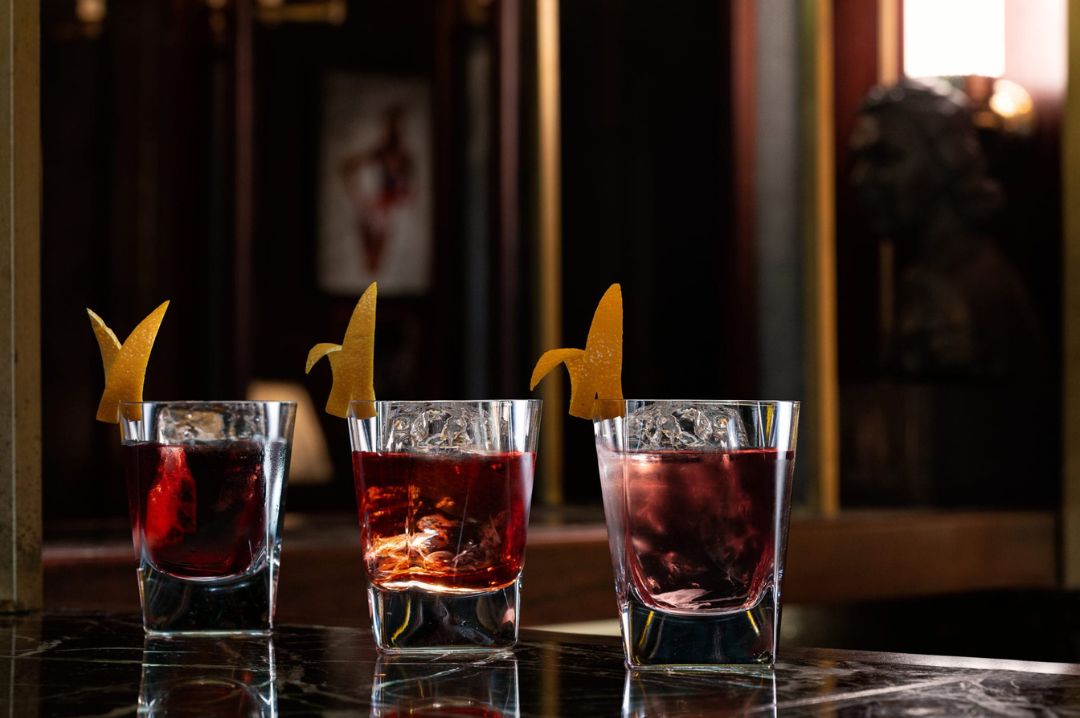 Image Source- American Barat The Stafford
In one of London's oldest surviving American bars, enjoy the classic Italian Negroni. In one of London's oldest surviving American bars, enjoy the classic Italian Negroni. The American Bar at The Stafford is popular for its signature serves and classic cocktails, so it only seems right to feature their classic Negroni styles in this guide. Try their Negroni Antica Formula, a twist prepared with Plymouth Gin, Carpano Antica Formula, and Campari.
You can experience a complex nose of vanilla, raisins, prunes, licorice, root beer, and citrus peel due to the Carpano Antica Formula. The body is initially sweet then slowly turns more and more bitter. Carpano Antica Formula is ideal for making refined exclusive cocktails. You will get an extensive option of Negronis on their drink menu like the Negroni Cardamaro and Negroni Amphora which you can give a try.
American Bar also offers Bianco Negroni under seasonal cocktails made with Highclere Castle Gin, Bianco bitters, and Bianco di Prato. If you love to have Negroni and want to celebrate Negroni week then American Bar at the Stafford will be heaven for you.
Address:
16-18 St James's Place
London SW1A 1NJ
Contact:
+44 207 493 0111
Bar Termini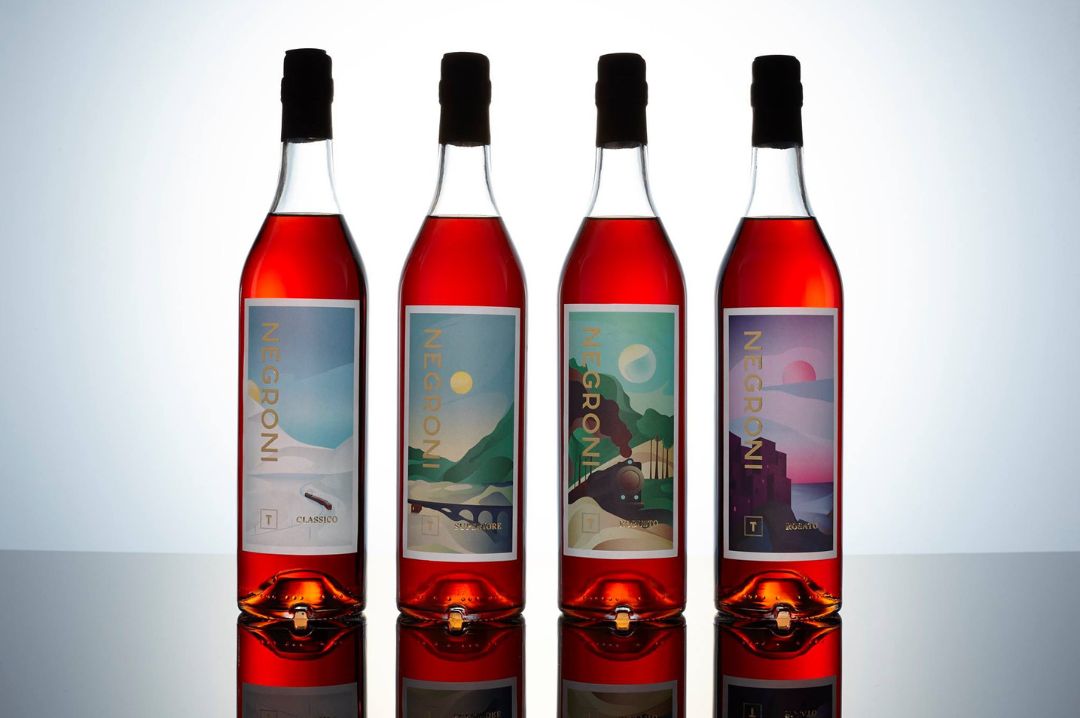 Image Source- Bar Termini
Of course, we were confident that Bar Termini, the hottest Italian bar in Soho, would serve as a traditional Negroni made with the finest, most authentic ingredients.
If you are visiting London this Negroni week then you must go to Bar Termina for this classic cocktail. They are often praised for offering the best Negroni in town so don't forget to sample their selection of Classico, Superiore, Rosato, or Robusto, along with one of their bar appetizers. We would suggest you select from their charcuterie and Italian cheeses.
Address:
7 Old Compton Street
London W1D 5JE
Contact:
+44 (0) 7860945018
Duck & Waffle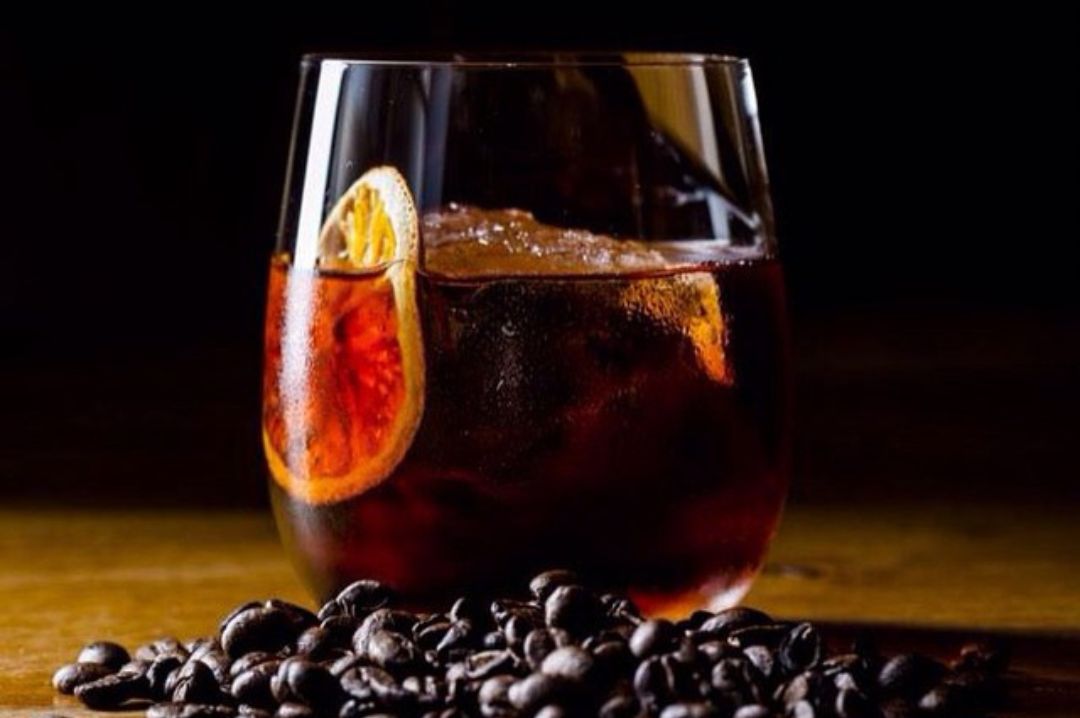 Image Source- Duck & Waffle
Enjoy one of the best Negronis in the city while enjoying the spectacular view of London's beautiful skyline at Duck & Waffle.
Famous for its 2h hour food delivery, Duck & Waffle also excels in the cocktail department. Place your order for the Ristretto Negroni, a delicious cocktail made with Bombay Sapphire gin, Campari, Martini Rubino vermouth, and 24-hour coffee slow drip stirred down, finally served over a chunk of ice. A Negroni with a kick!
Address:
110 Bishopsgate
London EC2N 4AY
Contact:
+44 203 640 7310
Robata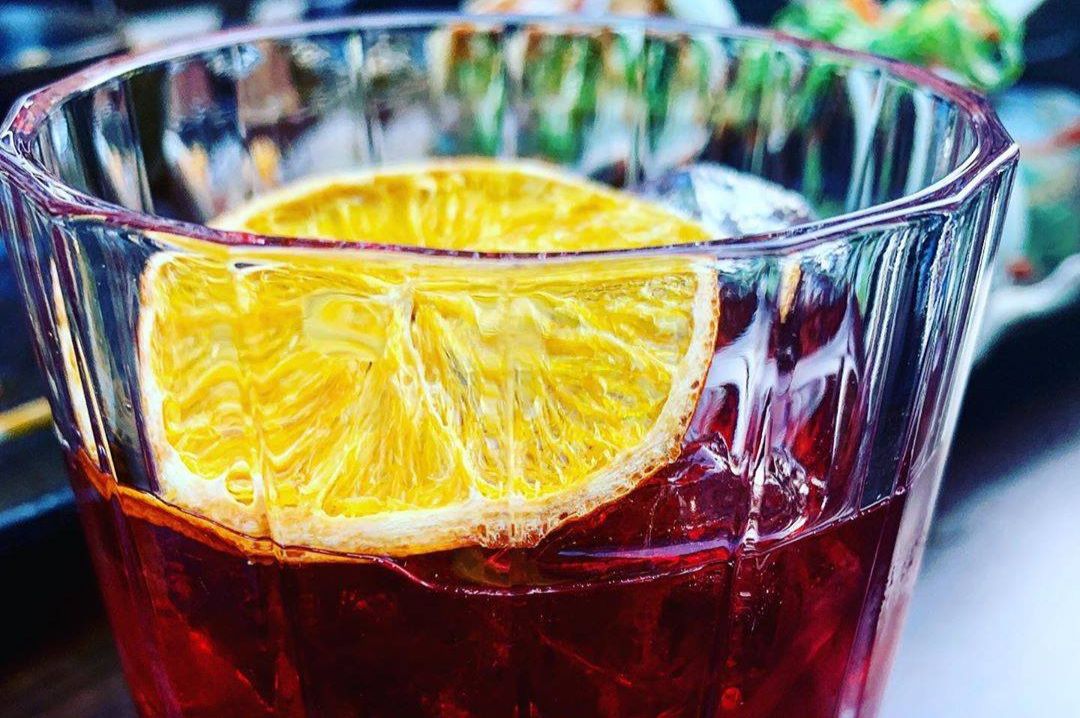 Image Source- Robata
If you actually want to experience a twist on the classic Negroni, go to ROBATA. It is one of Soho's leading Japanese restaurants popular for small plates and famous for its sake-infused cocktails.
Their menu has a wide range of delicious cocktails but if you want to try Negroni special order in the Nigai. The cocktail is made up of Roku gin, Campari and Evangelista Ratafia. You can pair this delicious drink with some of their robata-cooked dishes, you're in for a real treat.
Address:
56 Old Compton Street
London W1D 4UE
Contact:
020 7287 5766
Bocconcino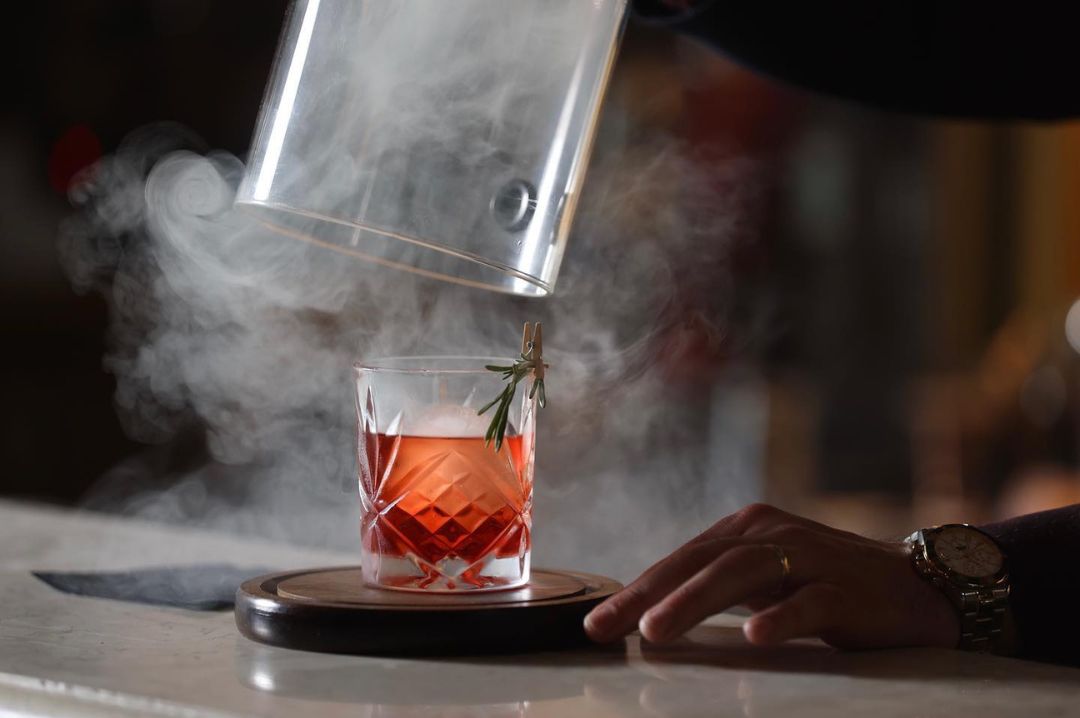 Image Source- Bocconcino
Bocconcino, a Mayfair favorite, offers a variety of Negroni selections on its menu like the 9 Months Barrel-Aged Negroni. But we adore the famous Smoked Negroni that's full of dramatics. It is the classic cocktail made with O'ndina Gin, Campari, and Antica formula.
The Berkeley Street restaurant is renowned for its exquisite selection of authentic Italian delicacies, from handmade ravioli stuffed with prawns and sea bass to a roasted octopus with Padron peppers, cherry tomatoes, chili, and garlic. If you are in for some drama this Negroni week then this is the perfect place for you.
Address:
19 Berkeley Street
London W1J 8ED
Contact:
020 7499 4510
Written by Aparna Dutta, Beverage Trade Network
Header Image Source : Bocconcino