Drinking on a Budget: The Best Happy Hours in London
Quality drinking in London isn't so expensive if you know the right spots. The best bars offer drinks on the cheap (in a designated time slot).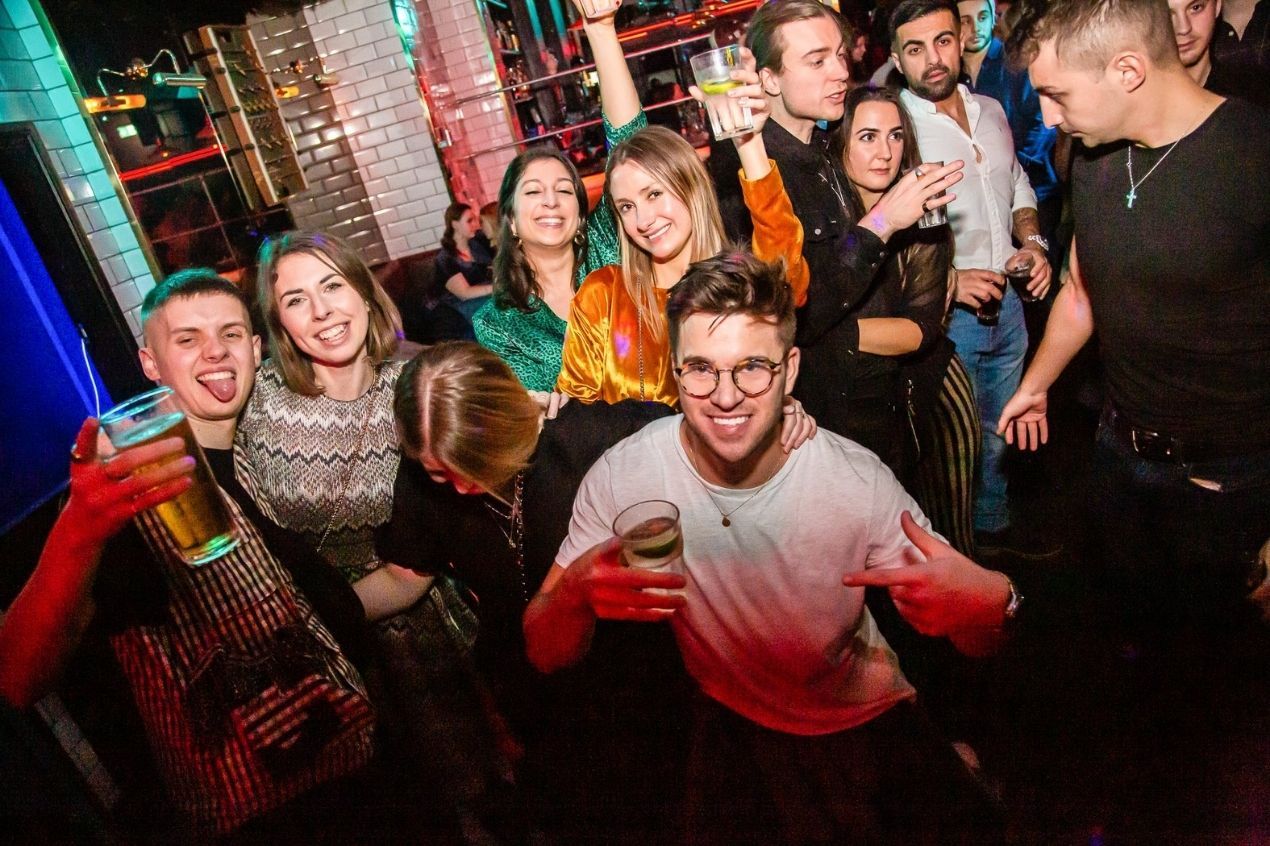 The London drinks scene is littered with some magnificent bars, pubs, wine only spots and everything in between. On an evening or a night when you decide to step out for the night with your squad, there's a high possibility that the choices of where to drink may differ. It is at times like these that you turn to an old friend! Not us, but happy hours.
With multiple bars offering drinks on the cheap, deciding a place can get tiresome. To avoid that, we have curated a list of bars that offer a variety of drinks that won't burn a hole in your pocket. From cocktails to beers, and from pots to house wines, here's where to go hunting for the best happy hours in London.
Barrio Shoreditch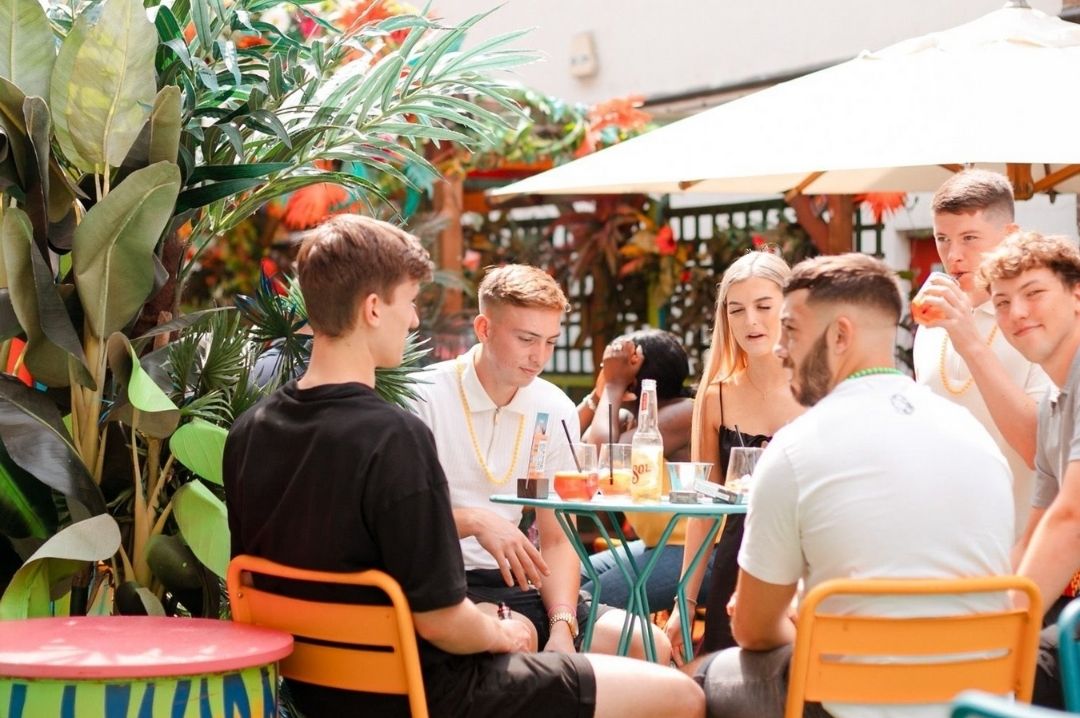 Amigo Hours at Barrio Shoreditch, Source Facebook
The only place in London where you can enjoy Amigo Hours! (yes, Barrio has Amigo Hours instead of happy hours). The team at Barrio Shoreditch run their Amigo Hours every Monday to Friday from 12 to 7 pm, where the cocktails are available at £6 each.
The cocktail menu is divided into two categories, "Playa on Playa", which is the cocktail bar's play on classic cocktails. Try any of their six cocktails like the Marga-Rita Ora, Smokey Gonzales and more. The other part of the cocktail menu is "Barrio Bebidas'', which consists of Barrio's house specials. We recommend the Tropic Plunder 2.0, or the Flamingo Dreams or any of their remaining six house cocktails.
Apart from the cocktails, Barrio Shoreditch's menu also has a detailed beer, cider, and wine list to choose from if cocktails aren't your go-to drink choice. The bar itself is vibrant and charming, bustling with people at all times because of the bright and quirky atmosphere and the never-ending opportunities to dance to Samba and Soul music.
Amigo Hours- Monday to Friday 12 pm to 7 pm
Location- 141-143 Shoreditch High St, London E1 6JE
Simmons Bar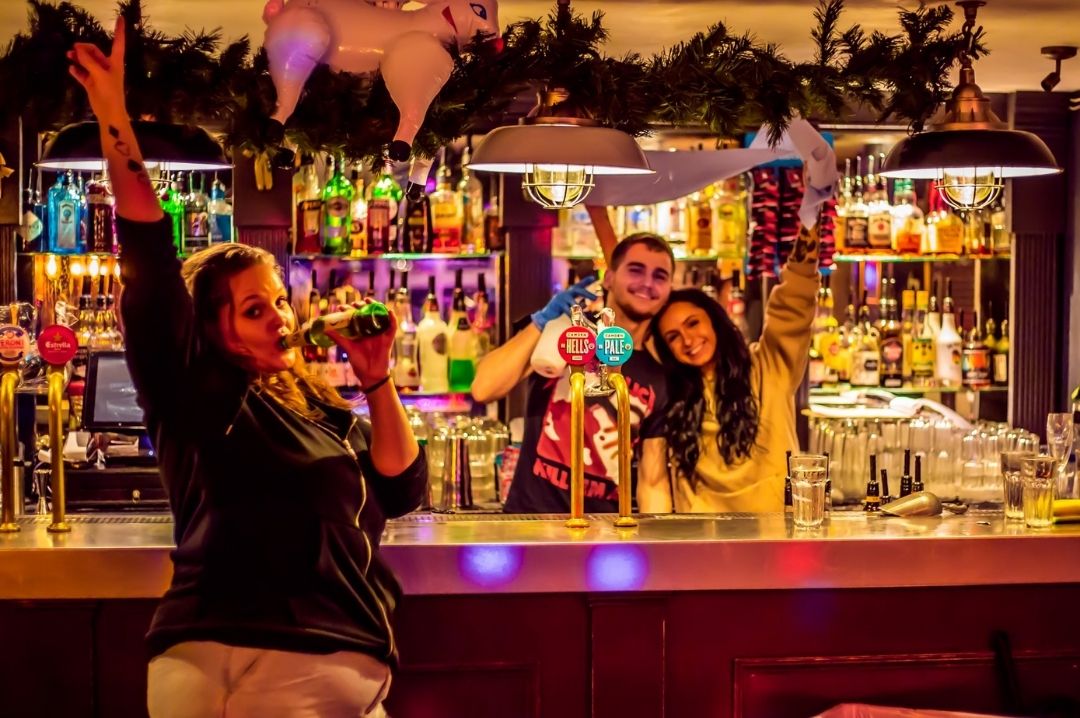 A glimpse of Simmons Bar's happy hours, Source Facebook
One of London's best bar groups, Simmons Bar is the place that will SORT OUT your happy hour needs. Why the confidence? The happy hour at Simmons Bars is an amalgamation of all things drinks. Bottles of beers, spirits and mixers are available at £2.50, glasses of wine can be bought for £3 while two cocktails are available for a nice tenner.
Bottles of wine can be bought for £12 while bottles of Prosecco come for £18. The cocktail love doesn't end here. Simmons Bars have introduced cocktail teapots (a combination of cocktails available for 3-4 people) which are available during happy hours for a measly £15.
The twenty locations across London have all attracted the youth and the after-work crowd with their happy hour offering, festivities and relaxed atmosphere perfect to throw down with friends and pals. The happy hours are available at all locations, so your drinks are sorted for six days of the week. The Soho venue has a lot of zing to it, with a grand selection of lamps, brilliant wallpaper, and a glistening skull mirrorball. A great five hours to spend drinking bang in the middle of Soho.
Happy Hour Timings
Sunday to Friday 4 pm to 9 pm- Angel, Brick Lane, Camden Town, Euston Square, Farringdon, Fitzrovia, Fulham, Kings Cross, Leicester Square, Liverpool Street, Monument, Mornington Crescent, Old Street, Putney, Temple, Tower Bridge
Sunday to Friday 3 pm to 8 pm- Tottenham Court Road, Soho, Oxford Street and Piccadilly Circus
Location- 2 Bateman St, London W1D 4AE (Simmons Bar Soho)
Bar Rumba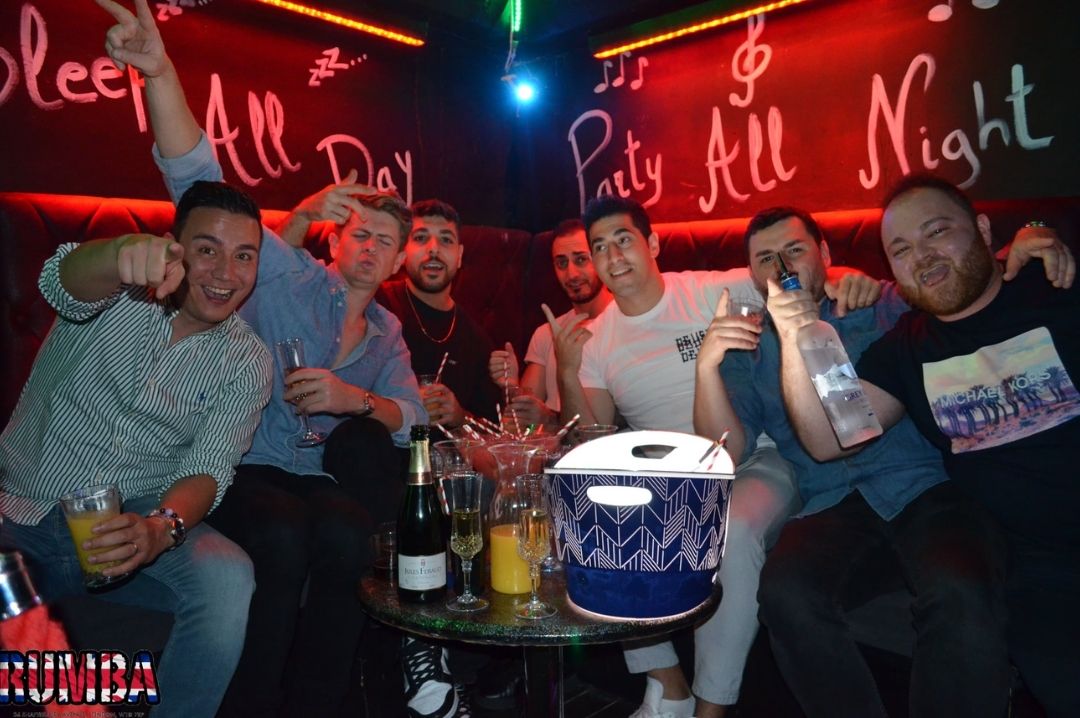 An all guys night at Bar Rumba, Source Facebook
One of West End and London's beloved nightlife spots, it is not just Bar Rumba's parties that catch the eye. Bar Rumba came back to business with a stellar happy hour offer where people can enjoy a massive 50% off on cocktail jugs, bottles of wine, bottles of prosecco and buckets of beer. However, the catch here is that the happy hour runs for only an hour on three of the seven days!
Whether you are coming through the doors to let your hair down with colleagues after work, or just there to celebrate a recent happening, the glamour and the buzz at Bar Rumba never stops. One of the best happy hours at one of London's most popular nightclubs, what is there to do other than go and enjoy at Bar Rumba.
Happy Hour Timings
Tuesday, Friday and Saturday- 10 pm to 11 pm
Sunday, Monday, Wednesday and Thursday- 7 pm to 11 pm
Location- 36 Shaftesbury Ave, London W1D 7EP
Tequila Mockingbird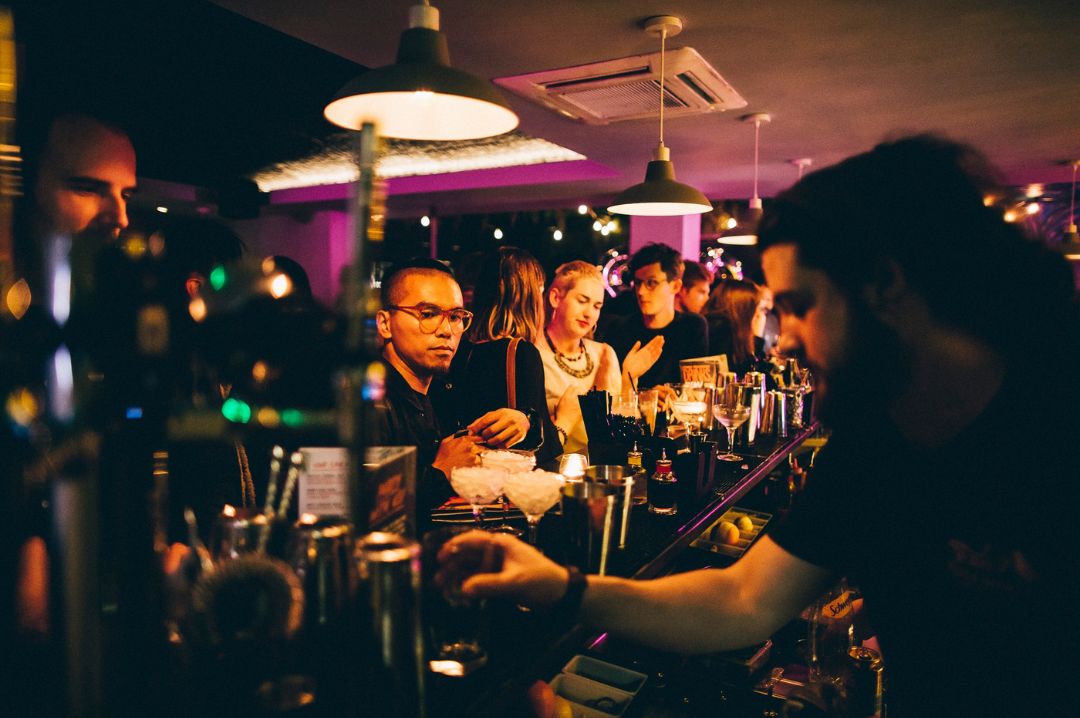 Tequila Mockingbird Brixton, Source Facebook
With Bar Rumba mentioned, it was difficult to resist putting Tequila Mockingbird on the list. Any one of Tequila Mockingbird's seven branches is the place to be for those looking to enjoy and sip through an extensive menu without breaking the bank. The bartending team can shake up pretty much any cocktail, so you are in luck because they have a buy one get one cocktail offer running from opening hours to 8 pm. They also offer £3 small house wines and £3 bottled beers, which you can check once you are at any of the seven Tequila Mockingbird venues.
For those in Brixton, Tequila Mockingbird is a stone's throw away from Brixton Market. Get away from the bustling Coldharbour Lane and enter a world of drinks and dance with dangling lights.
Happy Hours- All week 5 pm to 8 pm (Brixton)
Location- 64-68 Atlantic Rd, London SW9 8PY
Trapeze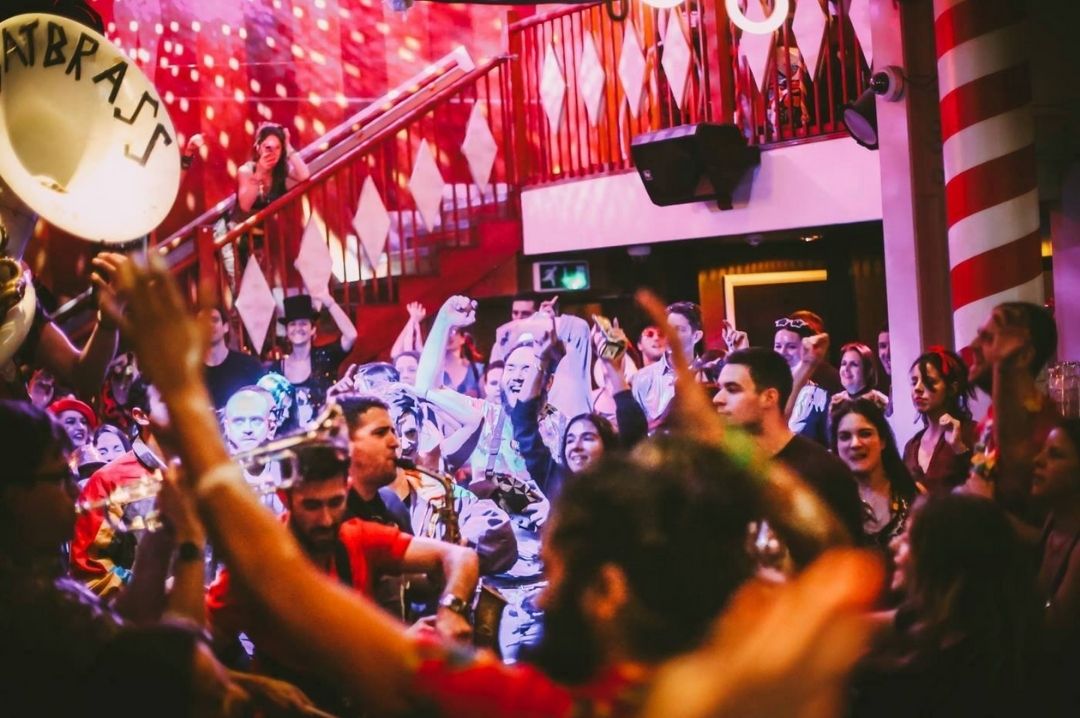 Enjoy the jam at Trapeze Bar, Source Facebook
Circus themed bar, quirky atmosphere with an unusual aesthetic that grows on you, Trapeze is a modern British kitchen and cocktail bar with a weekend nightclub in the basement. The East London watering hole has a daily happy hour that stands out because of the offerings and the pocket friendly prices they are served at.
Trapeze's happy hour has four offers, and it will sort out anyone, whether a cocktail lover or a wine enthusiast. The bar offers 2 cocktails for £12, ringmaster pints for £3.50, house wine bottles at £10 and bottles of prosecco at £15.
The three level bar is bathed in glamour, excitement, and delight. Aside from the happy hour, Trapeze is also home to a simple yet tasty kitchen, live entertainment every weekend and a spectacular party atmosphere!
Happy Hour Timings
Sunday to Friday- 4 pm to 7 pm
Saturday- 4 pm to 6 pm
Location- 89 Great Eastern St, London EC2A 3HX
Burlock Rum Room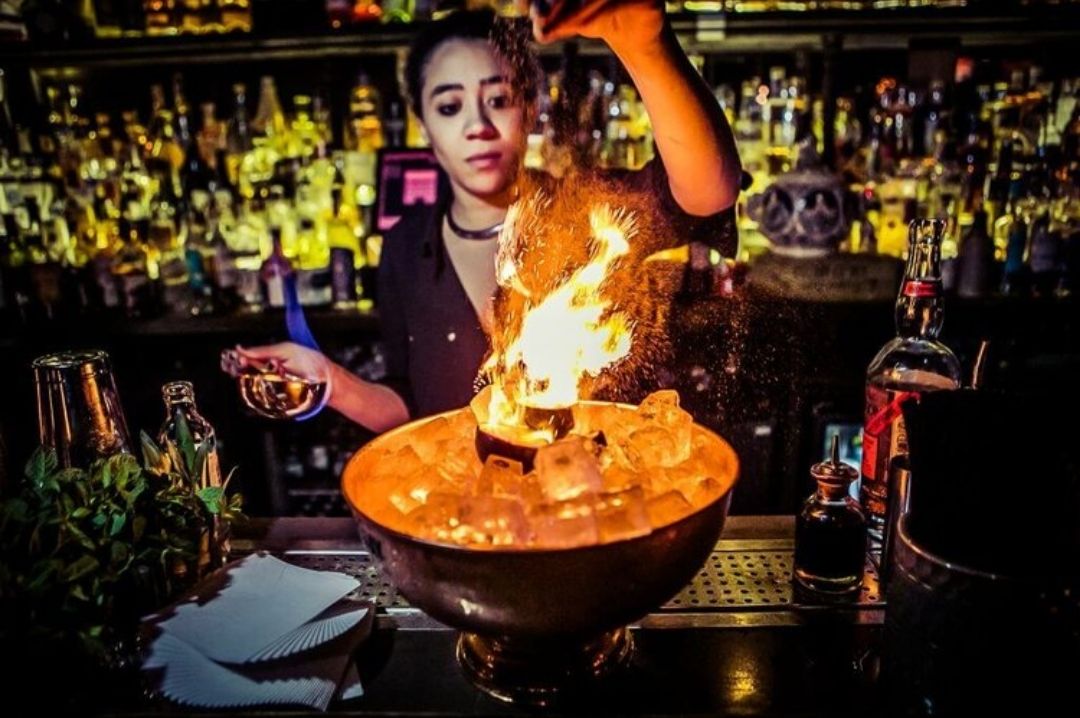 A fire happy hour, Source Website
The depths of Marylebone tell a tale of glasses clinking every night of the week at Burlock Rum Room. A place that lights up in the evenings, and what follows is a time filled with friends, frenzy and fizz (a whole lot of it). This Cuban inspired rum den is charming and the people that run the show know how to make the customers happy big time with their happy hours.
The discounted drink hours begin as soon as the doors open, meaning there's joy at the beginning of the day to day operations at Burlock Rum Room. So what's on offer during happy hours? Drinkers can enjoy four beers for £12, the amount that will also get you two cocktails. A bottle of house wine comes at £14 while a bowl of punch is priced at £18.
There's a kick in Burlock's atmosphere, which probably is the drinks mixed with the bar's decor of tropical palms shooting from the corners and Latino rhythms that get people grooving. Bring a gang and share a night (and drinks) at Burlock.
Happy Hours
Monday to Friday- 5 pm to 8 pm
Saturday- 6 pm to 9 pm
Location- 31 Duke Street, London W1U1LG
The Escapologist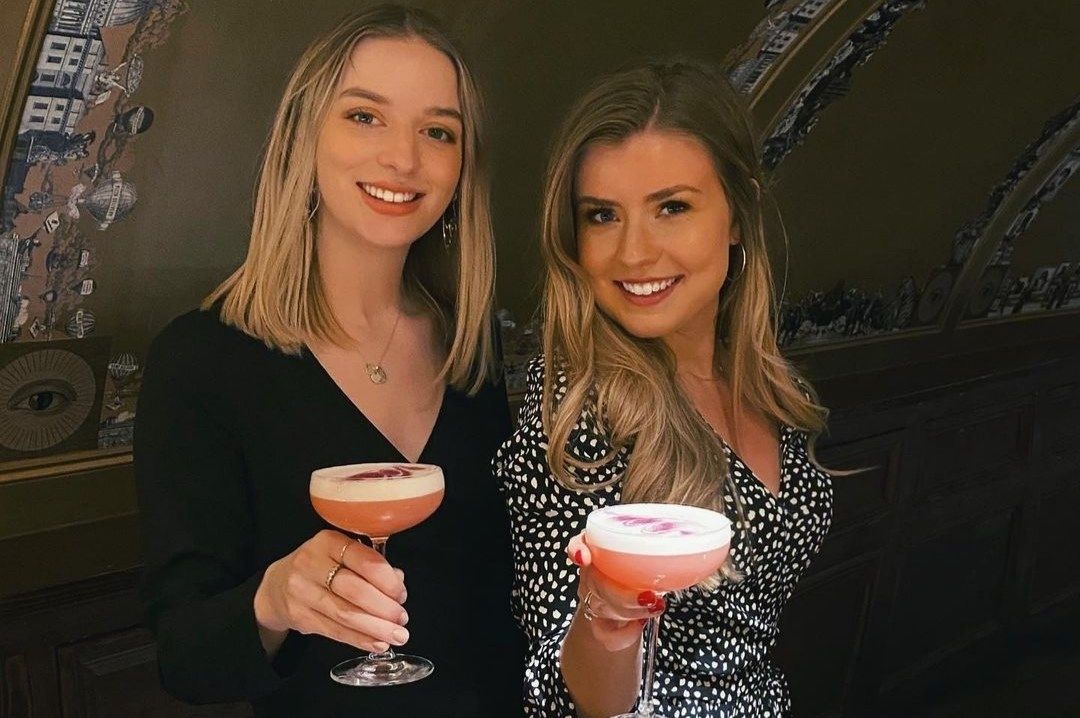 Two for one cocktail at The Escapologist, Source Facebook
There's nowhere to escape from this bar when it comes to enjoying happy hours. At the centre of Central London stands The Escapologist, a bar that has garnered a reputation for being a crowd-pleasing combination of delightful drinks and affable staff and atmosphere.
Covering all bases with a variety of offerings from beers and ciders to wine selections and speciality cocktails, The Escapologist's happy hour deal has a two for one cocktail, Perroni Rossa and prosecco glasses offering.
Even without the happy hours, the bar is a bit of a steal with the average cocktail charged at £10.50. Pair the drinks with the bar's Victorian theme and setting, and you have your group set up for a nice evening.
Happy Hours- Monday to Friday 4 pm to 7 pm
Location- 35 Earlham St, London WC2H 9LD
Header Image- Simmons Bar, Source Facebook