From Borough Market To Vinegar Yard, Learn Where To Drink At London's Food Halls
On this page you will find information and tips on where and what you should drink at London's Food Halls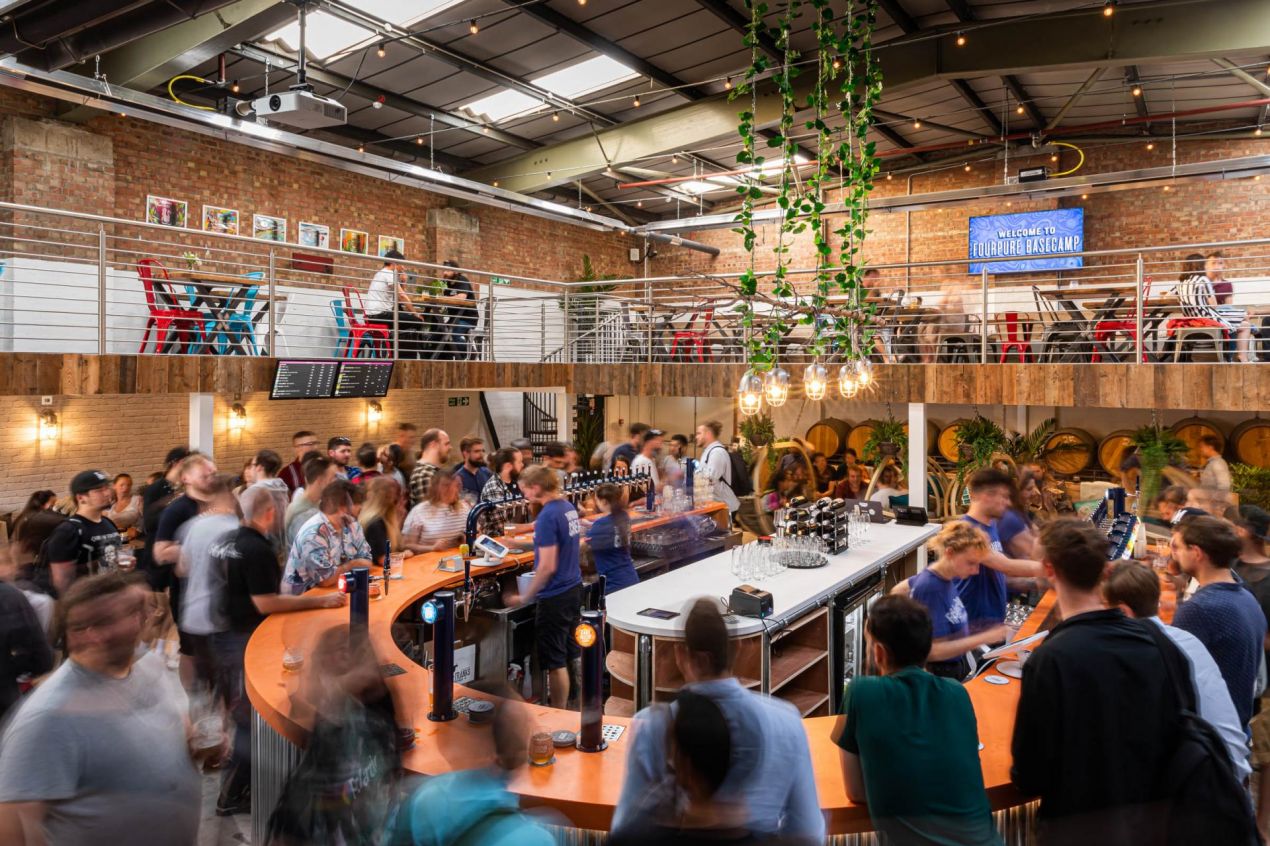 Drinking at the market is not like it used to be. Once upon a time, it meant a pint at one of the city's 'early houses', pubs that had a special license allowing them to open very early. They catered to market workers, officially, but were popular too with clubbers, police, journalists and others who, for good reasons or bad, wanted a drink early doors. As well as beer, rum and coffee - dinner and breakfast in one drink - was popular.
These pubs could be found wherever there were markets, from Covent Garden to Spitalfields, but there are only a few left now, most notably the Market Porter in Borough, which opens at 7 am. As London has changed, so has market drinking. Now it takes place later in the day, at street-food markets geared towards food rather than social drinking.
It's a bit more varied, too. London's food halls can boast on-site breweries, Underground ticket booths repurposed for selling booze, bars that double as art galleries, specialist wine importers, and pint-sized cocktails. Here's where to go:
As already noted, Borough is home to one of London's few remaining early houses, but that's far from your only option in what is one of London's most heavily-pubbed neighborhoods. On the fringes of the market, you'll find The Wheatsheaf (which, history fans, used to be three stories until the new rail link from London Bridge to Charing Cross lopped off the top one), The Southwark Tavern, The Rake (it's tiny, but the beer is good) and The Globe, above which fictional hero Bridget Jones lived, fictionally, in the film.
That's not all, though. Inside the market, you'll find The Cider House, where cider from The New Forest - cold or mulled - is available by the glass and bottle. Then there's Elliots, a haven for lovers of great food and natural wine, and Wright's, where some of the city's freshest seafood is paired with crisp white wine, fizzy wine, and dark beers, as is traditional in London.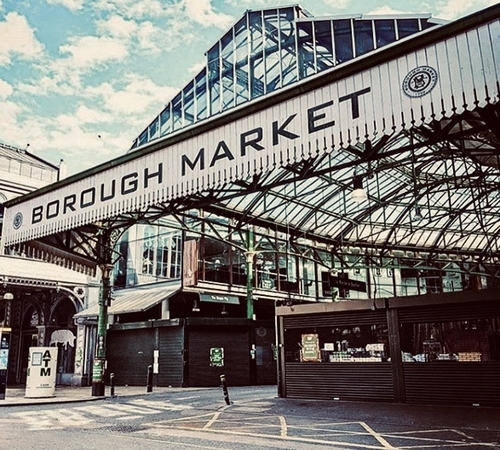 You used to be able to get a drink on the underground. Mad as it seems, there were bars on tube platforms like Sloane Square right up until the 1970s when, presumably, a few too many imbibers stumbled straight onto the tracks. (Yes, it's true: London used to be a much boozier place).
The closest you can get to that now is at the delightfully bright and airy Market Halls in Fulham, where the bar is based in the old ticket office booth for Fulham Broadway Station. It's an elegant dark wood structure where you'll find craft beer, wine, and elegantly presented cocktails. If that doesn't do it for you, there's a roof terrace where you can mingle with London's Sloaniest street-food crowd.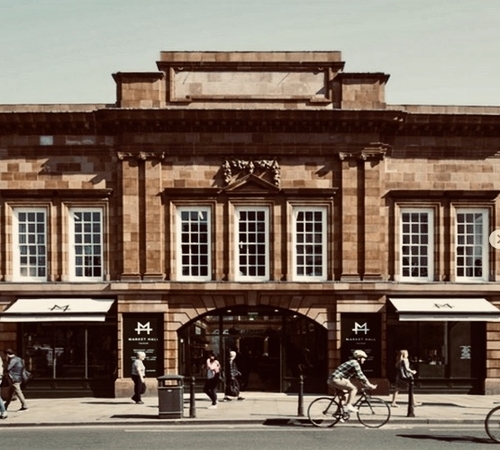 As the name suggests, this Elephant and Castle market is Italian-dominated. There's pizza, pasta, ice cream, some more pasta, but there are lots more too. Burgers, French charcuterie, Lebanese wraps, Ramen, and so on. It's a classic food hall, with global grub to suit any taste.
Perhaps the most interesting option, though, is beer, because there's a brewery on-site. German Kraft makes a variety of beer, but its core range is inspired by the beers of Franconia, the northern third of Bavaria where Germany's finest beer culture can be found. GK brews pale lager and wheat beer, plus a seasonal range of styles both German and less German. And they don't just have one brewery, but two. There's another at Mercato's new opening in Mayfair.
And that's not all. Mercato Elephant also offers Italian wine, cocktails and The Italian Job, a bar that specializes in craft beer from - wait for it - Italy. They also have some superb British craft beer so if you don't fancy German beer, this is your place.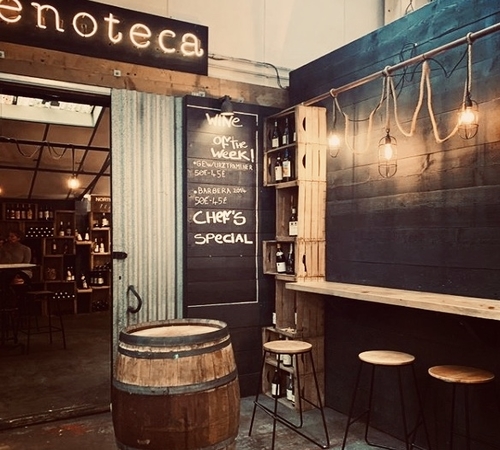 Pop Brixton is stacked with interesting independent businesses based in container units, but for our purposes what is interesting about this development is its drink options. Tucked into space a few hundred yards from Brixton Road, there's a bar (spiced rum, Red Stripe), a German sausage place that serves German beer, and then there are Specialist Cellars.
Specialist Cellars began as a New Zealand-only wine distributor and shop but has expanded to take in other parts of wine's New World: Australia and South Africa. Service is Kiwi-levels of friendly and informative, and the wine is superb and truly varied.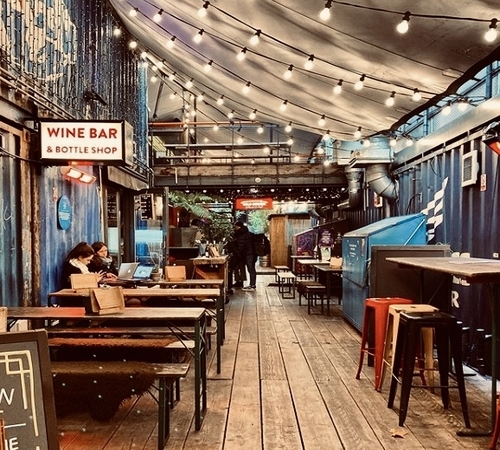 This quadrangle in the shadow of the Shard is one of the city's newest street food markets, having opened in April last year. It's a tremendous place to soak up the energy of these streets just south of the Thames, where wharves and warehouses have been replaced by glass buildings and lots of good grub.
And drink, too. The bars serve the usual line-up of London craft breweries, plus decent wine and cocktails, but it's the decor that really stands out. The bar's ground floor is decorated with artwork made with scrap metal and discarded tools by British artist Joe Rush, entitled 'Stories From The Wasteland'