Mulled wine in London: Fogg's Tavern, Running Horse and more
London hosts some great bars like Fogg's Tavern, Running Horse, and more, that will spice up your winter with their tasty mulled wines.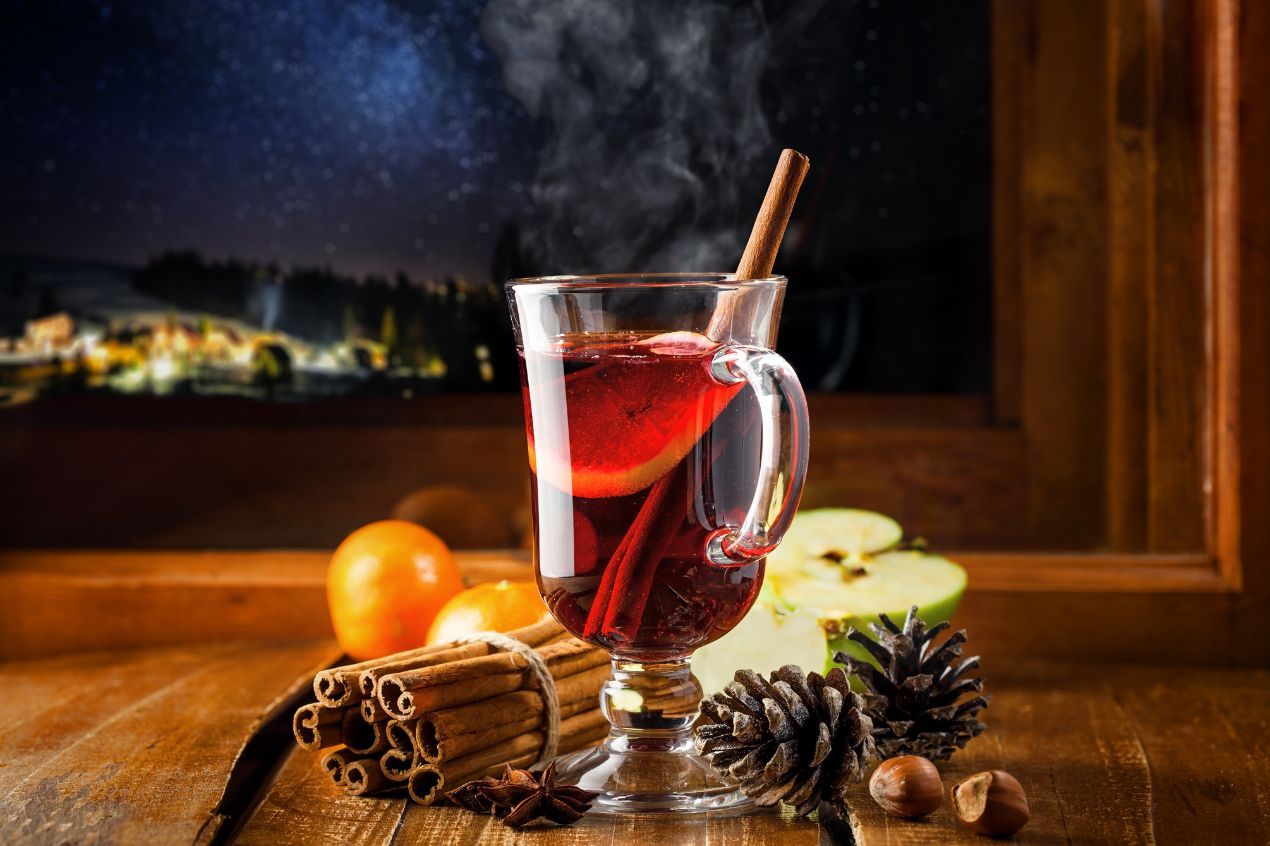 Nothing beats a glass of mulled wine during the winter season. The aromas, spices, and flavours blend seamlessly to give us a delicious, warm, winter drink. During this time of the year, you are most likely to find mulled wine almost everywhere, but why go for less than the best? If you're looking for some great mulled wine in London, your search ends here.
From traditional mulled wines to ones with a modern twist, read on to find out the best places to sample mulled wine this winter in London.
Queen of Hoxton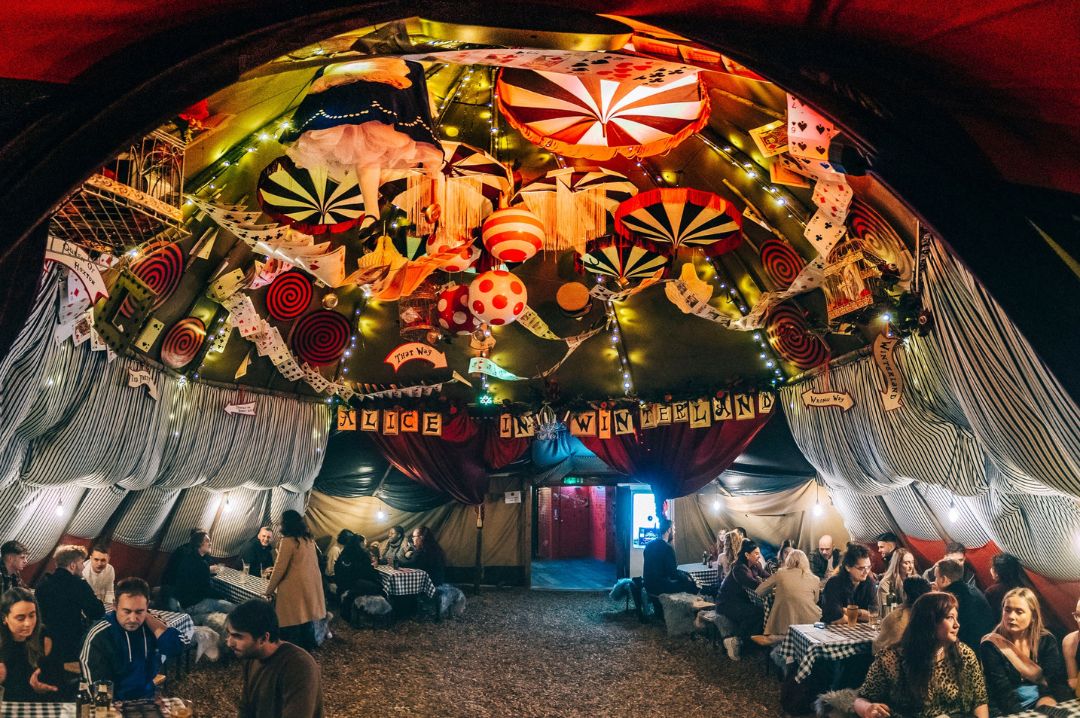 Alice in Winterland winter rooftop at Queen of Hoxton, source: Facebook
Located in the heart of East London, Queen of Hoxton is one of the most popular youth clubs for adults on the east side. The Queen of Hoxton's rooftop garden is transformed into an 'Alice in Wonderland' -themed playground this winter, with decor inspired by Lewis Carroll's stories and characters. The place offers a broad mix of fun over two floors, with DJs, film nights, theatre, food, and drinks.
Queen of Hoxton sets up an extensive menu of signature cocktails, canned and bottled beers, wines, hot drinks, and food. You can try their signature cocktails like Wonderland Winter Warmer or Alice's Awake Potion, but your eyes must be on mulled wines, specially the Bramble Mulled wine with Plymouth Sloe Gin. Sloe berries add a juicy edge to the drink, and the altitude helps the steamy drink go to your head even quicker and warms you up.
Where - 1 Curtain Rd, London EC2A 3JX
Hours - Wednesday (4 pm - 12 am)
Thu-Sat (4 pm - 2 am)
Mr. Fogg's Tavern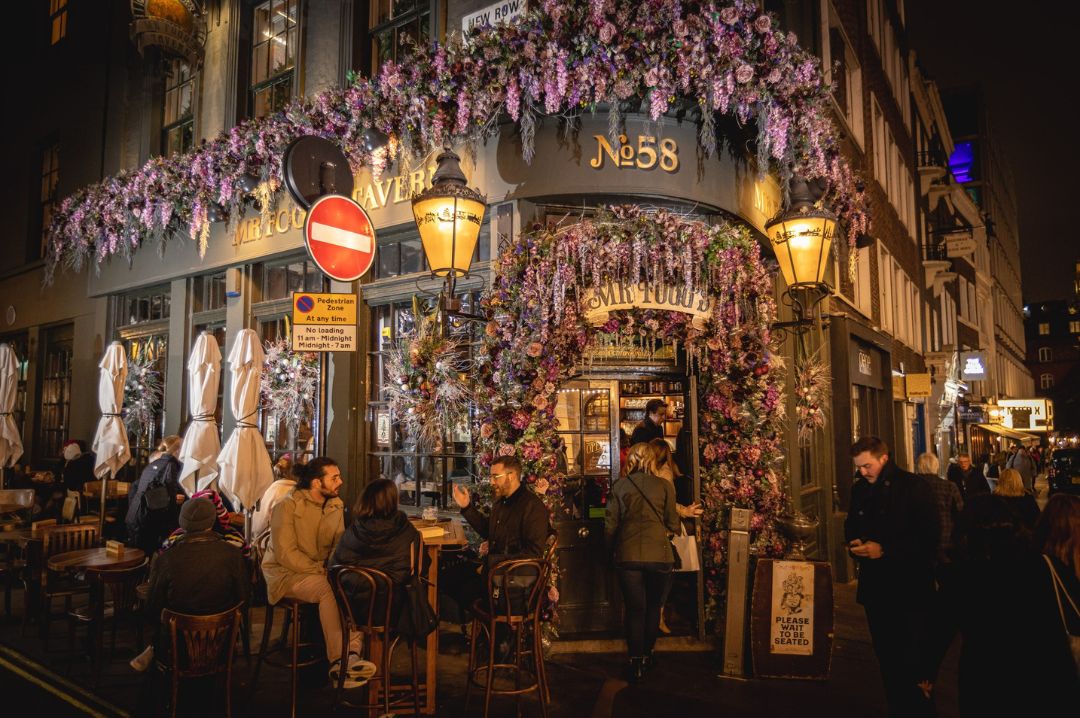 Mr. Fogg's Tavern, source: Facebook
In the heart of London's theatreland, Mr. Fogg's Tavern is located on the corner of New Row and St. Martin's Lane. With Christmas around the corner, the dark-wood interior of Mr. Fogg's Tavern is donned with festive decor and beautified with mistletoe, garlands, and twinkling lights. Upon entering, your nose will be tingling with scents of pine and mulled wine.
The tavern offers a great selection of signature cocktails, beers, and imported mulled wines. Mr. Fogg's tavern follows a historic recipe to make their mulled wine and thus the mulled wine served here is something special. It includes a variety of spices, from classic cloves to cassia bark, to provide depth to their wine. You can savour hints of herbs and fragrant spices infused gently through the wine, and you'll truly want to take your time over it.
Where - 58 St Martin's Ln, London WC2N 4EA
Hours - Mon-Tue (12 pm - 1 am)
Wednesday (12 pm - 3 am)
Thursday (12 pm - 4 pm)
Fri-Sat (12 pm - 3 pm)
Sunday (12 pm - 12 am)
The Trading House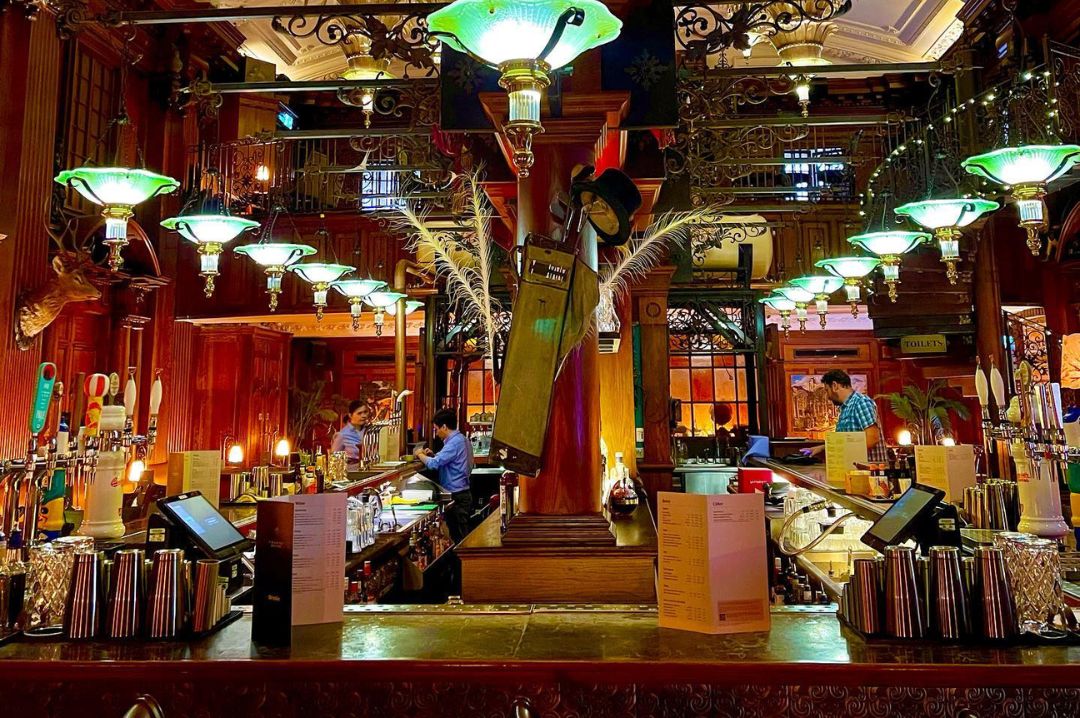 The Trading House, source: Facebook
Nested on Gresham Street, The Trading House's iconic venue is filled with period fixtures and fittings, high ceilings, a spiral staircase, and a mezzanine. Celebrate Christmas surrounded by their delicious Christmas menus, drinks specials, and an exciting line-up of live music.
You can enjoy their Christmas menu with some classic cocktails or wines but their delicious mulled wine is certainly one of the best in London. The mulled wine is made from mulling syrup, orange juice eager, BIB Wine, and then mixed with orange and lemon. The final touch is given by a spiced twist with a cinnamon stick, star anise, and cloves.
Where - 89-91 Gresham St, London EC2V 7NQ
Hours - Mon-Fri (11:30 am - 11 pm)
Les 110 de Taillevent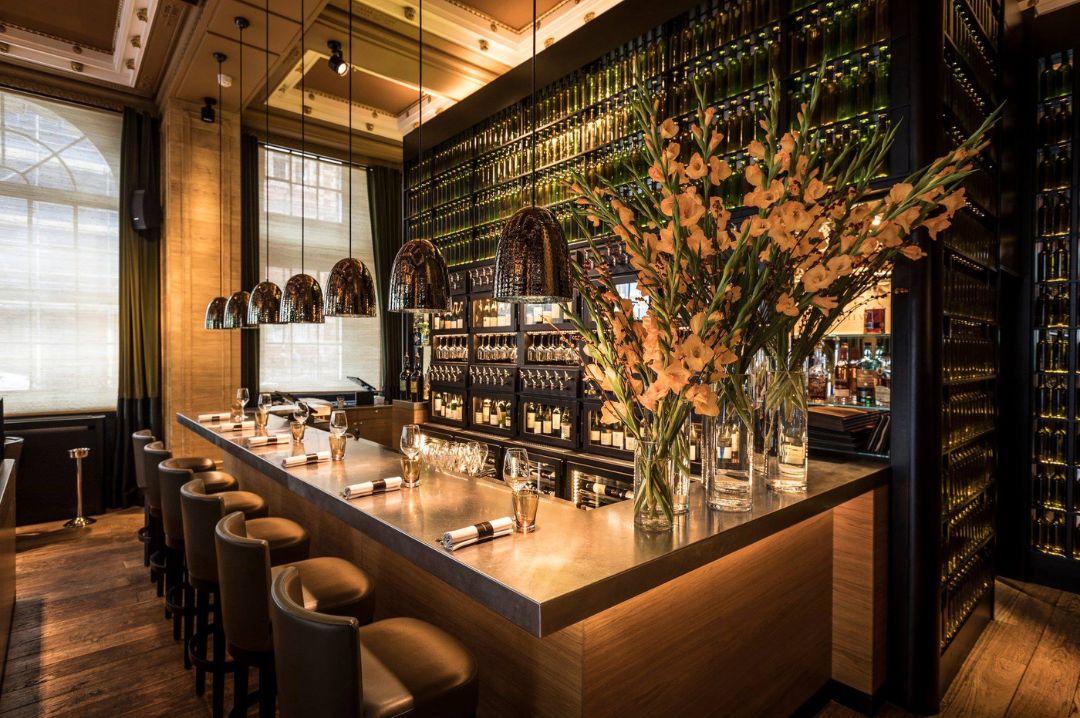 Les 110 de Taillevent, source: Facebook
Les 110 de Taillevent is just minutes away from both Oxford Street and Regent Street. The Gardinier family is behind this iconic two-Michelin-starred French restaurant. The restaurant is a one-of-a-kind wine and cuisine pairing brasserie, with 110 wines by the glass paired with contemporary and fresh French meals.
Les 110 de Taillevent is giving a delightful mulled wine hot chocolate as part of their festive offers this holiday season. Sangria jelly, orange zest, cinnamon, and Christmas spices are used to make this amazing sweet drink, which is topped with Valrhona Guanaja Chocolate. Possibly one of the best pairings you will ever relish.
Where - 16 Cavendish Square, London W1G 9DD
Hours - Lunch - Wed-Fri (12 pm - 2:30 pm)
Dinner - Tue-Sat (6 pm - 12 am)
The Waterway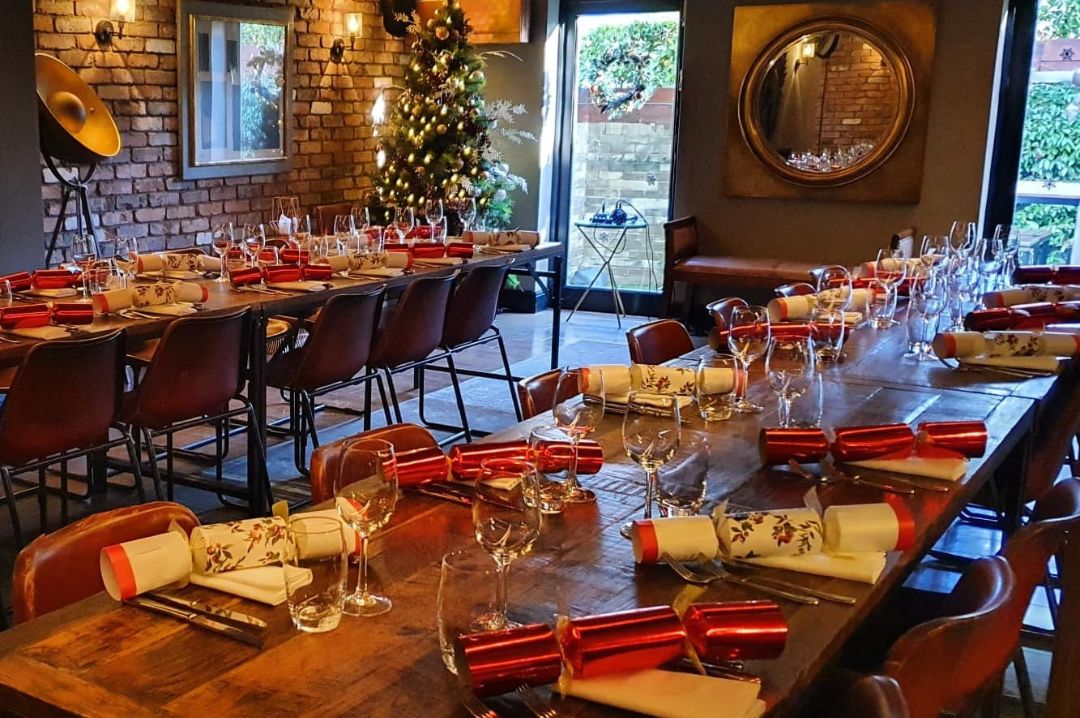 The Waterway prepped for Christmas, source: Facebook
Opened in 2002, The Waterway is a bistro-style gastropub with a Modern European menu in the center of Little Venice. This waterside gem boasts the perfect spot for winter vibes with a fire-lit terrace and views overlooking the Grand Union Canal. Cosy up on a wintry night under one of their heaters with a glass of mulled wine.
If you're not a mulled wine person, but still want some spice in your drink, try their Hansel and Gretel drink, made with spiced rum, whole milk, and gingerbread syrup, for a true holiday delight.
Where - 54 Formosa St, London W9 2JU
Hours - Mon-Sat (10 am - 11 pm)
Sunday (10 am - 10:30 pm)
ScandiKitchen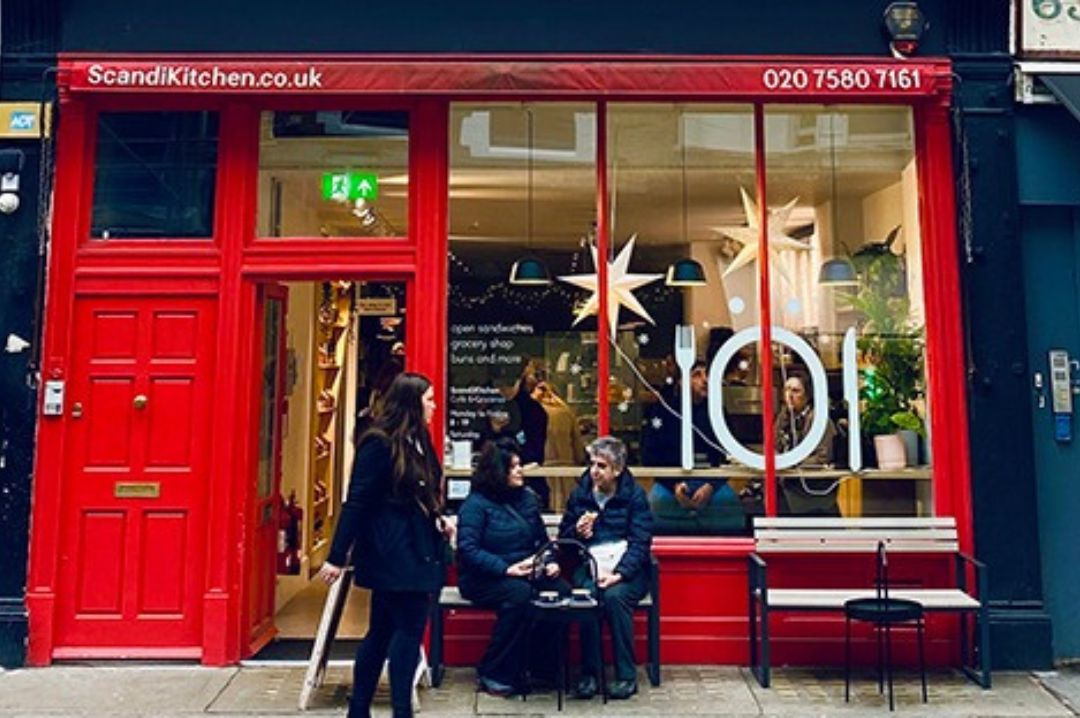 ScandiKitchen London, source: Facebook
As you can probably guess by the name, ScandiKitchen is all about food and drinks from all over Scandinavia. The kitchen proudly boasts a wide variety of sandwiches and offers a large grocery selection with over 600 Scandi goodies. But the prominence is given to glogg-mulled wine Scandinavian style, which is served every weekend.
P.S we love their cinnamon buns too!
Where - 61 Great Titchfield St., London W1W 7PP
Hours - Mon-Fri (8 am - 7 pm)
Saturday (9 am - 6 pm)
Sunday (9 am - 5 pm)
The Running Horse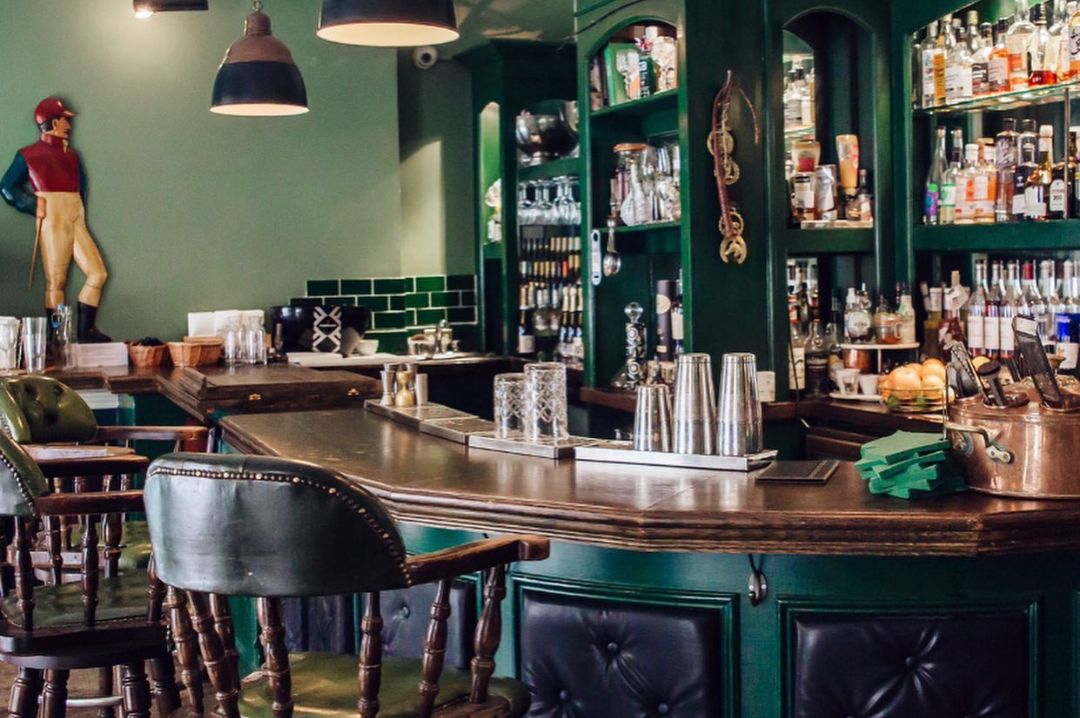 The Running Horse, source: Facebook
Experience traditional European cuisine in a historic and heritage place at The Running Horse. Established in 1738, The Running Horse is one of the oldest public houses and kitchens in Mayfair, which reopened its doors in 2013. Its elegant decor, mood lighting, plush seating, and wood-lined interiors set the scene in a way that will take you back in time.
Besides some flavoursome mulled wines, the bar offers an extensive selection of house spirits and signature cocktails like Tiki Thyme, bottled beers, and bar bites for when you get peckish.
Where - 50 Davies St, London W1K 5JE
Hours - Tue-Sat (12 pm - 12 am)
Header image, source: Queen of Hoxton Facebook