Brewpubs in London that are open right now
check all the top London brew pubs that are open and delivering in London right now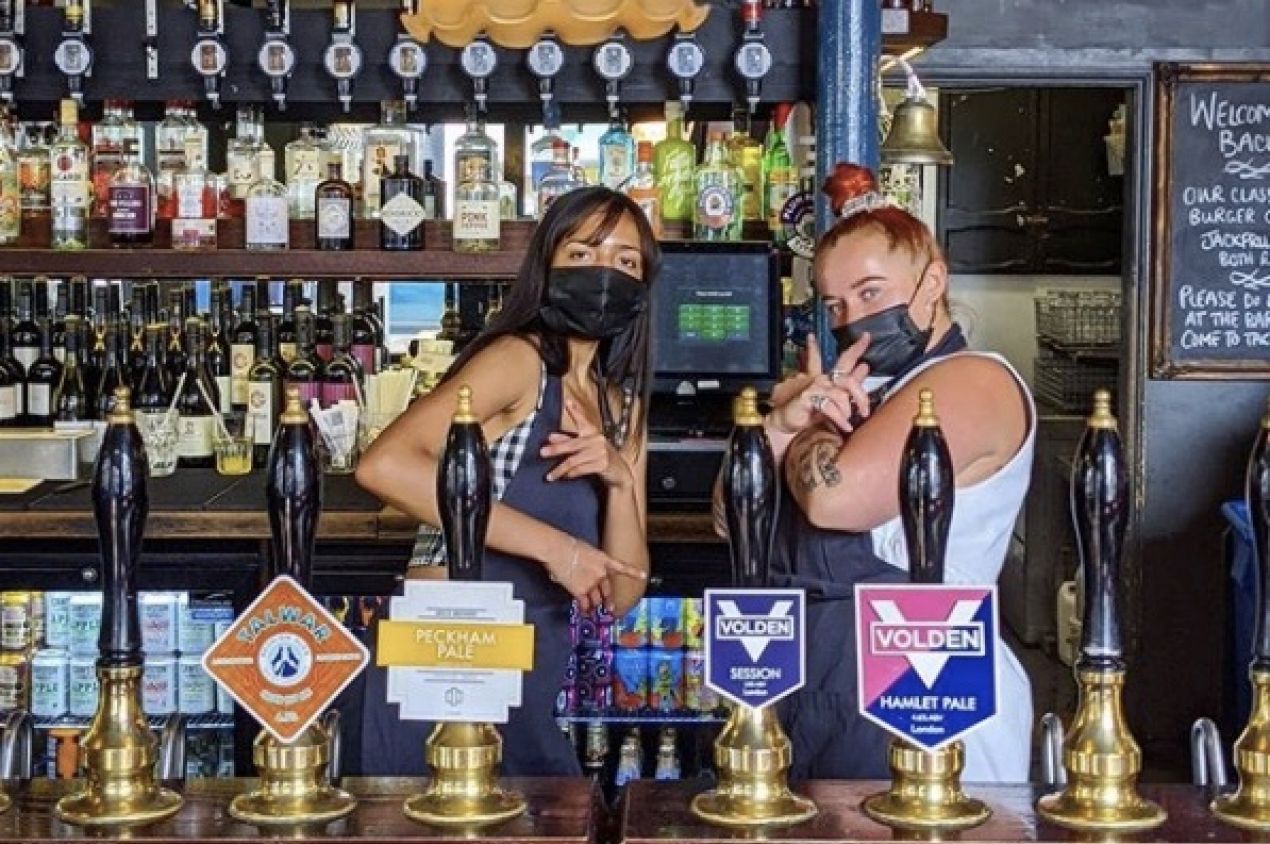 The tabloids are dubbing it 'Super Saturday': the day we're all allowed back down the pub again. Although other venues and institutions can reopen from July 4 under the latest government guidelines.
The new rules mean that you have to either book ahead or give names and addresses for all party members when you rock up to the pub. Check with each individual establishment and your own cherished local before you head along to find out what the deal is. You can also expect table service, one-way systems and hand sanitiser in among those cool, crisp pints.
Here's a list of our London faves who are open now:
The Axe
The Axe have done a bang-up job, retaining everything that worked at Jan's Belgian beer bar – the dim, cosy atmosphere, extensive ale selection and welcoming vibe – and adding a bright, airy, pine-lined smoking yard along with a captivating food menu.At heart, The Axe is a modest, fairly affordable local pub for local people. It just happens to get everything spot on. Get in now before it's swamped by the Stokey masses.
The Bluecoats
The chapel-shaped, Victorian building is a bit of an anomaly on Tottenham's High Road, in among the corner shops and with a glimmer of Spurs' shiny new HQ in the distance. Up until recently, The Bluecoats was The Pride of Tottenham, a rowdy match-day pub that shut up shop following noise complaints. Transforming the empty and unloved building into what they're hoping will be an all-round more neighbour-friendly hangout is the Night Tales team, as well as Tom Gibson, the man behind Dals
The Bluecoats
Crown & Anchor
Located in the lively Seven Dials area of London's Covent Garden, the Crown & Anchor is a charmingly traditional style British pub spread over two floors.Downstairs is a great place to meet for a drink or a bite to eat with friends or colleagues, or to just rest your feet after a hard day shopping! Being a stone's throw from most major West End shows, means they are perfect for a pre or post-theatre meal too with the kitchen serving a fantastic selection of traditional homemade pub food.
The Crown & Anchor
Culpeper
Culpeper named after Nicholas Culpeper, the seventeenth-century English herbalist, who lived in nearby Spitalfields is a tonic for any East Ender.The 'seasonal and local food' mantra is taken to silly heights at this gastropub in the heart of London's East End, where salad leaves and some herbs for the kitchen are grown in planters on the roof garden. It's a bit of fun – and maybe a bit of on-trend window-dressing too.
The Culpeper
Dove
Broadway Market's Dove is Belgian beer heaven. The building has the feel of a Continental tavern: it's an old-fashioned building decked out in oak with the always oversubscribed bar the focus of the action. There are a few optimistic picnic benches peppering the front pavement. To finish the effect, a distinct waft of yeast hits you as you enter the room. There's certainly no messing around on Dove's tome-like menu filled with Trappist, gueuze and fruit beers: it's an exhaustive list celebrating the best of a proper beer culture.
The Dove
The Duke of Hamilto
An age-old Hampstead pub with a new lease of life.Sure, Hampstead has its fair share of loveable old hostelries, but The Duke of Hamilton – a 300-year-old pub – has an unusual recent history, too. Back in 2015, its landlord barred some 800 members of community group Hampstead Neighbourhood Forum after their successful campaign to make the pub an Asset of Community Value against his wishes. Those locals are now being welcomed back with open arms, with the pub under new ownership
The Duke of Hamilton
East Dulwich Tavern
Like all good local pubs, the East Dulwich Tavern varies greatly depending on when you visit. On a weeknight you might wander into a film club or a quiz; at prime-time it's standing room only as packs of pals knock back bottles of local craft beer; weekends are all about board games and grub in the airy, sky-lit main room. Crucially, it caters to all these needs without alienating anyone, and its upcycled aesthetic and well-priced, accessible menu add to the impression that everyone's welcome to use the pub's considerable space as they see fit – even if that's just getting quietly sloshed in the corner.
East Dulwich Tavern
Faltering Fullback
Don't be put off by the fact that the Faltering Fullback bar is always full, or that the vast but rowdy main room has the atmosphere of a sixth-form common room crossed with a 1970s pool hall. This vaguely Irish pub has long been a Finsbury Park favourite, and that's 98 percent down to its amazing garden. Drinks are reasonably priced, the Thai food is good and it's a sport-watchers paradise, but these are just cherries on the verdant layer cake that is its three storeys of leafy nooks, crannies and look-out posts outside. Even when it's chilly you'll find a comfortable outdoor spot as many of the benches are heated and covered.
French House
If you like to drink in places where the history's as important as the drinks list, the Grade II-listed French House should be on your list. Charles de Gaulle used the pub as a workplace during World War II; Dylan Thomas and Francis Bacon both drank here… the list goes on.The interior reflects both the Gallic connection and its long standing in this most exciting of London neighbourhoods.
The Hansom Cab
Situated away from the chaos of Earl's Court Road past Cromwell Road and a good few paces further The Hansom Club is well worth finding. Fourth in the growing Pubs of Distinction chain , it's small enough to feel busy at quiet times, yet big enough to house a comfortable drinking and dining area.
The hansom cab
The High Cross
The best things come in small packages – particularly when they're micropubs. And squeezing into Tottenham's diddy boozer The High Cross feels even more thrilling given that it used to be public bogs. The 1920s toilet block halfway up the High Road has been converted into a trad drinker's paradise, but from the outside, it still looks like it's open for other sort of business – the ladies and gents signs are lit up in style.
Opens Thursday-Sunday 12-11 pm
The Ivy House
The Ivy House is London's first cooperatively owned pub, which was saved from closure by locals and now hosts live events most nights of the week.Friendly, committed staff welcome locals of all ages for a mates-rates pint of locally brewed ale, carefully sourced pub food (including generous Sunday roasts), and events ranging from live music to yoga classes, knitting circles and kids' dance lessons. It's all housed in a Grade-II listed building, with original beams, wall-to-wall wood panelling, leaded windows and an open fire.
Opens Wednesday-Sunday 3pm-10pm
The Lyric
Small, slightly shambolic and with a jovial share-a-table type of vibe, The Lyric is a longstanding favourite, not least because its location near a fantastically crowded part of London the West End, Soho, Piccadilly, Regent Street—makes it a diamond in the rough amid disappointing pricey traps. The Victorian pub's 18 taps pour out reliable pints including Camden Hells and Brooklyn Lager, as well as more unusual fare such as hyper-citrusy High Wire Grapefruit brew (the clue is in the name) from Magic Rock.
The Lyric
The Marksman
A hotly awaited revamp of cherished Hackney boozer The Marksman, with high-calibre cooking and must-try on-tap offerings.The first-world conundrum of whether to dedicate Saturday night to fine dining or serious drinking is tackled head-on by the folks behind the relaunched Marksman. This is the latest addition to Hackney Road's swelling crop of new and refurb bars and restaurants.
The Mayflower
Of all the Thameside pubs,The Mayflower is the most special, the most atmospheric, the most tucked-away and its wooden deck at the back has probably the best view of the river too. If there's a better accompaniment to an evening pint than the sound of the river slapping away through the slats under your feet, and the lights of the City twinkling away in the distance, we've yet to find it. Inside is brilliant too – it dates back to 1620, with ecclesiastical wooden pews, real ales, an open fire and a friendly hubbub of chatter. A real find of a pub.
The mayflower