Oldest Pubs in London
Enjoy a pint with a side of history, at one of the oldest pubs in London that have stood their ground for centuries!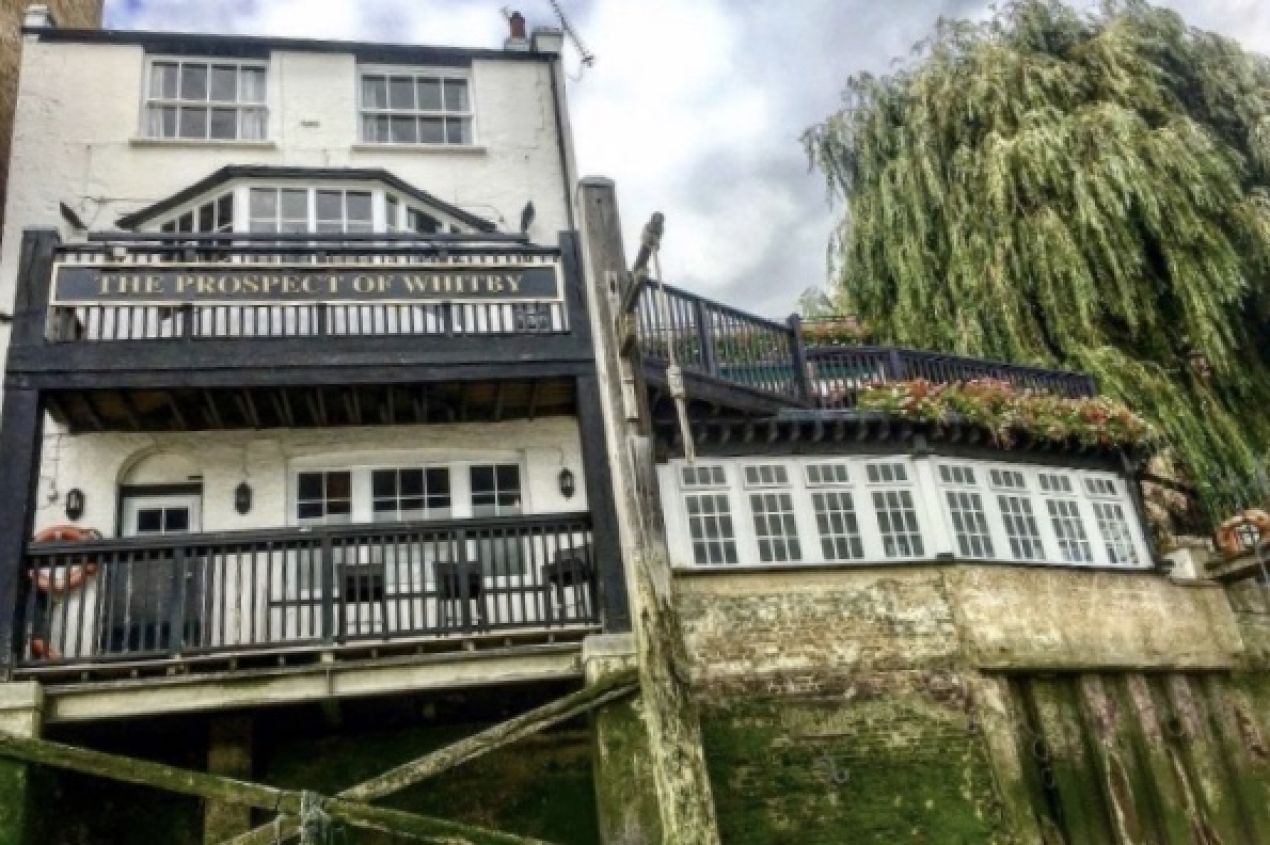 There's no definitive answer to the question of which one is actually the oldest – the only thing anyone can agree on is that Charles Dickens patronised pretty much all of them. We're of the opinion that it doesn't much matter, as long as they've got an interesting story to tell!
So here are the 15 oldest pubs in London to grab a pint at. (Timings may vary due to Covid-19. Please check their websites for updates before heading out).
1. The Guinea, Mayfair
Whilst the building itself only dates back to 1720, there has been an inn standing on this site since 1423, which warrants The Guinea a spot on this list. Of course, the beer is great, but The Guinea is also known for its grass-fed Scotch beef steaks - which is what makes it 'London's original steakhouse since 1952'.
Location: 30 Bruton Pl, Mayfair, London W1J 6NL, United Kingdom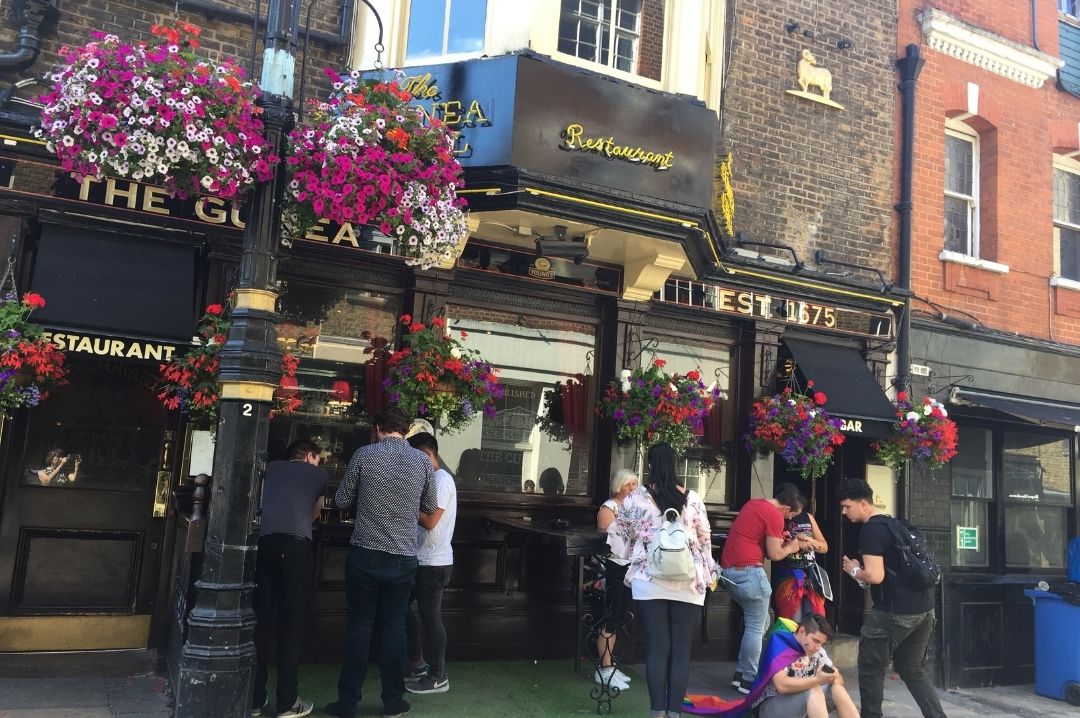 2. The Spaniards Inn
The Spaniards is an iconic London pub, ahead of the game in providing the perfect setting for truly memorable drinking and dining experience. Drink here and you'll be following in the footsteps of literary luminaries such as Keats, Byron, and Dickens (we did warn you he got around!). It also achieved notoriety as the supposed birthplace and favoured haunt of highwayman Dick Turpin. Their Tap Takeover is worth checking out too, as they rotate a selection of excellent craft beers throughout the year.
Location: Spaniards Rd, Hampstead, London NW3 7JJ, United Kingdom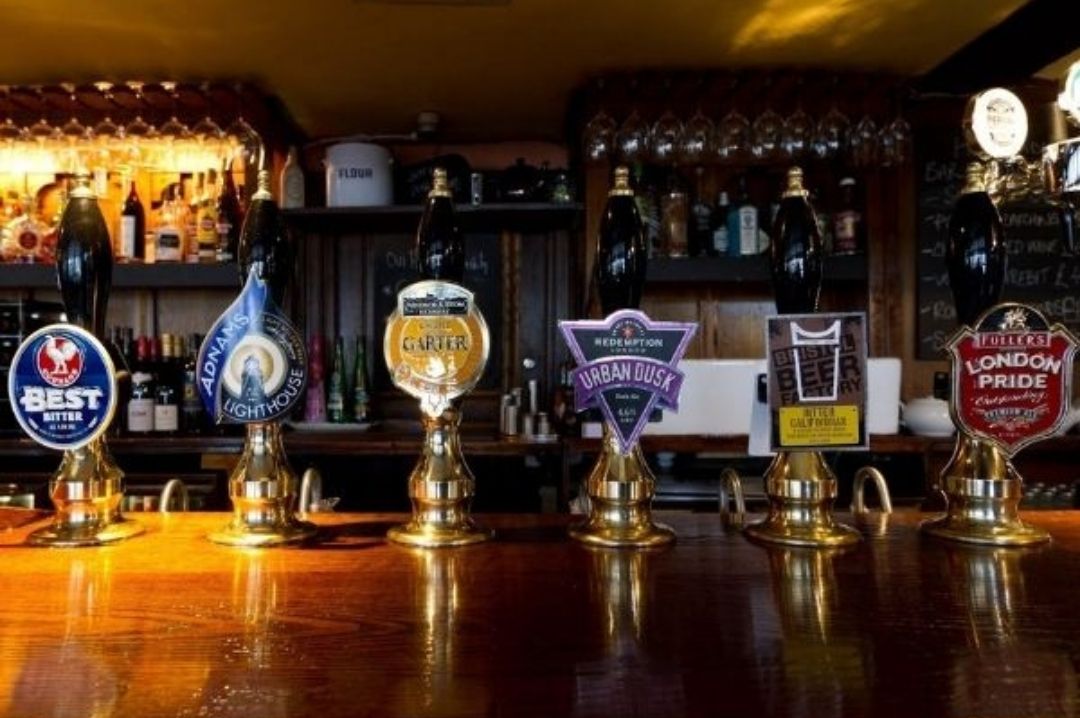 3. Hoop & Grapes, Aldgate
Not to be confused with an identically named, slightly younger pub in Farringdon, this establishment is one of the few timber buildings to have survived the Great Fire of 1666. Reportedly, the flames stopped only fifty yards from the door, which we think may have been a little divine intervention. Along with the history of being a staunch survivor, Hoop & Grapes is known for its seasonal specialties, especially when it comes to beer. And of course, the food is definitely worth the calories.
Location: 47 Aldgate High St, London EC3N 1AL, United Kingdom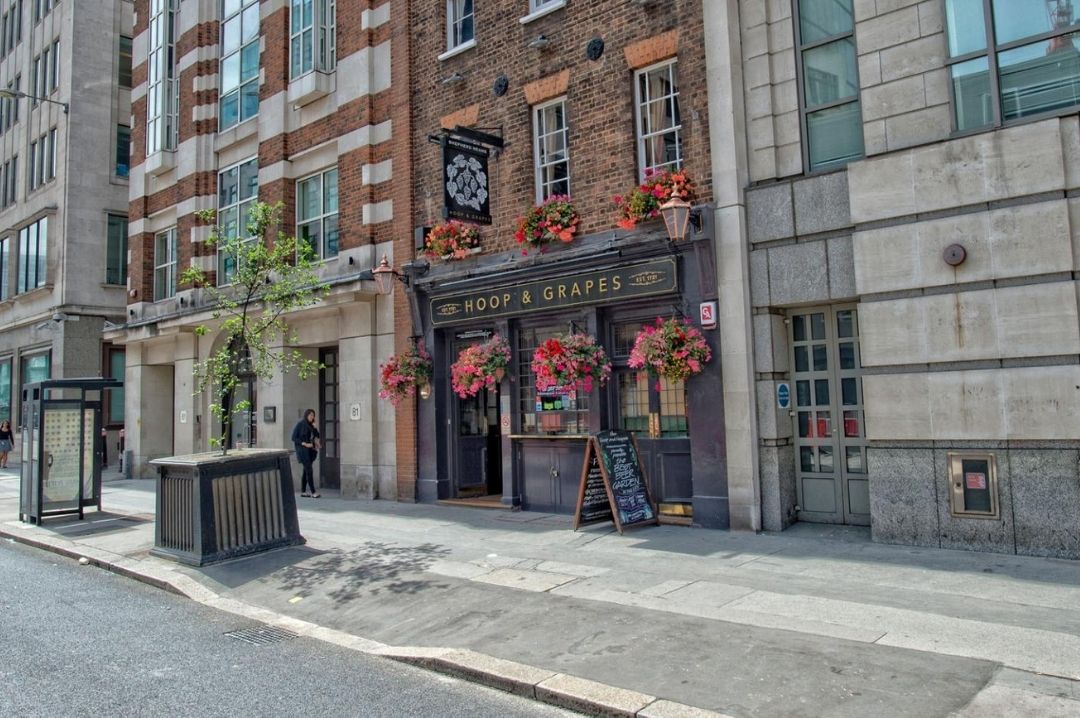 4. Lamb & Flag, Covent Garden
One of the smaller venues on this list, the Lamb & Flag can also claim one of the bloodier histories. The poet John Dryden was nearly murdered on this spot (albeit a hundred years before it was built in 1772), and in the nineteenth-century, regular bare-knuckle fights in the alley earned it an alternative name: 'The Bucket of Blood'. Mercifully, things have quieted down since then. Let's not forget that Lamb & Flag is also known as the haunt of Dickens too.
Location: 33 Rose St, Covent Garden, London WC2E 9EB, United Kingdom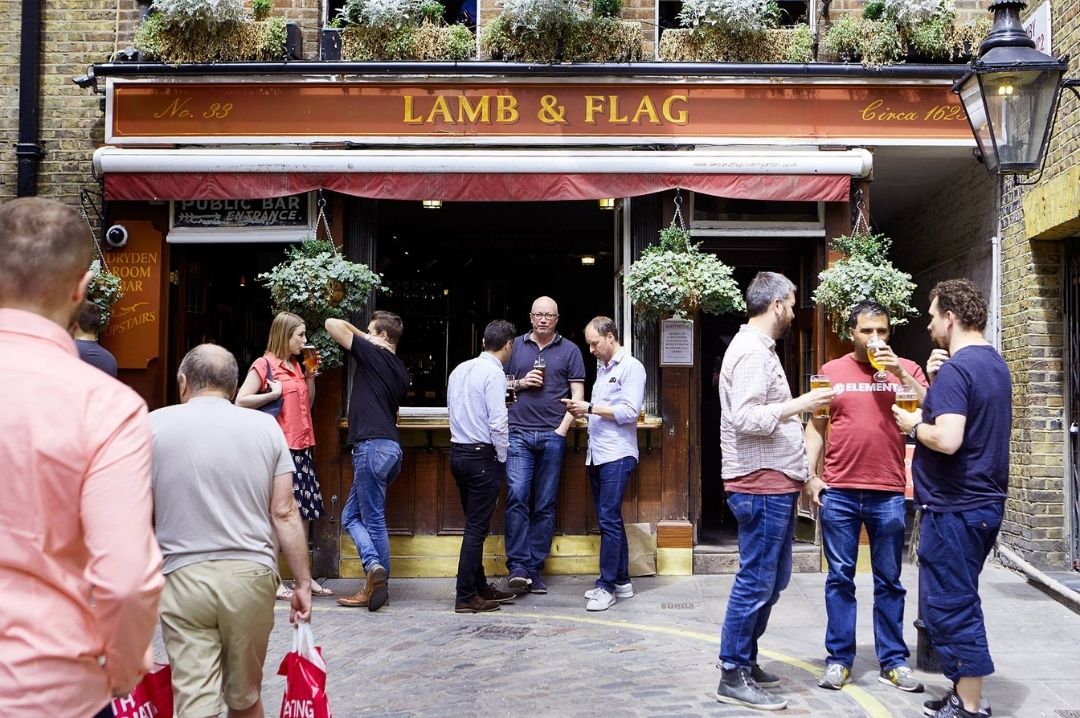 5. Cittie of Yorke, Holborn
The current building is a replica built in 1920, but Cittie of Yorke has been standing here for almost six hundred years, so it's still one of the oldest pubs in London. The Samuel Smith Brewery owns and operates this place, so you won't get as much variety here, but you'll definitely find your favorite pint on tap. Having said that, the lower prices make up for it, and the Taddy lager is a crowd-pleaser. If you're looking for an old-timey, cavern type feel, then you must visit the Cittie of Yorke.
Location: 22 High Holborn, Holborn, London WC1V 6BN, United Kingdom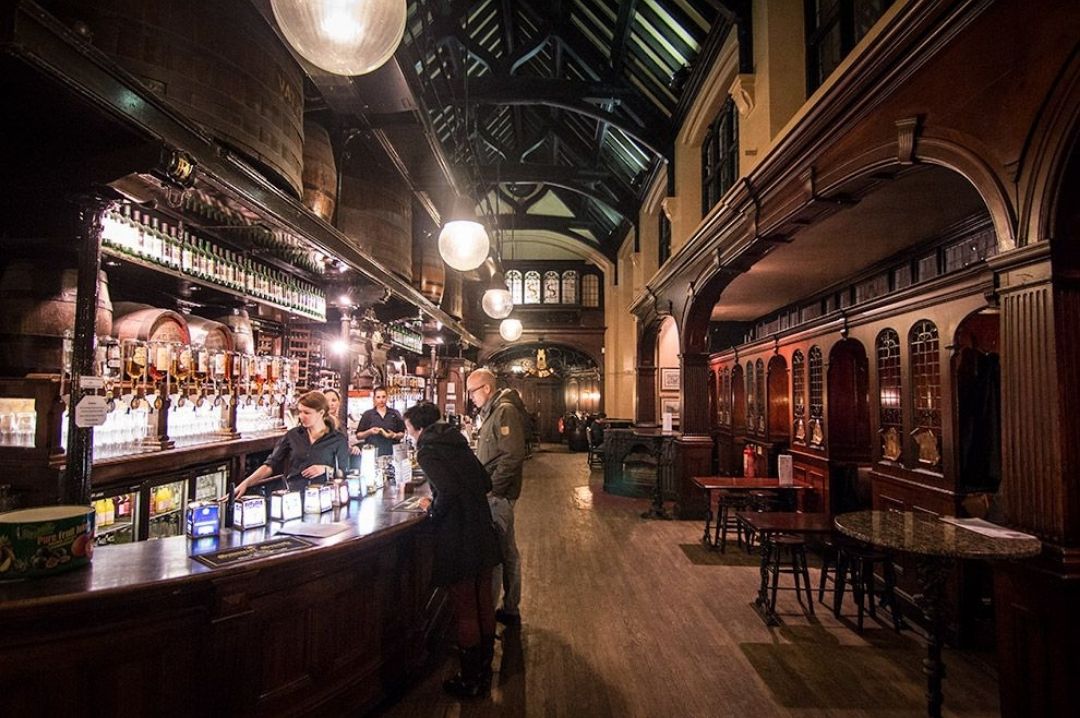 6. The Old Bell, Fleet Street
No other pub on this list can boast as impressive an architecture as The Old Bell, which was built by Sir Christopher Wren for his masons, who were rebuilding St Bride's Church after that pesky Great Fire. It's not even the only pub he's rumoured to have built, as nearby Ye Olde Watling (run by the same chain) also has a place in his portfolio. Known for its classic ales, The Old Bell Tavern should definitely be on your list.
Location: 95 Fleet St, London EC4Y 1DH, United Kingdom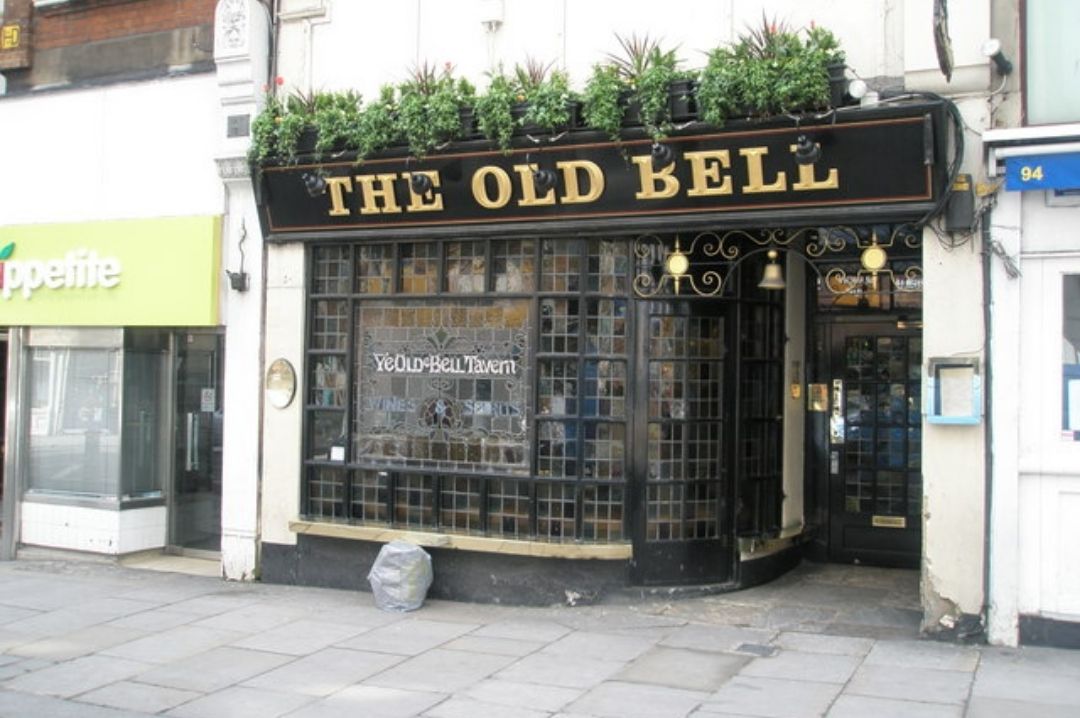 7. Ye Olde Cheshire Cheese, Fleet Street
Easily winning the prize for a best-named pub on this list, Ye Olde Cheshire Cheese is not the place to go if you want to sit by a window and watch the world go by. Gloomy, and with almost no natural light, it's more suited to imagining yourself as the lead in a Victorian crime thriller. We'll take our pint with a side of murder and intrigue, please.
Location: 145 Fleet St, London EC4A 2BU, United Kingdom
8. Ye Olde Mitre, Holborn
A land issue meant that this pub was technically part of Cambridgeshire until the early twentieth century, so Mitre makes a slightly dubious claim to be London's oldest. A wonderful historic London pub set in Ely Court, The Ye Olde Mitre takes traditional pub-keeping seriously. Tucked away in a small alleyway, Ye Olde Mitre is known for a wealth of real ales on tap, great home-made bar snacks, and a friendly team behind the bar,
Location: 1 Ely Ct, Ely Pl, Holborn, London EC1N 6SJ, United Kingdom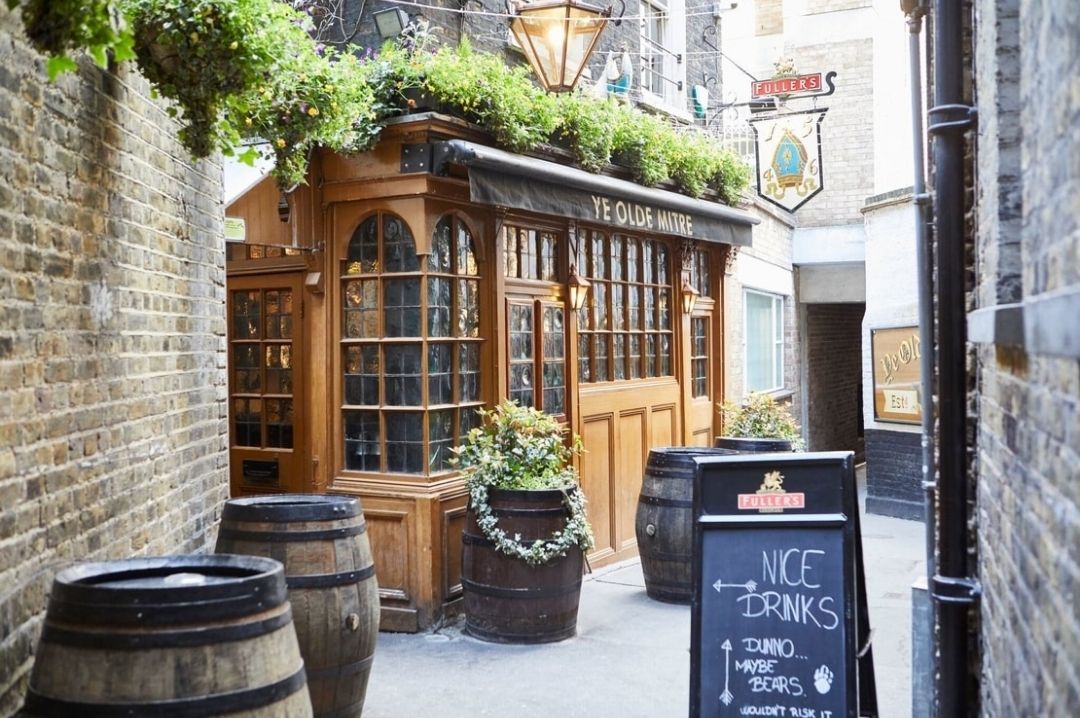 9. The Prospect of Whitby, Wapping
The Prospect of Whitby is the oldest riverside pub in London offers lovely views of the Thames. It's been standing since 1520, and a reminder of its dark past can be seen with the noose and gallows that hang off of the balcony. Walk in to enjoy a shot of history with a glass of your favorite bourbon.
Location: 57 Wapping Wall, Wapping, London E1W 3SH, United Kingdom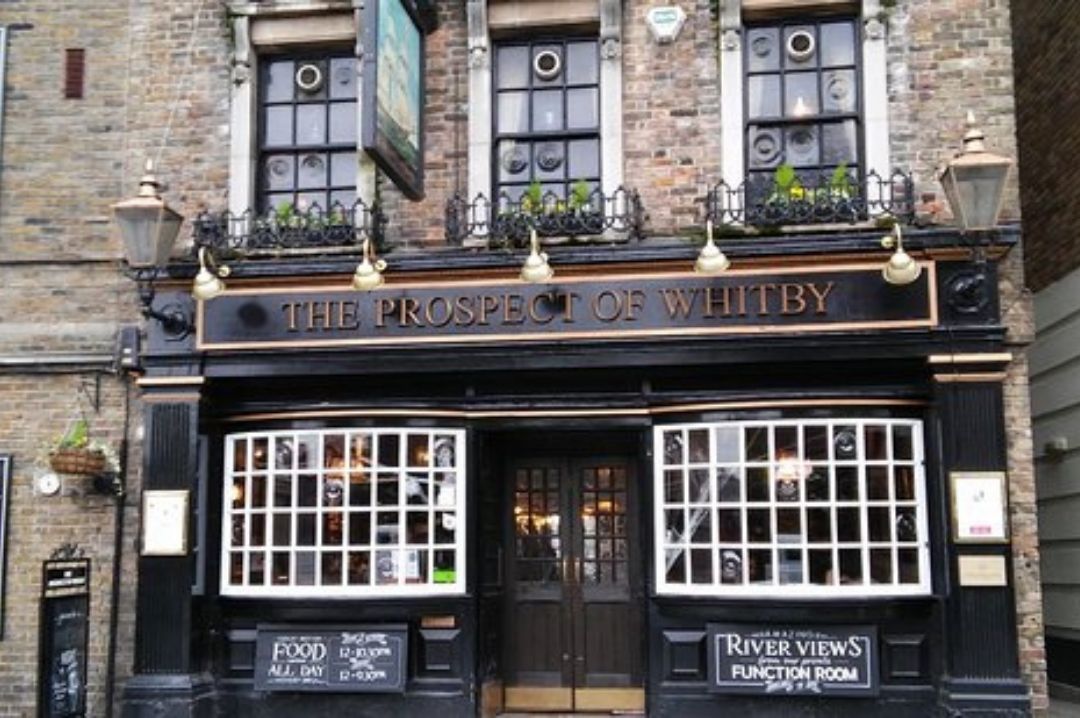 10. The Seven Stars, Aldwych
Seven Stars, behind the Royal Courts of Justice, was built in 1602. This makes it the oldest pub in London – and certainly one of the most atmospheric. It's particularly popular with the city's silks who can often be found celebrating or commiserating after a trial at the Palace of Justice.
Location: 53 Carey St, Holborn, London WC2A 2JB, United Kingdom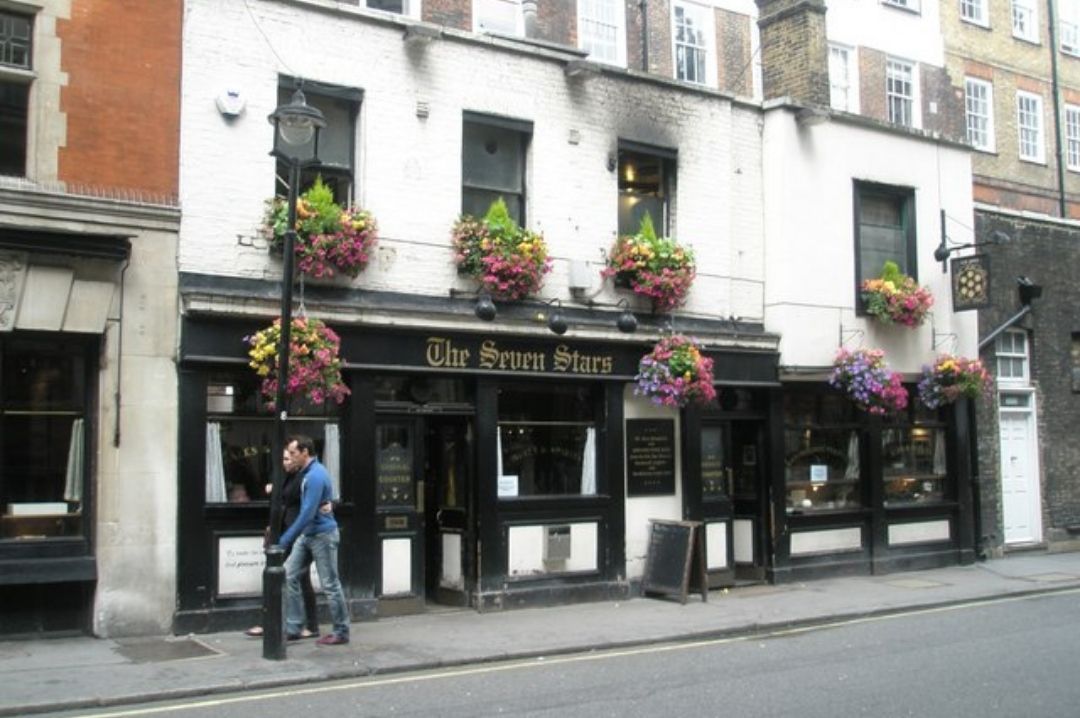 11. The George, Borough
Having stood in one form or another since 1583, London's last galleried inn, The George, has welcomed numerous famous faces. Shakespeare was a frequent guest, and his plays were performed in the courtyard for years. Today, their biggest draw is the Smokin' Sessions, which promises 'BBQ meats, beer, and beats'. Now that's poetry Will would be proud of!
Location: 75 Borough High St, London SE1 1NH, United Kingdom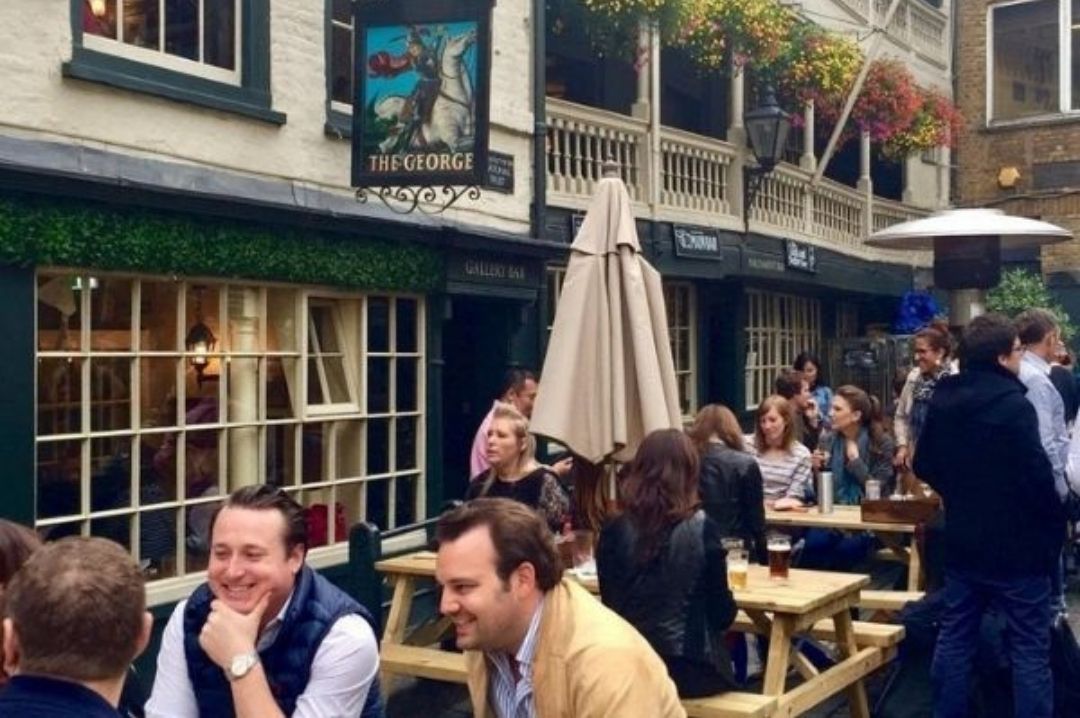 12. The Mayflower, Rotherhithe
The Mayflower pub is a hidden gem in the heart of Rotherhithe, London. A traditional English pub surrounded by cobbled streets, the outside decked jetty and cosy candle lit restaurant has a stunning view of the Thames. You can spot the original 1620 mooring point of the Pilgrim Fathers Mayflower ship, warm yourself by the open fire and imagine who may have been sitting in your seat 400 years ago!
Location: 117 Rotherhithe St, Rotherhithe, London SE16 4NF, United Kingdom
13. The Grapes, Limehouse
The Grapes originally The Bunch of Grapes has stood on the pebbled Limehouse Reach, for nearly 500 years. The Grapes survived the Blitz bombing of the Second World War and retains the friendly atmosphere of a "local" for Limehouse residents, where visitors are always welcome in the bars and upstairs dining room.
Location: 76 Narrow St, Limehouse, London E14 8BP, United Kingdom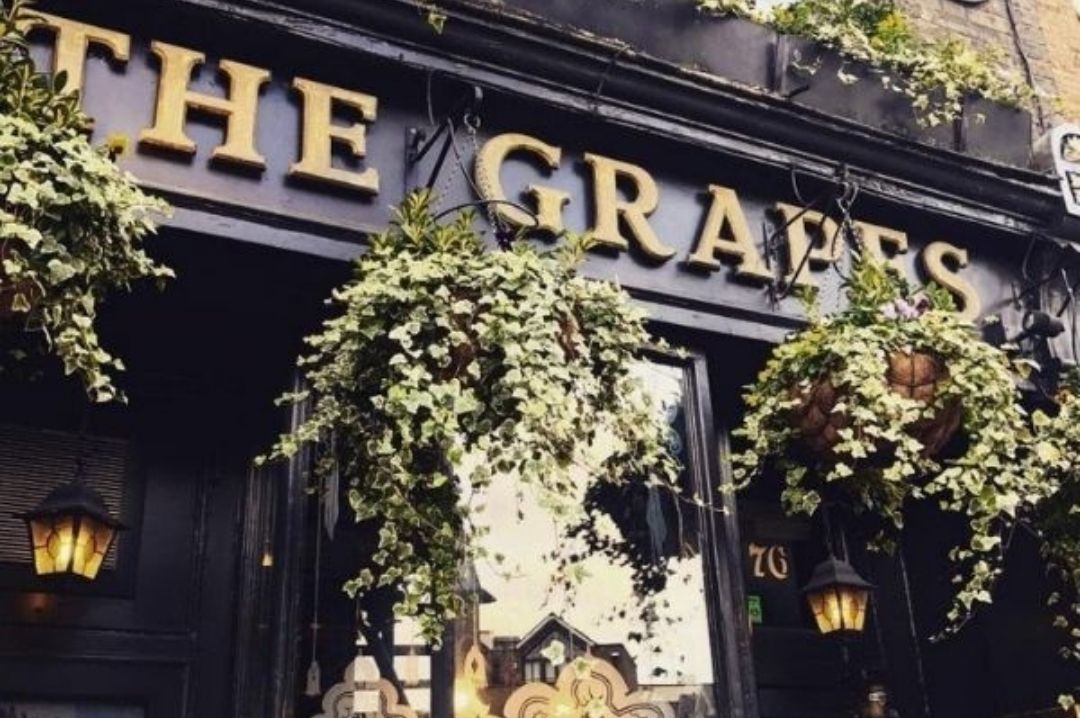 14. The Black Friar
The Black Friar is one of the more unique pubs in London, mainly known for the fact that it was built on the site of an old Dominican friary (monastery). The pub is Grade II listed for good reason, with a number of traditional elements that add to the overall charm and atmosphere. The building of the Black Friar was designed by architect H. Fuller-Clark and artist Henry Poole, who were both committed to the free-thinking arts and crafts movement. Even to this day, you will find Poole's 'jolly friars' in the form of sculptures and mosaics.
Location: 174 Queen Victoria St, London EC4V 4EG, United Kingdom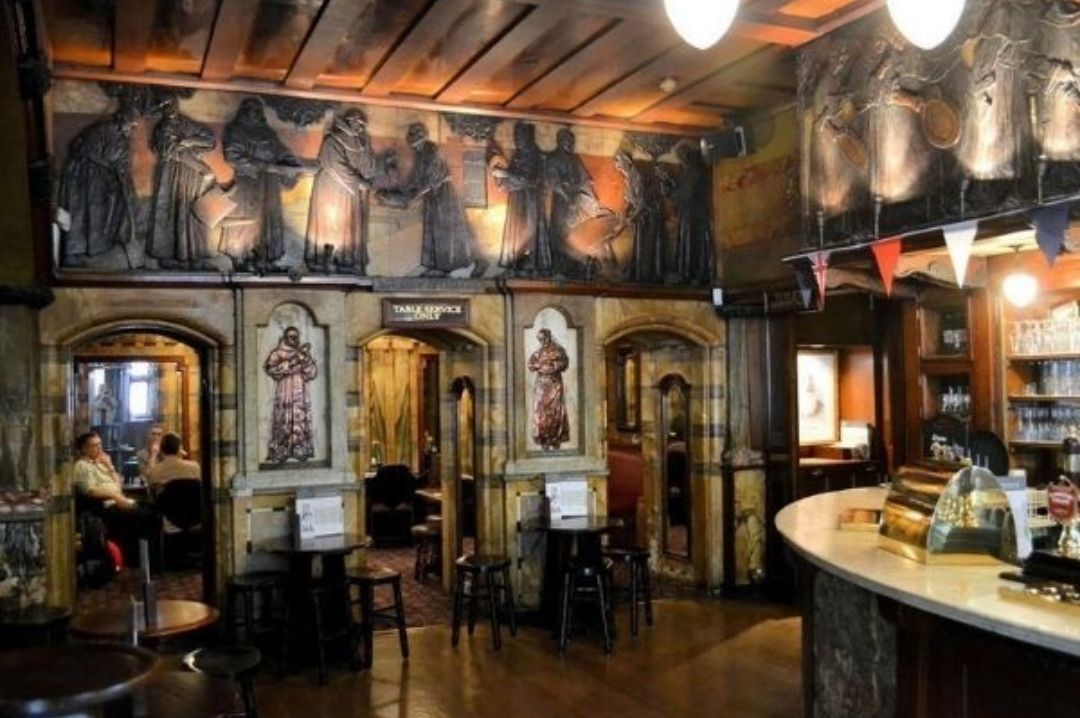 15. The Viaduct Tavern, EC1
This Grade II listed pub is certainly one of the most impressive of the historic inns in London. With a unique rounded exterior and an incredibly ornate interior, The Viaduct is widely considered one of the most beautiful drinking haunts in the city. What most people don't know is that the Viaduct was a jail at one-time. It is also known for being a former gin palace.
Location: 126 Newgate St, London EC1A 7AA, United Kingdom