The best restaurant bars in London
Looking to grab a drink and grub? Discover restaurants in London that are not only known for their food but also serve some delicious cocktails.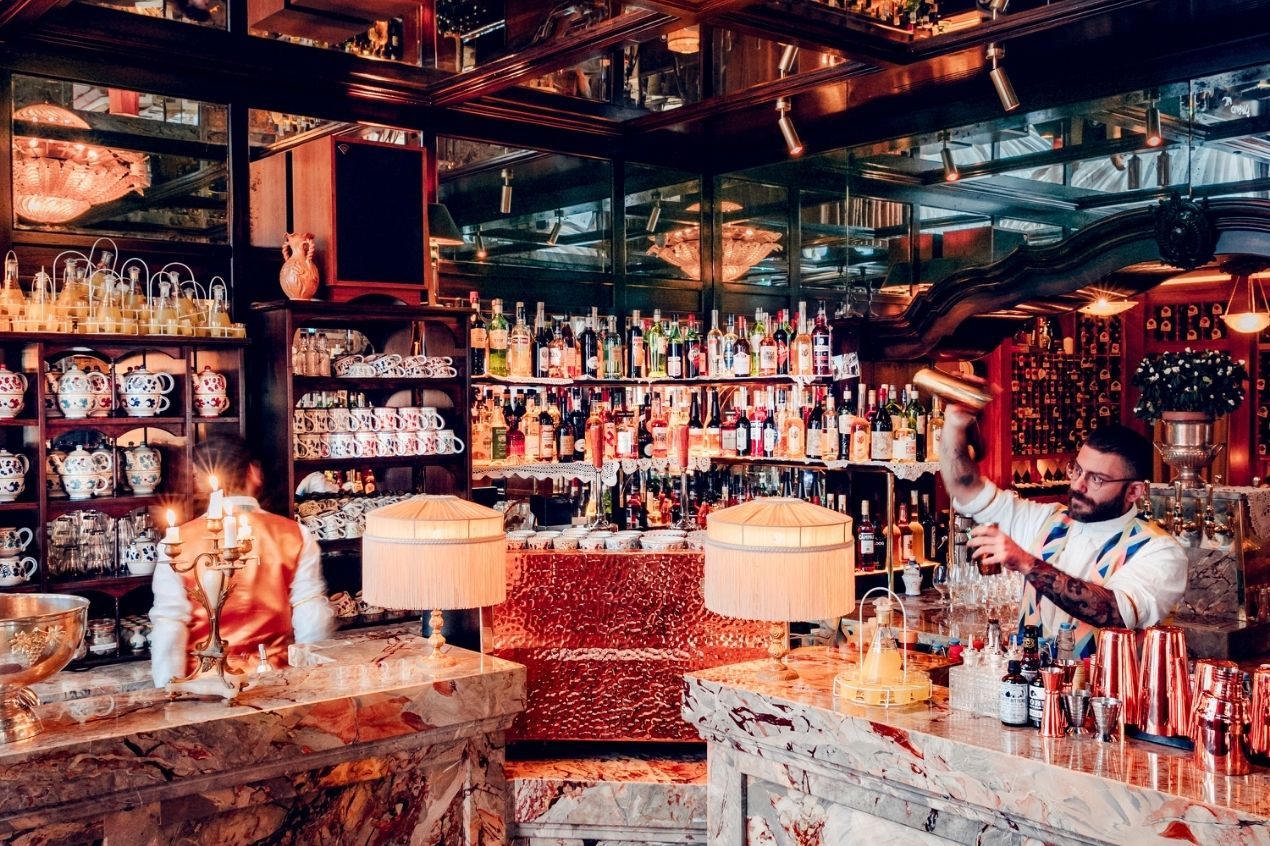 When it comes to dining and drinking in London, we're spoilt for choice. While you anticipate the reopening of all restaurants on May 17, you might want to take a look at our list of restaurants and decide where your first 'indoor' meal is going to be. Trust us, most restaurants are going to be packed, so it's best if you book a table right now.
From rustic barbecue to West-African cuisine, we've racked up a list of restaurants open that continue to serve delicious cocktails with their day-to-day food menus.
*All restaurants on our list are taking bookings for May 17.
Dishoom, Carnaby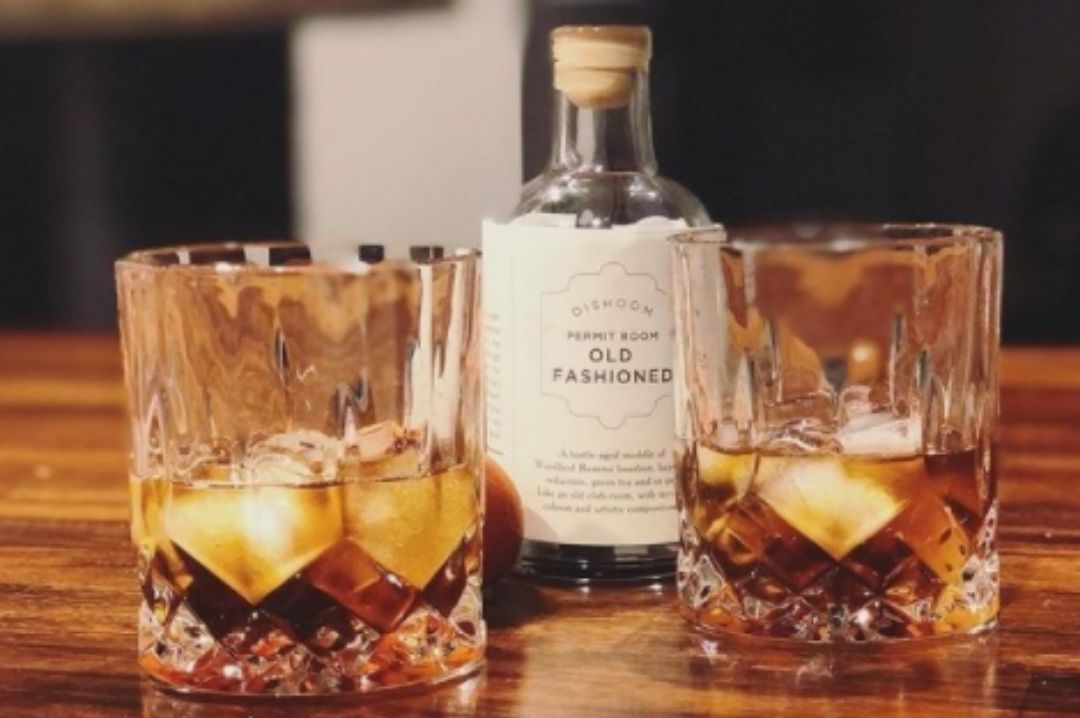 Bottled cocktails at Dishoom, source: Instagram
Located on Kingsley Street, Dishoom is known for its black daal and cocktails made with Indian sodas like Thumbs Up cola and chai syrup. The restaurant sports old Bollywood movie posters on the wall, with rustic seating mimicking 1960s Indian cafés. While enjoying their extra-soft, buttered naan dipped into one of Dishoom's many curries, we like to sip on the Aflatoon's Colada - made with pineapple, coconut cream, a little coriander, chai syrup, and lime juice.
Where - 22 Kingly St, Soho, London W1B 5QP
Timings -
12 pm to 11 pm (Everyday)
Chick 'n' Sours
If you're looking for an upscale version of comfort food with a sour cocktail to pair, then head on over to Chick 'n' Sours. Wash down the classic dirty fried chicken with a Chick 'n' Club #3 crafted with gin, crème de mure, raspberry shrub, and black currant leaf. The chicken-based venue also serves Roadie IPA and Studio Lager by Signature Brew, along with rotating options of low-abv beers.
Where - 390 Kingsland Rd, London E8 4AA
Timings -
5 pm to 9:30 pm (Monday)
5 pm to 10 pm (Tuesday to Thursday)
12 pm to 11 pm (Friday and Saturday)
12 pm to 9 pm (Sunday)
Hoppers
With locations in Soho, Marylebone, and King's Cross, Hoppers is known for its mouthwatering Sri-Lankan cuisine. The South Asian restaurant serves cocktails with a spicy twist, using ingredients like turmeric, cinnamon, and cardamom, paying tribute to spices stemming from Asia. With the weather getting warmer, we recommend you try the Serendip Spritz made with coconut-washed Campari, Belsazar pineapple vermouth, and soda.
Where -
Soho - 49 Frith St, Soho, London W1D 4SG
Marylebone - 77 Wigmore St, London W1U 1QE
King's Cross - Unit 3, 4 Pancras Square, London N1C 4AG
Ikoyi Restaurant St. James'
Serving West African cuisine and cocktails, Ikoyi has been a favorite amongst locals, tourists, and has also been acclaimed by the Michelin Guide, which described the restaurant to "be one of the most innovative and original restaurants to open in the capital in recent times". The bar menu, which was built in collaboration with Max and Noel Venning of Three Sheets Bar, is inspired by West African ingredients stemming from Ghana, Nigeria, and Cameroon. The Roasted Plantain Old Fashioned with caramelised plantain, miso, and Plantation 5 gives you a real feel of West African flavors.
Where - 1 St James's Market, St. James's, London SW1Y 4AH
Timings-
5:30 pm to 11 pm (Monday to Wednesday)
12 pm to 2 pm, 5:30 pm to 11 pm (Thursday to Sunday)
Sabor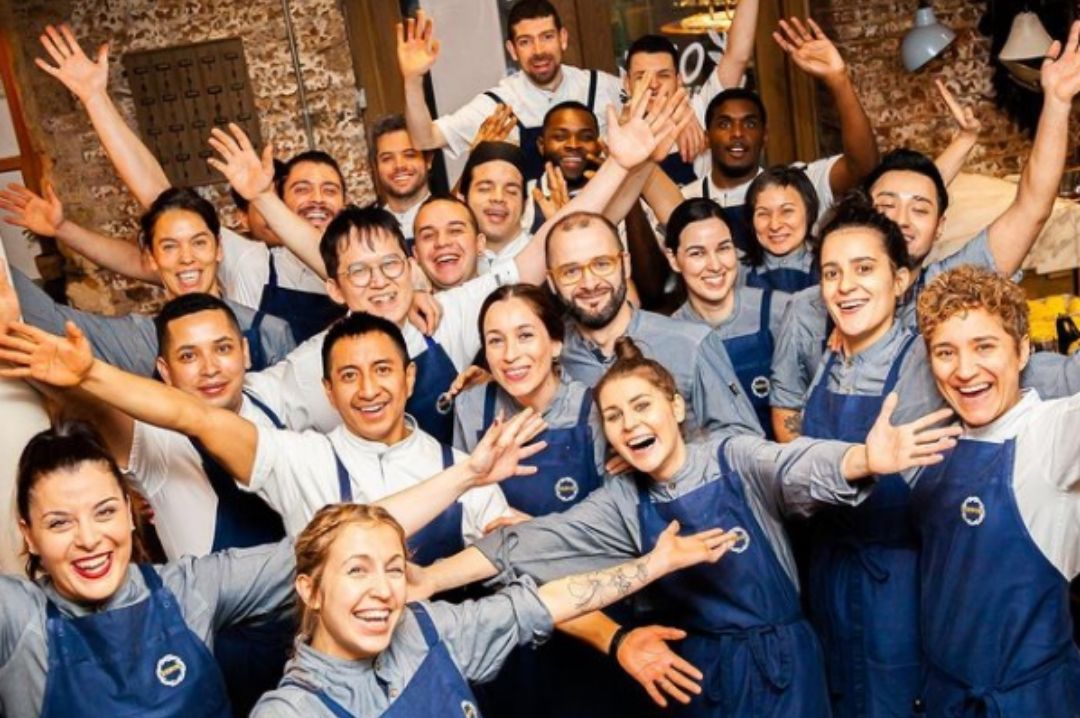 The team at Sabor, source: Instagram
A lively, two-story eatery and bar offering tapas and countertop dining. Sabor is home to some delicious food, but it's mostly known for its bar menu that holds a selection of over 30 wines, with cocktails and small-production Spanish spirits. And not to forget, the experts behind the bar at Sabor make a mean Sangria!
Where - 35-37 Heddon St, London W1B 4BR
Timings-
12 pm to 3 pm, 5:30 pm to 10:30 pm (Tuesday to Saturday)
Closed on Sunday and Monday
Padella
Inspired by owners Jordan and Tim's trips to Italy, Padella is a pasta bar serving fresh, hand-rolled pasta with delicious sauces and fillings. The resto-bar puts a twist on classic cocktails, like the Marmalade Negroni, made with Brokers Dry Gin, Marmalade Carpano Bitters, and Padella's very own house vermouth blend.
Where - 6 Southwark St, London SE1 1TQ
Timings -
12 pm to 4:45 pm, 6:30 pm to 10 pm (Tuesday to Thursday, and Saturday)
12 pm to 5:45 pm, 6:30 pm to 10 pm (Friday)
12 pm to 4:45 pm, 4 pm to 10 pm (Sunday and Monday)
Gloria's
This is a glorious 70's Capri-style all-day long Trattoria in the middle of Shoreditch, with an explosive menu mixing old Italian classics, and produce coming directly from 180 small producers in Italy. When it comes to drinks, Gloria's is known for having an innovative cocktail menu, with cocktails like Colada Me Later, a kick-ass flaming of the classic pina colada, topped with truffle foam.
Where - 54-56 Great Eastern St, Shoreditch, London EC2A 3QR
Timings -
12 pm to 10 pm (Everyday)
Smokestak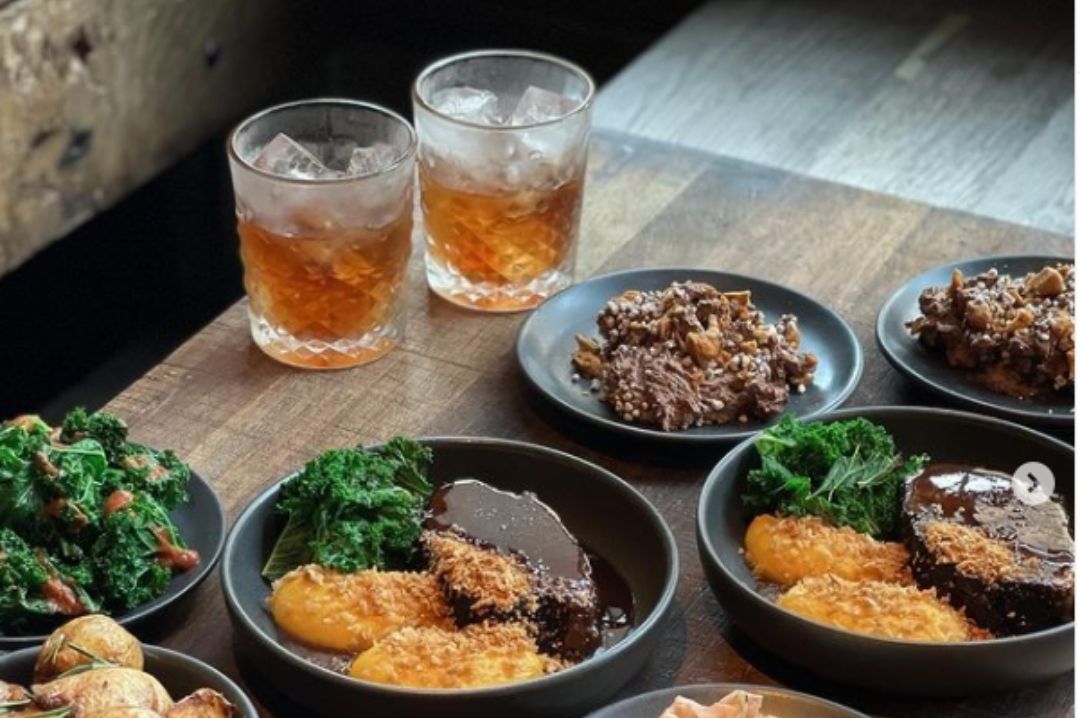 Barbeque & cocktails at Smokestak, source: Instagram
Locals rave about Smokestak, not only for its delicious wood-smoked meat, but also its stylish, rustic interiors, and sumptuous cocktails. Pair one of their delicious smoked briskets with the Rum Punch; an amalgamation of rum, lime, falernum, and bitters.
Where - 35 Sclater St, Shoreditch, London E1 6LB
Timings -
12 pm to 3 pm, 5 pm to 11 pm (Monday to Thursday)
12 pm to 11 pm (Friday and Saturday)
12 pm to 10 pm (Sunday)
Nac Mayfair
Pastel pink walls, marble tabletops, and brass accents - Nac Mayfair is a treat for Instagrammers. Along with its aesthetic interiors, expect a French-leaning menu with nibbles like halloumi fries and popcorn chicken. Nac's wood-paneled bar serves up a fantastic selection of cocktails, wines, and non-alcoholic cocktails. If you find yourself sitting at one of their green velvet booths for a Sunday brunch, try their mix of gin, shiso, lemon, and green chartreuse with crushed burrata and cherry tomatoes.
Where - 41 N Audley St, London W1K 6ZP
Timings -
11 am to 10:30 pm (Monday to Friday)
10 am to 10:30 pm (Saturday and Sunday)
The Jones Family Project
Located in Shoreditch, this sleek basement restaurant is known to be a second home for many patrons. The Jones Family Project started off with three friends who are passionate about food, drinks, and having fun. The menu is full of international meats and steak, but the resto-bar is quite well-known for its Sunday roasts. The funky upstairs bar at the venue offers a wide range of wines, focusing on producers from across the globe. If you're a cocktail person, then look no further because The Jones Family Project serves plenty of delicious cocktails like the Yu Wild One - made with Wild Turkey 81, orange, caramel, yuzu, and lemon. They also have a section dedicated to no and low alc cocktails. We recommend the Sober Sombrero made with Ceder's Classic non-alc spirit, grapefruit, sage, lime, and sugar.
Where - 78 Great Eastern St, London EC2A 3JL
Timings -
12 pm to 11 pm (Monday to Saturday)
12 pm to 9 pm (Sunday)
Leicester Square Kitchen
Leicester Square Kitchen showcases an exquisite selection of contemporary Mexican and Peruvian small plates, entrées, and specialties, alongside reserve wines and signature cocktails. We recommend trying the Habanero and Guava Margarita, a punchy mix of Tapatio Blanco tequila, guava, and habanero
shrub, Cointreau blood orange liqueur, ginger, hibiscus, and lime. They also have a vegan menu worth checking out.
Where - 31-36 Leicester Square, London WC2H 7LH
Timings -
5 pm to 9:30 pm (Monday and Tuesday)
12 pm to 9:30 pm (Wednesday to Sunday)
Inamo
Inamo is a chain of pioneering Pan-Asian restaurants with locations in Soho and Covent Garden. They are known for Japanese, Chinese, Thai & Korean cuisine, including fresh sushi, which served as a sharing concept for guests to savour. Interactive projections on tables surface allow you to set the mood, discover the local neighbourhood, and entertain with retro games, live chef-cam feed, and even graffiti your tabletop. If you're looking for a refresher to start off with, then try the Tropical Tornado made with a shot of rum, passion fruit, lime & guava juice with a hint of cinnamon.
Where -
Covent Garden - 11-14 Hanover Pl, London WC2E 9JP
Soho - 134-136 Wardour St, London W1F 8ZP
Timings -
4 pm to 11 pm (Monday)
12 pm to 11 pm (Tuesday to Thursday)
12 pm to 11:30 pm (Friday)
11 am to 11:30 pm (Saturday)
12 pm to 9 pm (Sunday)
Cubana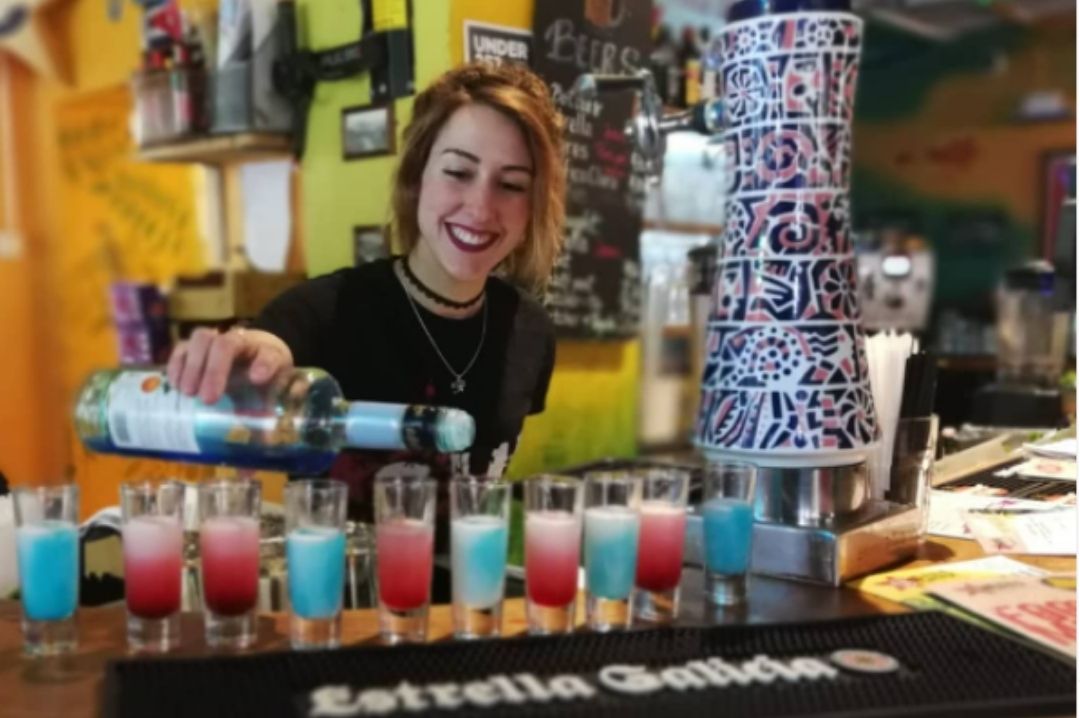 Behind the bar at Cubana, source: Instagram
If you're craving a full range of delicious home-cooked food, then stop by the Cubana. The restaurant is open from lunchtime to late with a choice of tapas, Cuban and Latin-American food, lush salads and plenty of vegan options, and loads of cocktails. We love the Caipirinha Pasion (fresh passion fruit and limes, muddled with organic raw cane sugar and topped with Velho Barreiro barrel-aged premium Brazilian cachaça and ice). Grab a table between 4 pm to 7 pm for some great happy hour deals.
Where - 48 Lower Marsh, London SE1 7RG
Timings -
12 pm to 11 pm (Monday to Sunday)
Madison
Taking inspiration from the lively and eclectic New York dining scene, Madison focuses on the grill and the best steaks from around the world. The menu is a playful take on American classics with a broad range of influences from the diverse communities of New York. Madison serves an array of classic cocktails, from the Pornstar Martini, Margarita, to a Mai Tai, and more. Enjoy the sunset at the rooftop bar with a St. Paul's Sunset in hand, which is made with vodka, Ratafia black cherry, red wine liqueur, pineapple tepache, vanilla, lemon, and egg white.
Where - New Change, London EC4M 9AF
Timings -
12 pm to 1 am (Monday to Sunday)
HIDE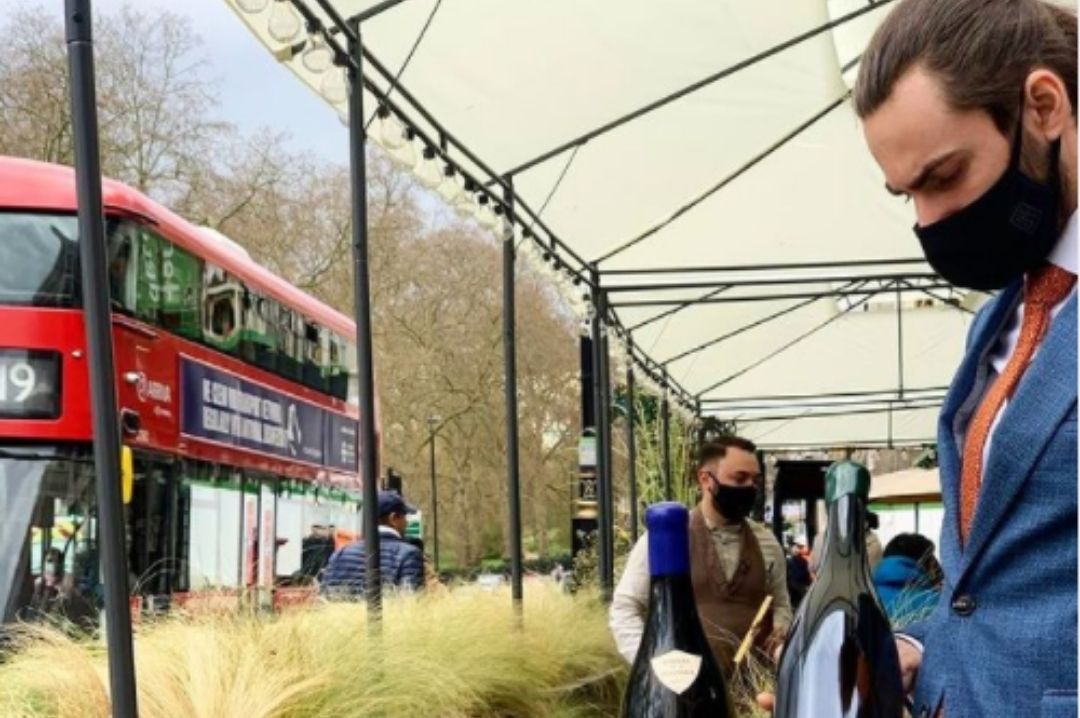 HIDE LDN, source: Instagram
A three-floor contemporary setting known to offer the very best food and drink in a refined but relaxed setting. Watch the sunrise and set over Piccadilly as you enjoy breakfast, lunch, or dinner, accompanied by Hedonism Wines' incomparable wine list. If you're more of a cocktail person, then you should definitely try the Playing Pool With the Moon made with Sacred peated whisky, Lapsang tea-infused honey, Lemon juice, Sacred Rosehip, and Angostura bitters.
Where - 85 Piccadilly, London W1J 7NB
Timings -
7:30 am to 10 pm (Monday to Friday)
9 am to 10 pm (Saturday and Sunday)
Header Image: Gloria's, source: Big Mamma Group