De Kuyper Launches "De Kuyper Zero": Four Famous Non-alcoholic Premixed Cocktails
Dutch distiller wants everyone to enjoy great cocktails on every occasion.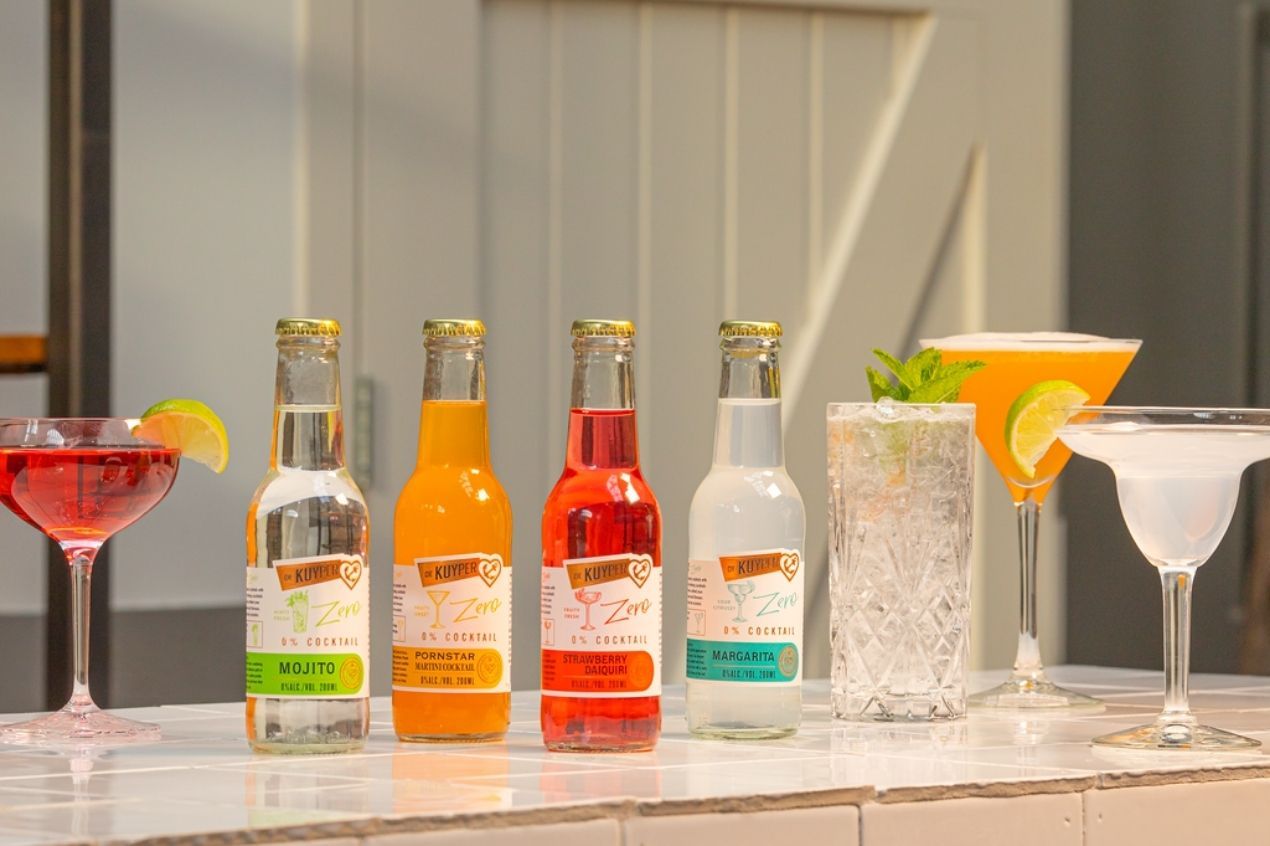 Schiedam, 16 November 2021 – De Kuyper Royal Distillers is launching its latest innovation: De Kuyper Zero, four classic cocktails without alcohol but with the same bold flavours, mouthfeel, and kick. De Kuyper Zero Mojito, De Kuyper Zero Strawberry Daiquiri, De Kuyper Zero Margarita, and De Kuyper Zero Pornstar Martini cocktail will be available by the end of November in the Netherlands. Each cocktail comes in a 200ml glass bottle and with 0% alcohol. Dutch consumers can purchase the premixed alcohol-free cocktails in supermarkets across the country. With more than 325 years of expertise in creating high-quality, great-tasting cocktails, De Kuyper crafted tasty non-alcoholic cocktails to facilitate the global trend towards healthier yet convenient lifestyles.
De Kuyper Zero Mojito is a non-alcoholic refreshing and minty classic, combining the taste of lime, mint, and the Caribbean spirit of sugar cane. Carrying these flavours is a gentle sparkle of mineral water. Best served cold in a long drink glass, filled with (crushed) ice and mint leaves.
The non-alcoholic De Kuyper Zero Pornstar Martini cocktail combines the flavour of passionfruit with smooth vanilla plus a zing of lime. Shake first – with ice to create a foam layer – then serve cold in a martini glass and garnish with half a passionfruit.
De Kuyper Zero Strawberry Daiquiri is a fruity, non-alcoholic take on a rum classic. The fruity flavour of sunny strawberries blends together with the taste of lime and the firm flavour of sugar cane. Best served cold in a cocktail coupe with a lime wedge.
The iconic 'sweet and sour' non-alcoholic De Kuyper Zero Margarita is masterfully crafted with flavours of lime, orange and agave. Best served cold in a margarita glass with a lime wedge.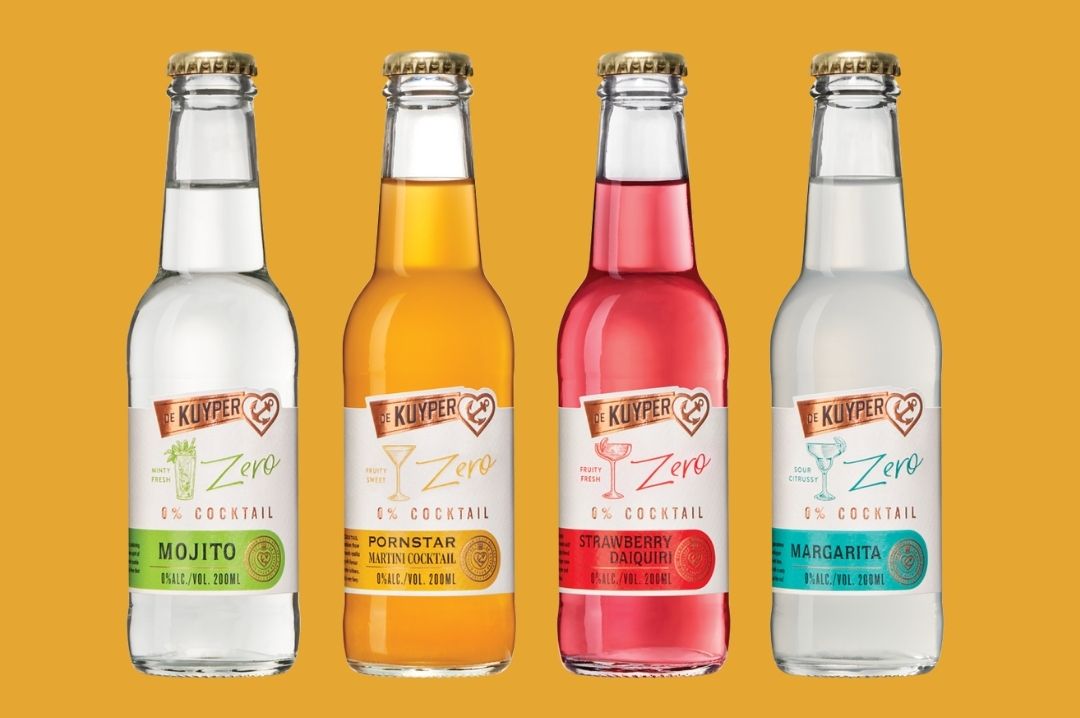 De Kuyper Zero
"Alcohol does a lot with taste and mouthfeel in a drink. There is no 100% alternative for it. Still, we didn't want to take the easy way and make the cocktail taste like lemonade or fruit juice as you see so often. Instead, we looked for a sensation equal to that of an alcoholic cocktail. It was quite challenging. As we tried many different options, it was one of our most complex new product development projects. We really went further, using botanicals and some secret ingredients to match the characteristics of alcohol. De Kuyper Zero cocktails have the proper taste, with recognisable flavour elements fitting the cocktail, for instance, rum and tequila, but also an astringent and contracting effect in the mouth, which gives you a real kick and the experience of an adult drink," explains Myriam Hendrickx, Master Distiller at De Kuyper, who developed De Kuyper Zero together with Henk-Jan Schouten (Research & Development De Kuyper Royal Distillers).
With 325 years of distilling expertise, De Kuyper Royal Distillers is one of the world's leading liqueur distilleries. Curiosity and passion for cocktails and flavours are the constant driving force behind innovative and successful new product developments. In 2021, the Dutch family business received the prestigious "Liqueur Producer of the Year" award from the internationally leading ISC for the third time in a row and also received many trophies and awards for its spirits and liqueurs. One of them was the London Spirits Competition, where De Kuyper won 19 medals for their liqueurs, out of which Muyu Vetiver Gris won 'Liqueur of the Year' and 'Best Spirit by Packagin'. The 2021 London Spirits Competition also awarded De Kuyper as 'Distillery of the Year'.
"Our company's vision is to 'Own the Cocktail'. That means we want to offer great-tasting, high-quality cocktails for everyone, every taste, and every occasion. De Kuyper Zero is the answer to the rising no and low alcohol trend. Four classic non-alcoholic cocktails for the increasing number of consumers who want to enjoy social moments without alcohol or moderate drinking and who don't want to compromise," explains Mark de Witte, CEO of De Kuyper Royal Distillers. "With our expertise, we know exactly how a perfect cocktail should taste and have developed these perfect alternatives without alcohol."
***
About De Kuyper Royal Distillers
De Kuyper Royal Distillers is a family-owned liqueur and premium botanical-based spirits company founded in 1695 by Petrus De Kuyper. The company is headquartered in Schiedam near Rotterdam (NL). De Kuyper Liqueurs is the global market-leading brand in cocktail liqueurs. De Kuyper is both the owner and the producer of a number of world-famous liqueurs such as Peachtree, Heering, Kwai Feh, Acqua Bianca, Muyu, Dutch Cacao, Mandarine Napoléon, Bébo and the botanical-based spirits of Rutte gin and genever. De Kuyper has been awarded 19 medals at the London Spirits Competition 2021, where Muyu Vetiver Gris took home 'Liqueur of the Year' and 'Best Spirit by Packaging', along with the distillery winning 'Distillery of the Year'. De Kuyper was also awarded "Liqueur Producer of the Year" at the International Spirits Challenge (ISC) three years in a row (2019-2021). Mark de Witte is the company's global CEO. Media contact De Kuyper Royal Distillers: Yvonne Naber, Global PR, ynaber@dekuyper.nl.