The best Whiskey of 2021: Dingle Fourth Single Pot Still
Why settle for less when you can have 2021's best whiskey? Meet Dingle Distillery's award-winning Fourth Single Pot Still.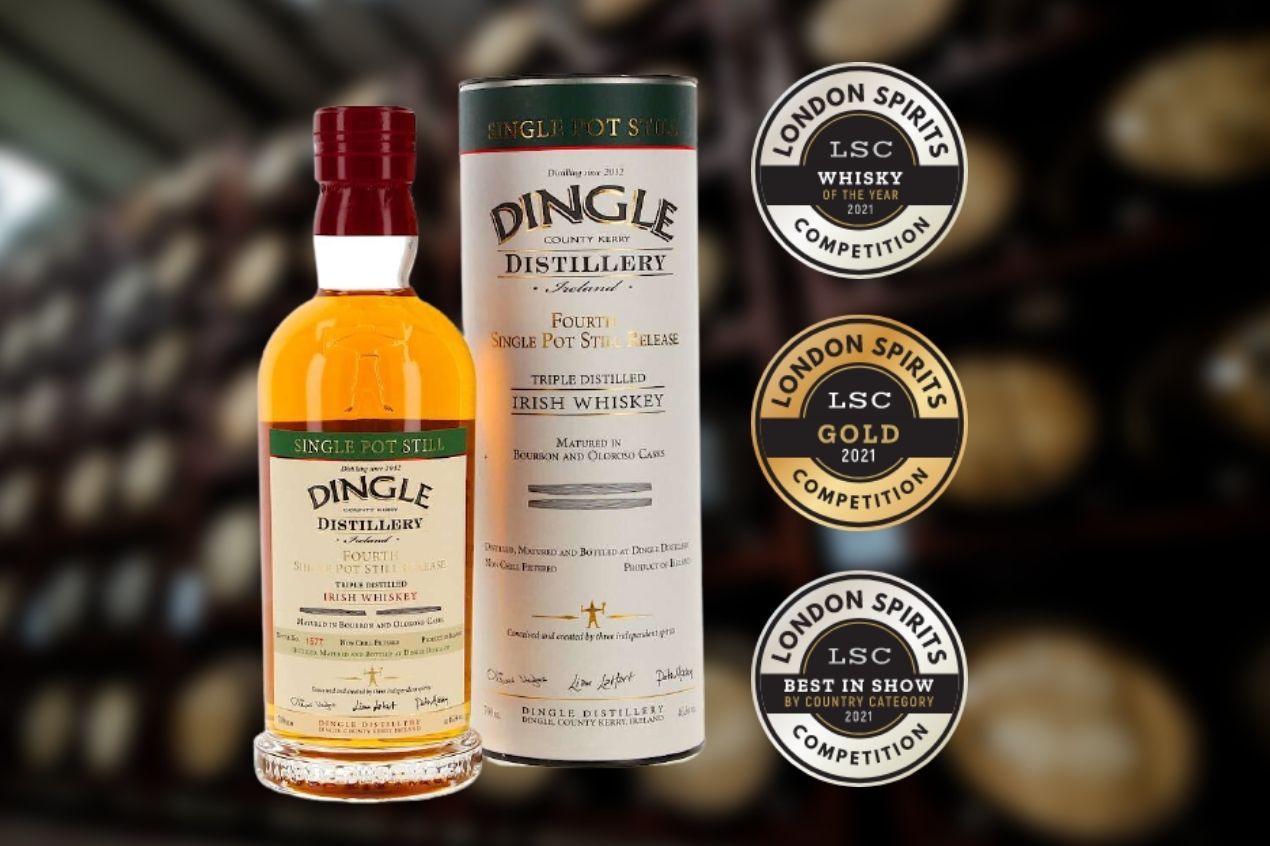 For those who love whiskey as much as we do, Dingle Distillery's Fourth Single Pot Still Release is made to enjoy the intense richness and rushing spices that are ever-present in this triple-distilled single malt, matured in Oloroso and Bourbon casks.
Stealing the show at the 2021 London Spirits Competition with Whisky of the Year and Best in Show by Country (Ireland) titles, the remarkable Irish whiskey finished on the podium with 94 points and a gold medal of its own.
[[relatedPurchasesItems-23]]
The smooth and elegant nose with hints of mature berries leads to a complex palate with a long and smooth finish. We recommend sipping on this liquid grain on its own to soak in the complex spice nuances and smooth chocolate flavours. This small-batch release is defined by its unique characteristics which intermingle to deliver an extraordinary experience.
To try it in a cocktail, go for the Honey Old Fashioned made to hit all the right notes with the sweetness of honey and smoothness of the Dingle Distillery Fourth Single Pot Still Release.
Honey Old Fashioned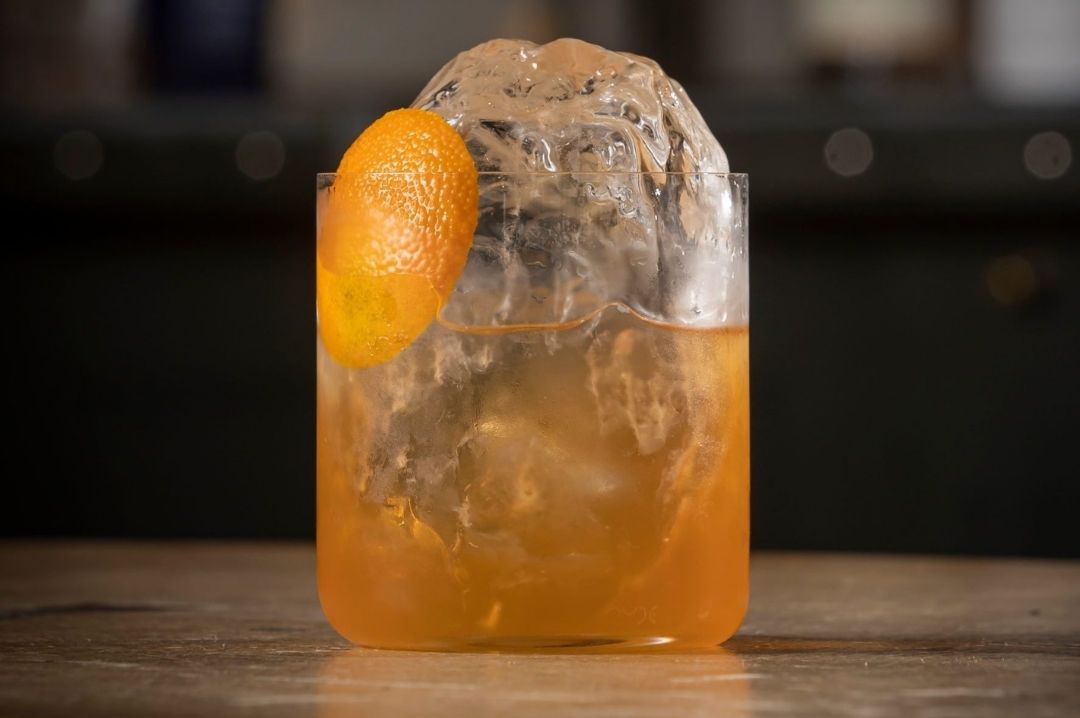 Honey Old Fashioned, source: Website
Ingredients
60 ml Dingle Distillery Fourth Single Pot Still Release
10 ml honey syrup
2 dashes of Angostura bitters
Honey syrup
Combine 2 parts honey with 1 part hot water and stir until honey is dissolved.
Cocktail
Pour all the ingredients in the mixing glass. Fill 2/3 with ice and stir for a minute. Strain over fresh ice in the rocks glass. Squeeze oils of orange peel over drink and place it in the glass.
An Drioglann a.k.a The Distillery
Located in County Kerry, Ireland, Dingle Distillery was formed in 1996 with the unification of three independent spirit makers. Oliver Hughes, Liam LaHart, and Peter Mosley were all chasing one objective: to make a flavoursome and well crafted spirit.
Liam and Peter were already known as pioneers of craft beer in Ireland during the mid 1990s when artisanal brews were struggling to gain popularity. Putting their knowledge and craft in whiskey with the help of three handmade copper stills, Dingle Distillery released the Cask No.2 as its first product in the winters of 2012.
Later on, a small, swan neck copper still was added to accommodate gin and vodka production.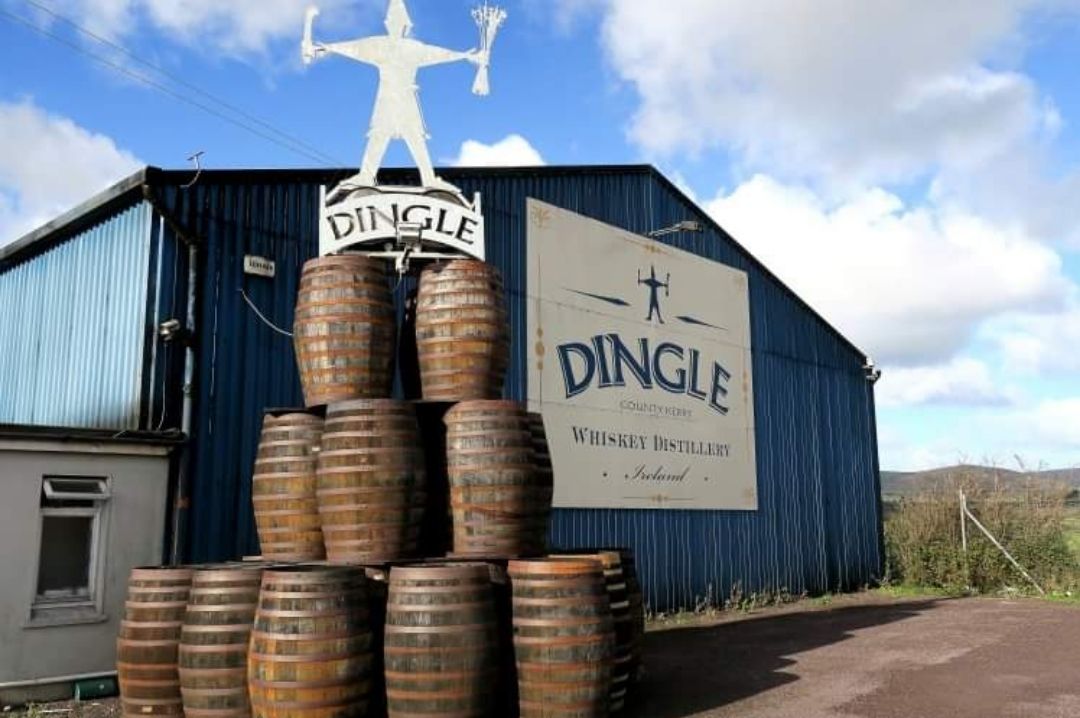 Dingle Distillery, source: Facebook
Master Distiller, Graham Coull, with his 25 years of experience in the industry took charge of the role in 2019, heading the brand into a new direction with never before seen expressions and releases, one of which is the Fourth Single Pot Still Release.
"I'm extremely impressed with the quality of the maturing spirit at Dingle and welcome the challenge of distilling in Dingle's unique maturation conditions to craft the next small batch releases of Irish whiskey. I'm looking forward to really exploring the similarities and differences between Scotch and Irish whiskey, comparing and contrasting the different styles, and bringing my experience to develop the new expressions and releases," he said.
Other award-winning spirits from Dingle Distillery
Dingle Single Malt Whiskey Batch No.5 was awarded a gold medal at the 2021 London Spirits Competition, displaying a nutty nose with walnut, figs, and vanilla flavours on the palate.
Dingle Vodka and Dingle Gin were awarded a silver medal each with 86 and 81 points respectively, summing up Dingle Distillery's show-stopping appearance on the big stage.
About the London Spirits Competition
One of the most recognisable spirits awards around the globe, London Spirits Competition is known to recognise, award, and connect spirits brands that deserve to be on the retailer's shelf with the ability to retain their spot in relation with the consumer driven market.
Entered brands and their products are assessed on quality, value, and packaging by a panel of well renowned professionals from the industry such as Salvatore Calabrese (Bar Owner, Consultant to the Bar Industry, Published Author, Collector of Rare and Vintage Spirits and Barware), Giorgio Bargiani (Head Mixologist at The Connaught Bar), and Georgia Billing (General Manager at City of London Distillery & Bar).
Based on their final scores, brands are awarded gold (90 points and above), silver (76-89 points), bronze (75-65 points), and special category awards so that interested parties can easily identify the type of spirit they are looking to extend business with.
Not only is the London Spirits Competition a benchmark for buyers and professionals, but it is also a great list for drinkers to look at when they are looking for new spirits to try.
Brands that are looking to grow in the market, enter your spirits in the 2022 London Spirits Competition today.
Royal Horticultural Halls, London, The Lindley Hall, 80 Vincent Square, London SW1P 2PB, United Kingdom, United Kingdom
Register Now
Royal Horticultural Halls, London, The Lindley Hall, 80 Vincent Square, London SW1P 2PB, United Kingdom
Register Now