The First Distillery from Mornington Peninsula
Holly Klintworth, head distiller at Bass & Flinders Distillery, gives us a peek into what goes behind the scenes at her distillery.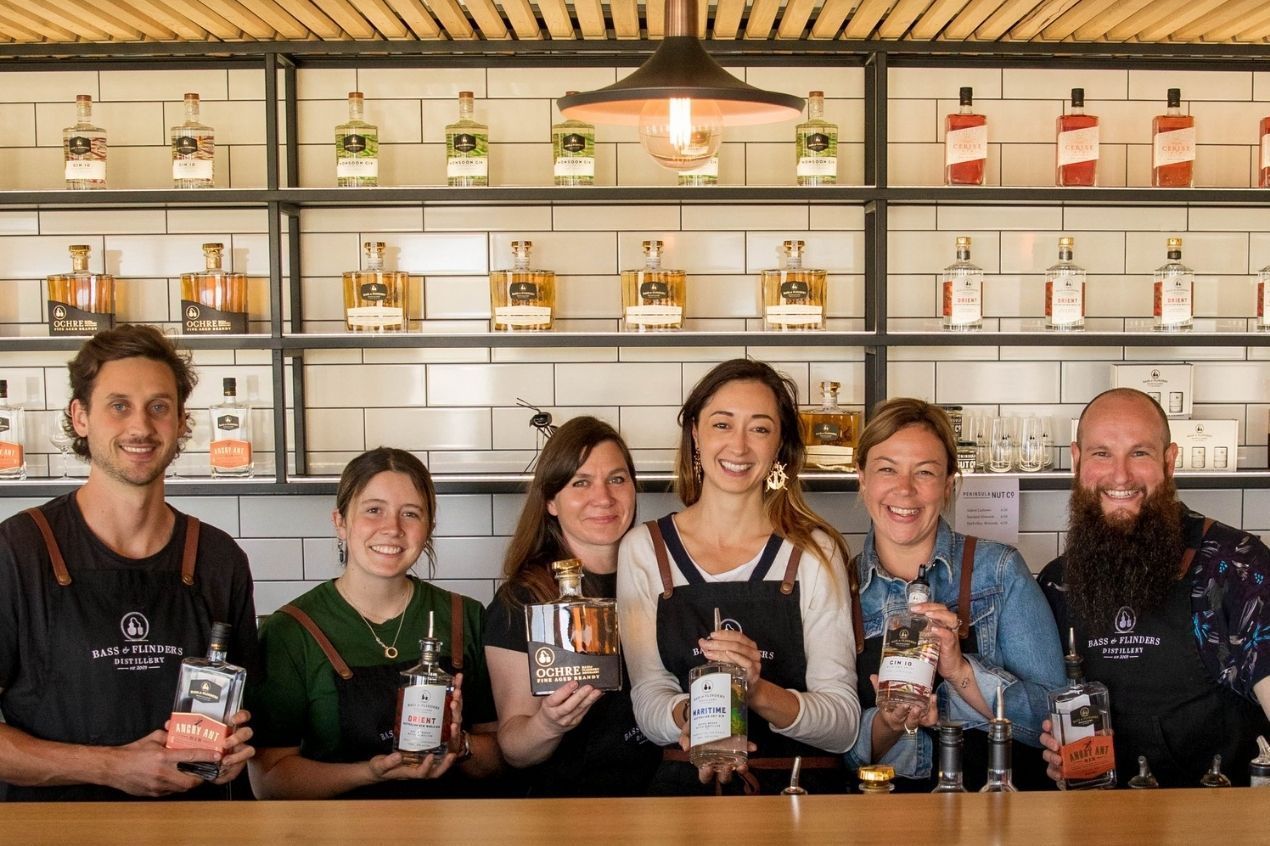 Inspired by the love for classic French brandies and motivated to bring Australia's Mornington Peninsula its first distillery, Wayne Klintworth founded the Bass & Flinders Distillery in 2009. Wayne desired to create a range of high-quality artisanal gin, brandies and liqueurs that reflected their home and heritage.
The same desire has now carried forward to his daughter Holly, who took over the reins as the head distiller in 2016. The focus at Bass & Flinders is on quality above anything else, with the spirits distilled in small batches, using fresh and locally sourced ingredients. Their focus and commitment to bringing Australian craft spirits to the world's notice were richly rewarded at the 2021 London Spirits Competition with two of their spirits among the winners.
Holly takes us through a day at Bass & Flinders Distillery and gives us an insight into what goes into making a premium spirit, and how she plans to take the distillery and her father's legacy forward.
Tell us a bit about Bass & Flinders Distillery
Bass & Flinders is a family-owned and operated vine-to-bottle distillery located in the heart of the Mornington Peninsula wine-growing region of Victoria, Australia. We were initially inspired by the likes of fine French brandy producers, wanting to utilise local produce and turn this into a local grape-based spirit. We produce our non-neutral grape spirits in house, from scratch, using a 300-litre pot with a focus on quality, flavour and Australian native botanicals.
According to you, what makes a great spirit?
Spirits that reflect a true sense of place, one that celebrates where its ingredients are sourced from and the skill and craft from which it was made.
What would be your typical day at work?
No two days are the same in a small, family-owned distillery. The activities range from running our Distillery Door bar and serving cocktails, to hand zesting lemons for our limoncello or labelling our brandy bottles. All the while, our pot still is fired up and turning wine into spirit in the background.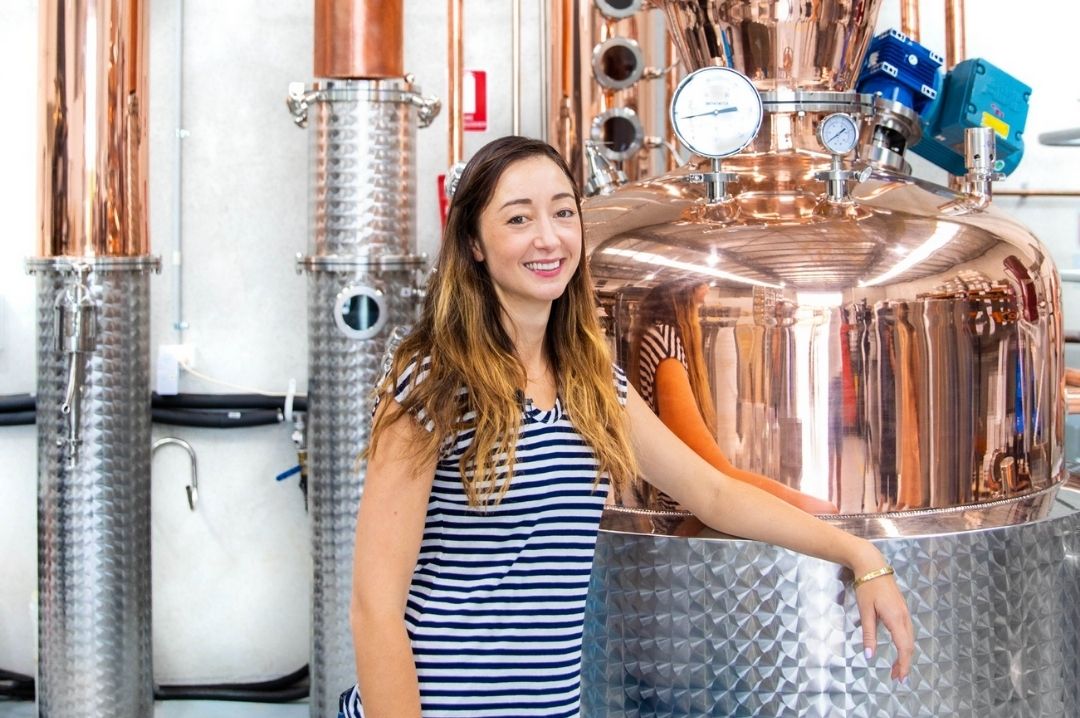 Holly with one of the stills, Source Facebook
How often are you firing up the stills and how long does a batch take?
Our stills run full belt right from the completion of the harvest. From April to July we're processing Chardonnay, and from August to November we're processing Shiraz, with batches of gin running in between too. It takes 8-10 hours per batch.
What excites you the most about your brand?
The Australian craft spirits industry is still in its infancy, and there are so many wonderful native Australian botanicals and ingredients out there yet to be explored. The opportunity to create new flavour profiles are endless. We're also really excited about the revival of brandy at home and abroad as this is a spirit we're particularly passionate about at Bass & Flinders. We are excited to show people how great an Australian brandy can be.
Why do you consider Ochre Fine Brandy your flagship spirits?
The Ochre Fine Brandy is the product we first aspired to produce when we set up the distillery in 2009. It was 5 years in the making before we were comfortable releasing it. We're proud to bring a premium 100% Chardonnay-based Australian brandy to market. As for the gin, our Single Vineyard Gins are our flagship products. They are made with 100% shiraz based, non-neutral eau de vie, made on site.
Are you working on something new right now? A new product maybe?
We are working on a new brandy product that we're excited about, one to be released very soon! We're hoping it will inspire a new generation of brandy drinkers and encourage more brandy-based cocktail mixing.
Where can we find your products?
Online via our website or email darren@bassandflindersdistillery.com
How do you use social media to its maximum while marketing your brand?
Social media is a really vital platform for us in particular. With things changing so quickly, coming in and out of lockdowns, we need to be able to communicate efficiently and effectively with immediacy, and social media helps us to do this best. We focus predominantly on the use of visual portrayals of our story, brand and product range to help inspire and educate our consumers.
According to you, what are some upcoming drinks trends?
Bottled cocktails are very much on-trend at the moment due to continued lockdowns. Also, all Australian cocktails where all ingredients are sourced from local producers are very much on-trend. We're all about supporting locals and our friends within the industry as much as possible.
Do you have a distillery tour/tasting room experience set in place? What can guests expect from it?
We have a Distillery Door where we offer cocktails, a grazing menu, gin paddles, and tours of our production. There is also a 2-hour immersive gin and brandy masterclass where people can learn more about these great spirits and blend their own bottle to take home with them. We're located at 40 Collins Road Dromana, Victoria, Australia.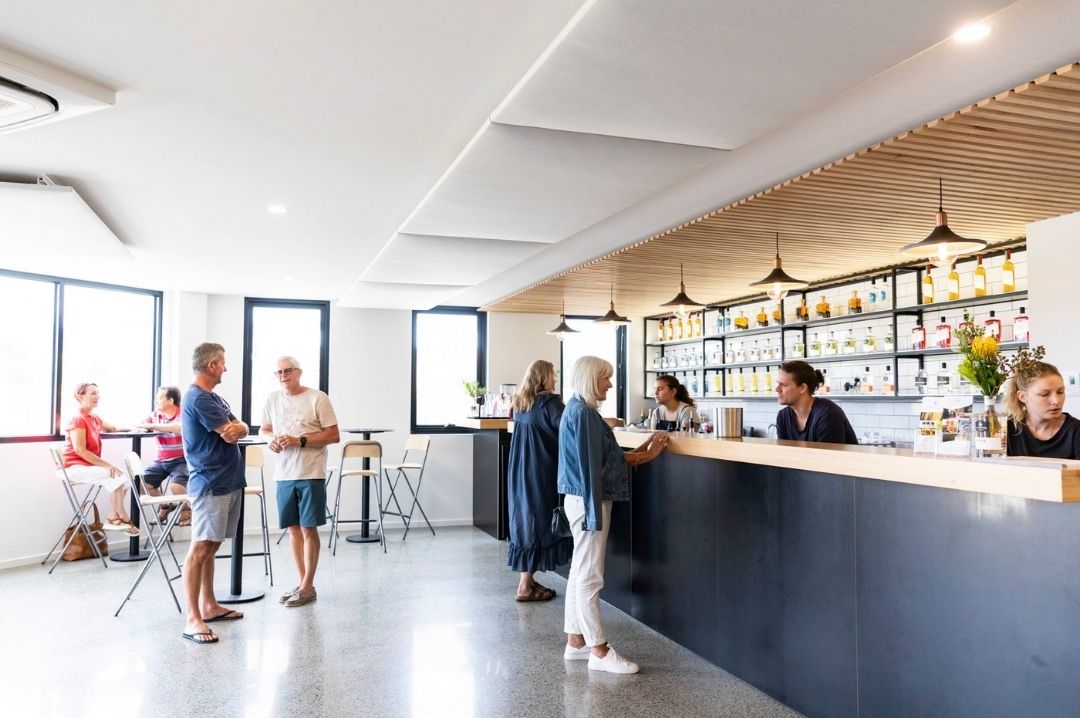 The Cellar Door at Bass & Flinders, Source Facebook
What are some of the spirits you have on your personal shelf?
I only have local Australian gins, as well as some beautiful cognacs and Armagnacs.
Can you share some cocktail recipes with your favourite spirits from the brand?
I love the Maritime Paloma - made with our Maritime Gin, grapefruit juice, lemon juice, grapefruit liqueur topped with soda, served in a glass rimmed with lemon myrtle salt and garnished with dehydrated grapefruit. There is also Cerise Martinez that you can try.
Lastly, what are you drinking right now?
A Bass & Flinders Heartbreak Pinot Noir Gin with Mediterranean tonic and a slice of orange.
Header Image- Bass & Flinders Distillery, Source Facebook
Royal Horticultural Halls, London, The Lindley Hall, 80 Vincent Square, London SW1P 2PB, United Kingdom, United Kingdom
Register Now
Royal Horticultural Halls, London, The Lindley Hall, 80 Vincent Square, London SW1P 2PB, United Kingdom
Register Now