Sparkling wines of London
On this page find out about sparkling wines of London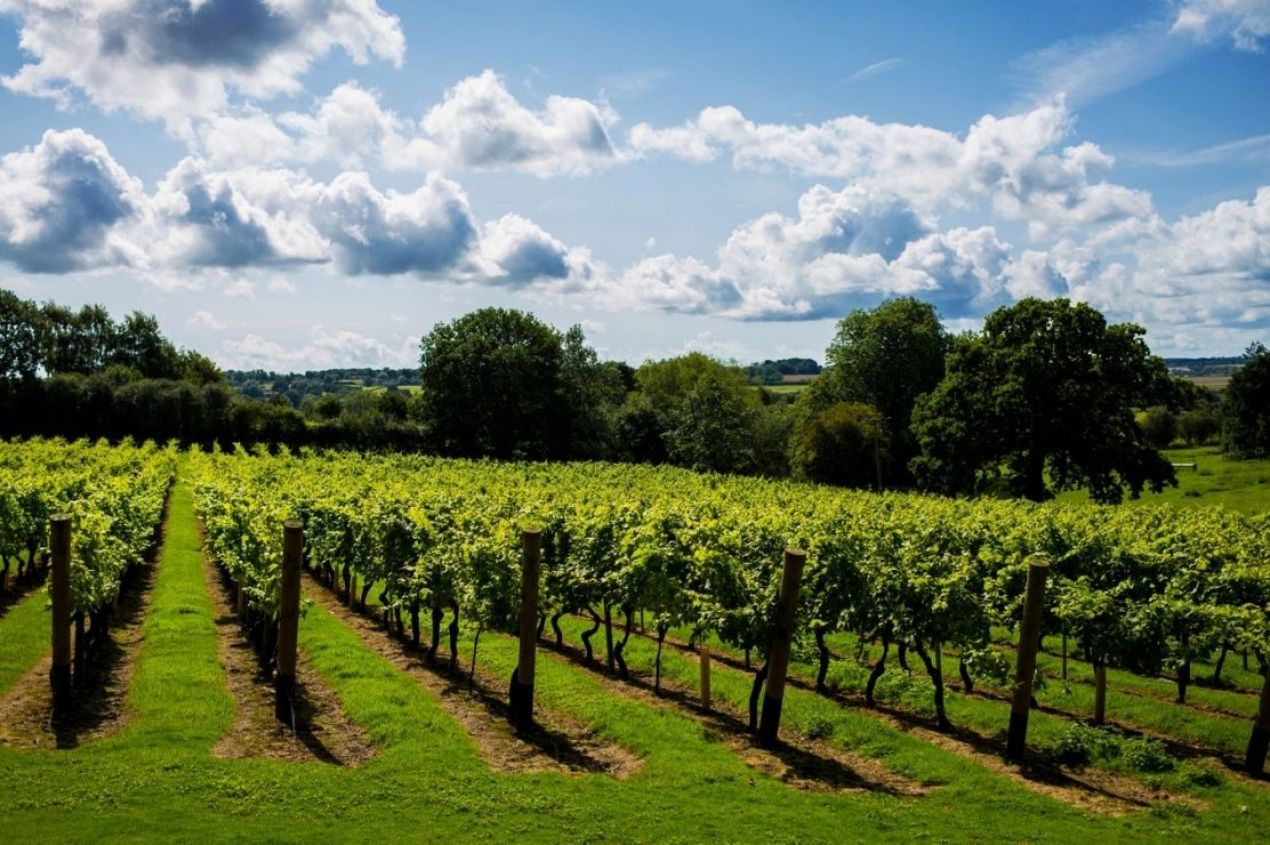 If we think about the wines that have bubbles, then it's Champagne that comes to mind for many of us first. It owns the label, and rightly so, as 'King of wines/Kings' wine' and has been a benchmark for many wine producers in the field of sparkling winemaking for years – the flavours and aromas of this famous wine region have kept the world captivated and impressed for centuries.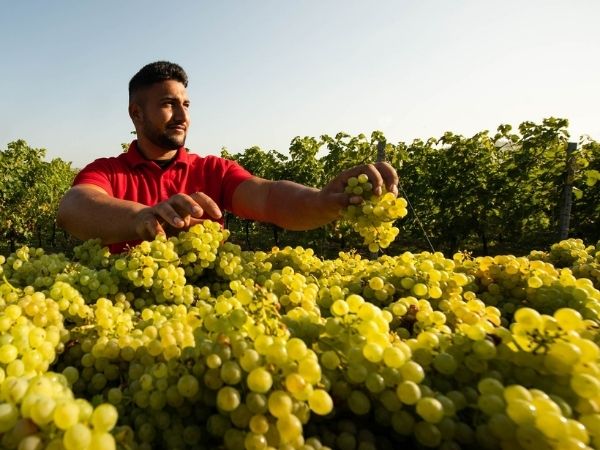 Harvest picture from Chapel Down.
While well-loved, it is not alone with many other sparkling wine regions that are now developing some fine examples that wine experts may confess to matching aromas and flavours. It is also not surprising to find that other sparkling wines were mistaken as Champagne, in particular by blind tastings, and were also rated and awarded higher when judged.
One of the coming and coming children on the block is English sparkling wine. While the discovery of bubbles in wines can be credited, but not completely proven, to the fact that Dr. Christopher Merrett was born in England in 1662 and bottled sparkling wines were first made in the 1950s, English sparkling wines hit the scene in the 1980s.
How good are English sparkling wines compared to Champagne?
There is, of course, no particular reason why English sparkling wines should not be as good as Champagne because the soil in southern England is close to the terroir of Champagne. Climate change can be blamed or praised, depending on your point of view, for aiding the quality of grapes grown in England with perfect average temperatures moving north from the Champagne region to the English Channel.
Experience is always important in any industry and in particular in the production of wine, which of course makes Champagne a far stronger force than the sparkling wine produced in England. The whole method is much more advanced in Champagne, from the level of production that allows a brand-like understanding of the experience of wine-growers with several generations of invaluable guidance – but this information is being spread and transferred globally now, and experienced wine-growers are also leaving Champagne for more enticing challenges and opportunities abroad.
We should also note that the Champagne houses are now seeing the value of the English terrior and have been buying up land for the planting of vines and the manufacture of sparkling wine. The reasons for this exploration on English soils would, of course, be focused on the fact that the price of land for planting vines is at a fraction of that compared to classified Champagne areas, while English sparkling wines will continue to increase in quality and turn value.
There are a variety of flavours that can be explored in English sparkling wines with several grape varieties to choose from. Mostly the conventional method, but the same wine production process as Champagne, has more than 650 commercial wineries in England and Wales, with 168 wineries making some 13 million or so bottles per year, with 69% sparkling.
English sparkling wines have really grown over the last few years and have great versatility for wine lovers to enjoy being a perfect companion to many types of gastronomy. The price point remains very close to Champagne (if we remove cheaper Champagne labels sold in bulk by supermarkets) and, alongside the popular French fizz, English sparkling wine is also exported internationally, with about 10% of the volume being made outside of England.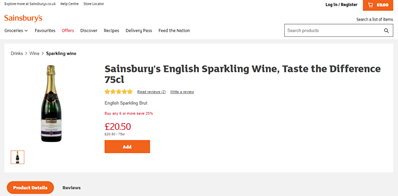 UK's leading supermarkets also now offer great private label in-store brands like Sainsbury.
English sparkling wine tops Champagne at the 2019 World's Finest Glass of Bubbly Awards.
During London's prestigious Champagne and sparkling wine awards run by Glass of Bubbly, where fifty top wine judges came from all over the world to evaluate the best wines, the results showed that England was shining over its close neighbours. Out of the 19 trophies on display, Champagne took home two (including the award of The World's Best Bubble Glass) with England taking four, including the 'Gastronomic' trophy.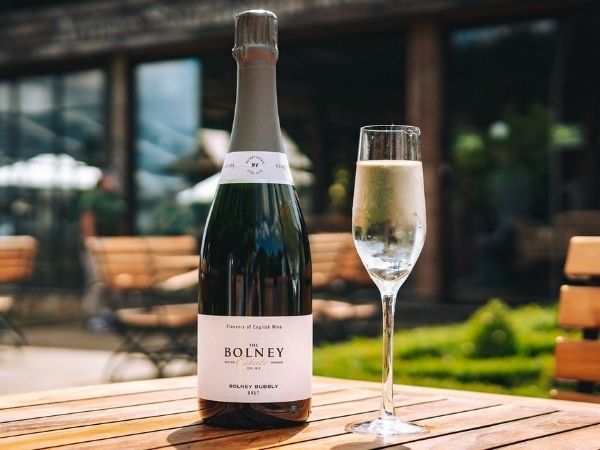 One of the English sparkling wine that has won awards at many international wine competitions including the Sommeliers Choice Awards which is one of the leading wine competitions for the restaurant industry in the United States.
The World's Finest Glass of Bubbly Competitions are presented annually and reward Champagne and sparkling wines with medals and prizes in customer-friendly categories with easy-to-understand definitions such as 'Fruity & Floral,' 'Oaky & Toasty' and 'Sea Breeze.'
The competition is of significant standard, with hundreds of wines entering offering wonderful flavours to attract the judges. Not restricted to more well-known regions such as Champagne, Prosecco and Cava, countries such as Japan, Turkey, Canada and Slovenia are also included. Well-known brands yet to be discovered – The wine must really appeal in order to win a trophy that makes England's achievement in the competition so amazing.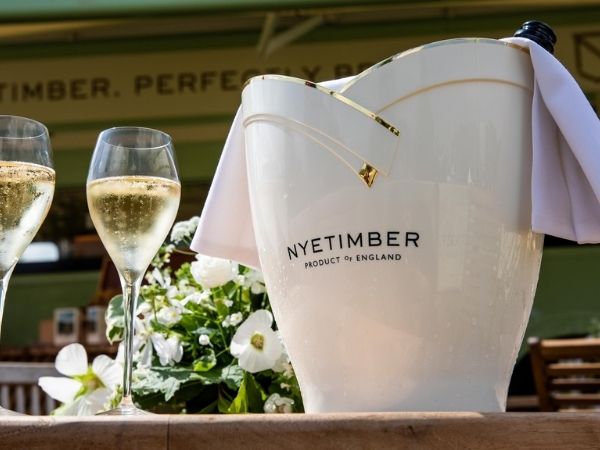 Nyetimber, producers of England's finest sparkling wine, is one of the producers that actively promote the category. Image of their iconic bus exhibitor display at the London Wine Fair. Chapel Down is another producer that's growing its footprint globally and is England's leading wine producer with an award-winning range of sparkling & still wines. One other producer to note is Raimes English Sparkling- Creating Elegant Wines in Hampshire. Their sparkling wine won 92 points and a gold medal at the 2019 London Wine Competition.
Header Image: Chapel Down Winery
Royal Horticultural Halls, London, The Lindley Hall, 80 Vincent Square, London SW1P 2PB, United Kingdom, United Kingdom
Register Now
Royal Horticultural Halls, London, The Lindley Hall, 80 Vincent Square, London SW1P 2PB, United Kingdom
Register Now