Best rooftop bars in Shoreditch
Whether you want to enjoy the rare London Sun or nuzzle up near a fire pit with a Hot Toddy, these rooftop bars in Shoreditch have it all.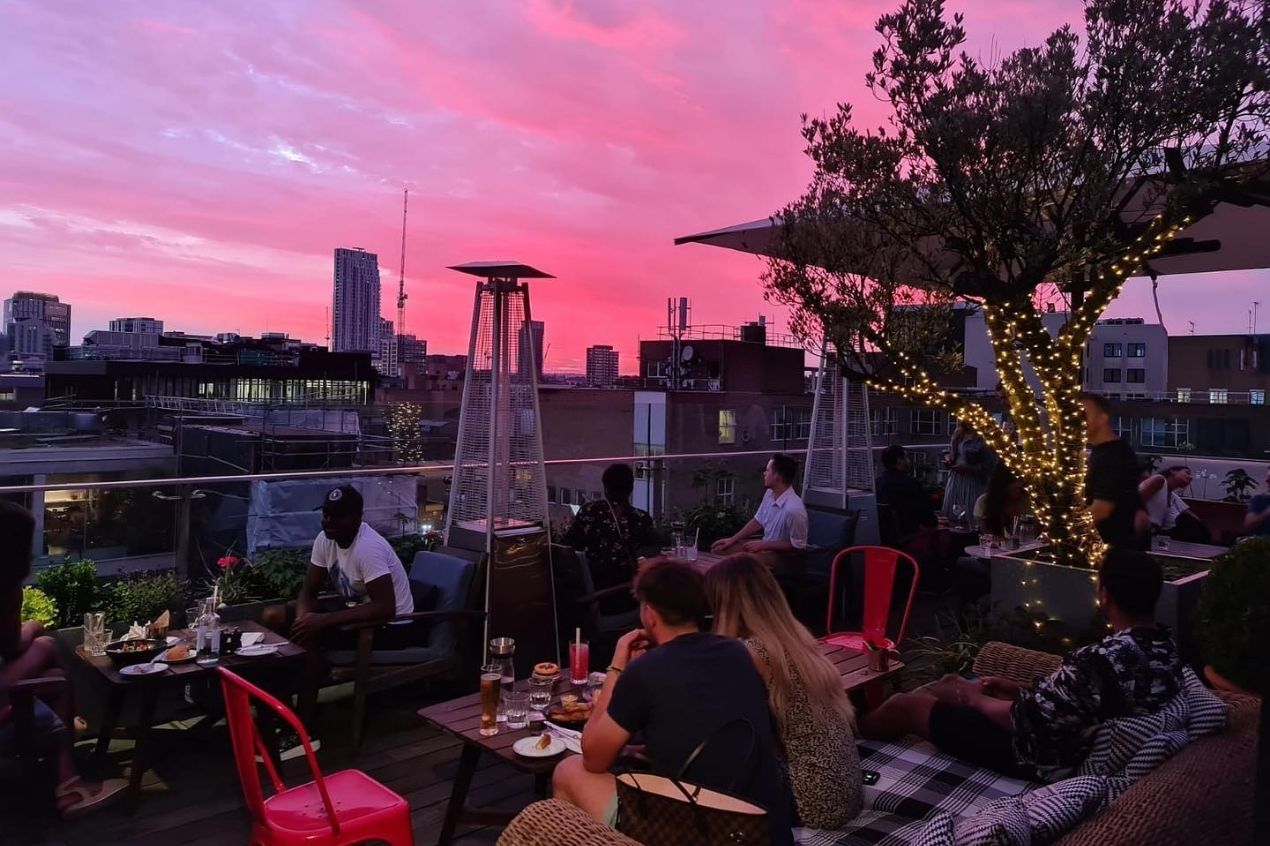 Let's be honest, rooftop bars are a gem that we need to appreciate more. We've already rounded up some of the best rooftop bars in Camden, so we went hunting around Shoreditch for some great terrace spots that are open year-round regardless of the weather.
After sipping on delicious drinks and filling up on burgers, steaks, puddings, and more - we've put together a list of some of the best rooftop bars in Shoreditch that are not only great for the summer months but also have igloos and firepits to keep you warm during the winter.
Queen of Hoxton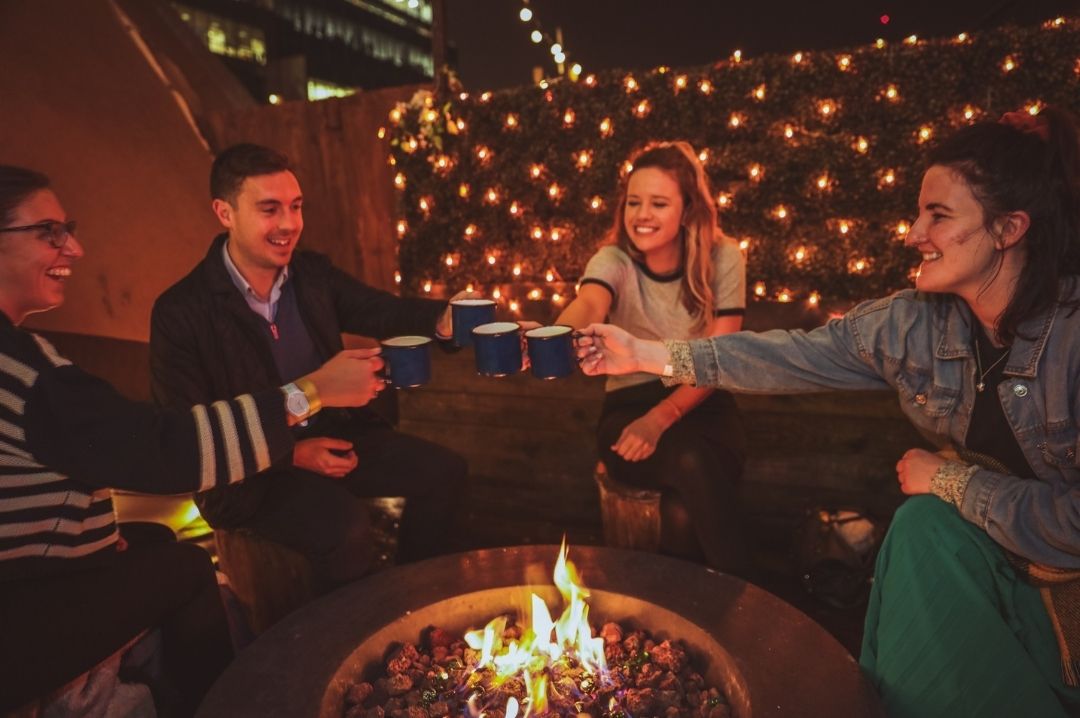 Queen of Hoxton, source: Facebook
This three-way rooftop, nightclub, and cocktail bar is an East End staple. The rooftop terrace is open from Wednesday to Sunday, serving up an array of finger-licking burgers, complete with a small but satisfying cocktail menu.
Expect a range of summer specialties like the Summer Punch (Blood orange Beefeater Gin, Cointreau, orange liqueur, lime, cranberry juice), and during the winter, opt for the Espresso Martini which has made a special place in our hearts over the past few months.
Queen of Hoxton also has a list of wines and beers to choose from, and if you're looking for something completely different, then try one of their CBD cocktails. Yes, you read it right. We love the Sparkling Elderflower and Yuzu, which combines the citrus flavors of Yuzu with sweet notes of elderflower, all muddled with subtle cannabis flavors.
The cherry on top, this winter, Queen of Hoxton is switching up the game and sporting an entire Alice in Wonderland theme, from decor to food options, to cocktails.
Timing(s) -
4 pm to 9:30 pm (Wednesday and Thursday)
2 pm to 9:30 pm (Friday)
12 pm to 9:30 pm (Saturday and Sunday)
Where - 1 Curtain Rd, London EC2A 3JX
Boundary Rooftop Bar & Grill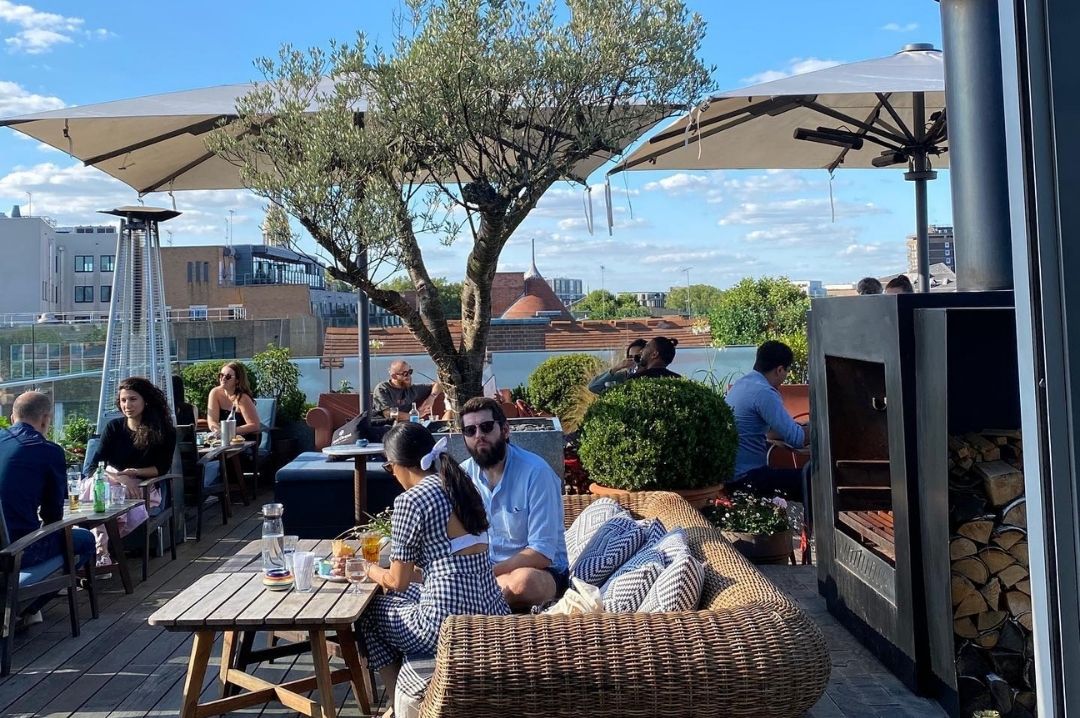 Boundary Rooftop Bar & Grill, source: Facebook
Housed in London's Boundary Hotel, the Boundary Rooftop Bar & Grill claims to be a spectacular setting no matter the weather - and we definitely agree. During the summer you can sit out in the Rooftop garden, and during the colder days, the heated glass Orangery, which is open year-round, is the ideal drinking spot.
As summer sets in, the bar and grill offer a Medi-inspired menu, with grilled meat and fish, some French sharing plates like charcuterie, tapenade, and more. During the winter, Boundary Rooftop takes inspiration from the Alpine regions. Think cheese fondue, melting raclette, and other warm goodies paired with hot cocktails.
A wide selection of cocktails, wines, and other drinks are always available. But we've been loving The Guv'nor made with Monkey Shoulder whisky, Doc Benedictine, Green Chartreuse, cherry bitters, and orange blossom. If you don't want to give up your gin at any point, we highly recommend the Hendrick's G&T Cup with cucumber, thyme, and juniper.
Timing(s) -
3 pm to 11 pm (Monday to Wednesday)
12 pm to 11 pm (Thursday to Sunday)
Where - 2-4 Boundary St, London E2 7DD
Aviary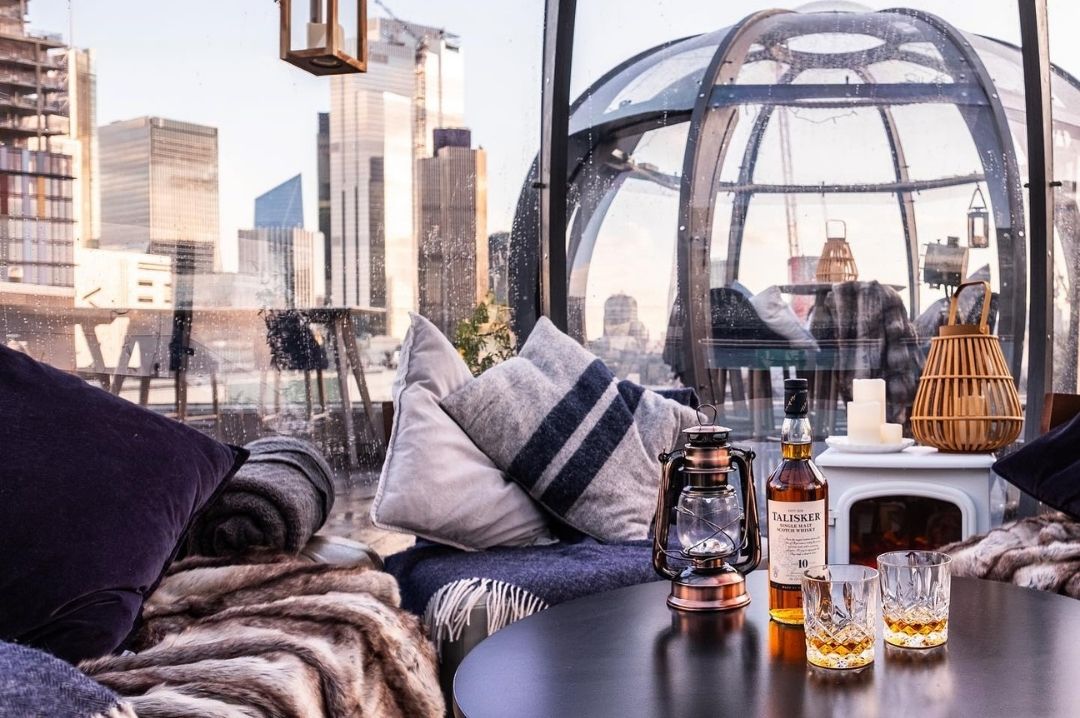 Aviary, source: Facebook
Famous for its breathtaking views and opulent style, Aviary, perched on top of the Montcalm Hotel, is a great rooftop spot for both the winter and summer months. From October to May, you can book one of their warm rooftop igloos to take in the views of the city and enjoy your time with a drink in hand.
The rooftop food menu has a little something for everyone, from oysters and coal oven steaks to cheeseboards, gyozas, burgers, sandwiches, and more. If you want something trendy, ask for their seasonal menu.
The bar menu ranges from a set of their signature cocktails to classic cocktails, beers, ciders, and an extensive wine list. While we love their classic cocktails, the Coco Glen X from their signature menu is a must-try. The whiskey cocktail is whipped up with Glenmorangie X single malt, coconut purée, vanilla syrup, and lemon juice.
Timing(s) -
11 am to Midnight (every day)
Where - Royal London House, 10th Floor Montcalm, 22-25 Finsbury Square, London EC2A 1DX
Golden Bee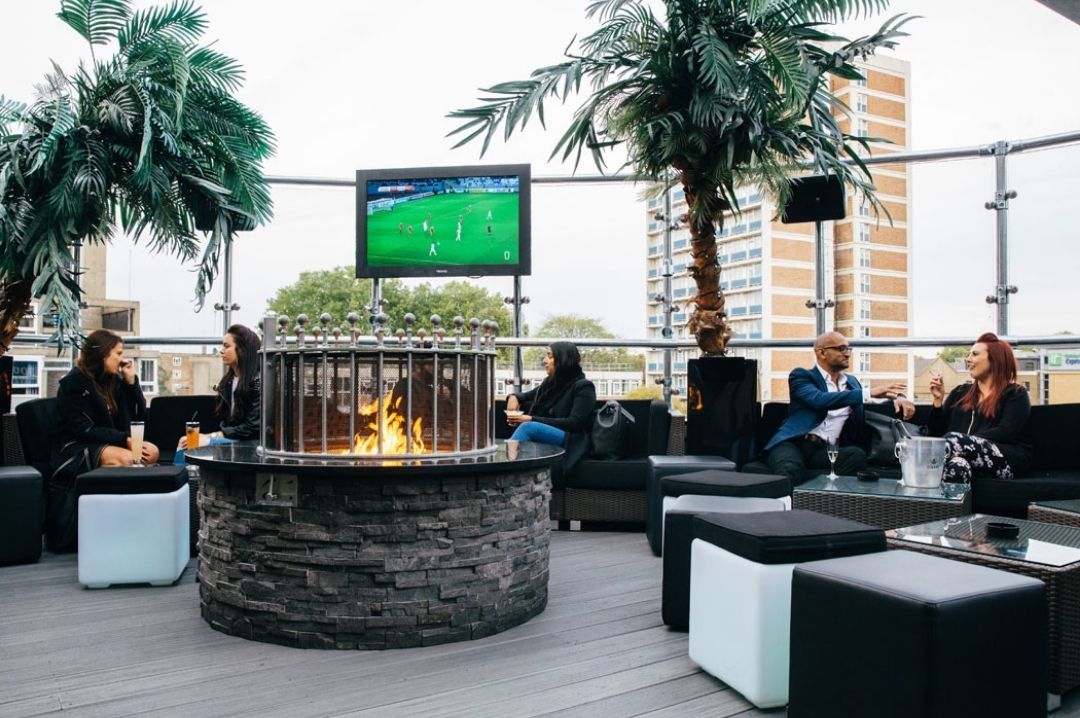 Golden Bee, source: Website
The Golden Bee lounge and cocktail bar is an oasis of elegance and excitement, as described by the team themselves. The three-floor space also boasts one of London's most sought-after rooftop terraces, where you can bask in the sun (whenever possible) with a chilled cocktail in hand, or keep yourself warm around the fire pit during the winter months.
The drinks menu consists of 11 signature cocktails, many classic cocktails, wines, beers, and spirits. For food, the bar has teamed up with Yard Sale Pizza to bring you hot and fresh pizzas. If you're thinking of ordering a cocktail from their list of signatures, try the Golden Bee which is made with Jose Cuervo Especial Tequila, banana liqueur, passion fruit puree, passion fruit syrup, apple, and lemon juice.
But what really makes Golden Bee the go-to spot for many is the happy hour. The Golden Bee happy hours are every Wednesday (5 pm to 7 pm) and Thursday (5 pm to 9 pm). During these hours, you can avail:
2 for 1 on Aperol Spritz, Pornstar Martini, Bellini, Icy Lychee, Passion Fruit Cooler, Mixed Berry Collins, Buzzing Around Town & Apple Crumble
2 for 1 on House Spirit & Mixer (42 Below, Bombay Sapphire, Bacardi rums, Jack Daniels, Hennessy, Jose Cuervo)
Bucket of 6 beers for £20 (Corona, Stella, Budweiser & Magners)
Chardonnay, Syrah-Grenache & Merlot for £12.50 per bottle!
Bottle of Prosecco for £20
£20 off of all bottles of Champagne!
Timing(s) -
5 pm to 12 am (Wednesday)
5 pm to 1 am (Thursday)
5 pm to 2 am (Friday)
5 pm to 2 am (Saturday)
2 pm to 10 pm (Sunday)
Closed on Monday and Tuesday
Where - Singer St, London EC1V 9DD
Old Fountain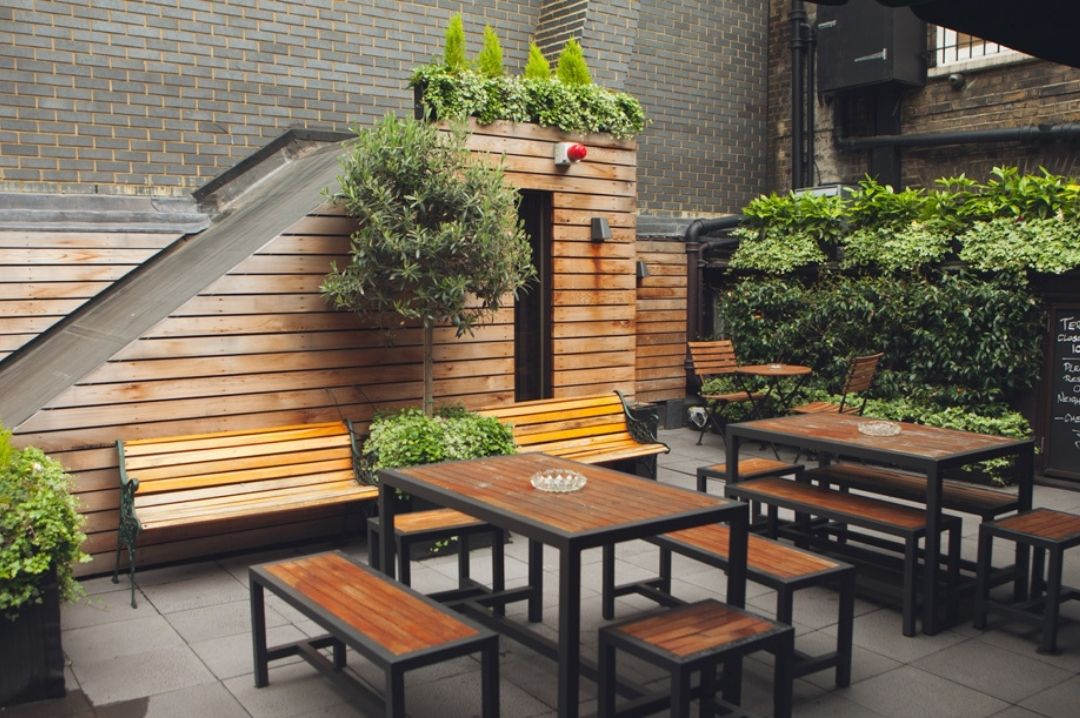 Old Fountain, source: Website
Where are all our beer lovers at? Hopefully at the Old Fountain. Old Fountain's very green terrace is donned with modern wooden fixtures and furniture. Think craft beer and small bites. With eight real ales and nine craft kegs, Old Fountain is a haven for hop heads. They also have our all-time favorites on tap and the servers are also known to lock you in some great conversation.
Timing(s)-
3 pm to 11 pm (Monday)
12 pm to 11 pm (Tuesday to Saturday)
12 pm to 8 pm (Sunday)
Where - 3 Baldwin St, London EC1V 9NU
Header Image - Boundary Rooftop Bar & Grill, source: Facebook