Best rooftop bars in Camden
Drinks, atmosphere, and vistas to die for at these rooftops bars in Camden, London.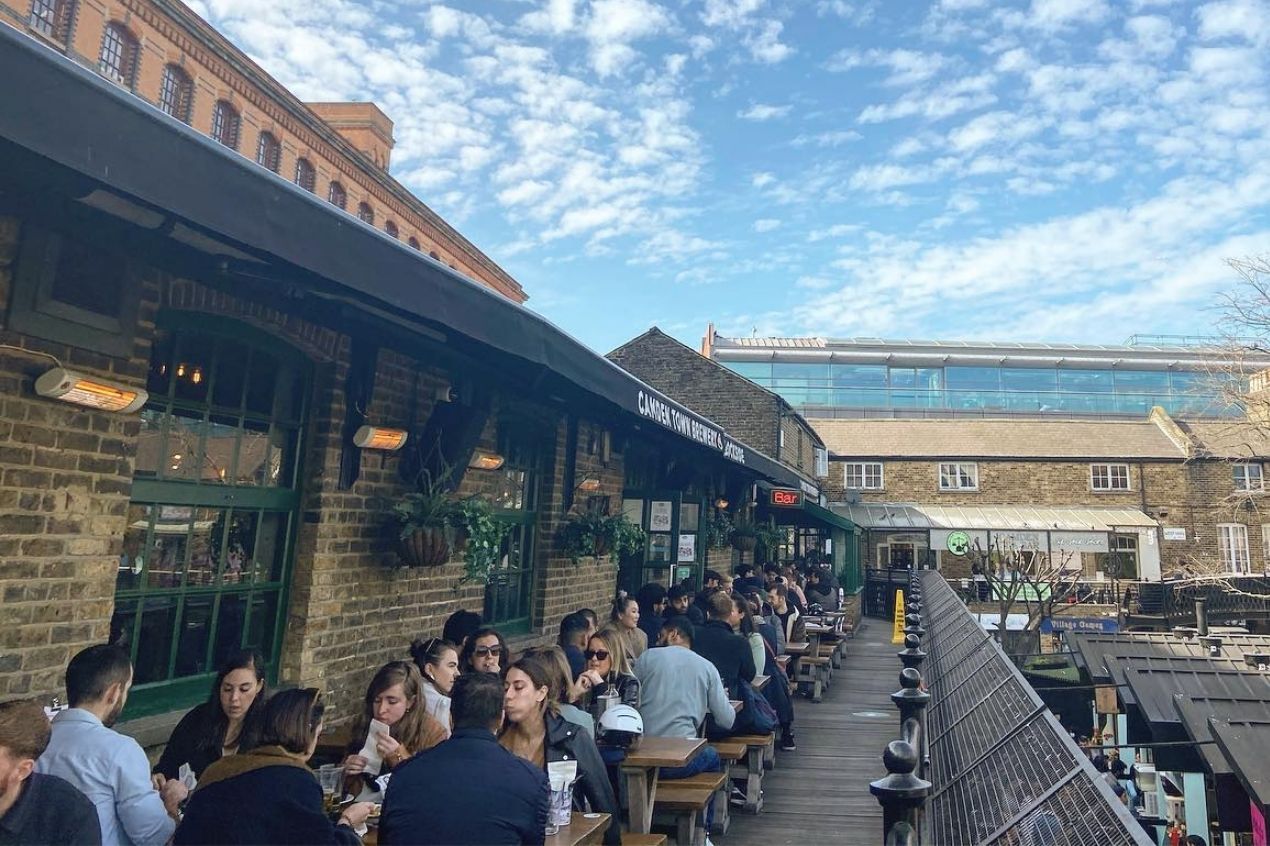 Whether it's a chilled pint, a craft cocktail, or your favorite glass of wine, everything tastes better while basking in the sun. Even though it's rare, when the sun is out, there's no denying that a trip to a rooftop bar is well deserved. The next time you're craving a brew out in the open, head on over to some of Camden's best rooftop bars.
Lockside Camden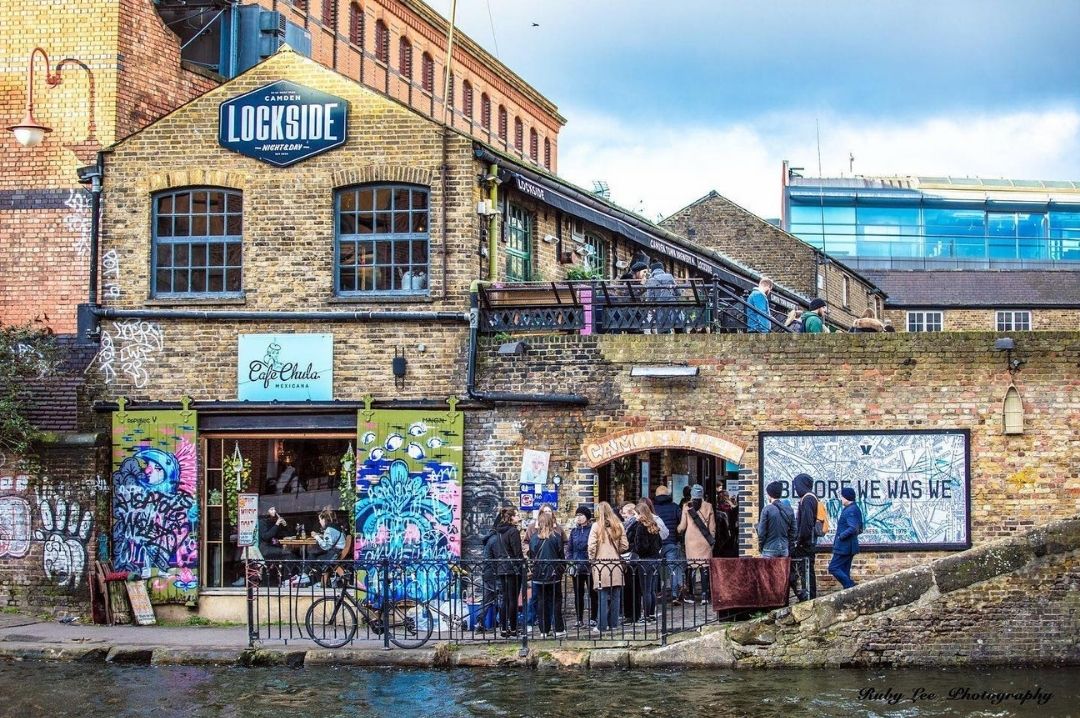 At Lockside Camden, source: Facebook
Sit in the heart of London's Camden town at Lockside and enjoy the awe-spiring view from their outdoor terrace. With a very diverse crowd, the bar tries to offer the best experience to all its customers by providing an exclusive food and drinks menu. They have both bottles and beers on tap craft beers, a full cocktail menu, a wine bar, and a resident Mexican pop-up kitchen 'Evil Twin'. At Lockside Camden, it is not only about drinks and DJs. From weekend brunch with friends, a lunch date with someone special to dinner before a night out, the place is a perfect destination for all. Try their Beer battered haddock served with mushy peas, tartare sauce, lemon, and fries with a choice of cocktail, beer, or wine.
Where - 75-89 Upper Walkway, Camden Lock Place, London NW1 8AF
Hours - Mon-Sun (12pm - 10 pm)
Roof Gardens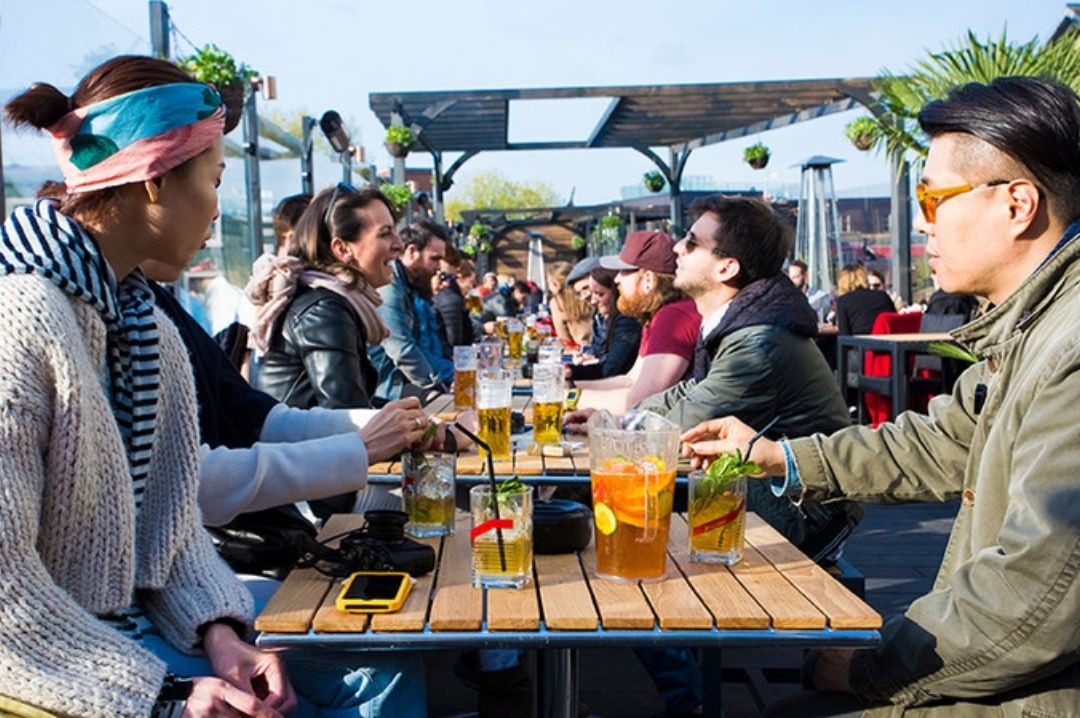 Roof Gardens at Camden Market, source: website
Roof Gardens is filled with landscaped gardens, a flower-covered pergola, and a water feature for their garden. During the afternoons you will be accompanied by live acoustic music and the evening will be taken over by DJ sets. Sip on craft beers and cocktails crafted by their bartenders and if you get peckish try the traditional Camden fish and chips.
Where - Camden Market, Chalk Farm, London WD17 2NJ
Hours - Mon-Sun (10 am - late)
The Lock Tavern Camden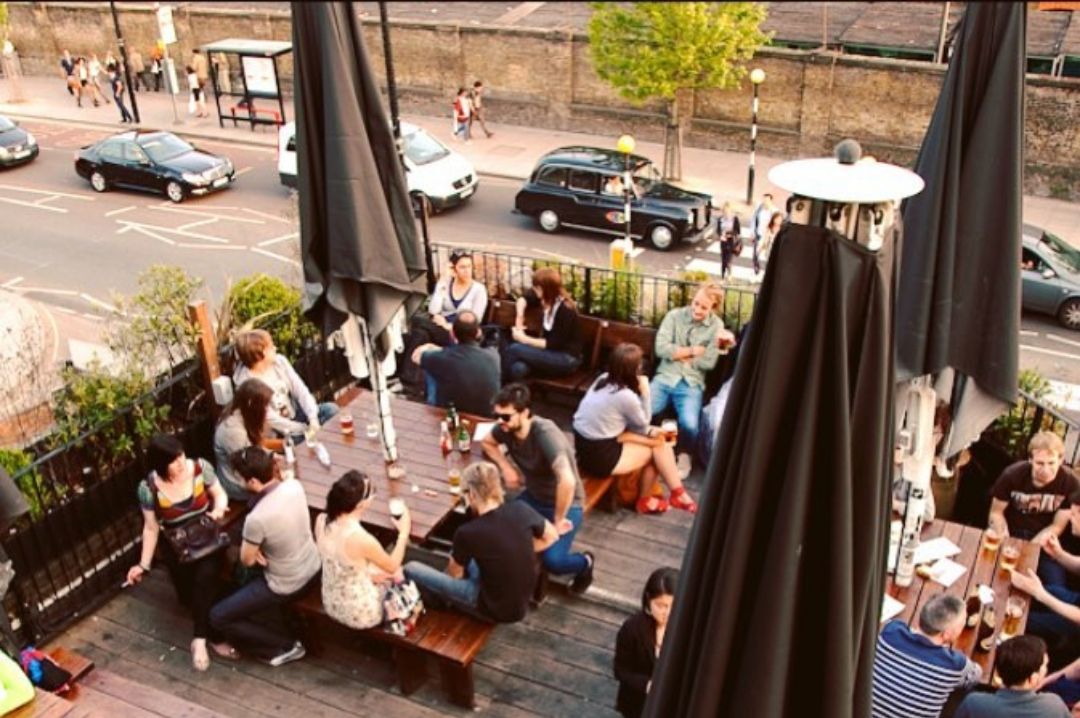 The roof terrace at The Lock Tavern, source: Facebook
A North London Institution, The Lock Tavern is a historic Camden Boozer. This newly renovated pub has been one of the most popular destinations for locals and tourists. The bar creates such an atmosphere that their guests can enjoy everything from lunch dates, group parties to live entertainment. The place boasts a heated beer garden with a fire pit, a cocktail bar, and a suntrap roof terrace for their patrons to experience.
No matter how harsh the British weather is during winters, you can comfortably sit at the heated and covered roof terrace and in summers they open their terrace to the sun. The bar and beer garden boast classic cocktails like a margarita, old-fashioned, along with 18 beers on tap and a handful of white, red, and rose wine. Accompany your drinks with mouth-watering bites from their kitchen. Try out the beef burgers or their famous vegan black bean and mushroom burger.
Happy Hours - Mon-Thu (5 pm - 7 pm)
Where - 35 Chalk Farm Rd, Chalk Farm, London NW1 8AJ
Hours - Mon-Wed (3 pm - 10 pm)
Thursday (12 pm - 11 pm)
Fri and Sat (12 pm - 1 am)
Sunday (12 pm - 10 pm)
Near & Far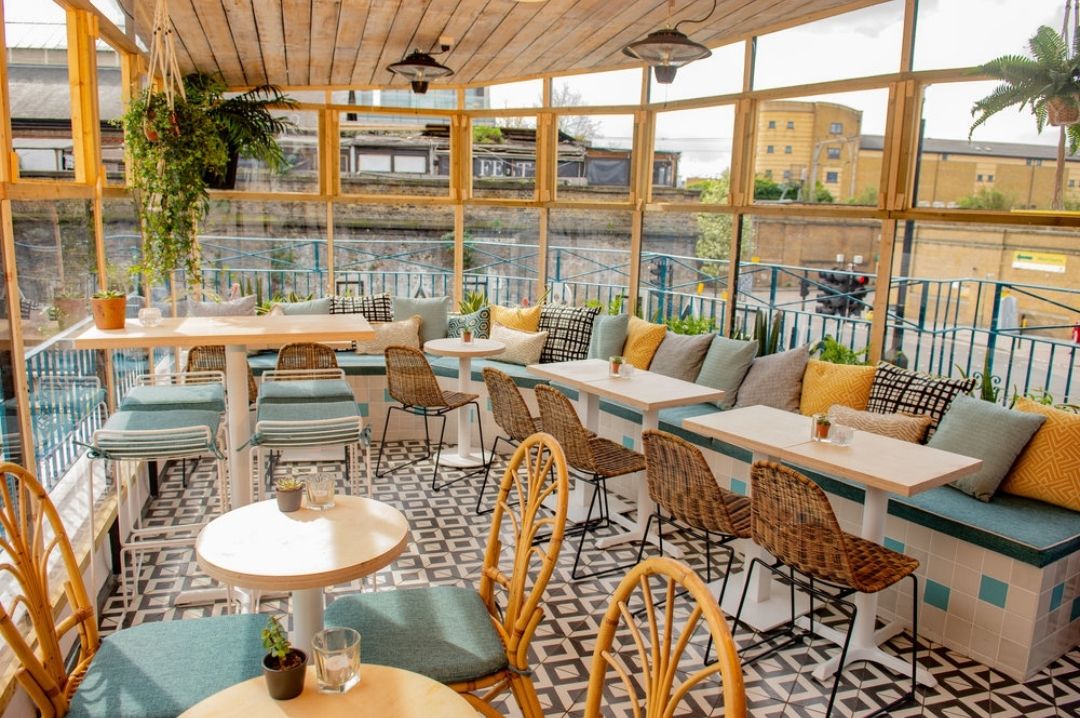 The roof terrace at Near and Far, source: website
Opened in 2019, Near and Far is inspired by the concept of world travels, import and export, and particularly Palm Springs, with its desert-meets-oasis aesthetic. Their flagship site in Camden is lush green filled with palm trees and the place is decorated with gorgeous wallpaper, neon signs, and desert shades. The pub in Camden is set over 4 floors with a stunning roof terrace with views over the Camden Stables. The bar list of Near and far is never-ending. The menu boasts signature cocktails, a great selection of non-alcoholic drinks, some fine wines, and an extensive list of spirits. The kitchen serves some delicious delights including Mexican street food, burgers, and many more. Try out their signature cocktail, the Palm Springs Punch made with Aperol, vanilla liqueur, lemon juice, and fresh passion fruit.
Where - 48 Chalk Farm Rd, Chalk Farm, London NW1 8AJ
Hours - Mon-Fri (4 pm - 11 pm)
Saturday (11 am - 11 pm)
Sunday (12 pm - 11 pm)
The Spirited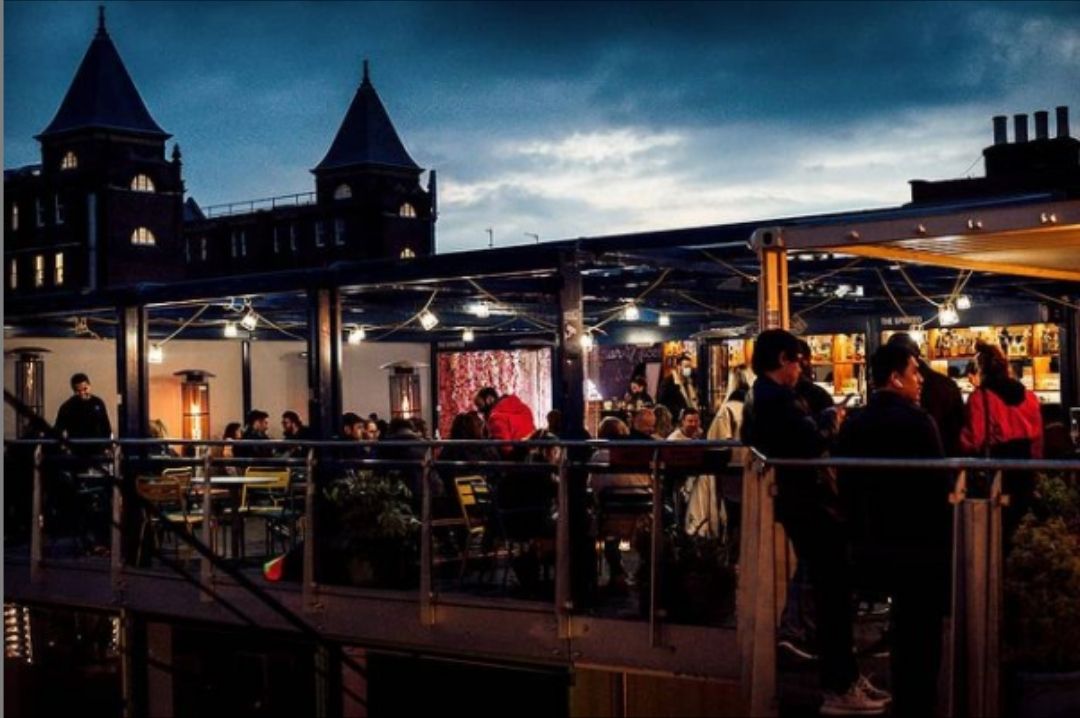 The Spirited, source: Instagram
Located in the heart of Camden, The Spirited was started by Elliot Harris with a belief that championing local brands was essential to the growth of the local craft market. Their bar is built by converting horse trailers, providing a cosy axed atmosphere to their patrons. As a small gesture of giving back to the community, The Spirited offers free cocktails masterclass to the local community. Their bar features some classic and signature cocktails, a handful of beers and wines, and enough spirits to satisfy your thirst. Head out to their rooftop infusion restaurant and bar, and try their signature cocktail Captain Barbosa made with saffron gin, Aperol, raspberry puree, lime, and apple.
Where - Unit 3.18, 180-188 Camden High St, London NW1 8QP
The Hawley Arms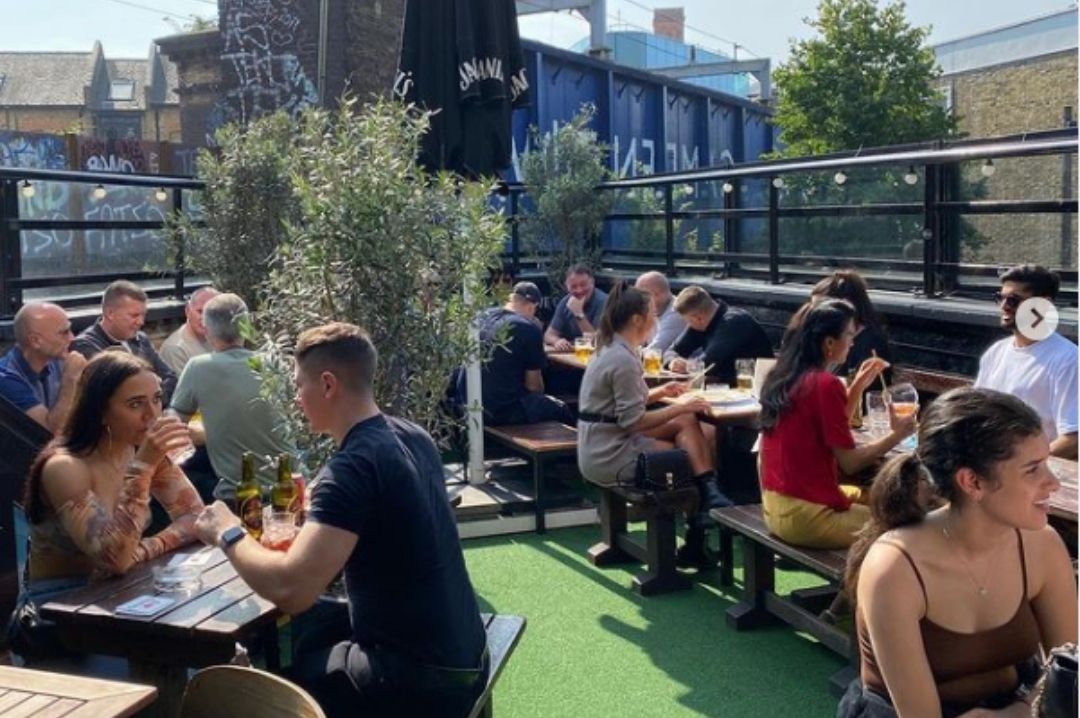 The roof terrace at The Hawley Arms, source: Instagram
Open since 2004, The Hawley Arms creates a home-like atmosphere where people can come and sit together comfortably. Initially, they were operating on just one floor with very minimalistic decor and 2 years later they gave the pub a second floor with a roof terrace. The second floor has been a host to some amazing gigs by incredible musicians. When it comes to drinks, The Hawley's team knows what they're on about with their cocktails, non-alcoholic drinks, and also a variety of different teas. We've been loving their signature Hawley Burger served with streaky bacon, cheese, onion rings, salad, and chips, or the popular Beer Battered Fish and Chips served with mushy peas and tartare sauce.
Where - 2 Castlehaven Rd, London NW1 8QU
Hours - Mon-Thu (12 pm - 12 am)
Fri and Sat (12 pm - 1 am)
Sunday (12 pm - 12 am)
The Abbey Tavern Pub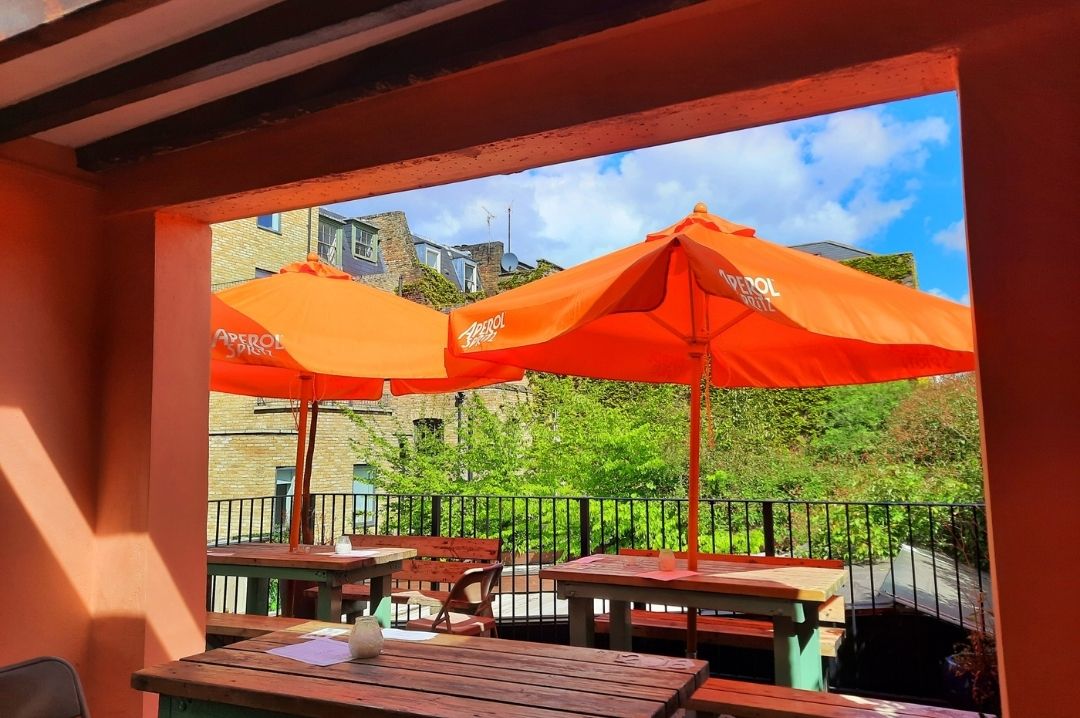 The roof terrace at The Abbey Tavern, source: Facebook
One of North London's finest partying establishments, The Abbey Tavern puts its best foot forward in serving food and drinks to its customers. This local public house boasts a rooftop terrace, a beer garden, along with a comfortable surrounding, so that their patrons can sip on their drinks and enjoy their time being there.
The pub also features multiple big screens so you can enjoy your favourite sports live and they also host open mics, DJs, and comedy nights on a regular basis. Sip on some great ales and order flavoursome delicacies like the Cajun Grilled Salmon Fillet served with red lentils, baby spinach, fresh mango, and coriander salsa.
Happy Hours - Mon-Fri (12 pm - 6 pm)
Sat and Sun (12 pm - 4 pm)
Where - 124 Kentish Town Rd, London NW1 9QB
Hours - Mon-Thu (12 pm - 11 pm)
Fri-Sat (12 pm - 1 am)
Sunday (12 pm - 11 pm)
Header image, source: Facebook Lockside Camden