London's Christmas bars: Ski Lodge, Winter Terrace, and more
Hugging you with the warmth of Christmas, Deck the Halls & Little Venice Igloo are some of London's first-class drinking pop-ups.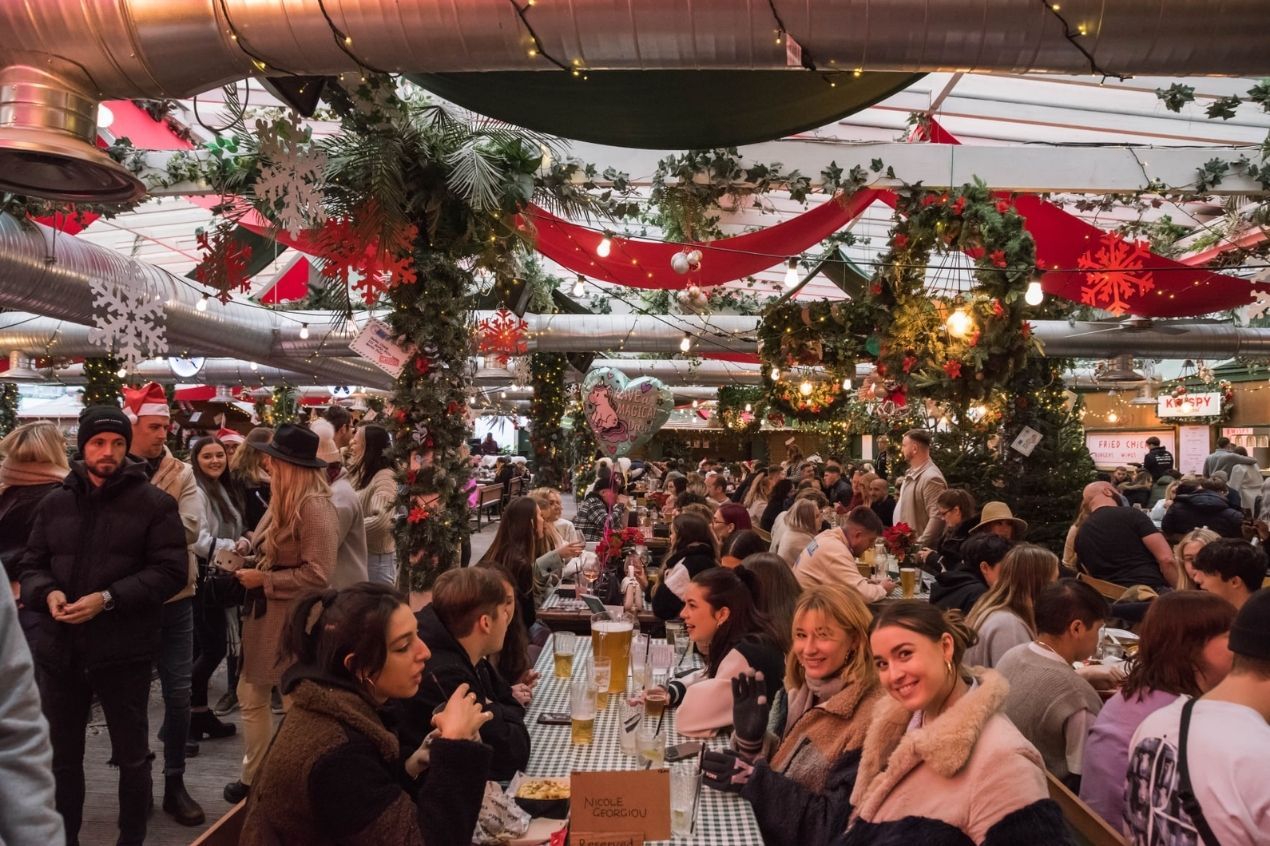 It's our favourite time of the year! This time of the year, many bars in and around London cloak themselves in a Christmas attire, putting on tinsels, reindeer lights, Christmas tree decorations, and other knick-knacks.
If you are looking to jump straight into the festive spirit with Holiday drinks and Christmas cocktails in the English capital, here are a few terrace bars, igloos, and drinking spots that are dressed to impress.
Dalloway Terrace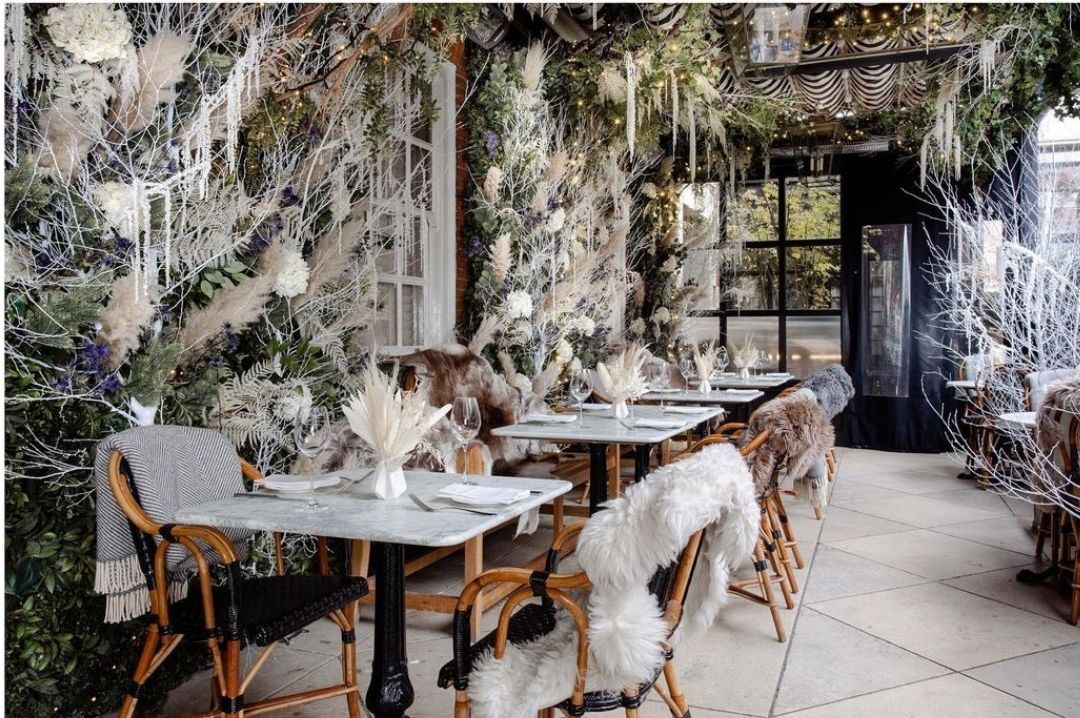 Dalloway Terrace at The Bloomsbury Hotel, Source: Instagram
Known to quickly change into seasonal refurbishments, Dalloway Terrace on the Great Russell Street blossoms with floral decorations throughout the year. Come the month of December, this hidden al fresco gem rolls the dice with a snowy theme that covers the seats with fur and walls with flaky ice effects, converting the dining area into a dreamland.
Housed in The Bloomsbury Hotel, the terrace bar has a special cocktail program called 'Dreaming In Colour Cocktails' made to transport you in a world of tantalising flavours.
The Rose Silence, Tea Tonique, and Scherzo cocktails are just a few names that will catch your eye on the menu. Apart from cocktails, Telmont champagnes celebrated with perfumier Miller Harris can be found in the drinks menu.
Location - 16-22 Great Russell St, London WC1B 3NN.
Timings - 12 pm to 11 pm (Monday to Wednesday)
11 am to 11 pm (Thursday to Sunday)
The Montague Ski Lodge
Choose to indulge in the Christmas festivities at The Montague Ski Lodge, awarded a bronze prize for the best Christmas venue at the 2019 London Venue Awards. At the centerpiece, The Wood Deck acts as a gathering spot with an enclosure of pine trees, inviting patrons with magical reindeer showpieces, ski racks, lanterns, and falling snow.
Enjoy a glass of traditional mulled wine, spiced cider, flavoured vodkas, or hot chocolate cocktails that will keep you warm and buzzing on The Wood Deck.
A delicious range of appetizers will accompany the wide range of drinks at the bar for when you feel peckish during the chilly winter nights.
Ticket price: starts at £13 per person.
Location -15 Montague St, London WC1B 5BJ.
Le Pont de la Tour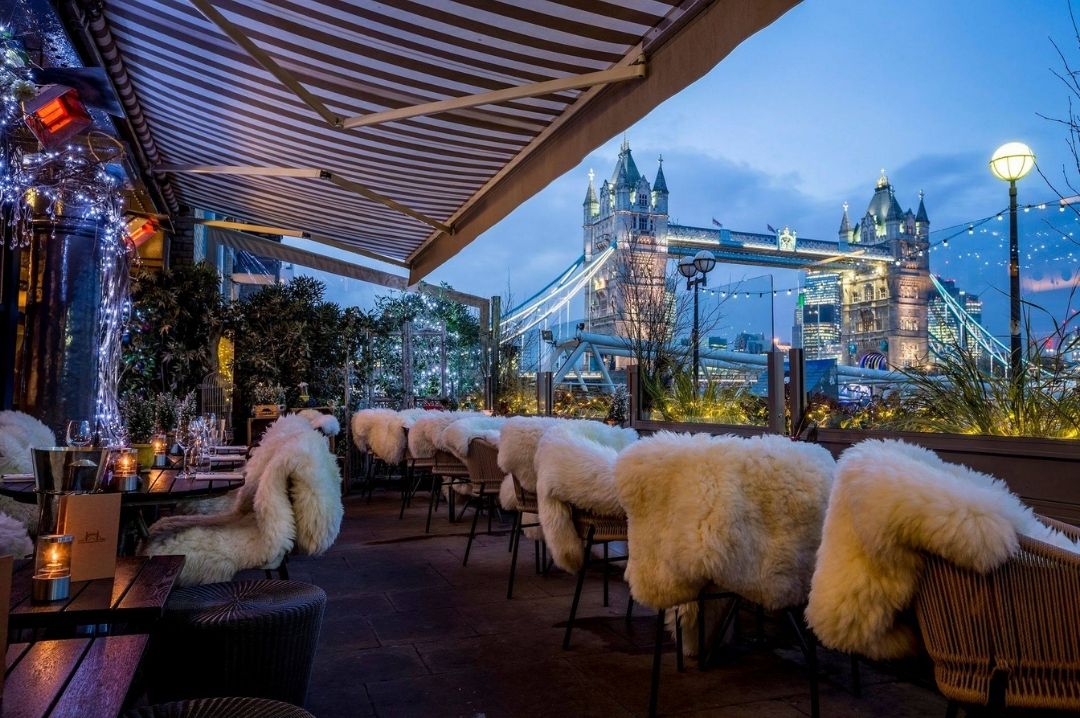 Le Pont de la Tour, Source: Facebook
Sitting right next to the River Thames, Le Pont de la Tour offers views of the Tower Bridge as you cosy up in white fur and blankets. This year, the French restaurant will celebrate the festive month with all things Champagne & Caviar in association with Laurent-Perrier.
The special Christmas day feature will be a six course meal curated by chef Tony Fleming and a vino list boasting of whites, reds, sparkling, champagne, European dessert wines, and an orange wine.
Location - 36D Shad Thames, London SE1 2YE.
Timings - 12 pm to 3 pm, 5.30 pm to 10 pm (Monday to Saturday)
12 pm to 3 pm, 5.30 pm to 9 pm (Sunday)
Winter Terrace at Holmes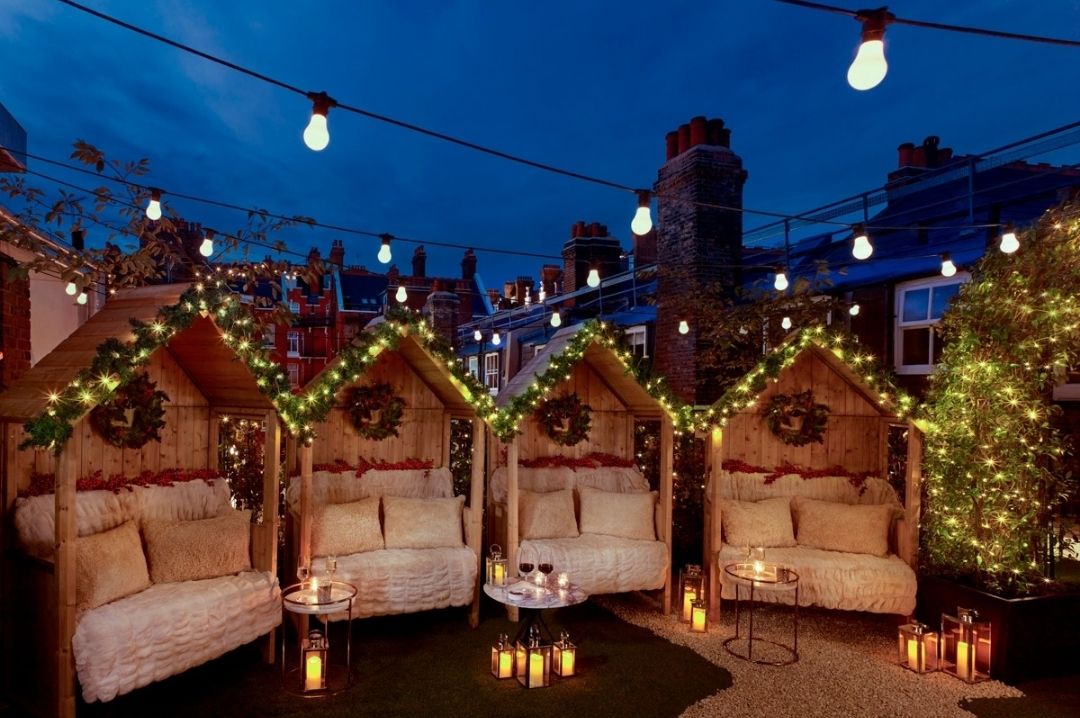 Winter Terrace at Holmes, Source: Facebook
Have you been looking for a cosy date spot in town that presents festive movie screenings and offers seasonal winter dishes with a glass of wine? Look no further because the Winter Terrace at Holmes is here.
Operating only in the month of December, the winter movie roof terrace is highlighted with wood cabins decorated in Christmas lighting and illuminating lanterns that will make your experience unforgettable. You will be welcomed with a glass of flute and as the film rolls into action, three varieties of popcorn will be served for the amusement of your taste buds.
The food menu consists of grilled octopus, smoked burrata, sorbet ice-cream, and more.
Location - 108 Baker St, London W1U 6LJ.
Timings - 7 pm to 10 pm (Monday to Friday)
7.30 pm to 10 pm (Saturday to Sunday)
Deck the Halls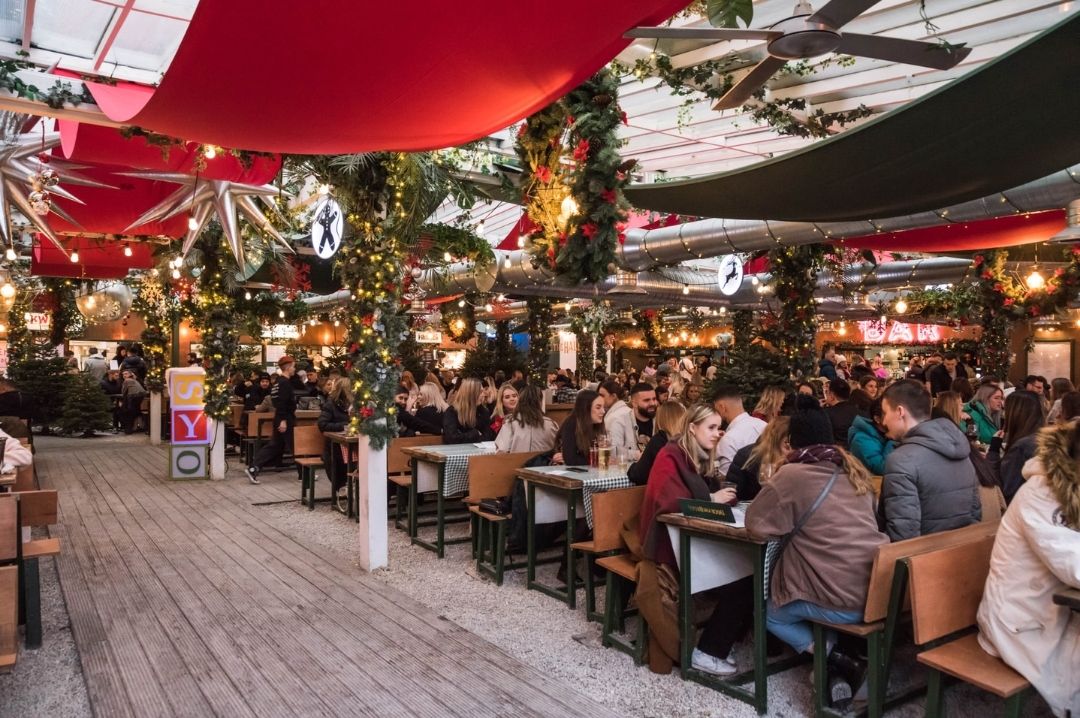 Deck the Halls at Pergola Paddington, Source: Facebook
Stretched across a space of two floors at Pergola Paddington, Deck the Halls is one of the biggest Christmas celebration destinations you can find in London. The area is packed with 5 restaurants, over 300 Christmas trees, private alpine chalets, an upper deck set in the backdrop of snow-covered mountains, and a large alpine hall on the ground floor.
Expect a lot of noise, festive cheers, delicious food options, overflowing beer taps, and a bit of Christmas glitter at this Christmas wonderland.
Ticket price: starts at £10 per person.
Location - 4 Kingdom St, London W2 6PY.
Timings - will be provided with the ticket.
Little Venice Igloo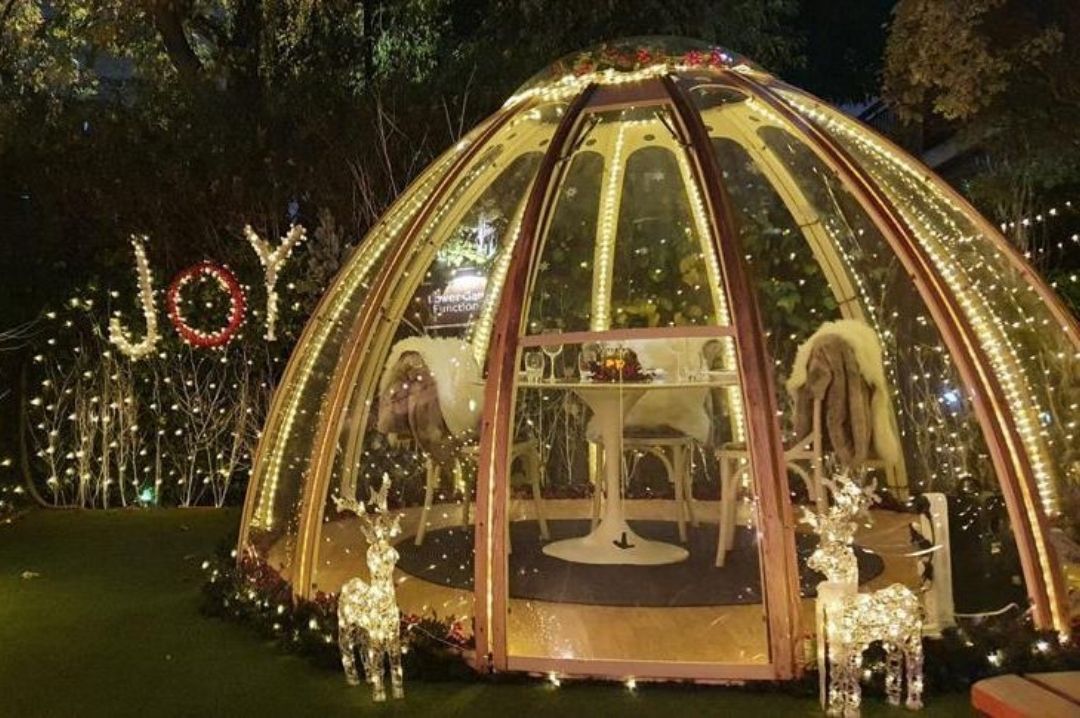 Little Venice Igloo, Source: Instagram
With the capacity to accommodate upto six people, Little Venice Igloo at The Waterway is equipped with a set of speakers and heating system. So if you want a Christmas celebration with your loved ones without the extra people around, this nesting spot is ideal to retreat with some refreshments.
A dedicated server will cater to all your needs from hot mulled wine to festive cocktails.
Ticket price: starts at £75.
Location - 54 Formosa St, London W9 2JU.
Timings - provided with the ticket.
Header image - Pergola Paddington, Source: Facebook
Royal Horticultural Halls, London, The Lindley Hall, 80 Vincent Square, London SW1P 2PB, United Kingdom, United Kingdom
Register Now
Royal Horticultural Halls, London, The Lindley Hall, 80 Vincent Square, London SW1P 2PB, United Kingdom
Register Now