Where to drink non-alcoholic cocktails in London
Take a dip in plush cocktail dens surrounding London with a veil of sweet and juicy fragrances.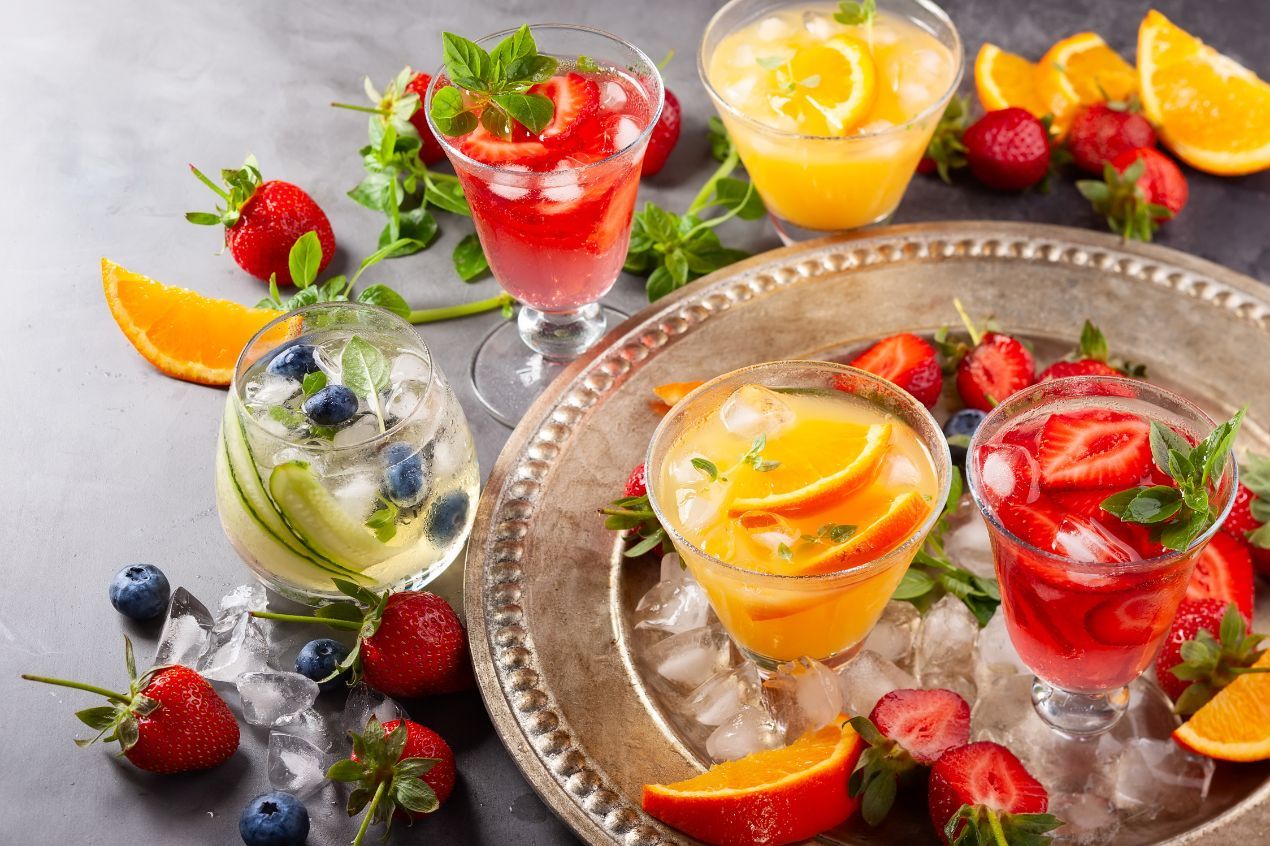 Non-alcoholic drinks have risen like no other. Cocktail lovers and experts alike are dipping into the trend, while bartenders explore the many ingredients and flavours in non-alcoholic drinks. From wines, to beers, to cocktails, the list is endless.
Whether you're looking to cut down on the abv, just looking for a change, or want to try one for the sake of it, these watering holes in London offer some of the best no abv drinks in the city.
Dishoom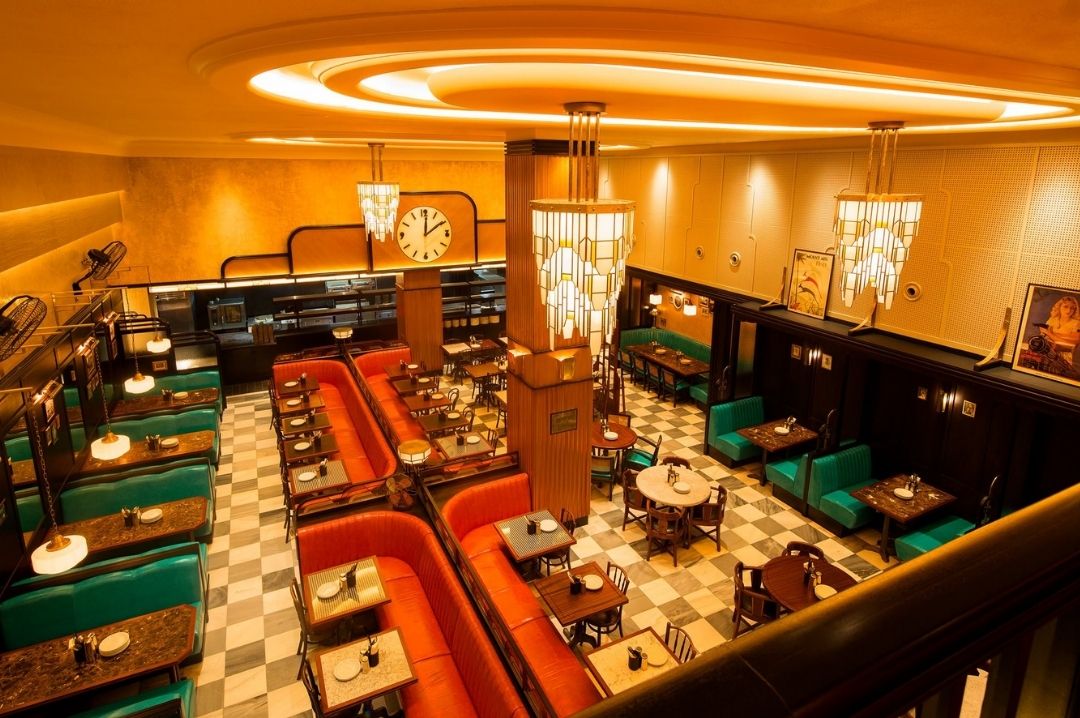 Dishoom in Kensington, Source: Facebook
Aligning their drinks with the traditional Indian cuisine, Dishoom caters to all kinds of drinkers from alcoholic to non-alcoholic in Kensington. Their teetotal menu is one to look at with over 15 kinds of non-alcoholic drinks such as sweet and savoury sharbats, refreshing coolers, and tipples replicating classic cocktails. The Dry Old Fashioned made with smoked demerara, orange bitters, orange peel, and cayenne is an alcohol-free incarnation of the Old Fashioned, while the Kala Khatta sharbat slams a sour jab with kokum fruit juice, chili, citrus, and black salt.
There are a lot of options to choose from which are described well on the menu, so you will have an indication of what kind of drink you are ordering. We recommend the Virtuous Tulsi Sour made with ginger, lemon, holy basil, and other secret botanicals, a non-alcoholic cocktail inspired by the Whiskey Sour, but with more herbal nuances attached to it.
What Dishoom guarantees is a lineup of drinks (alcoholic and non-alcoholic) you would not sniff anywhere else in and around London aside from their other outlets in King's Cross, Shoreditch, Covent Garden, and Carnaby.
Location - 4 Derry St, London W8 5SE (Kensington).
5 Stable St, London N1C 4AB (King's Cross).
7 Boundary St, London E2 7JE (Shoreditch).
12 Upper St Martin's Ln, London WC2H 9FB (Covent Garden).
22 Kingly St, Carnaby, London W1B 5QP (Carnaby).
Timings - 8 am to 11 pm (Monday to Friday)
9 am to 11 pm (Saturday to Sunday)
Skylon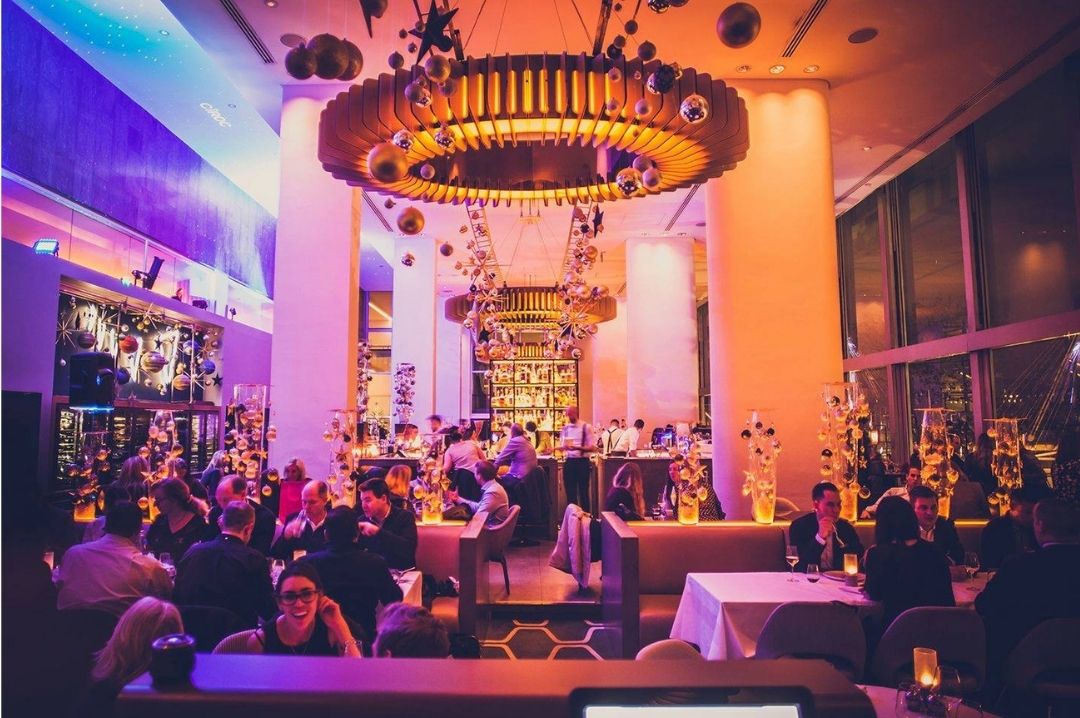 Skylon bar and restaurant, Source: Facebook
Situated right next to the river Thames, Skylon presents a colourful lineup of non-alcoholic cocktails that can be enjoyed with serene views of the water body. Try your hands on one of the mocktails on the drinks menu like the Making Your Mind Up, Boogie Wonderland, Walking In Sunshine, Peaches, New Kid In Town, and Call It Magic. All priced at £9.5, each of them offers something unique with a blend of different ingredients for blossoming flavours. The bar uses Everleaf and Seedlip non-alcoholic spirits in their zero ABV beverages to bring a strong flavour and essence to the drink.
Location - Belvedere Rd, Royal Festival Hall, London SE1 8XX.
Timings - 12 pm to 11 pm (Monday to Friday)
11.30 am to 11 pm (Saturday)
11.30 am to 7 pm (Sunday)
Nightjar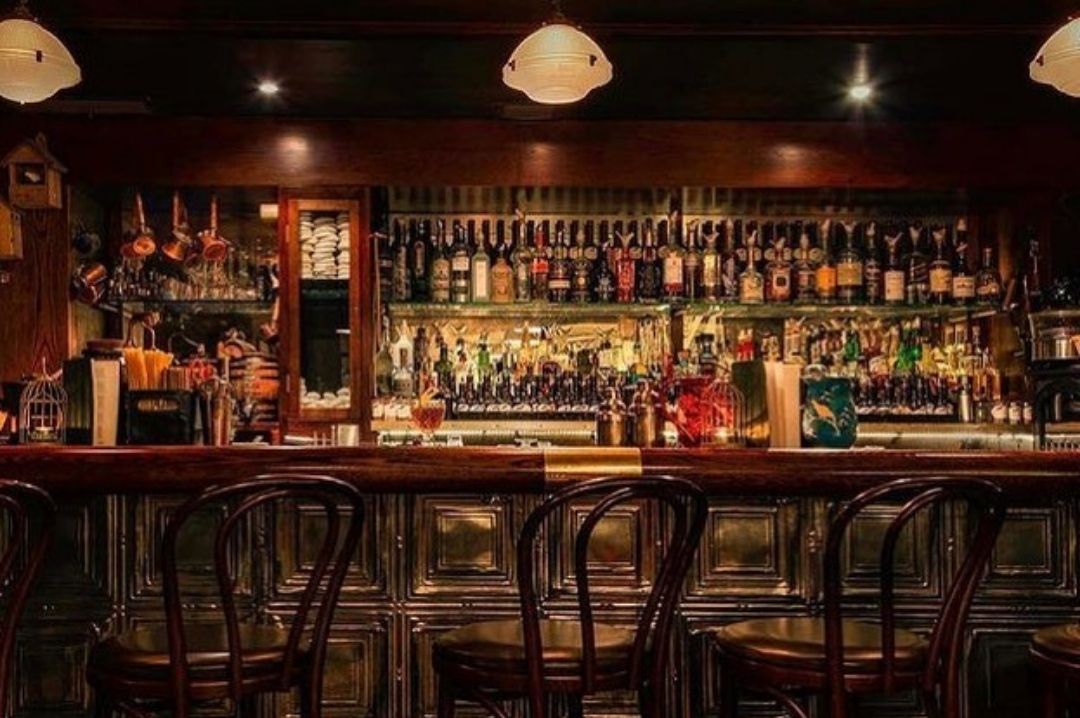 The bar at Nightjar, Source: Facebook
Have a slice of old-school glamour on the fringes of Shoreditch at Nightjar. Breathing new life into forgotten drinks and bringing a new perspective to classic recipes and presentations, the basement bar makes sure you don't run dry even while cutting down on the ABV.
Exercise the 'Bartender's Choice' option to make a mocktail of your choice for £6. Otherwise, you can always go for booze-free cocktails like the Temperance and Pura Sangre. We loved the Terrarium non-alcoholic cocktail made with Seedlip Grove 42, Æcorn bitter, Three Spirit The Livener, clarified grapefruit & concord grape juice, and Pennyroyal Syrup after grooving to some jazz music at the establishment.
Location - 129 City Rd, London EC1V 1JB.
Timings - 6 pm to 12 am (Sunday to Tuesday)
6 pm to 1 am (Wednesday to Thursday)
6 pm to 2 am (Friday to Saturday)
Christopher's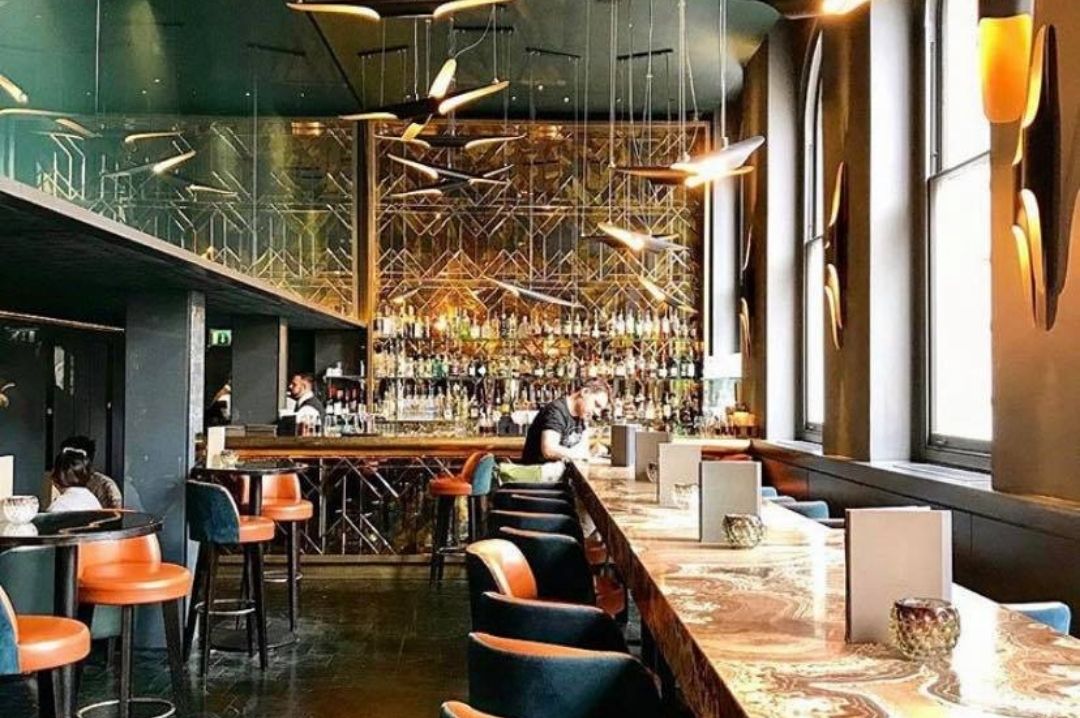 The Martini bar at Christopher's, Source: Facebook
Striving to perfect the art of modern American cuisine, Christopher's offers views of the Waterloo Bridge from the windows of its Victorian building. Make your way to the Martini bar on the ground floor for a taste of refreshing non-alcoholic cocktails and coolers.
While you can pick a flavoured (elderflower, apple & ginger, and mixed berry) No-Jito of your choice, we recommend the Mango Passion made with mango juice, raspberry & passionfruit puree, homemade lavender syrup, and crushed ice.
The fun certainly does not stop at the elegant bar serving ambrosial drinks as you make your pick from reasonably priced mocktails in the Virgin Rose and The Artist, both priced at £6.5 each.
Location - 18 Wellington St, London WC2E 7DD.
Timings - Closed (Monday)
11 am to 12 pm (Tuesday to Thursday)
11 am to 1.30 am (Friday to Saturday)
11 am to 3.30 am (Sunday)
Kanishka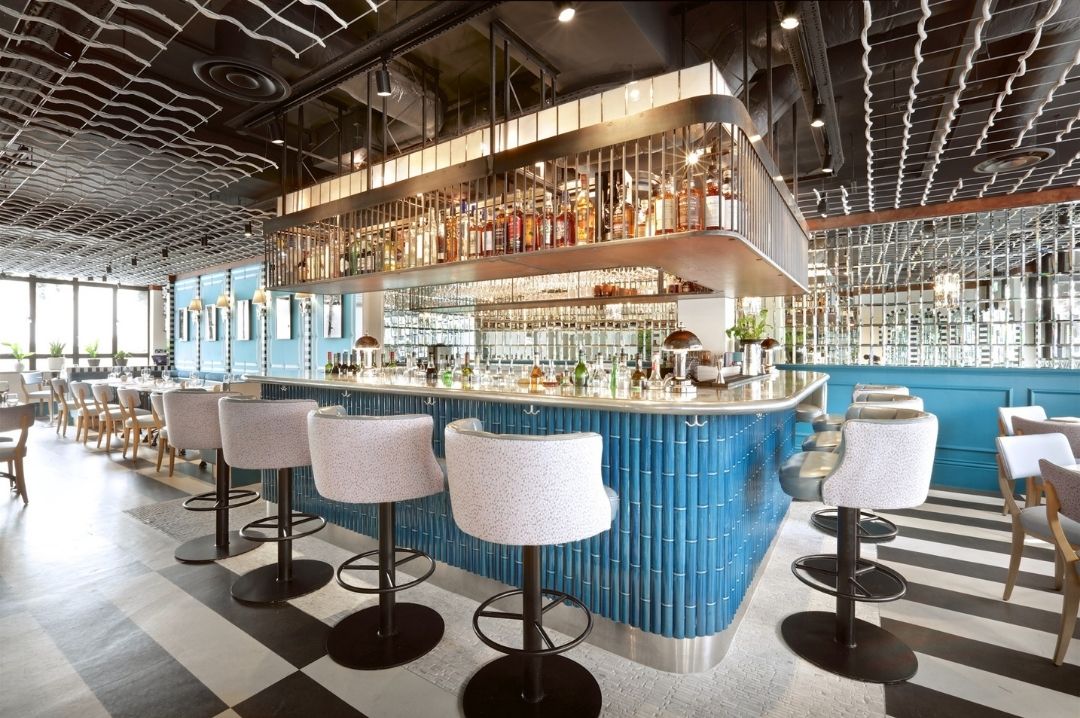 Kanishka, Source: Facebook
Led by Michelin star chef, Atul Kochhar, Kanishka serves majestic drinks and food in Mayfair. With a range of delectable non-alcoholic cocktails like the Tandoor Pineapple Hiball, The Kings Mini-Enigma, Virgin Atul Passionfruit Martini, and Saffron & Honey Lassi, you are sure to add a flavoursome kick to your taste buds.
Kanishka has a creamy and frosty yogurt-based drink in mango flavour and fresh fruit juices in the offering for those who like their drinks sweet.
Opt for exquisite Indian dishes crafted by the renowned chef such as tandoori paneer, lamb Bihari seekh, and chicken tikka to go with your drinks.
Location - 17-19 Maddox St, London W1S 2QH.
Timings - 12 pm to 8.30 pm (Monday to Sunday)
Near & Far Camden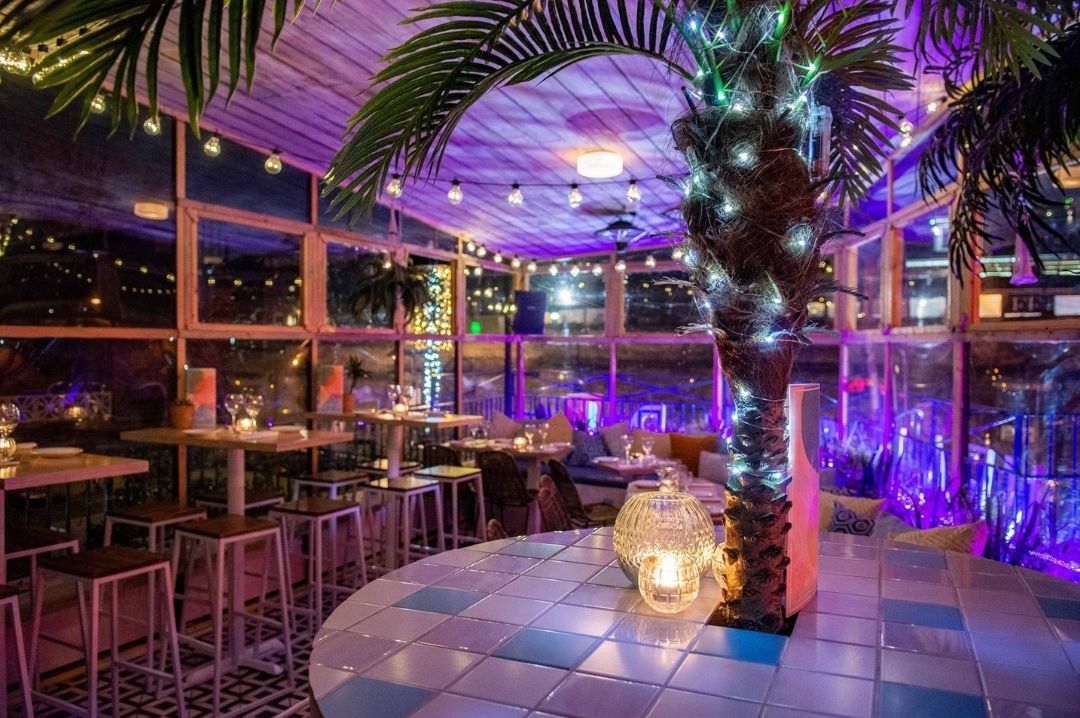 Well lit interiors of Near & Far in Camden, Source: Facebook
Chill out and enjoy the views over the Camden Stables from Near & Far's COVID safe rooftop terrace. And while you are at it, the bar's drinks menu will keep you refreshed with zero ABV options like the Virgin Mary, Designated Driver, Virgin Pina Colada, Mango Spritz, and Jammin. We recommend you to wear your dancing shoes when visiting during lively DJ night parties that occur under the disco ball. Sip on the Virgin Marcy made with Strykk non-alcoholic liqueur, vinegar, lime juice, and fresh orange zests while you take a break from the dancing.
Happy hours - 4 pm to 7 pm (Monday to Friday)
Location - 48 Chalk Farm Rd, Chalk Farm, London NW1 8AJ
Timings - 4 pm to 11 am (Monday to Wednesday)
4 pm to 12 am (Thursday)
4 pm to 2 am (Friday)
11 am to 2 am (Saturday)
12 pm to 11 pm (Sunday)
34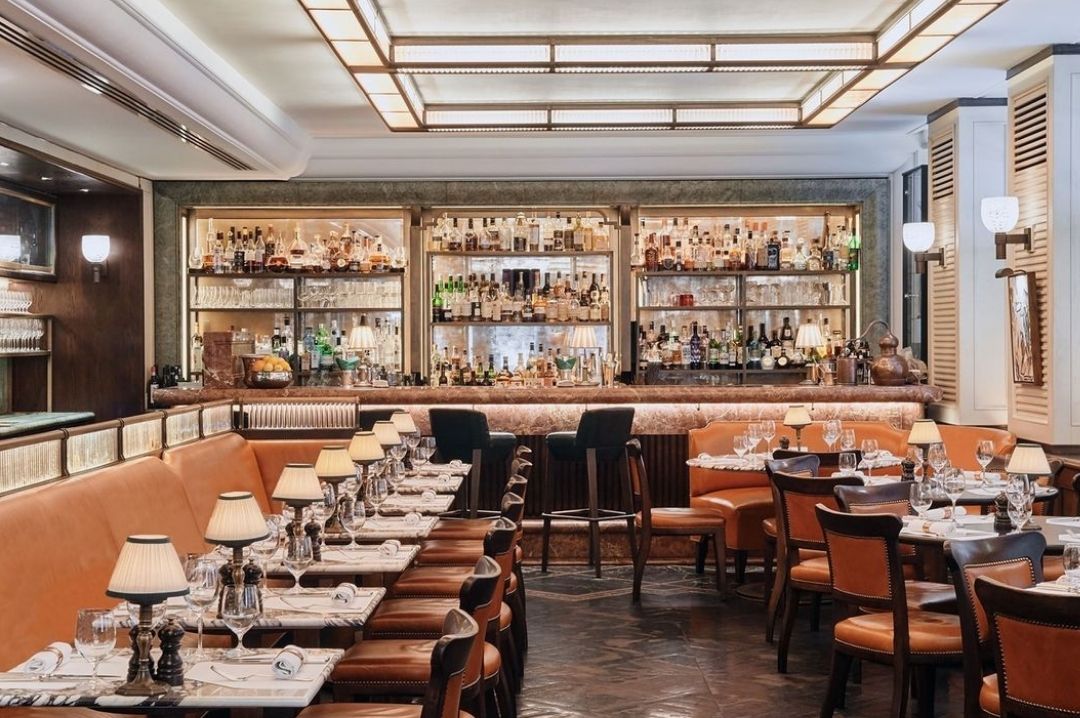 34 bar and seating area, Source: Instagram
A hidden gem tucked behind Grosvenor Square, 34 decorates the drinks as beautifully as they do their interiors. To take a sip of beauty, start off with the Lychee Blossom made with lychee, jasmine tea, honey, strawberry, and lemon. The Why Be A Stubborn Mule, Caribbean Cup, A Secret Garden, and The 34 Virgin Colada are other non-alcoholic cocktails on the menu that match their contemporary art collection. The bar is an absolute peach with its elegant terrace and dishes to match every occasion whether it is brunch or dinner.
Location - 34 Grosvenor Square, S Audley St, London W1K 2HD.
Timings - 12 pm to 11 pm (Monday to Friday)
11 am to 11 pm (Saturday to Sunday)
Header image - Skylon, Source: Facebook