Best spots in London for Asian food and drinks
Take your pick from Royal Nawaab, The Araki, Hot Stone, and more, as London displays its culinary delights from Asia.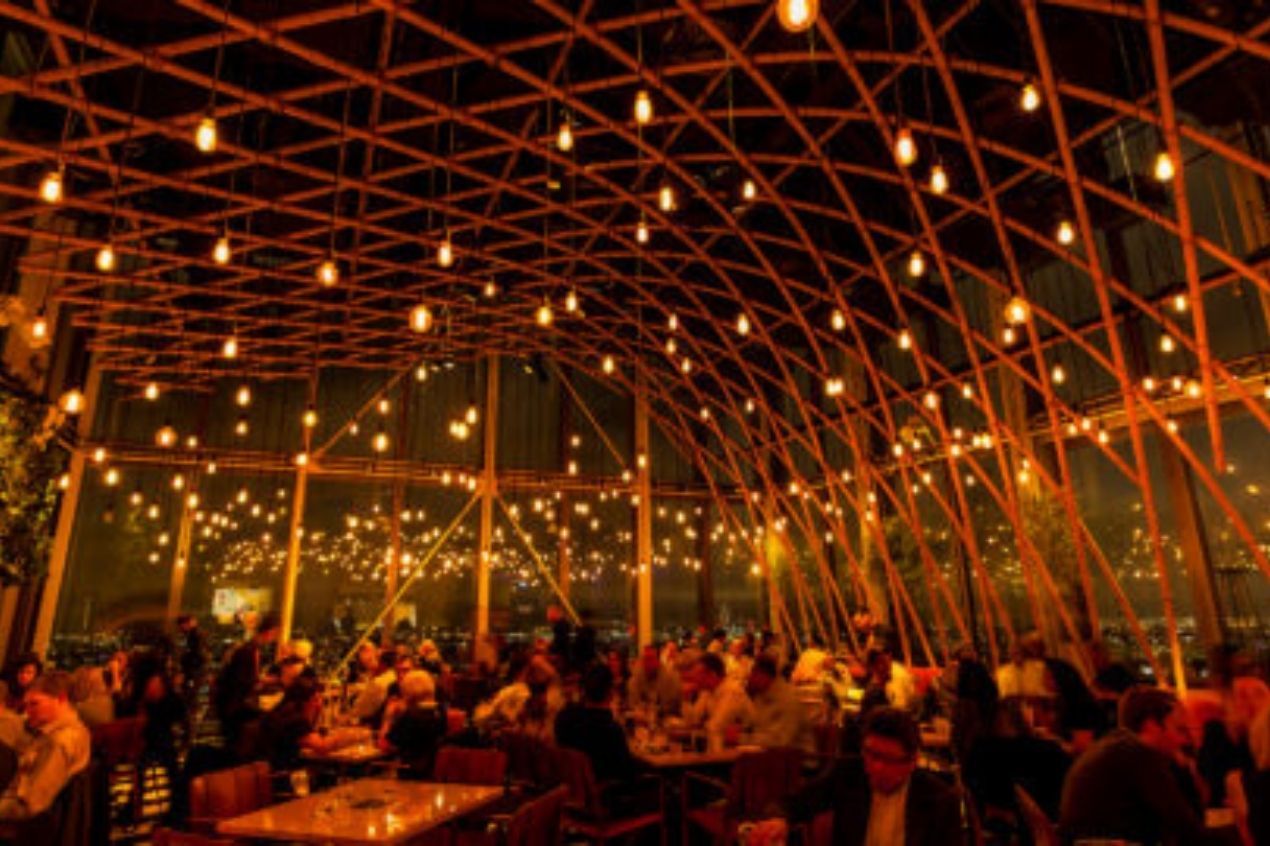 From mouth-watering Chinese noodles to world-class sushi and traditional Indian food, here is a guide to London's best Asian restaurants and bars.
[[relatedPurchasesItems-23]]
Darjeeling Express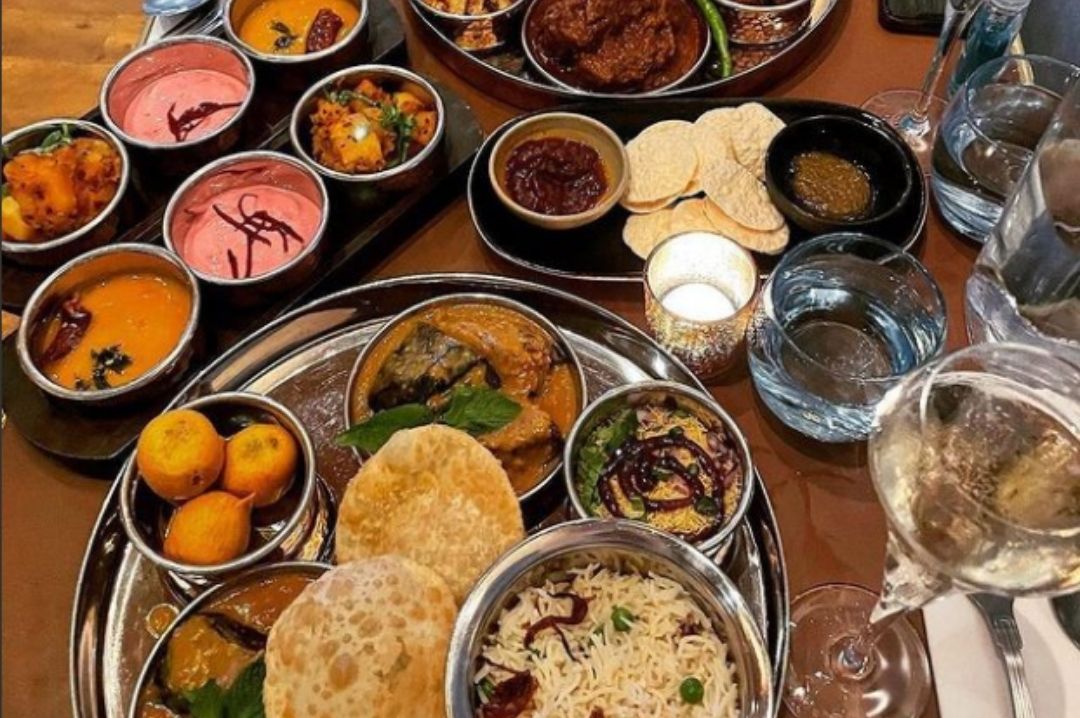 The Royal Thali at Darjeeling Express, source: Instagram
Darjeeling Express is a well-known, family-owned restaurant that serves a variety of exquisite Indian delicacies in a cheery setting. The meal pays homage to owner Asma's aristocratic Mughlai ancestors as well as the bustling streets of Calcutta, where she grew up.
The cuisine is offered the way Indian food is meant to be eaten, on platters with textures and flavours that enhance one another, encouraging you to join and share in the traditional 'daawat' (feast) way of eating.
You must go here for their Royal Thali, it comprises 15 different food items from India and is unbelievably big in quantity. In addition, they also have a full-functioning bar serving a range of wines, beers, ciders, and an extensive selection of spirits.
Where - 2a Garrick St, London WC2E 9BH
Hours - Wed-Sat (12 pm - 4 pm and 6 pm - 11 pm)
Royal Nawaab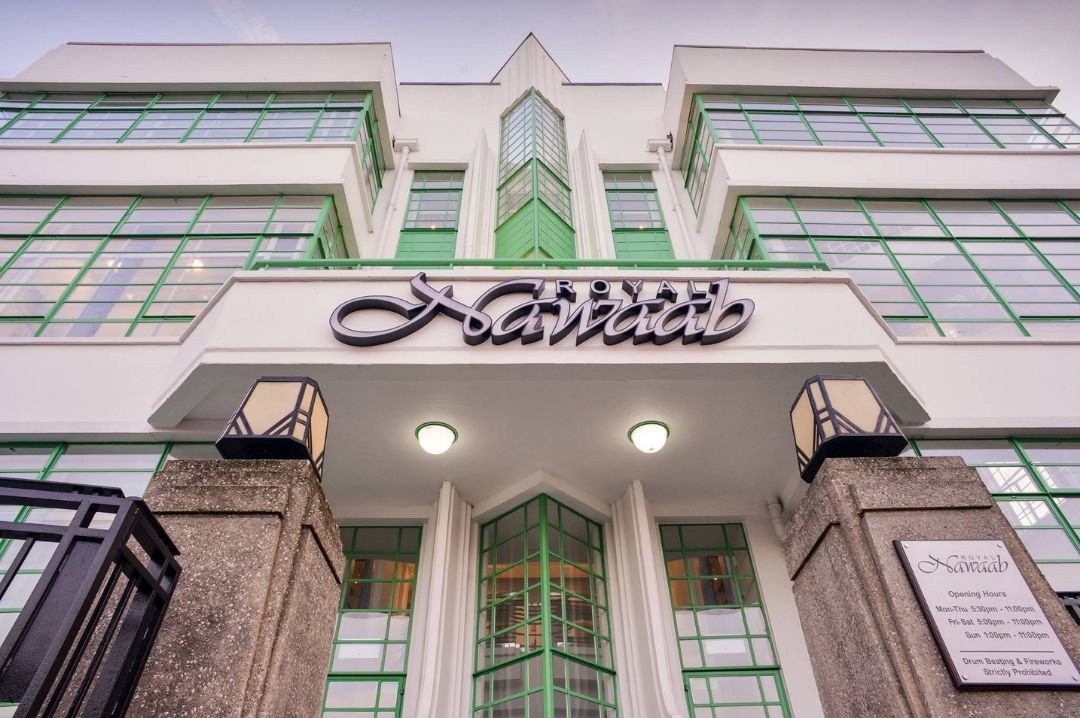 Royal Nawaab, source: Facebook
Located in the Art Deco Building, the Royal Nawaab is a bright, airy restaurant serving exquisite Indian and Pakistani halal cuisine. Apart from its restaurant, Royal Nawaab has a private room, amenities, logistics, and staff to accommodate major corporate gatherings, celebrations, and weddings.
Come and enjoy the UK's largest Indian buffet, with over 70 freshly prepared dishes, live cooking stations, and an unforgettable experience.
We recommend trying their house's special Chicken Madras or the Chicken Karachi with naan bread. And if you still have a dilemma choosing what to eat, simply go for their buffet and you won't be disappointed.
Where - Hoover Building 7, Western Ave, London UB6 8DB
Hours - Mon-Fri (5 pm - 11 pm)
Sat-Sun (1 pm - 11 pm)
The Araki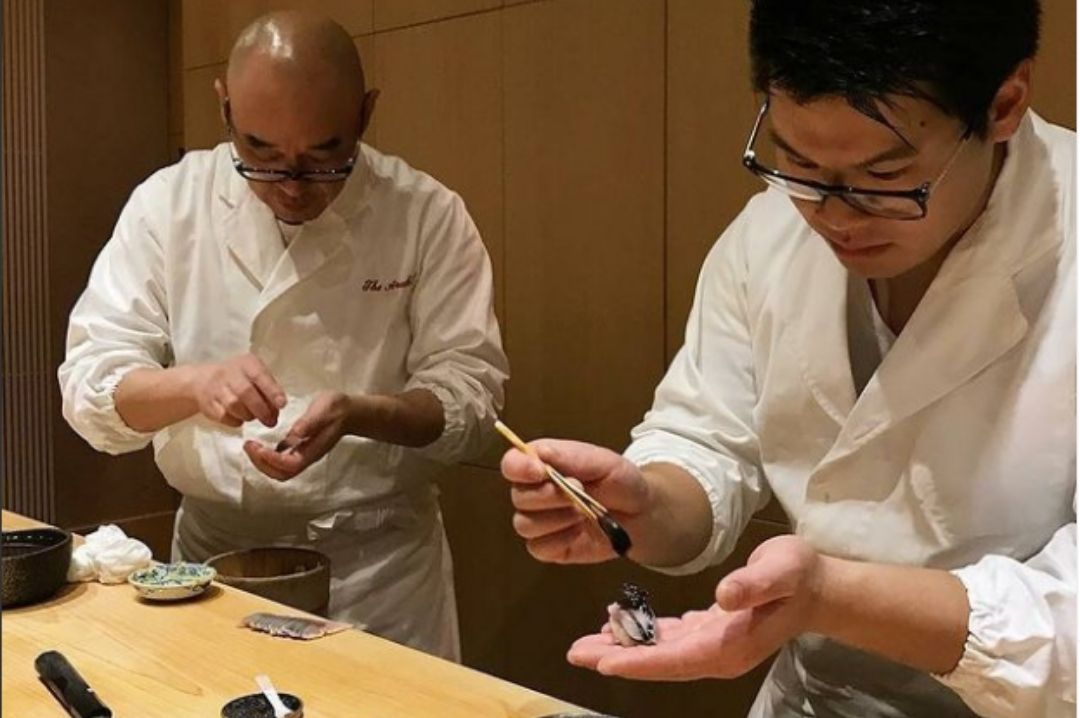 Chef Mitsuhiro Araki (left) at The Araki, source: Instagram
The Araki is a sushi restaurant by one of the most celebrated sushi masters, Mitsuhiro Araki. The place features a 12-seater sushi bar and offers a set menu of top-grade, high-priced sushi in a simple space.
Oyakata (sushi master) Mitsuhiro Araki has been awarded three Michelin stars for his restaurant and his culinary skills. This restaurant offers only one Sushi "Omakase" Chef's Set Menu for £310 Per Person. It's a bit pricey but you must experience the art of sushi by chef Mitsuhiro Araki.
Where - Unit 4, 12 New Burlington St, London W1S 3BF
Hours - Tue-Sun (6 pm - 10 pm)
Roka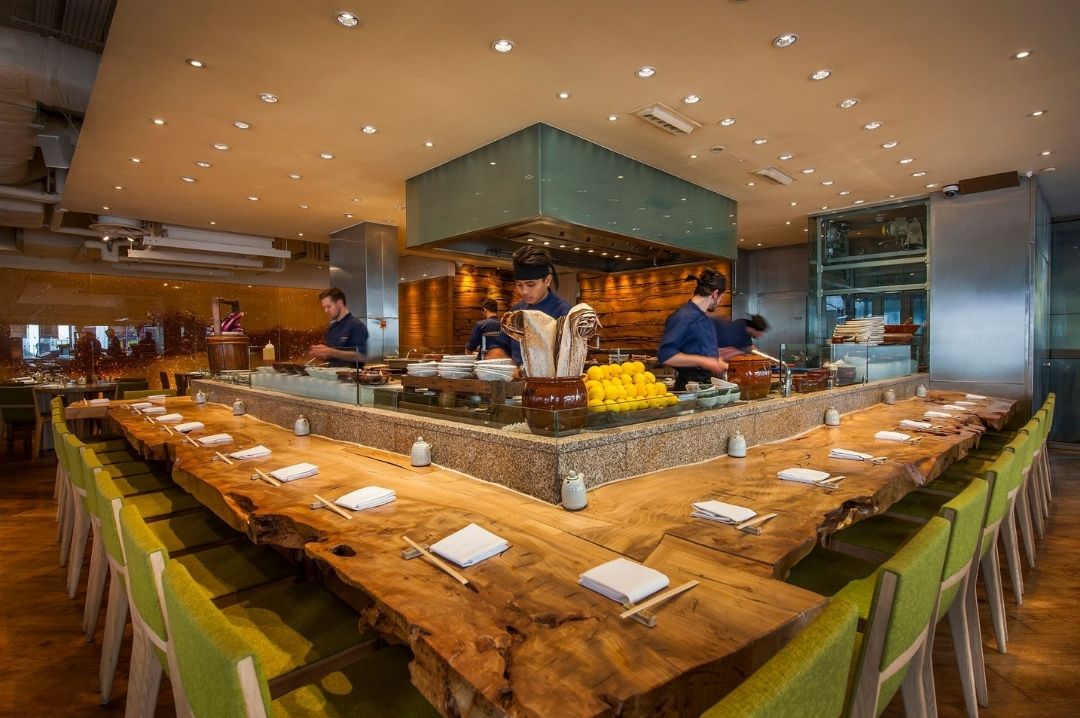 Roka Mayfair, source: Facebook
Located on North Audley street, moments from the bustling shopping hub of Oxford Street, Roka brings in the unique style of contemporary Japanese robatayaki cuisine in a sophisticated setting. ROKA is a gathering location where food and drinks are shared with friends (ro), and heat, warmth, and all-encompassing energy surrounds them (ka).
The main dish is robata, which comes from fishermen in Japan's northern coastal seas who used to cook their catch on their boats with various charcoals and divide the bounty with one another using their oars. Try the 'Tai no miso yaki' made with sea bream fillet, ryotei miso, and red onion.
Where - 30 N Audley St, London W1K 6ZF
Hours - Mon-Sun (12 pm - 11 pm)
Hot Stone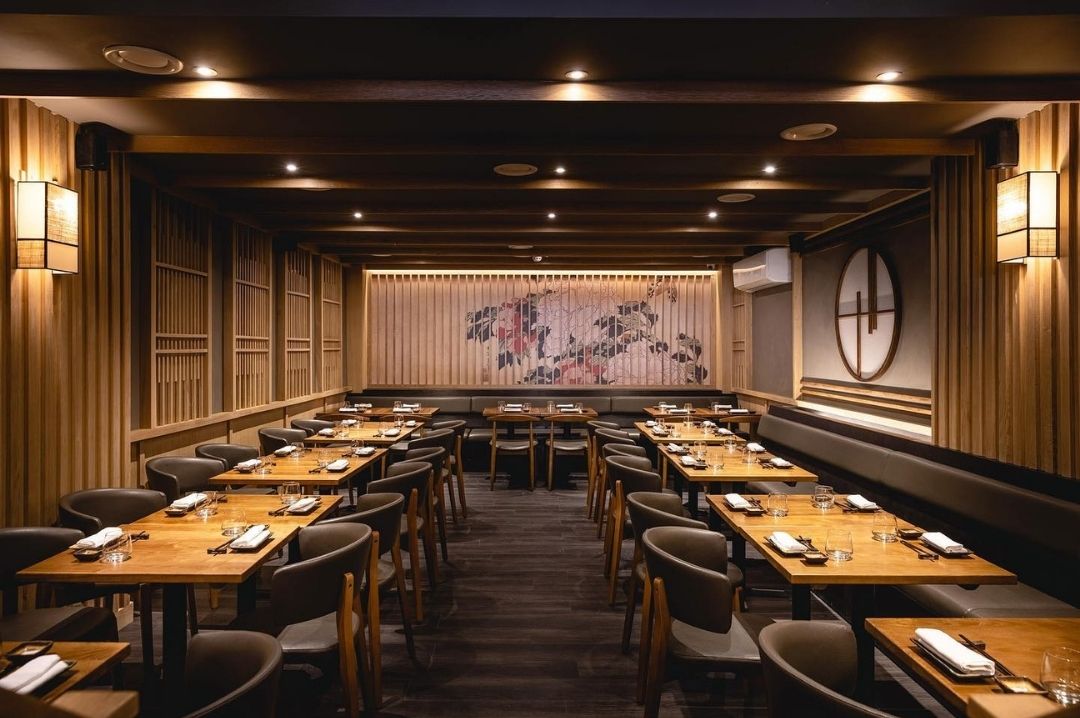 Hot Stone, source: Facebook
Hot Stone is a multi-award-winning Japanese restaurant that is frequently cited in the press as one of London's greatest Japanese and sushi restaurants. We are one of just seven restaurants in the UK to serve certified Kobe beef, which is often regarded as the best beef on the planet.
Their name comes from the heated stone that is brought to the table to allow guests to experience the ancient Japanese cooking and eating method of ishiyaki. In the heart of Angel, this immersive dining experience offers a true taste of authentic Japanese food.
At the restaurant, you can opt for Signature Maki Roll, including 9 Chapel Roll, prawn tempura, grilled salmon, and tuna tartare, or the Hot Stone highlight 48 hours marinated Black Cod and saikyo miso.
Where - 9 Chapel Market, London N1 9EZ
Hours - Tue-Thu (5:30 pm - 9 pm)
Fri and Sat (12 pm - 2 pm and 5:30 pm - 9:30 pm)
Sunday (12 pm - 2 pm and 5:30 pm - 8 pm)
Fatt Pundit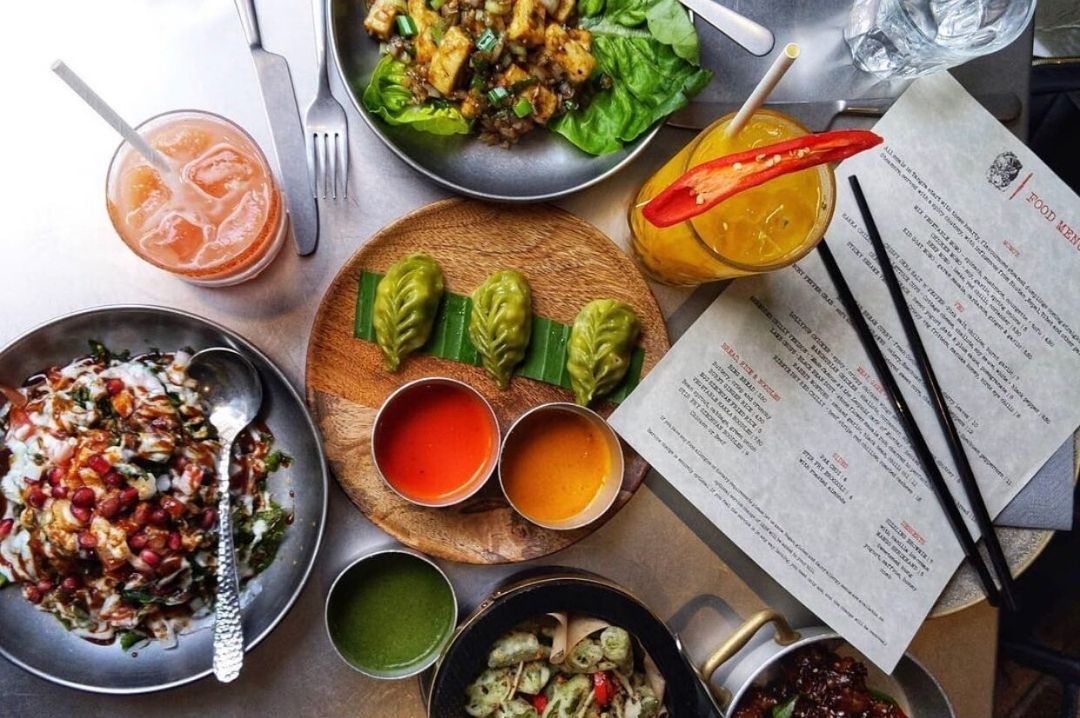 Indo-Chinese cuisine at Fatt Pundit, source: Facebook
Fatt Pundit's distinctive cuisine originated in Kolkata when the Hakka people moved to India from the Chinese province of Canton, bringing their culinary wonders with them. Indo-Chinese is now a staple of Indian cuisine, combining traditional Chinese cooking techniques with Indian spices to produce some things that are both new and familiar.
Start with some steaming hot momos, before moving on to crispy Crackling Spinach, Hakka Paneer Lettuce Cup, Crispy Okra, and Sticky Sesame Vegetables.
Where - 77 Berwick St, London W1F 8TH
Hours - Mon-Fri (12 pm - 2:30 pm and 5 pm - 10:30 pm)
Saturday (12 pm - 10:30)
Sexy Fish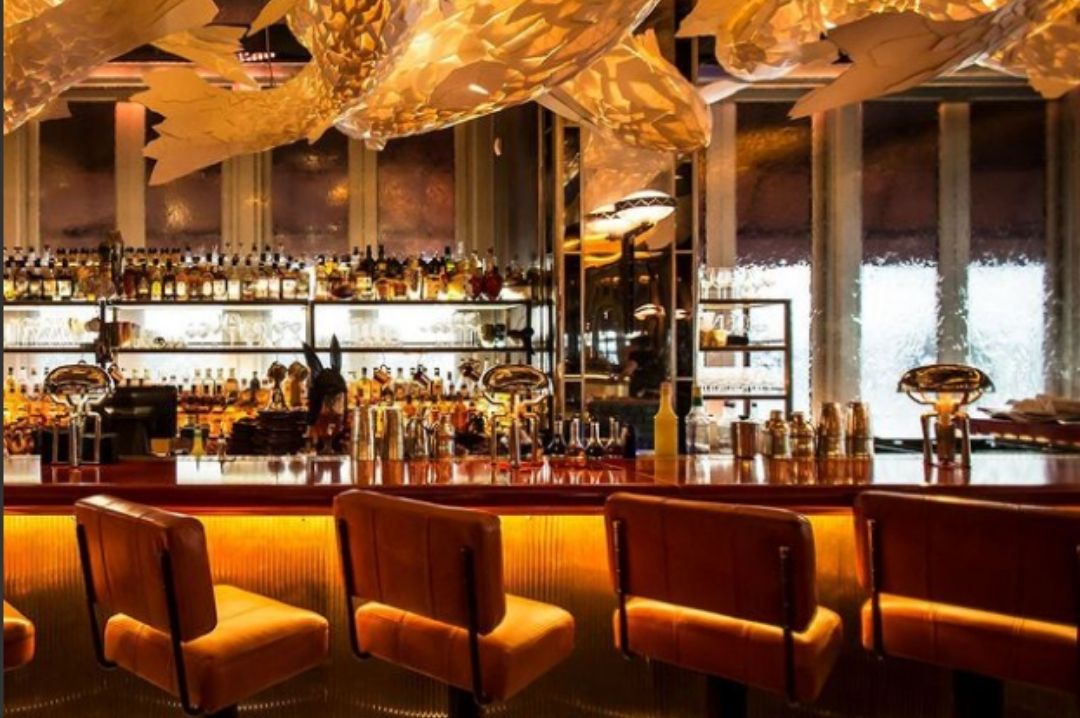 The bar at Sexy Fish, source: Instagram
Sexy Fish is an Asian restaurant and bar on the corner of Berkeley Square in Mayfair that serves Robata-grilled sushi, sashimi, shellfish, fish, and meat inspired by Japanese cuisine. The bar, which is open until late, boasts one of the world's largest collections of Japanese whiskey as well as a cocktail menu that includes both classic and imaginative concoctions.
The place also features The Coral Reef Room, a private dining room on the lower ground floor, which has two of the world's largest live coral reef aquariums. Order the Sexy Fish Seafood Platter, it's a selection of sashimi, maki, tartare, and 1/2 lobster. We also recommend tender stem broccoli & spicy quinoa for our vegetarian friends. Headout to Sexy Fish for a remarkable experience and don't miss the chance to shake your leg on the DJ.
Where - Sexy Fish, Berkeley Square House, Berkeley Square, London W1J 6BR
Hours - Mon-Wed (12 pm -1 am)
Thu-Sat (12 pm - 2 am)
Sunday (12 pm - 1 am)
Sushisamba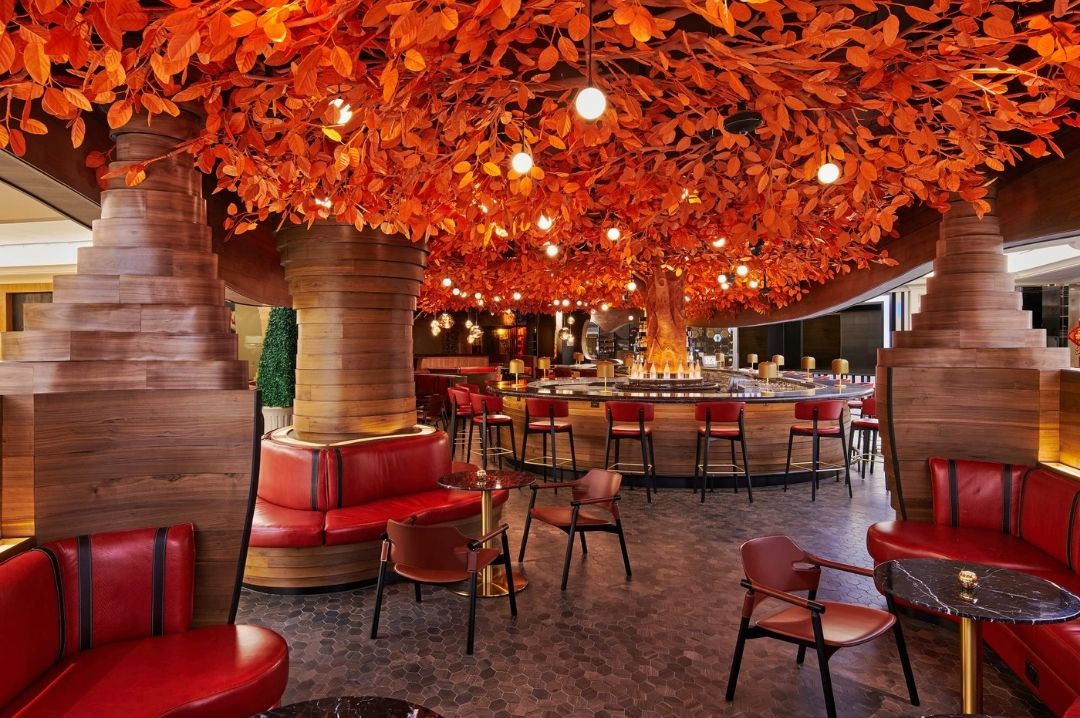 Sushisamba at Heron Tower, source: Facebook
Located on the 38th and 39th floors of the Heron Tower, Sushisamba features one of the highest outdoor dining terraces in Europe, offering unparalleled, 360-degree views of the City. The building's two panoramic glass elevators help you to reach the 39th floor.
The main dining room has floor-to-ceiling glass windows that overlook London, creating a magical experience during the day and a particularly private setting in the evening. The structural orange tree on the west terrace is one of many indoor-outdoor features that run throughout the area.
Their menu offers from Japanese tempura and sushi to Brazilian churrasco and moqueca, to Peruvian anticuchos and seviches, the culinary creativity is limitless with something for every palate. Taste the Robata-Grilled Kobe Ribeye (made from kabocha, kuromitsu, and mustard cress) with their signature Shiso Fine cocktail ( made from Russian Standard Platinum vodka, shiso leaf, apple, and Thai basil syrup).
Where - Heron Tower, 110 Bishopsgate, London EC2N 4AY
Hours - Mon-Sun (12 pm - 12:30 am)
BAO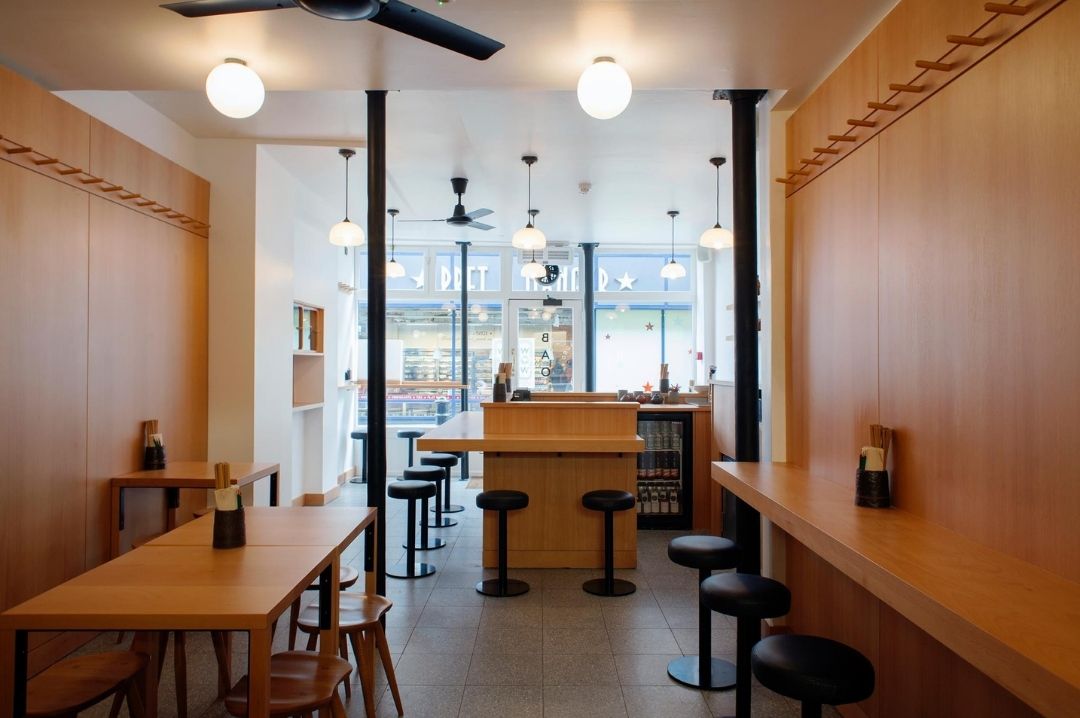 BAO in Soho, source: Facebook
BAO is a Taiwanese restaurant located in the middle of Soho. The traditional bao is a fluffy pillow that holds a variety of fillings and this traditional Taiwanese street cuisine snack is always available in their restaurant. We recommend trying the Lamb Shoulder Bao or the 40 days aged beef rump, aged in white soy.
Their bar features the same core selection of wine from Uncharted Wines, BAO Beer, and BAO Weeping sake on tap. They also serve house cocktails and dream drinks in addition to wine, beer, and sake, with an emphasis on Asian ingredients used in a fun manner.
Where - 53 Lexington St, Carnaby, London W1F 9AS
Hours - Mon-Sat (12 pm - 3 pm and 5:30 pm - 10 pm)
Sunday (12 pm - 5 pm)
Hakkasan Mayfair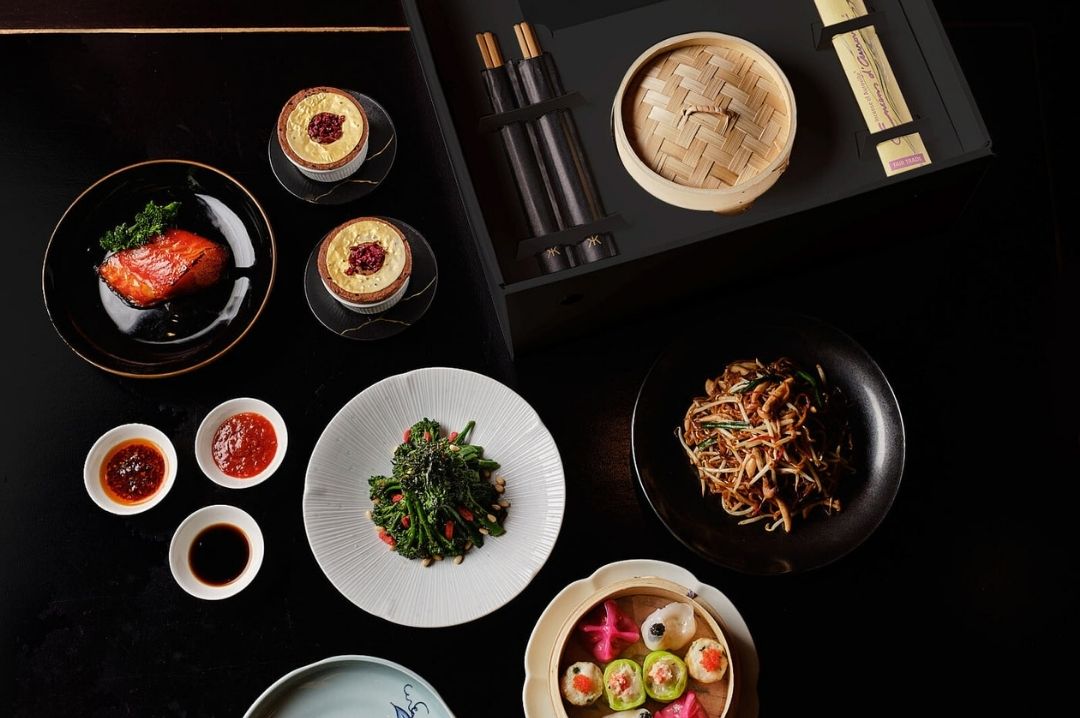 The signature collection of Hakkasan, source: Facebook
Hakkasan Mayfair, located on Bruton Street, is a sister restaurant to the Hanway Place flagship. The restaurant spans two floors with seating for up to 220 diners and a private dining room. The place features exquisite wooden lattice screens, carved out of dark English oak, enticing discriminating visitors for a unique dining experience with contemporary food at this Michelin starred Chinese restaurant created by the renowned Christian Liaigre.
With a Cantonese cooking concept, the menu has a strong Chinese ethnic identity. Crispy duck salad with Pomelo and pine nuts, as well as gently steamed dim sum platters, are their signature dishes. Steamed New Zealand small lobster, black truffle roast duck, or sliced blue abalone in Hakka sauce are some of the dishes on the menu that are worth trying. The Yu Garden cocktail made with Ten gin, lily flower, rose and lavender honey and lemon is a must-try from their cocktail menu.
Where - 17 Bruton St, London W1J 6QB
Hours - Mon-Wed (12 pm - 11:30 pm)
Thu-Sat (12 pm - 12:30 am)
Sunday (12 pm - 11:30 pm)
Header image, source: Sushisamba
Royal Horticultural Halls, London, The Lindley Hall, 80 Vincent Square, London SW1P 2PB, United Kingdom, United Kingdom
Register Now
Royal Horticultural Halls, London, The Lindley Hall, 80 Vincent Square, London SW1P 2PB, United Kingdom
Register Now