London's quirkiest bars: Huckster, Little Bat, and more
From World-war inspired speakeasies to the tales of the Wild West, London's watering hole collection has some really offbeat places too.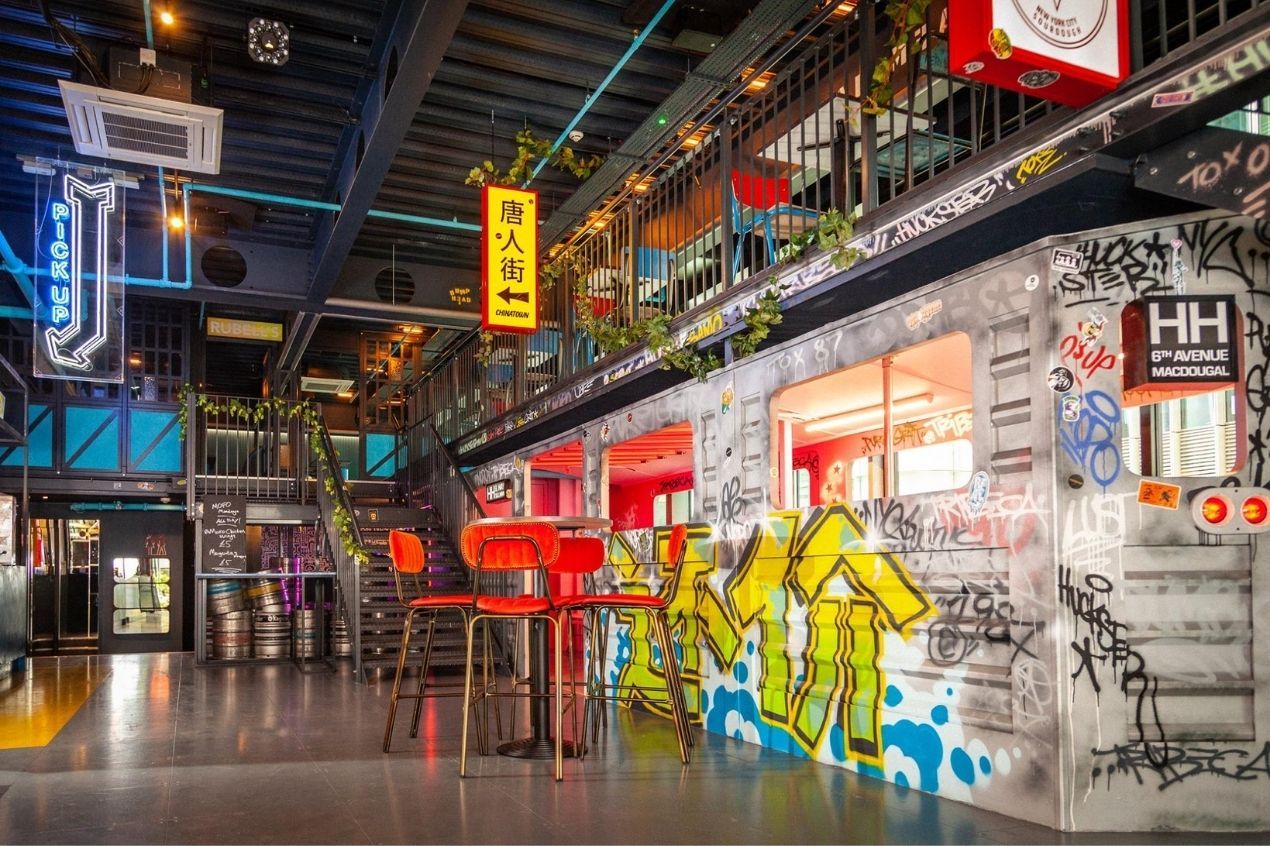 Londoners are spoilt for choice when it comes to drinking in clubs, pubs, and bars. The city has plenty on offer, whether underground, on high-rise buildings or on rooftops with stunning views of the capital. But do you know all the good places in this splendid city?
[[relatedPurchasesItems-23]]
Sure you have your go-to spots nailed down. But what are your spots for those days (and nights) where you need something quirky, something eccentric or something very unlike the regular London hotspots? We know a few places you can tag along with your friends, and elevate your status as the man or woman for the drinking occasion.
Moonshine Saloon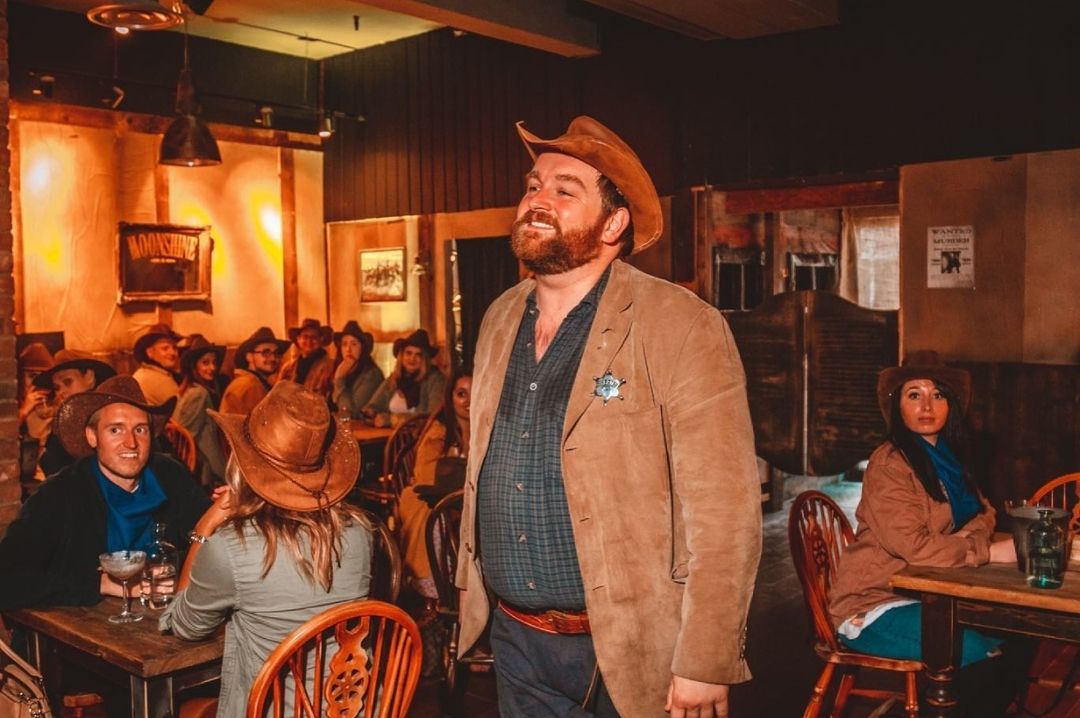 The Wild West in London, Source Facebook
The streets of the Wild West have inspired far too many tales through the years. Of course, we have seen them on the screen, enacted on the stage, and more, but in London, it has inspired a beautiful speakeasy, the Moonshine Saloon.
Combining an immersive theatre experience and a delightful cocktail drinking experience, Moonshine Saloon transports Londoners from East London to the dusty streets and cowboy era of the Wild West.
As you enter the doors of the bar (saloon), you no longer remain a Londoner. As you wait for your order or enjoy your drink, you can increase the tempo with a game of cards, or a dice game, but all at your own discretion. Get your hats and your scarves and carve a tale that you will remember for a long, long time. But first, get your bookings sorted.
Location- 28-30 Houndsditch, London EC3A 7DB
Huckster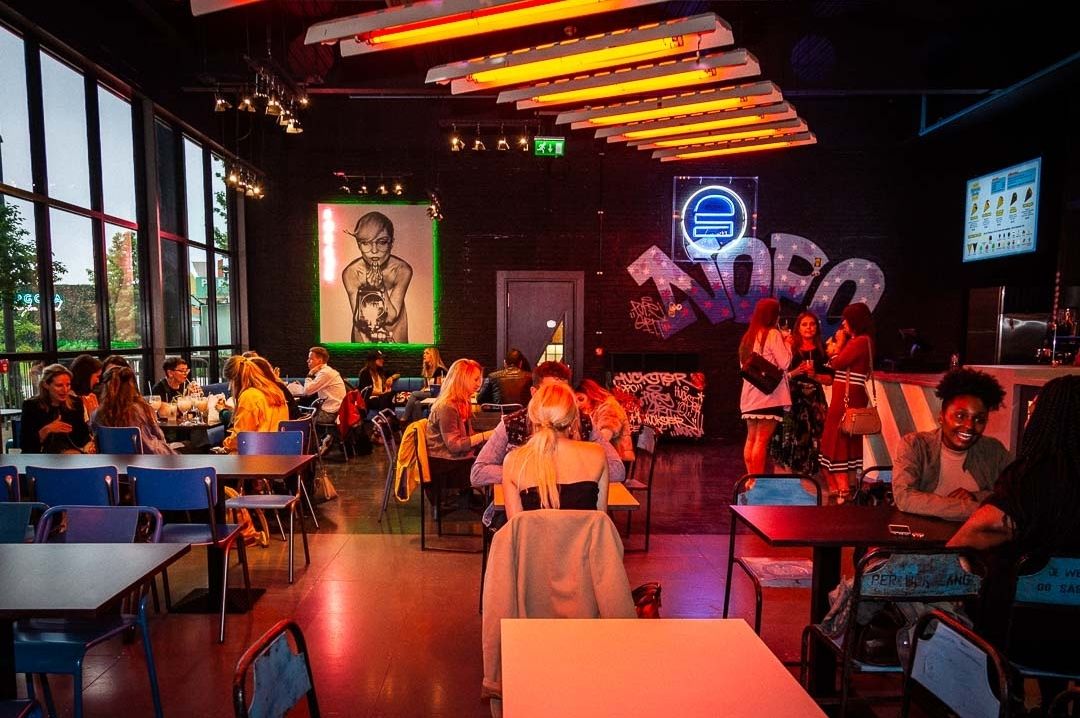 One of the many sprawling drinking areas in Huckster, Source Website
You know the brunch spots in London, don't you? But do you know one place that brings multiple places to eat brunch, all in one place? Huckster could well be the home of London brunches because of the array of awesome spots it is home to in its 5000 square feet area. Yes, it is that massive. And here's all it encompasses.
High Line: The first-level spot at Huckster, High Line brings you the entire view of Huckster while also giving an immersive experience of the main room. The seating is small tables and chairs, making it a cosy scene.
Chinatown: An intimate private room located in the rear of Huckster, Chinatown overlooks the gritty street of Paddington North. Plush vibes and plush seating (comfortable accent chairs y'all), it is the perfect place for intimate socialising.
Rubell's: Inspired by the late, great Steve Rubell who founded Studio 54 in Manhattan, Rubell's at Huckster is a karaoke lounge for those looking for a wilder live experience.
Subway East: The retro mid-1980's New York subway returns with Subway East. This little space allows guests to enjoy individualised parties but also be the centre of attraction on a Friday night.
Room with no name: The secret back room at Hucksters that can hold up to 20 guests. That's all the information we can get you.
On the menu, Hucksters brings cocktail pitchers that serve 5 people. There's Sex on the Beach, Gin Elderflower Spritz, Caribbean Long Island to name a few. There's also the wine, bottle to the table options and buckets of beers and ciders. The food menu has 12 burgers, with sides like mac & cheese, mofo wings, BBQ ribs and four pizzas. Two desserts round up a very comfy and likeable food menu.
Location- 4 Kingdom Street, London W2 6BD
Four Thieves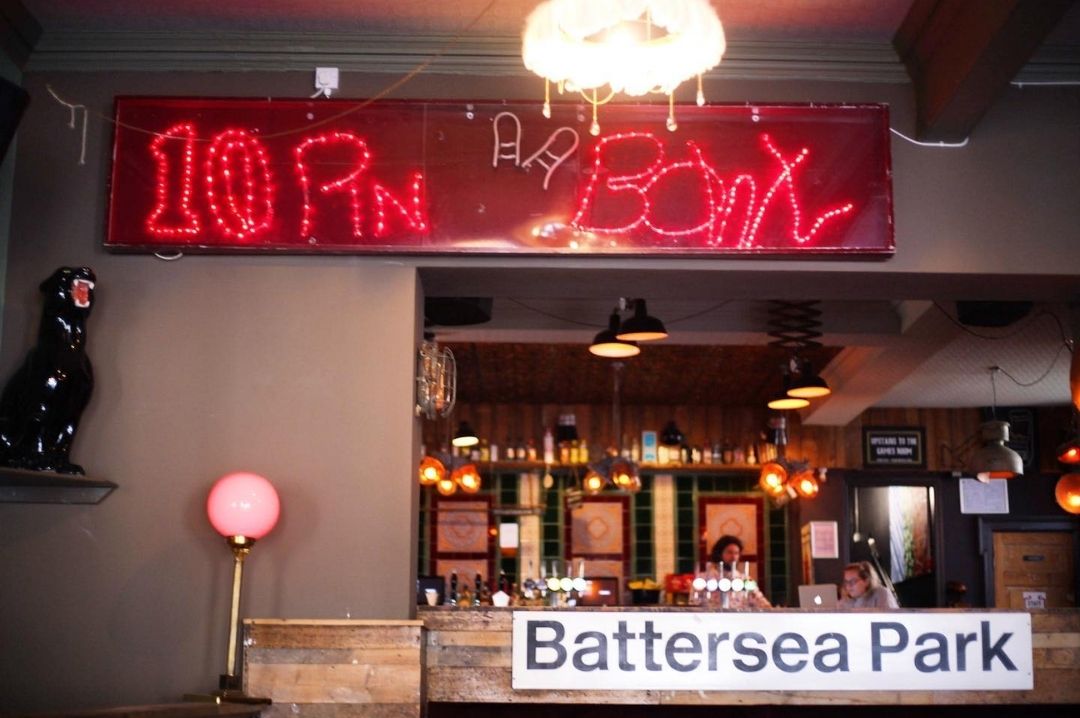 Neon signs at The Four Thieves, Source Facebook
There are many pubs in Battersea, but there's none like Four Thieves. Take this for instance. Do you want to enjoy arcade games with your drinks? There's Four Thieves. Do you want to enjoy remote-controlled games like Moonshine Racing in a games room and grab a pint later,? Four Thieves has you covered. Do you want to enjoy the very best comedies and perhaps party later? Four Thieves is your pub.
What Four Thieves also brings to you is craft beer for days. There's also plenty of variations of the gin and tonic to raise the spirits bar at the location. Four Thieves also has a nice bottomless brunch in its ensemble. Mimosas and bloody marys are served with classic English and a decadent smashed avocado on toast. There's a pizzeria and the main kitchen at Four Thieves that will more than look after your appetite.
Location- 51 Lavender Gardens, London SW11 1DJ
Chelsea Funhouse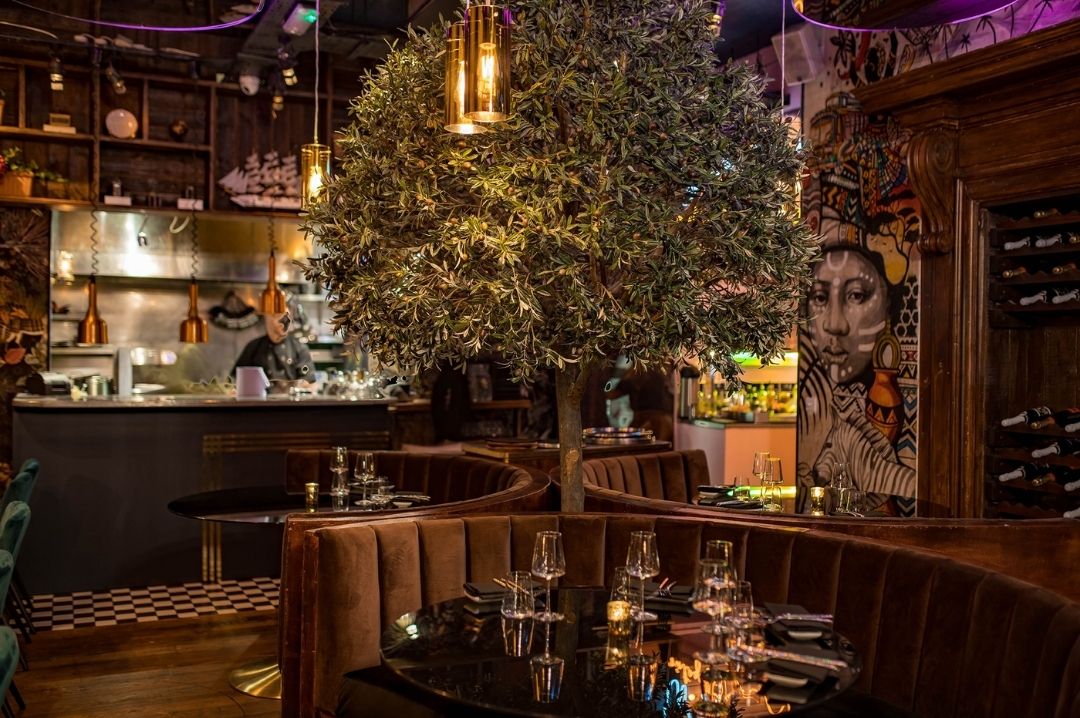 Dimly lit flair at Chelsea Funhouse, Source Facebook
This isn't just a fun bar. It's three storeys of fun with a bar. Chelsea Funhouse is named that way because that is what it brings, tonnes of fun on every single floor. The Chelsea Black plus Terrace is on the first floor of Chelsea Funhouse and serves mad twists on classics all night long. It comes with a small Greek-inspired terrace where the smokers can go and enjoy the sunshine.
There's Jolie un-salon that brings a different treat in terms of enjoying French cuisine because of how the team reimagines French classic dishes. The seating is chic and makes you feel like royalty. The final piece of the Chelsea Funhouse puzzle is The Bletchley. The 1940s inspired immersive cocktail bar creates an enigma of that of a World War 2 escape room. Pop in for a vintage tipple or book the complete experience. Chelsea Funhouse will bring the house down for all Londoners.
Location- 459 King's Road, London SW10 0LR
Little Bat Bar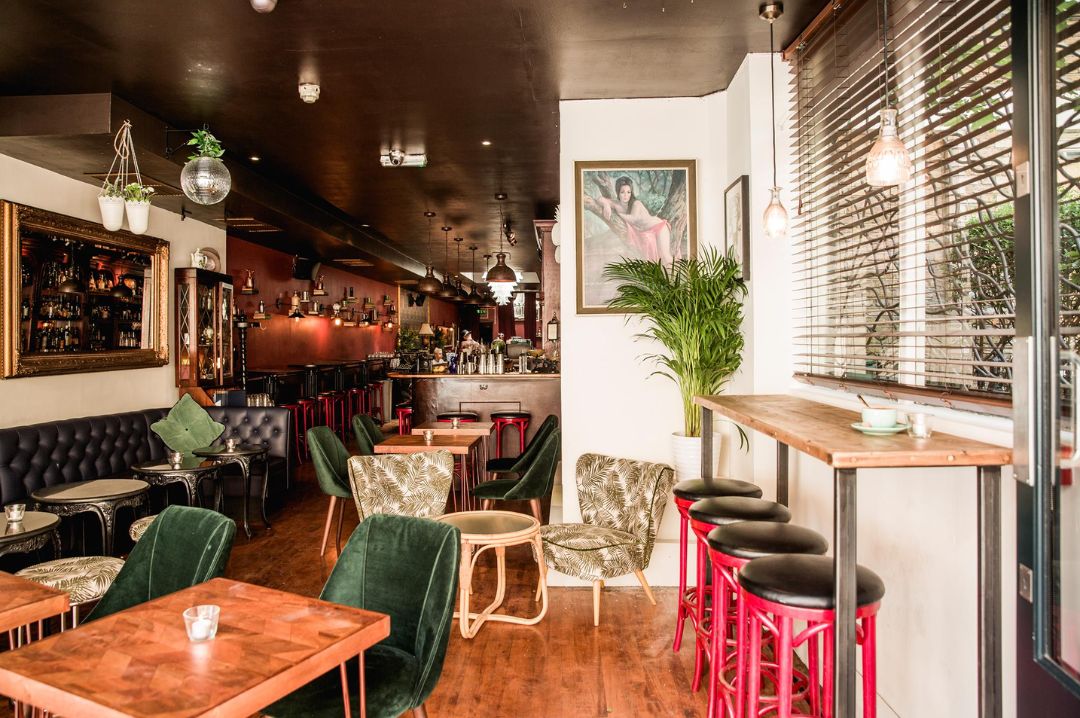 Beautiful interior at Little Bat Bar, Source Facebook
There's always a part of us that just wants to enjoy some quality time with the mates or loved ones in a really affable atmosphere, sipping on cocktails and pints and eating to the heart's delight with every bite, not wondering what's in store for us tomorrow.
While this is not possible in each bar or club you go to in London, we have found one place that fits the description perfectly. The Little Bat Bar, just off Upper Street in Islington is your jam.
The snug, intimate sister bar of Callooh Callay ticks all the boxes of a nice day spent in a bar if there ever was one. The classic neighbourhood bar with a twist as the team likes to call it has a penchant for delivering some stunning drinks. All brought to you by a team that delivers incredible service. There are 14 cocktails on the menu, like the Hop Cosmo, Flor Blanca, and more that match the bar's vibe. There's also a nice selection of beers and wines that you can sip with well-made dishes, desserts, and even bar snacks.
There's also a bottomless brunch for those looking to spend the weekends getting a buzz.
Location- 54 Islington Park Street, London N1 1PX
The Doodle Bar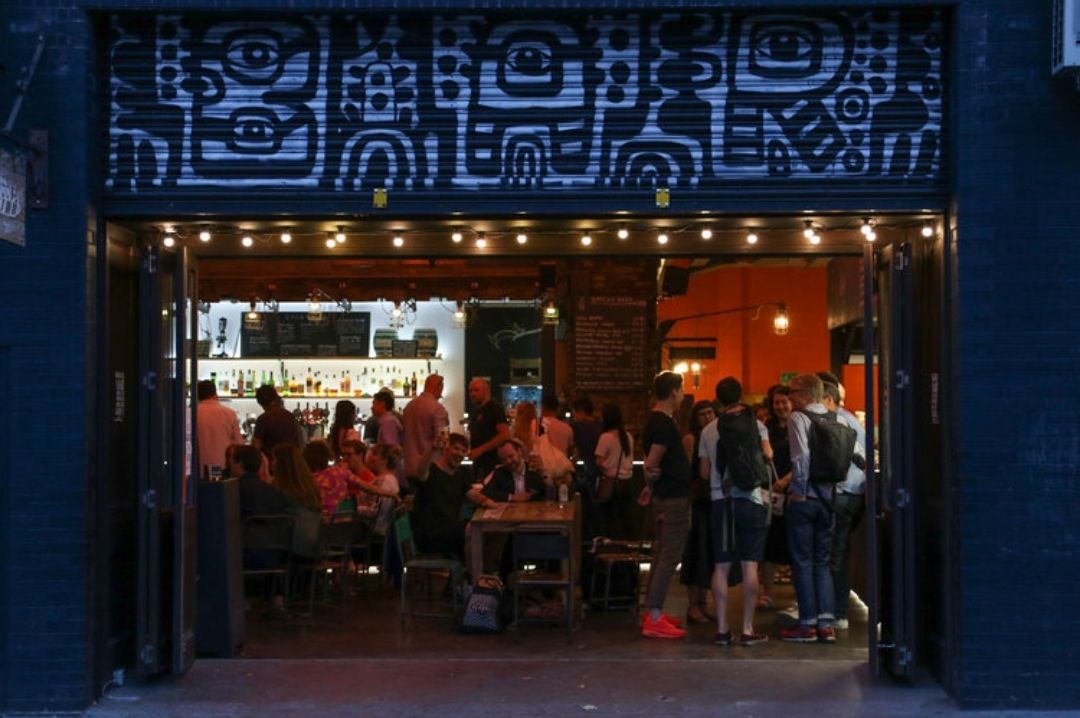 Graffiti and grubs at The Doodle Bar, Source Website
There are so many things we would want to do in a bar but aren't allowed to. Well, the rules apply to The Doodle Bar as well, with a slight exception. As the name suggests but doesn't give away entirely, The Doodle Bar allows guests to literally doodle on its walls. Yes, grab something to draw with and write a message or get creative because their walls are a drawing factor (see what we did there).
Aside from this very ingenious idea to draw people to their bar, The Doodle Bar also has a seriously well thought menu for the hip crowds of London. There are mouthwatering burgers and a side that can be paired with ice-cold craft beers, cocktails, fine wines, and over 20 types of gins.
Location- 60 Druid Street, London SE1 2EZ
Cahoots Underground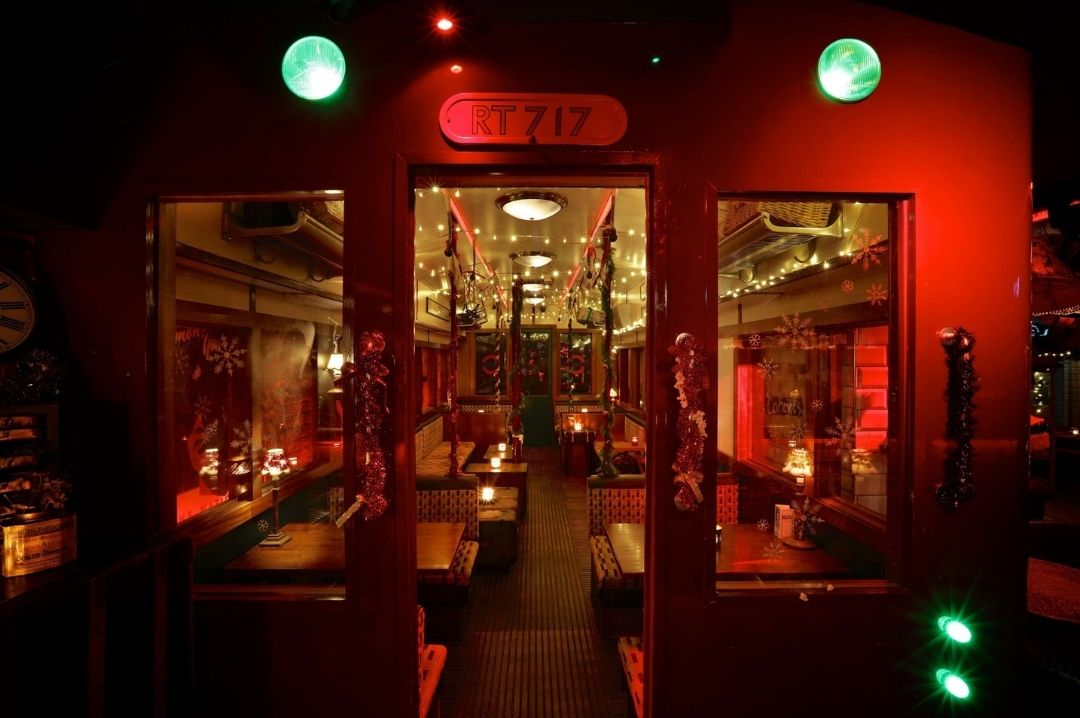 The Train Carriage at Cahoots Underground, Source Facebook
'Tis the season of going retro, because retro never really goes out of fashion anywhere, not even in the bars. Cahoots Underground is a triumph of post-war resourcefulness, with everything, from the entrance to the seating giving off nice rustic vibes. To get to the bar, you need to go down an old-fashioned wooden escalator. As you get off the escalator, you will be introduced to a vintage train carriage that has been transformed into a tiled platform bar.
On the other side of the bar is where the mixology team works its magic. There's a little bit of everything on their menu from vividly named classics like Class Hopper and Just Mai Type to long cocktails like The Good Ship's Manifest and Top Dog. Bottled ales, lagers, sparkling vinos, magnums, and more drinks round up a scintillating selection of drinks. It is underground, yes, but Cahoots Underground will lift you high.
Location- 13 Kingly Court Street, Carnaby, London W1B 5PW
Near & Far Peckham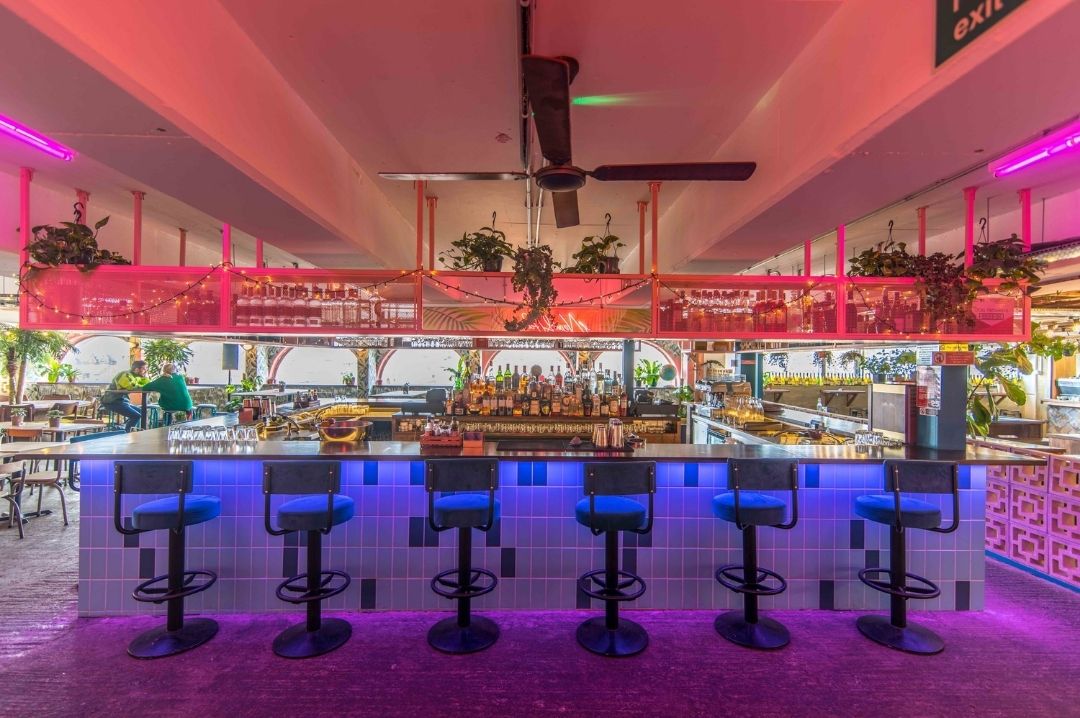 Palm Springs in Peckham, Source Website
When travel and drinks combine, magic unravels. At Near & Far Peckham, that is exactly what happens. A cocktail bar from the Bar 6 Group, Near & Far Peckham draws inspiration from world travels, Palm Springs, in particular, to bring to London a desert-meets-oasis aesthetic. Neon signs, tropically inspired wallpapers, palm trees and more, all that you imagine Palm Springs to be, Near & Far Peckham has it all.
The laid back environment, with Afro-beats, DJs playing some fire tunes from disco to Latin, Near & Far Peckham's vibe is matched perfectly with what is served on the square bar table and the adjoining spots. There's quirky signature cocktails, fine wines, amazing non-alcoholic drinks plus delicious food options and great coffee at this Peckham bar.
Location- Level 6, 95A Rye Lane, London SE15 4ST
Header Image- Huckster London, Source Facebook