Create Federico Pavan's Precision Cocktails
The favorite concoctions of Federico Pavan, the soul of Donovan Bar at Brown's Hotel terrific bar menu.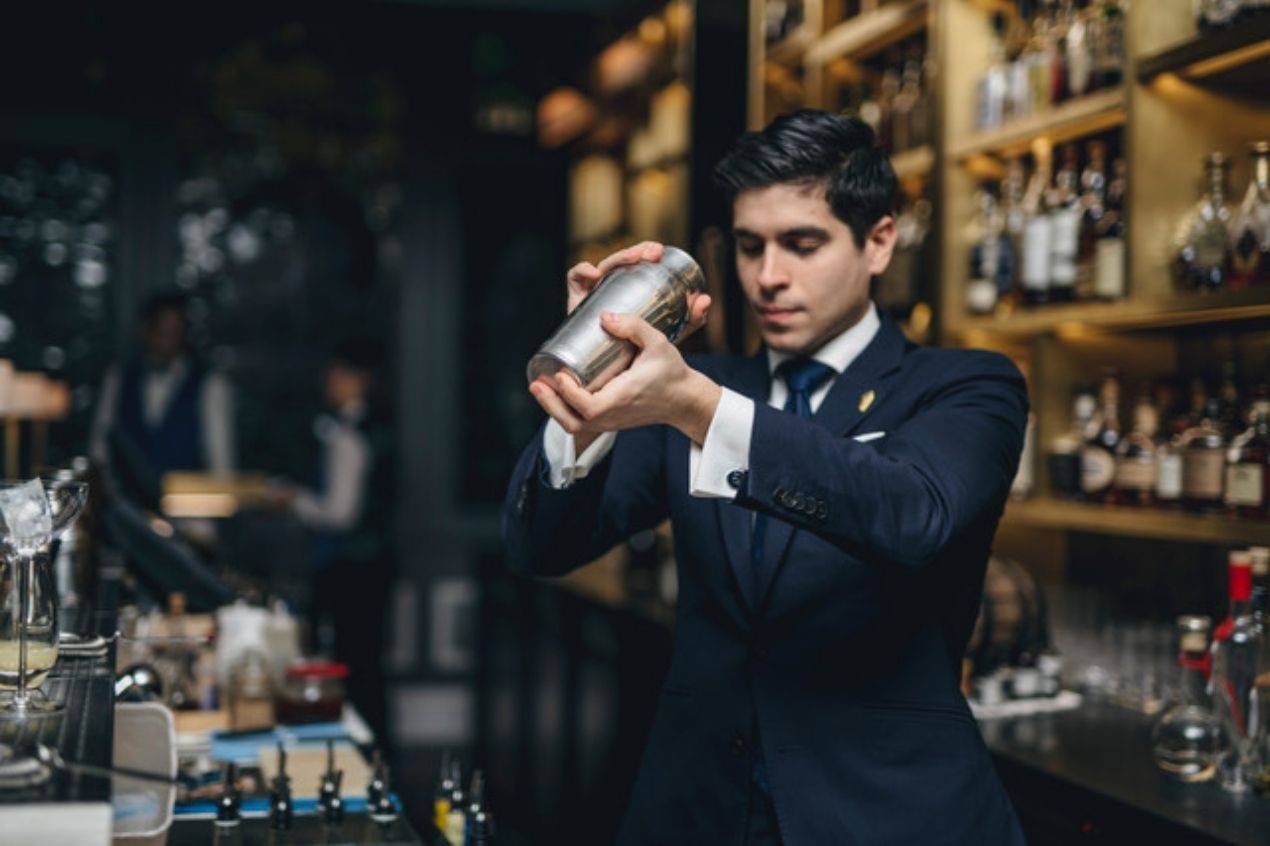 Talented bartenders and mixologists dream of showcasing their talents to the world. They wish to create concoctions that will lift the mood of the drinkers after a long day of work, add charm to their celebrations of various moments and downright become a go-to cocktail of choice every time they visit a bar. For Federico Pavan, Director of Mixology at Donovan Bar, Brown's Hotel, the tale is no different.
Federico grew up amidst the mountains in Verona. In 2009, he decided to trade the hills for a city scene and moved to Madrid to chase his dream of becoming a renowned mixologist. As the Head Bartender at ME Hotel, he developed a love for unrivalled hospitality and guest service. Federico mastered the art of creating classic cocktails with a contemporary twist, meticulously studying the art of mixology and gaining knowledge about vintage spirits over a period of four years.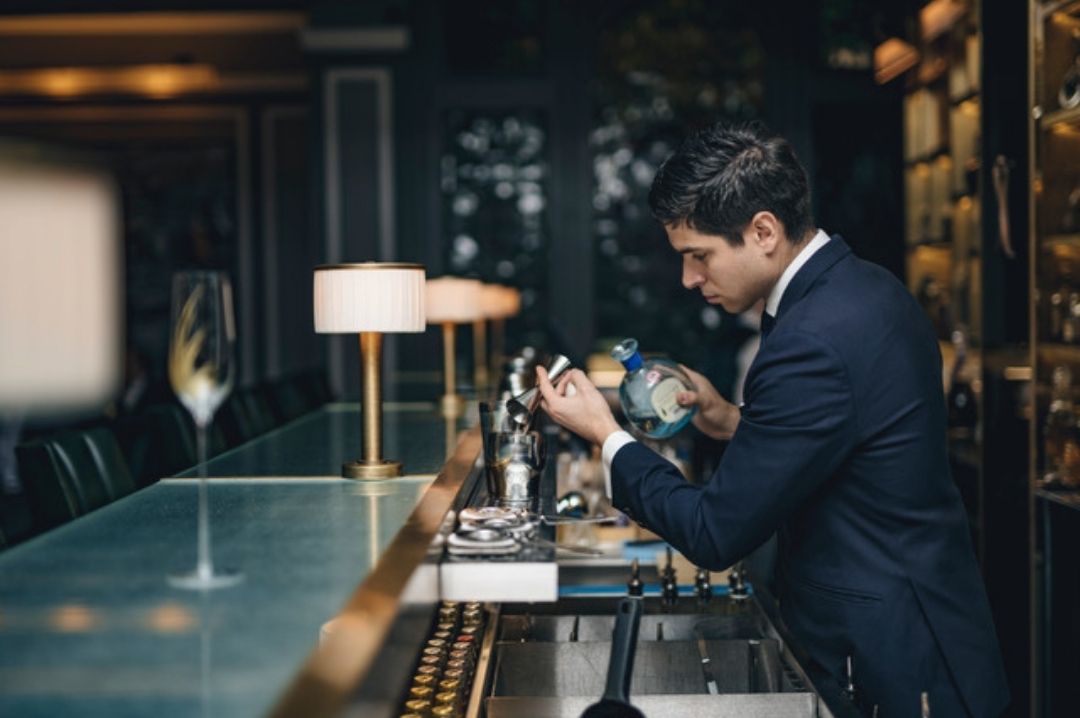 The soul of Donovan Bar's drinks menu
Federico's growing work profile saw him receive a call from Mr Salvatore Calabrese, the 'maestro' of cocktails. Mr Salvatore asked Federico to join him as a Bar Supervisor at The Playboy Club. As he conjured up cocktails for the rich and famous, a new opportunity was waiting in the wings. It was during this time that Federico Pavan met Maurizio Palermo, the Bar Manager at Donovan Bar at Brown's Hotel, London. The two spoke about creating a legacy together post which Federico was sent to the legendary High Five Bar in Tokyo to hone his expertise in mixology.
He became a protégé of the famous mixologist Hidetsugu Ueno and under his watchful eyes learnt the fine art of balance and precision. Upon his return, Federico joined the Coburg Bar at The Connaught Hotel in 2015 as Head Bartender. With him at the helm, Coburg Bar's menu incorporated yesteryear trends with inimitable attention to detail. His unrivalled work saw Coburg Bar become a jewel in Mayfair's crown of bars. Post this success, Federico wanted a new challenge.
He was seeking a bar that was steeped in heritage and sophistication, one that would challenge his skills and up his knowledge. He joined the iconic Donovan Bar at Brown's Hotel in London where he works to date. Federico Pavan is the soul behind Donovan's menu, bringing his precision to the other side of the bar. His relentless work has seen him craft several world-class cocktails among which proudly stand the Madam Loren, Alfie and The Paloma. Here's why he deems them his favourites and how you can try and make them at home.
Madam Loren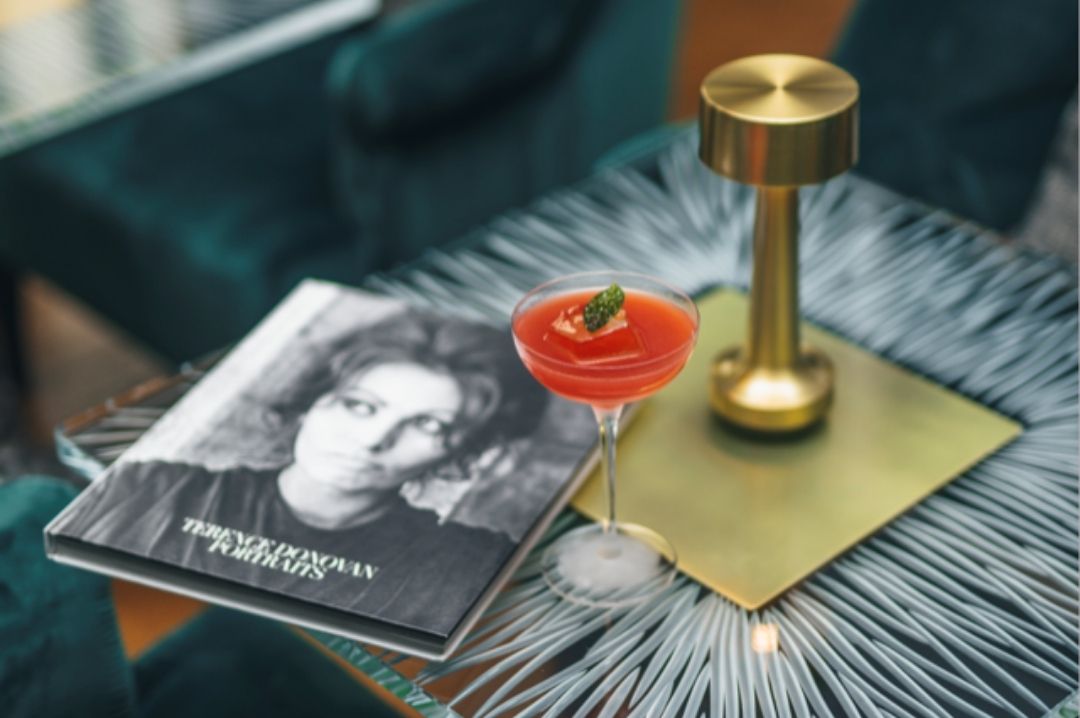 Madam Loren by Federico Pavan
A sophisticated cocktail inspired by Italian actress and Sixties bombshell, Sophia Loren – a rosy-hued cocktail, made with a dash of tomato liqueur and crowned with fried basil. This drink is a tribute to Sophie's great Italian origins and very much like Federico himself, with his Italian heritage. Not only is this cocktail incredibly unique but what is interesting is that Federico does not actually use tomato despite it being strong in taste. Instead, he works with the exotic plant of Tamarillo which gives the cocktail the same aroma but with a kick of acidity as well.
Ingredients:
35 ml Gin
15 ml Theoria Perfidie liqueur
25 ml Tamarillo and Strawberry puree
25 ml Blood orange juice
5 ml Honey
How to:
Pour all the ingredients into a shaker and shake it very well for 10 seconds. Then, strain the mixture in a frozen compete glass. Add fried basil leaves as a garnish.
Alfie
Donovan Bar's take on an old fashioned cocktail with extreme style, this stiff beverage works perfectly for that well-deserved nightcap after a hard-working day. A cocktail with a huge personality to reflect the person it is based on, Michael Caine's iconic titular character Alfie Elkins in the 1966 film. This cocktail epitomises the lusty side of the period and is the ideal drink for rule-breaking ladies and gentlemen seeking a more daring experience. Federico pictures this drink not only enjoyed at the bar but as an accompanying drink whilst getting fitted for a stylish suit on Savile Row, a mere five-minute walk from Brown's Hotel.
Ingredients:
60 ml Balvenie Doublewood washed in Hazelnut butter,
10 ml Ale beer reduction,
5 dash Dulse seaweed and sage tincture
A spray of Timur Pepper
How to:
Combine the ingredients in a mixing glass and stir very well. Pour it in a frozen rock glass rimmed beforehand with salty dark chocolate. Finalise the cocktail in front of the guest with homemade Timur pepper essence.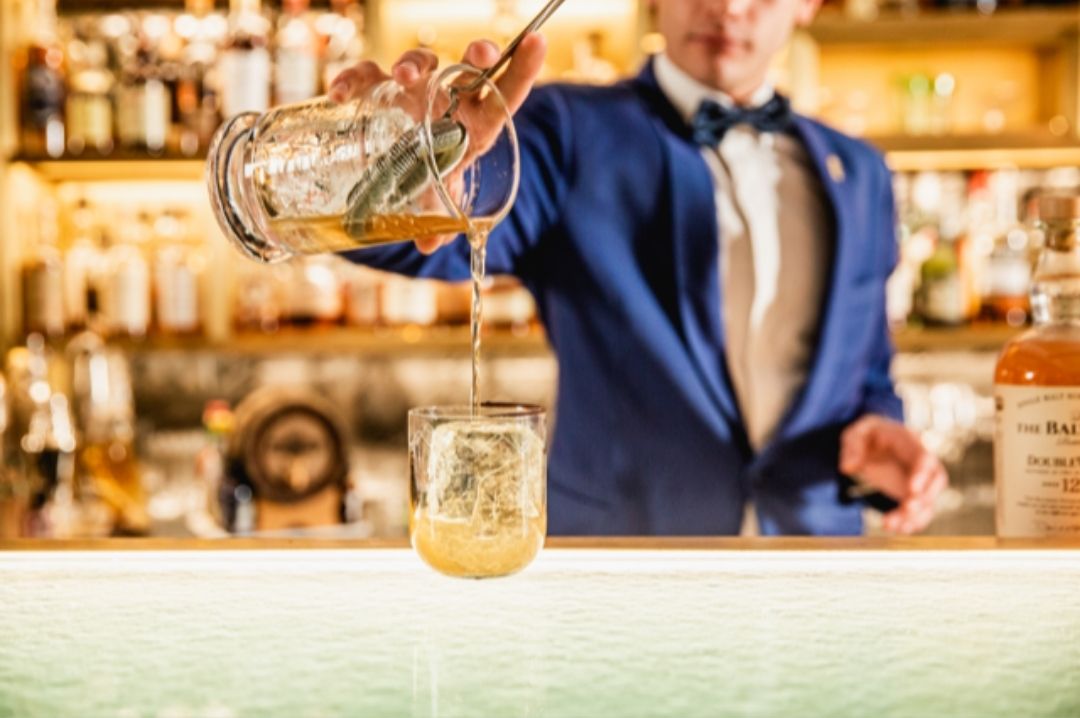 Federico creating a noteworthy cocktail
The Paloma
No matter how busy you are, there is always time for a Paloma! This tends to be Federico's motto throughout the warmer months, however, he strongly feels that this drink is one to enjoy all year round and all day long. This refreshing cocktail is light and sweet in taste and is a great pick me up drink. What is unique about our Paloma is that our pink grapefruit soda is homemade.
Ingredients:
60 ml Tequila
15 ml Fresh Lime Juice
5 ml Agave Nectar
Top up homemade Grapefruit Soda
How to:
Shake the tequila, lime juice and agave in a shaker. Pour it in a frozen highball glass half rimmed with salt, add ice and top it up with homemade grapefruit soda. Garnish it with the wedge of a grapefruit.