Snawstorm - Putting Scottish Vodka on the Map
11 botanicals combine with the purest spring water to create this award-winning Scottish vodka.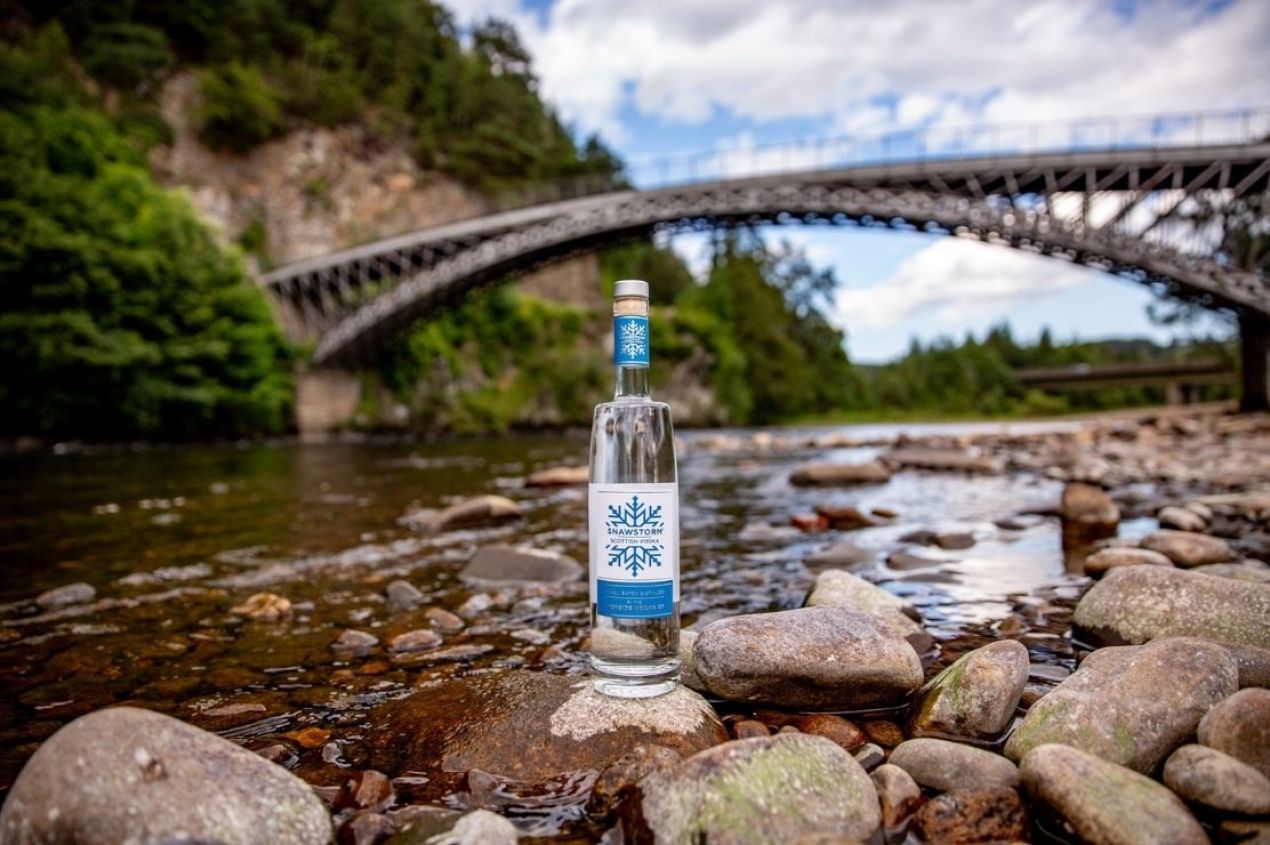 The Speyside region of Scotland is best known for producing some of the best single malt whiskeys in the world - but thanks to Snawstorm Spirits, vodka and gin are also springing up from the region. Distilled in small batches, using a blend of the finest grain spirit and single malt barley spirit, combined with pure Cairngorm spring water this unique and incredibly smooth vodka is created.
The Snawstorm Spirits
Snawstorm Spirits was founded by Leon and Susan Chessor, where they started with distilling a fine, smooth vodka. Taking inspiration from that, and wanting to expand into the world of spirits, the Chessor couple went ahead and turned to creating a gin, and quite a good one at that. The aim of Snawstorm Spirits is to create distinctively different spirits that evoked the Scottish landscape with unique and interesting characteristics.
Snawstorm Vodka is now an award-winning spirit, scoring 75 points and grabbing a bronze medal at the 2020 London Spirits Competition.
Snawstorm is definitely known for its award-winning vodka, but don't turn your back on their gin.
The water used in making Snawstorm Vodka and Gin is one of the purest waters in the world. It flows from natural springs in the Scottish mountains and spends around 50 years being gently filtered through the layers of underground rocks and crevices, collecting its unique properties. The springs lie within the Cairngorms National Park, a protected area of outstanding natural beauty.
The Snawstorm Gin
A juniper-led highland dry gin, inspired by the Cairngorms national park, is distilled in small batches using a blend of grain, malted barley spirit and pure Cairngorm spring water.
11 Botanicals including juniper, coriander seeds, Angelica root, lemon peel, Cubeb, Scots pine needles, fresh lime peel, almonds, liquorice root, Cassia bark & orange combine to create this clean, crisp and exceptionally smooth traditional gin. The pine needles, which are foraged locally from around the owner's home, work really well and complement the piney juniper, balanced alongside the citrus sweet dried Spanish oranges and fresh lime peel. The finished product is a juniper forward gin with a fresh citrus profile followed by a smooth, earthy dryness coming from the cubebs, cassia bark and almonds.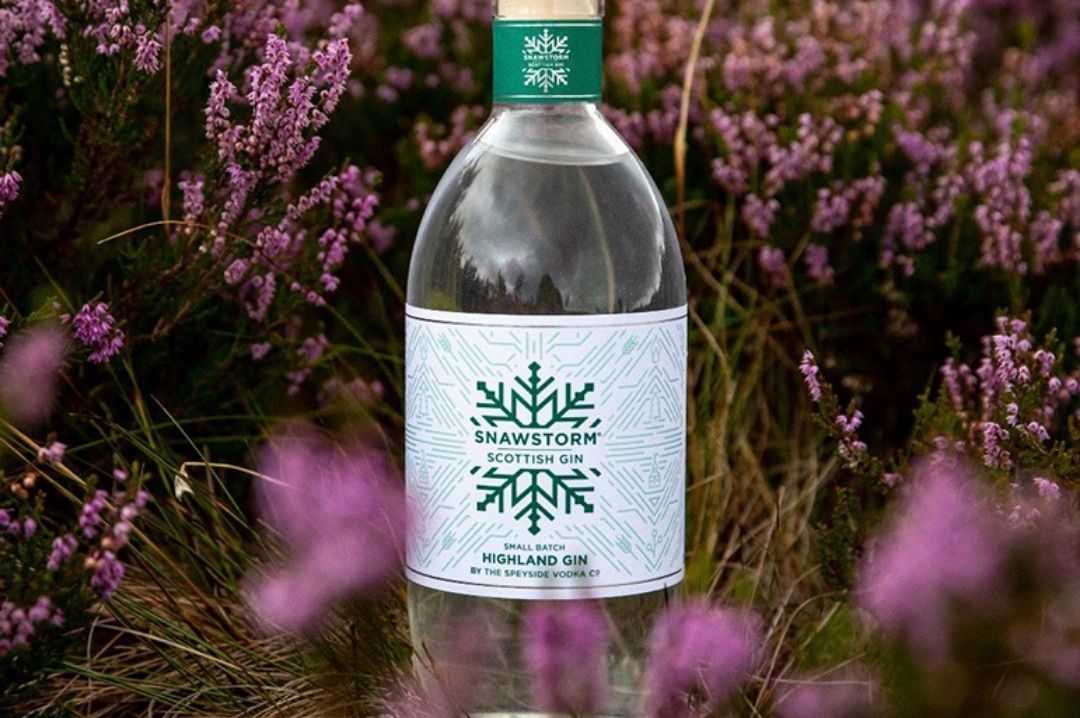 Best serve: with your favorite Indian tonic, lime, lots of ice, and garnished with fresh fruits. You can use strawberries, oranges, and even cucumbers to get the most out of the taste.
Founders' recommendation: Try out a Negorini with Snawstorm gin.
1 part Snawstorm Gin
1 part Campari
1 part sweet red Vermouth
Stir into glass over ice, garnish with an orange peel and serve.
The Snawstorm Vodka
By using a combination of the finest spirit and purest water to make their Vodka, Snawstorm believes that it does not require any further processing or filtration.
Clean and crisp on the palate with subtle caramel undertones and a fruity twist comes from the single malt barley spirit used in the distillation process. With the soft, smooth texture retained it's perfect for long drinks, cocktails, or served neat over ice.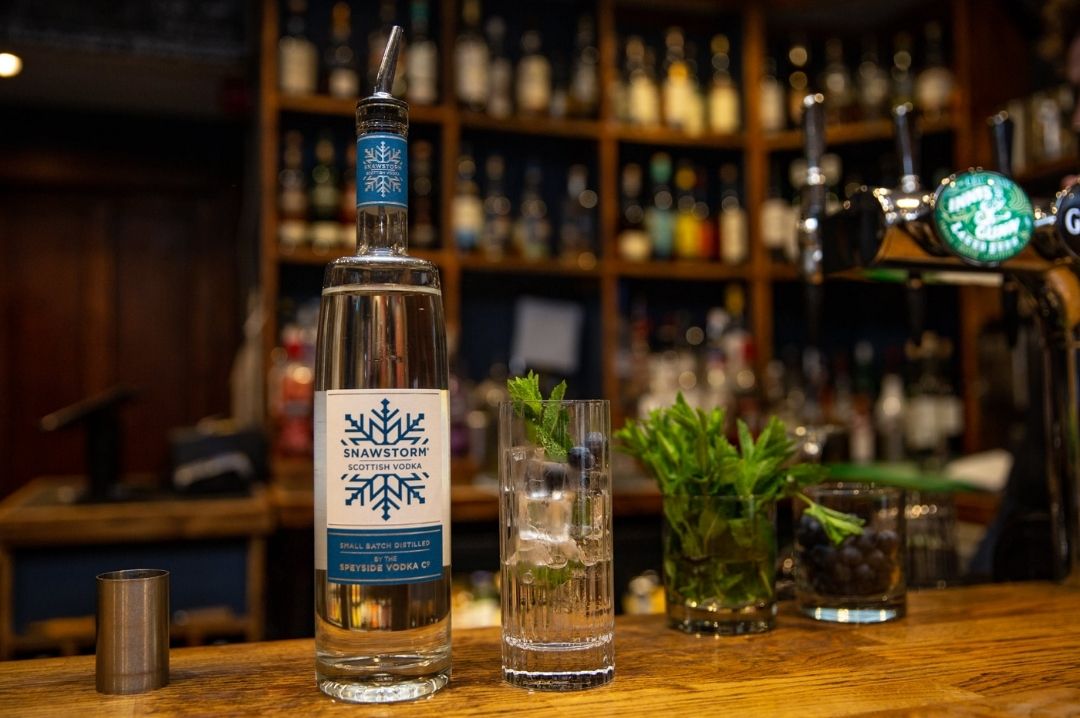 Snawstorm vodka is quite a refreshing and versatile spirit, which tastes great neat, but is also an impeccable base for cocktails. A few of the cocktails you can try out are:
Salted Caramel Sour Snawstorm by @theginjudge
50ml Snawstorm Vodka
30ml Clementine Juice
20ml Caramel Syrup
3 Dashes of Chocolate Bitters
Pinch of Salt
1 Egg Whites
Hard shake all ingredients until chilled and strain. Top with a funky snowman made of marshmallows and have every family member stare with envy.
The Snawstorm Cosmo
50ml of Snawstorm Vodka
25ml of Cointreau orange liqueur
50ml of cranberry juice
Juice of half a fresh lime
Add the ingredients to a shaker with ice, shake and strain to serve
The Snawstorm Moscow Mule
50ml Snawstorm Vodka
25ml Fresh Lime Juice
Chilled Franklin & Sons Ginger Beer
Spring of Mint To Garnish
Fill a glass or copper mug with ice. Add the vodka and lime juice. Top up with the ginger beer. Stir and garnish with a wedge of lime and a sprig of mint.
Shop Snawstorm Gin here
Shop Snawstorm Vodka here
Snawstorm vodka & gin are available at these bottle shops in the UK:
Huffmans Ltd, Williamsons Inverness, Ayrshire drinks/Anybooze, The Fife Arms of Braemar, Royal Deeside, Gleneagles hotel, Baxters of Fochabers, Johnstons of Elgin.
Royal Horticultural Halls, London, The Lindley Hall, 80 Vincent Square, London SW1P 2PB, United Kingdom, United Kingdom
Register Now
Royal Horticultural Halls, London, The Lindley Hall, 80 Vincent Square, London SW1P 2PB, United Kingdom
Register Now