Jo Irvine's Wine of the Year
Jo Irvine, the talent behind 2021's Wine of the Year - Lévrier Wines' 2015 Anubis Eden Valley Cabernet Sauvignon.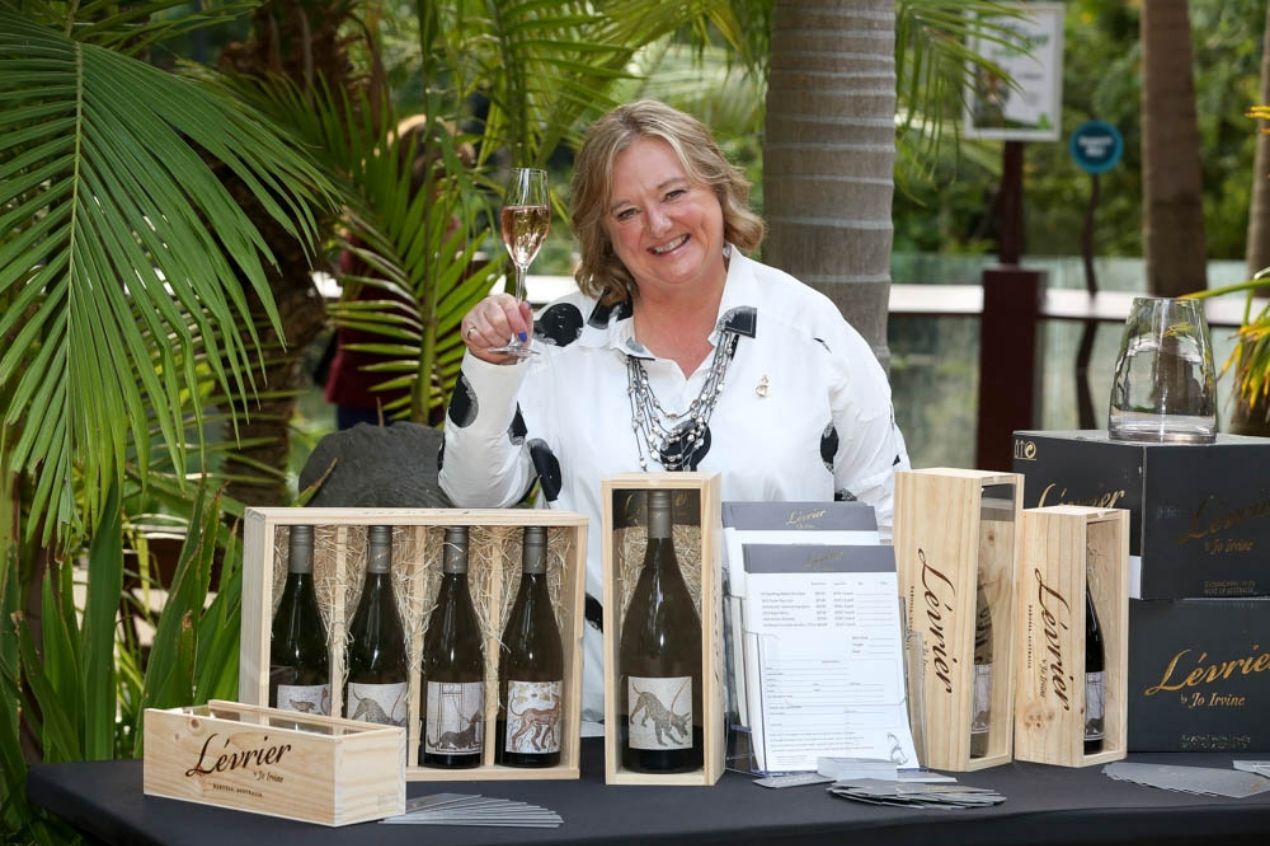 Coming from the Barossa Valley in Australia, Lévrier Wines' 2015 Anubis Eden Valley Cabernet Sauvignon took home the title of Wine of the Year, Best Cabernet Sauvignon (Best Wine by Varietal), Best Wine by Quality, and Australia's Best Wine (Best in Show by Country) at the 2021 London Wine Competition.
We spoke to Jo Irvine, Founder and Owner of Lévrier Wines, who shared with us her story as the daughter of 'Master Merlot Maker' James Irvine, and how she and her team created 2021's Best Wine.
Tell us a bit about yourself. How did you get into the wine business?
I am Barossa Valley, Australia born and lived here most of my life. My father is a winemaker and I lived in wineries during my childhood, following him around the winery from the age of 7 tasting and smelling wines. In those days wine was either "yuk or yum". At the end of my schooling, I studied nursing and then spent a number of years in the operating theatre before I had what I call "a mid-life crisis" and decided I wanted to quit nursing and go into winemaking. I completed the University of Adelaide winemaking degree and decided to head off to Sonoma County California working for Jess Jackson at La Crema initially and then at St Supery in Napa county for the next 16 months. This is where I learned my skills in producing Zinfandel. The importance of 'attention to detail' is the main attribute being a theatre nurse taught me and applying this to my winemaking is what makes my team so successful.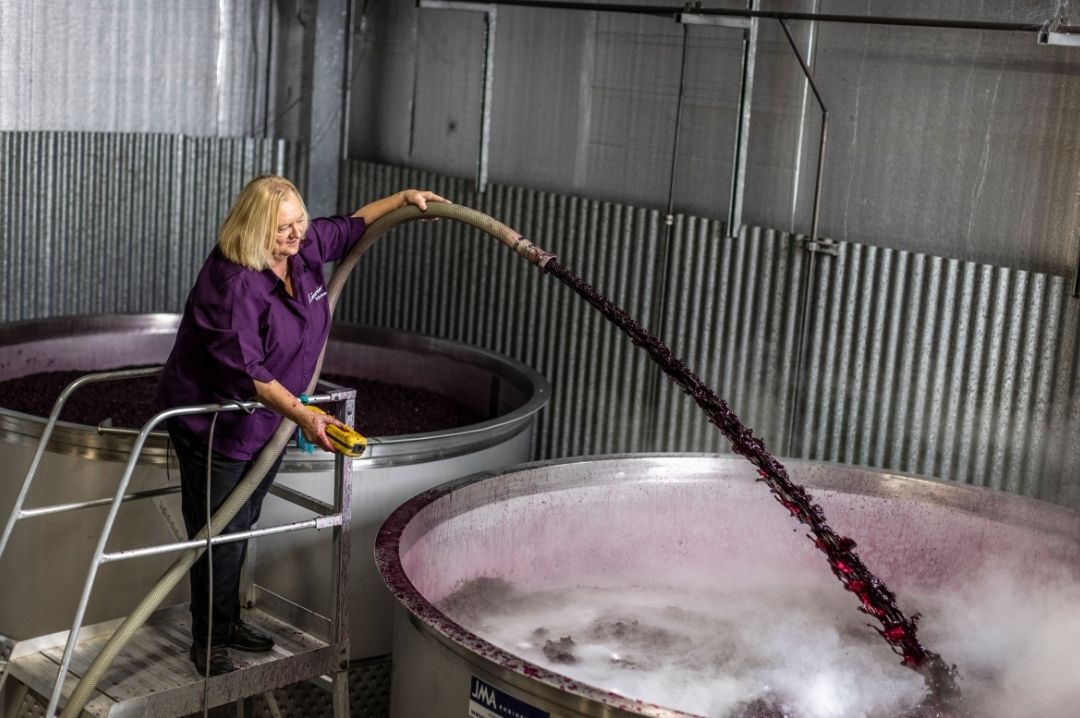 Winemaking with Jo Irvine
According to you, what makes a great wine?
You need to have a very good understanding of many varieties from different regions, soils, weather, oak requirements (if any), and timing of release to market.
The best-produced wines express the grapes' terroir and retain their varietal characteristics. A wine's flavour profile must be taken into account, with fruit ripeness, acid balance, overall softness, tannins, and alcohol influence too. Most importantly, I like to create a wine that I like to drink, and I always keep in mind who else I am creating wines for.
Tell us a bit about the infamous Anubis Cabernet Sauvignon. What was the inspiration behind it?
I have always enjoyed creating Cabernet Sauvignon. I love the way the local Barossa soils influence our older vines in a way that really shows off the varietal aromatics and flavours of Cabernet Sauvignon. I do my best to understand the wine's needs at fermentation, then select the best possible French oak barrels for at least 2 years of maturation and continue to be a caretaker for the next 2 years before bottling.
My inspiration came from simply wanting to keep this historical variety in the spotlight here in the Barossa, creating a style that develops generosity and complexity over time before release. I enjoy drinking Cabernet and for people who love cooking with herbs (for example roasted meats with rosemary, sage, etc will pair perfectly with my rich, full-flavoured Cabernet style).
A friend of mine did create a cocktail based on my Cabernet at a local Adelaide Wine Bar however, its recipe is still a secret.
What would be your typical day at work?
It really does vary every day however I usually like to get in early with my greyhounds, Daphne and Georgie, who "help" staff my office. Typically during vintage, you will see me either in the vineyards or at my wine press looking at every batch of grapes that comes in and tasting the fresh juice at various stages for flavours. I make sure that all my team is organised first thing and then off we go; they all know exactly what to do and how I like it done and have been working together for a long time.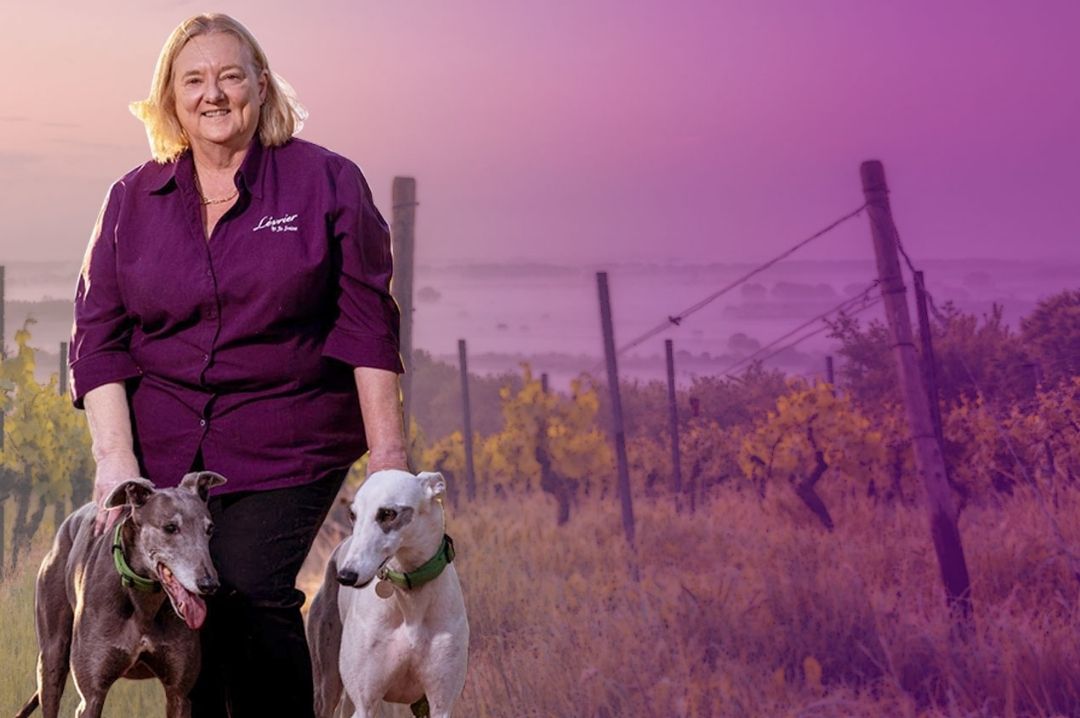 Jo with Daphne & Georgie
I also do appointment-only wine tastings at my dog-friendly winery here in the Barossa, so when guests visit and let their dogs loose in my dog 'play pen' I often like to come and say hello while they are enjoying their wine tasting.
You mentioned you were in the middle of vintage. Can you tell us a bit about that?
Organised Chaos! …but seriously in reality I like to make sure before vintage commences that my team has every single piece of equipment sparkling clean and ready for use so that there are no surprises. Every fermenter in my Barossa winery, every barrel, every tank, every pump, you name it must be ready to go. This way we are prepared for Mother Nature, no matter what speed she chooses to ripen our grapes. This year has been a very gradual vintage with evenly ripening fruit coming in at a fairly gentle pace, whereas some years it can be "all or nothing". You simply need to be prepared for anything.
How have you grown your brand at bars and beyond?
Apart from my stage presence and conversations with wine lovers on social media, with the help of my distributors, we like to approach venues that think like us. Being able to say my wines are available at the Hilton Hotel and Parliament House in SA, for example, is exciting and new venues are starting to contact me.
What excites you most about Levrier?
From the beginning, I wanted to work very closely with local grape-growing families that I have known for many years. By creating wines such as my Pinot Gris, Cabernet Franc, Merlot, and Zinfandel I have the opportunity to support the growers who have faithfully kept these varieties in the ground, and together we are guaranteeing diversity from our beautiful Barossa Valley region. Another positive is knowing that I can donate part proceeds from my Levrier sales to 'Greyhounds as Pets' (formerly known as the Greyhound Adoption Program of South Australia)
Are your wines available in the US, UK, or anywhere else?
Yes, my wines are available in the UK exclusively with House of Townend in Hull and interestingly, I am now starting to get inquiries from the USA and other export markets.
What is your favourite wine?
I really enjoy making my Cabernet Sauvignon and Zinfandel and creating what I call 'genuine' Australian Merlot. It's too hard to pick just one but I do love drinking my Adelaide Hills Sparkling Meslier Brut Rosé because I created that to go with seafood and I love eating seafood.
What are some shows/movies you're watching right now?
"Outlander" due to my Scottish heritage. "Love Actually" because my children love watching this at Christmas. "5Th Element" because I love Bruce Willis.
What's one tip you would give to someone wanting to get into the wine industry?
Do your homework, be patient with regards to return on investment, and keep in mind there is a new wine brand name registered almost every other day.
How do you work with bars/restaurants and getting Levrier in there?
This really is a one on one process of building direct relationships with the establishments that shy away from larger commercial brands. The people running bars and restaurants who still wish to deliver a genuine discovery experience for their guests align with my way of thinking. Locally we can nurture these relationships however I go to great lengths to find an interstate wine distributor who embraces this philosophy also.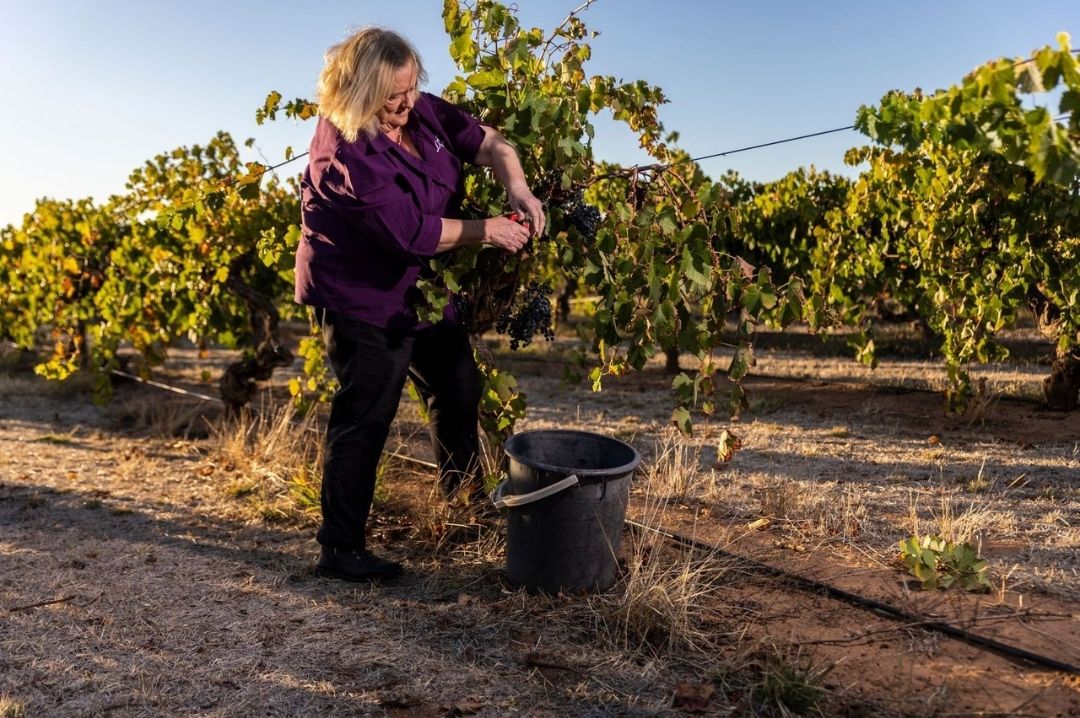 Jo in the vineyards
What's next for you, the 'girls', and Levrier?
In the Barossa Valley, vintage is almost over with most fruit in, and although some people think winemakers only work for three months of the year, I barely get to catch my breath before I start my travel circuit across Sydney, Canberra, Melbourne, and Brisbane, showcasing my wines at lifestyle expos, and visiting my distributors to host events. Daphne and Georgie may stay home for this part of the year however locally you will see them with me at some great wine events in South Australia.
Lastly, how does the win at London Wine Competition make you feel?
After spending years with my small team creating my Levrier collection from the vineyard sites, varieties, styles up to my final packaging, I am genuinely delighted to be recognised for our efforts.
I am proud that my 2015 Anubis Barossa Cabernet Sauvignon scored so highly and to get Wine of the Year and a total of 3 gold medals at one show (one each for my Zinfandel and Shiraz) feels amazing. Thank you London Wine Competition for recognising my wine as being top-rated in a lineup of so many amazing wines throughout the world.