London's 10 boroughs and their best bars
Have a peek at some of London's finest bars, hand-selected as winners of the drinking game from their respective districts.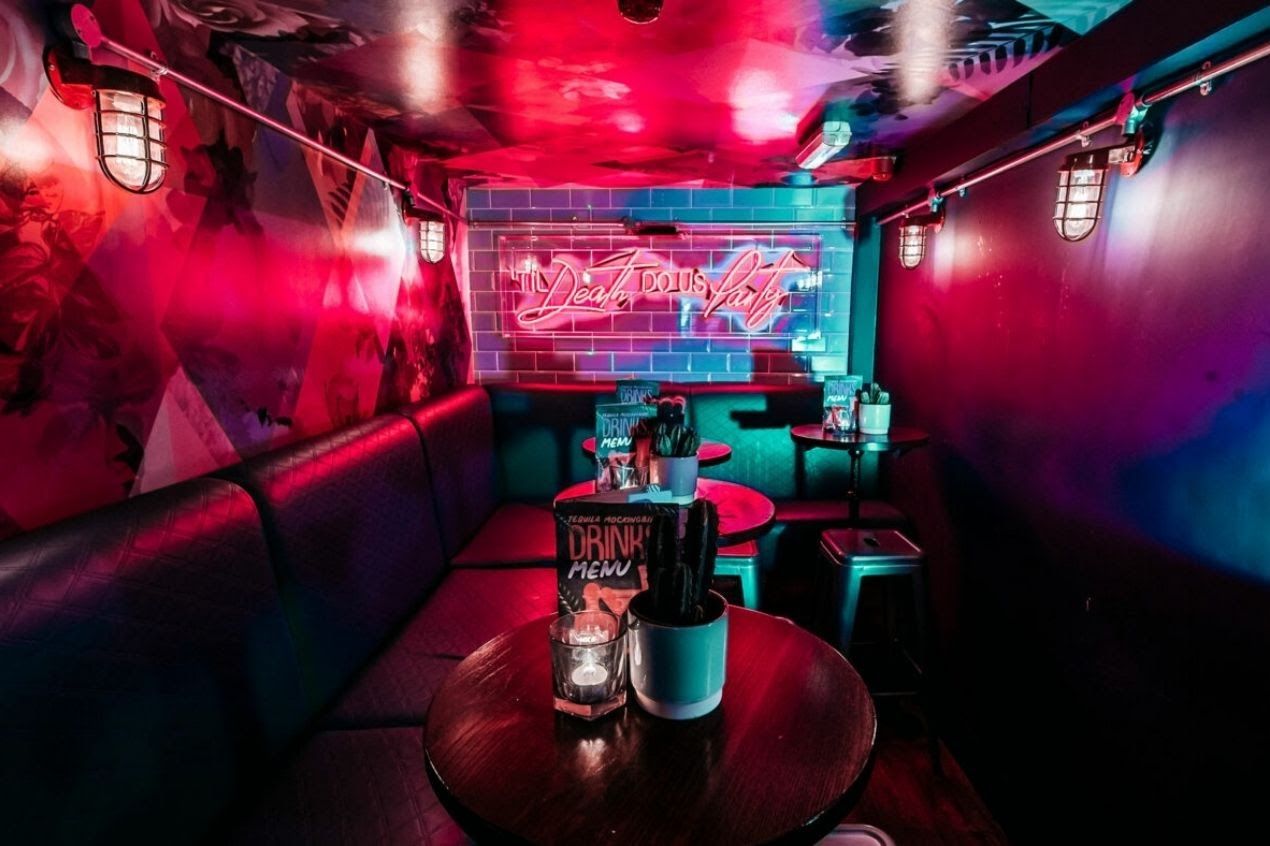 Not many cities in the world can match London's legendary booze status with rooftop bars, fireplace pubs, and cocktail houses placed in every corner of the city. Packed with a high density of drinking spots, you will never run out of ciders, craft beers on tap, delectable cocktails, and sought-after spirits when you are hopping from one neighbourhood to the next.
[[relatedPurchasesItems-23]]
From historic pubs to modern underground hidden gems, the swagger of London's culture is held high with pillaring neighbourhoods, districts, and boroughs that hoist the city as one of the best drinking places on Earth.
Near & Far in Camden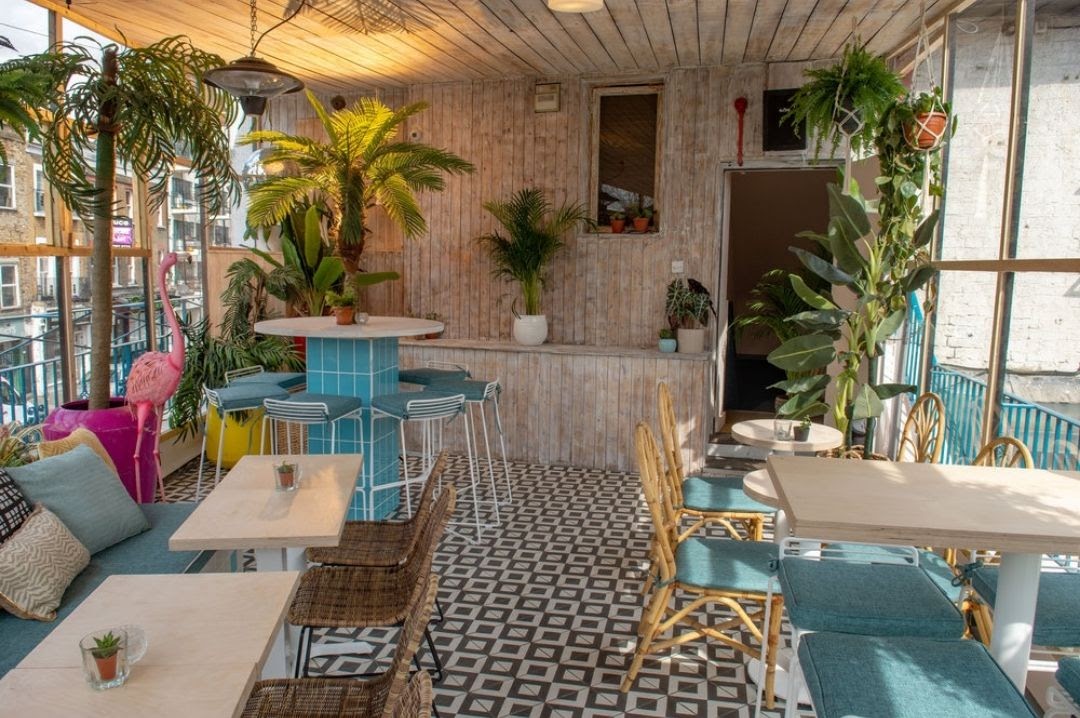 Near & Far in Camden, Source: Website
Aside from the famed markets and fashion warrens, Camden is home to some of London's elevating rooftop bars. One of those offering views of Camden Stables, Near & Far is dressed in lush green palm trees, neon signs, and desert shades.
From bottomless brunch on weekends, a heated roof terrace, and an elaborate drinks menu, Near & Far tenaciously grips you with its exciting acclamations. So, whether you are here for the Mexican fare, specialty cocktails, or beautiful views, there will always be a reason to keep coming back.
Presented with many small bites and snacks made to suit vegans, vegetarians, and meat lovers alike, we chomped on the Rancheros Mexican Chicken with the Woke Up Camden cocktail made with pisco, tequila, egg white, suze, chilli, and basil. The combination was worth the repetition if you are not a big fan of reading extensive menu lists.
For those planning to arrive in a large group, reserve a spot at this majestic rooftop terrace to avoid the queue.
Location - 48 Chalk Farm Rd, Chalk Farm, London NW1 8AJ.
Timings - 4 pm to 11 pm (Monday to Friday)
11 am to 11 pm (Saturday)
12 pm to 11 am (Sunday)
Tequila Mockingbird in Tooting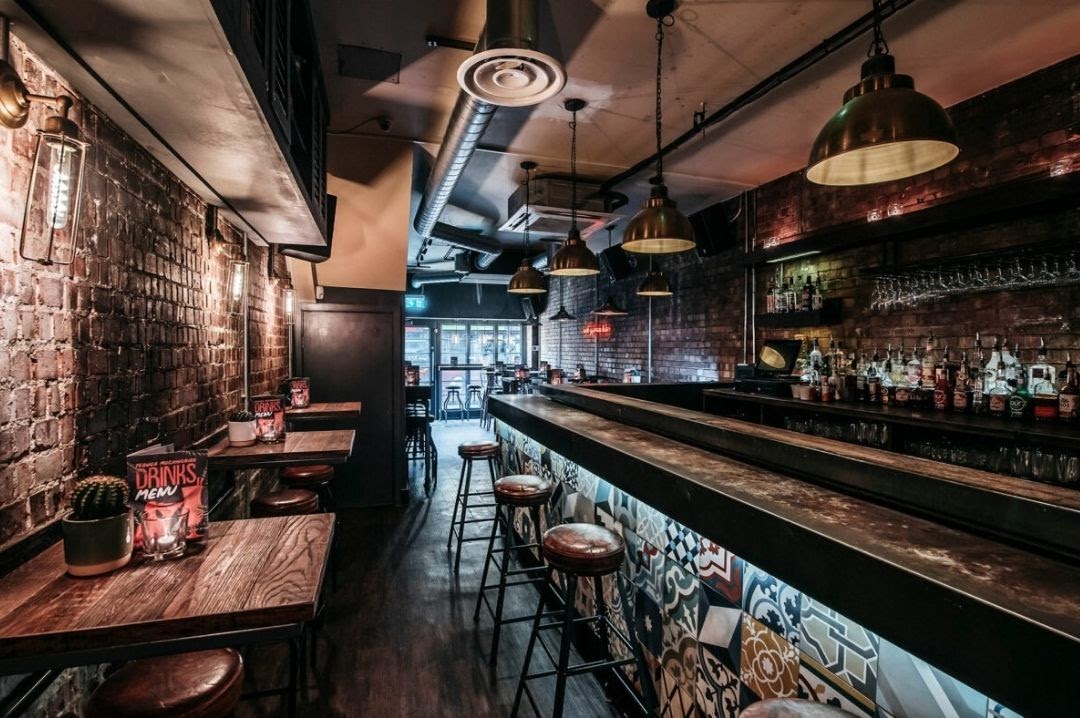 Tequila Mockingbird in Tooting, Source: Website
Whatever the excuse for a drink, Tequila Mockingbird is tailor-made to befit post-work drinking sessions, birthday parties, and good old-fashioned night outs. Because when in Tooting, you must go on a drinking spree like the people of Tota did back in those days.
Drinking high-quality cocktails in South London doesn't get any better than Tequila Mockingbird's frozen daiquiris and flaming tiki punches. Breathing life to classic, modern, and inventive cocktails, the bar takes cocktail making very seriously, classifying their crafts in free-spirited, tequila, rum, gin vodka, and other categories.
From their favourites, we went for the Berry Fizz and Calypso cocktails to rumble on a drinking streak before going for the traditional shots flavoured in different accents (cinnamon, kiwi, bubble gum, and more).
For cut-price tipples, make your way to the bar during the happy hours as you get two cocktails for the price of one.
Happy hours - 5 pm to 8 pm (Monday to Sunday)
Location - 82 Mitcham Rd, London SW17 9NG.
Timings - 5 pm to 12 am (Sunday to Wednesday)
5 pm to 2 am (Thursday to Saturday)
Aviary in Shoreditch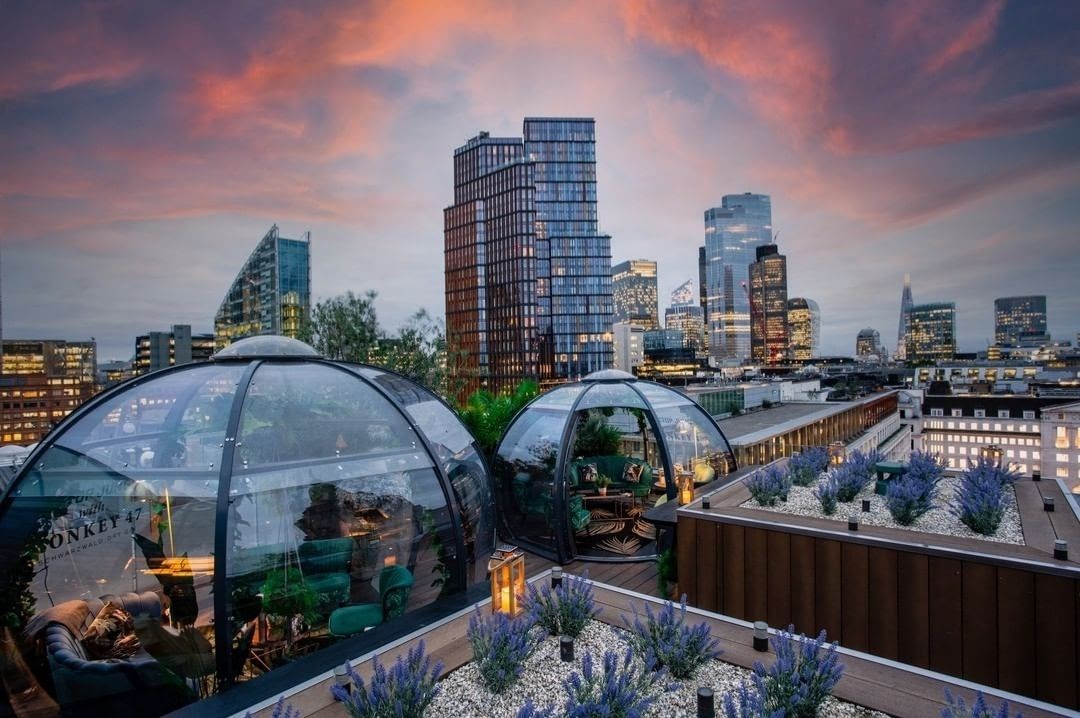 Aviary in Shoreditch, Source: Instagram
Perfect for a romantic date with your partner, Aviary is one of the best rooftop destinations you can find in Shoreditch. Filled with fashionable noodle bars, gastropubs, and coffee shops, Shoreditch never runs dry on party spots with plenty of vintage-designed shops.
What more can you ask for than a temperature-controlled igloo perched on top of the Montcalm Hotel, dispensing beers, wines, ciders, and signature cocktails as you soak in aerial views of the city.
The Crouching Tiger, Coco Glen X, Kanpai, Aviation Fizz, and Mother Nature cocktails are all worth a try from the signature cocktail menu, not that we are insisting you go all out with them at once.
Their seasonal food menu keeps things refreshed along with the all-year food menu that consists of gyozas, sandwiches, burgers, coal oven steaks, and a lot more to go with the drinks and opulent setting.
Location - Royal London House, 10th Floor Montcalm, 22-25 Finsbury Square, London EC2A 1DX.
Timings - 11 am to 11.30 pm (Sunday to Wednesday)
11 am to 12 am (Thursday to Friday)
11 am to 6 pm (Saturday)
The Churchill Arms in Kensington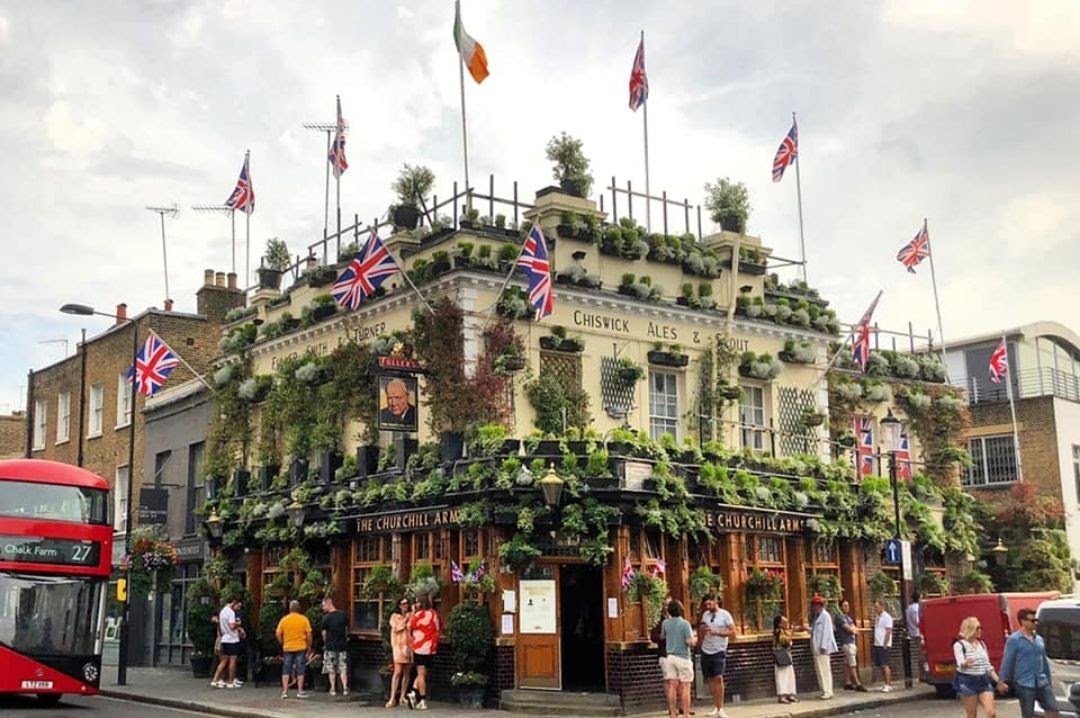 The Churchill Arms in Kensington, Source: Facebook
A hard-to-miss 1750s pub in Kensington, The Churchill Arms is ambushed with over-the-top flower decorations and United Kingdom flags from the outside. While Kensington glows in its staggering wealth and power of elegant townhouses, European embassies, and a royal palace, The Churchill Arms definitely knows how to make its mark in a crowd full of elite.
Wartime memorabilia, wall-to-wall tchotchkes, and old school rugs sum up the interiors with a selection of Thai dishes served in a butterfly-themed conservatory. Pad Thai noodles, spring rolls, and roast duck curry will warm you up with intense and flavorful spices.
Constantly switching up their drinks selection from spirits, wines, beers on tap, ciders, pale ales, lagers, and more, The Churchill Arms will always greet you with something new from their booze locker.
Location - 119 Kensington Church St, London W8 7LN.
Timings - 11 am to 11 pm (Monday to Saturday)
12 pm to 10.30 pm (Sunday)
Supermax in King's Cross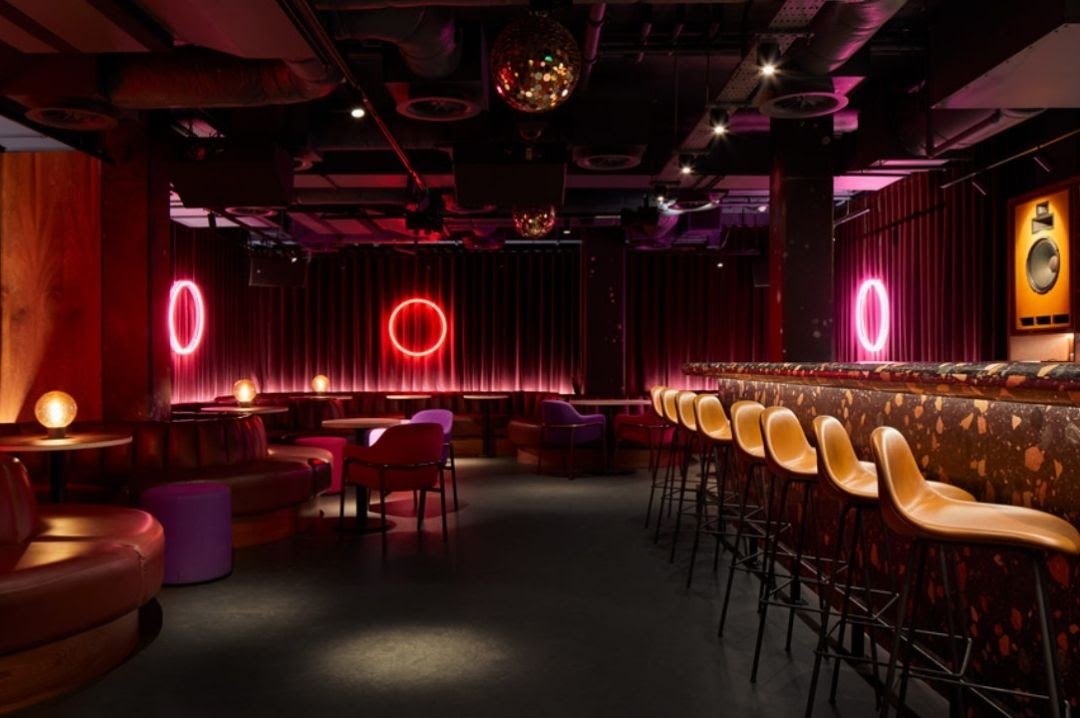 Supermax in King's Cross, Source: Website
An underground hidden bar seeped beneath the Happy Face restaurant, Supermax livens the nightlife in King's Cross with its Italo disco, funk, pop, and house music. From giant tech offices, apartments, upmarket boutiques, and lifestyle brands, King's Cross is always loaded with the best from the overlook of the canal.
Give your taste buds something different with Supermax's subterranean cocktails, vermouth-led drinks, and the Aperitivo happy hours. The Marsala Fix cocktail made with rum, honey wine, lemon, and marsala will jab you with a strong spicy punch.
So, the next time you find yourself waiting for the train to arrive at the King's Cross rail terminal, head over to this speakeasy bar and grab a delicious cocktail to pass the time.
Happy hours - 5 pm to 7 pm (Wednesday to Friday)
Location - 14-18 Handyside St, London N1C 4DN.
Timings - Closed (Sunday to Tuesday)
5 pm to 12 am (Wednesday to Thursday)
5 pm to 1 am (Friday to Saturday)
Lost Alpaca in Covent Garden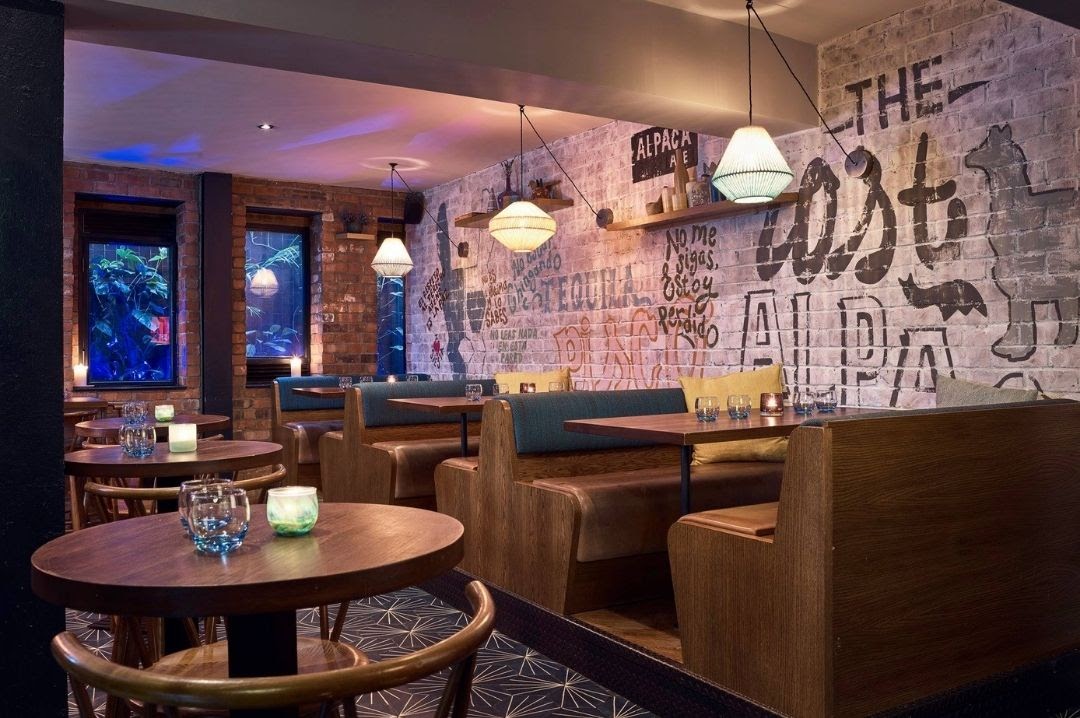 Lost Alpaca in Covent Garden, Source: Facebook
The carefree piazza can at times leave you thirsty and we believe there is no better spot than Lost Alpaca to quench it in the district. London's hottest Latin American bar according to GQ, Lost Alpaca offers something unique with its line-up of rums, tequila, mezcal, and pisco sours in Covent Garden.
The Michelin standard Peruvian snacks and pisco cocktails are the major highlights at this bright and lively bar basking in the novelty of dim blue lights and wooden furniture.
Lima Negroni, TLA Pisco Sour, Floral Kamikaze, and Taste of Lima are some cocktails you must try out at the bar with crisp and golden beef empanadas on the side.
Location - 14 Garrick St, London WC2E 9BJ.
Timings - Closed (Sunday to Monday)
5 pm to 11 pm (Tuesday to Saturday)
Coupette in Bethnal Green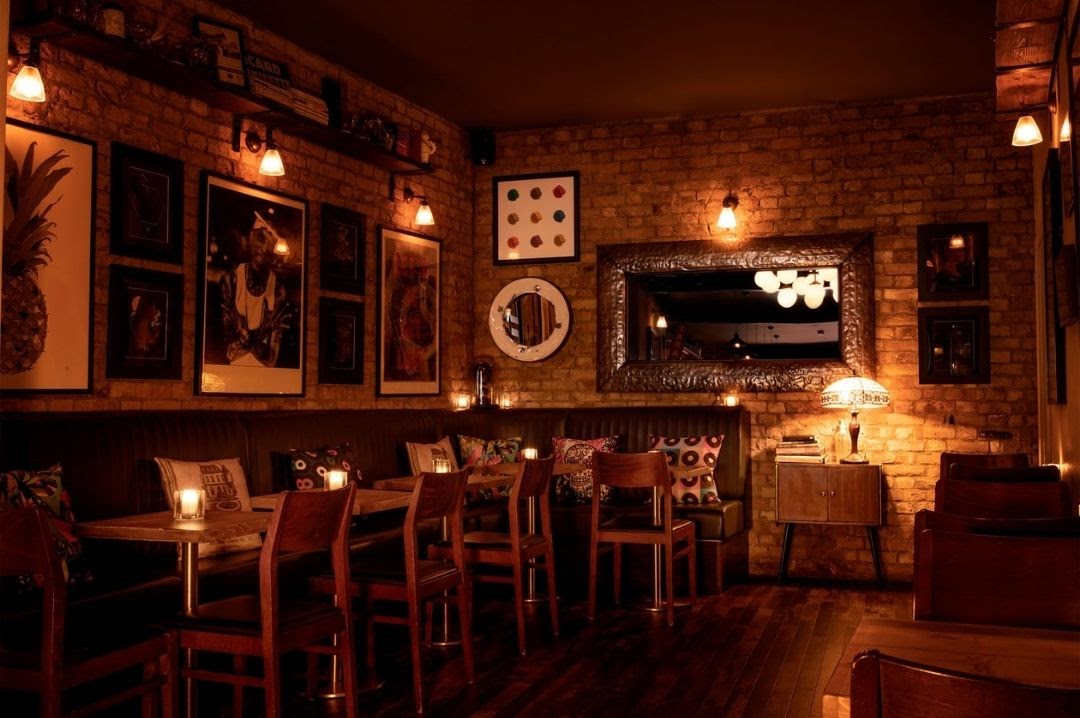 Coupette in Bethnal Green, Source: Website
Settled in East London's Bethnal Green, Coupette has made its name both on local and international ground. Covered with indie shops and a beautiful flower market in the area, this French-inspired bar extends its hospitality with an impressive collection of calvados (French brandy made from apples or pears), cocktails, cider, and other drinks on the menu.
You can scroll through some of the most overlooked spirits on the menu, reincarnated with a modern twist as Coupette serves top-notch homemade liqueurs such as the Mandarin Leaf, Sage, and Edible Clay in the finest glassware.
The meticulously crafted cornerstone cocktails, namely, the Apples (calvados and apple juice) and Champagne Pina Colada (Bacardi blend, Agricole, pineapple, coconut, and Moet & Chandon) are products of a well-curated bar program.
Don't miss out on the live piano music nights on Monday and Wednesday along with specially priced cocktails.
Location - 423 Bethnal Green Rd, London E2 0AN.
Timings - 5 pm to 11.30 (Monday to Thursday)
5 pm to 1 am (Friday to Saturday)
5 pm to 10.30 pm (Sunday)
The Holly Bush in Hampstead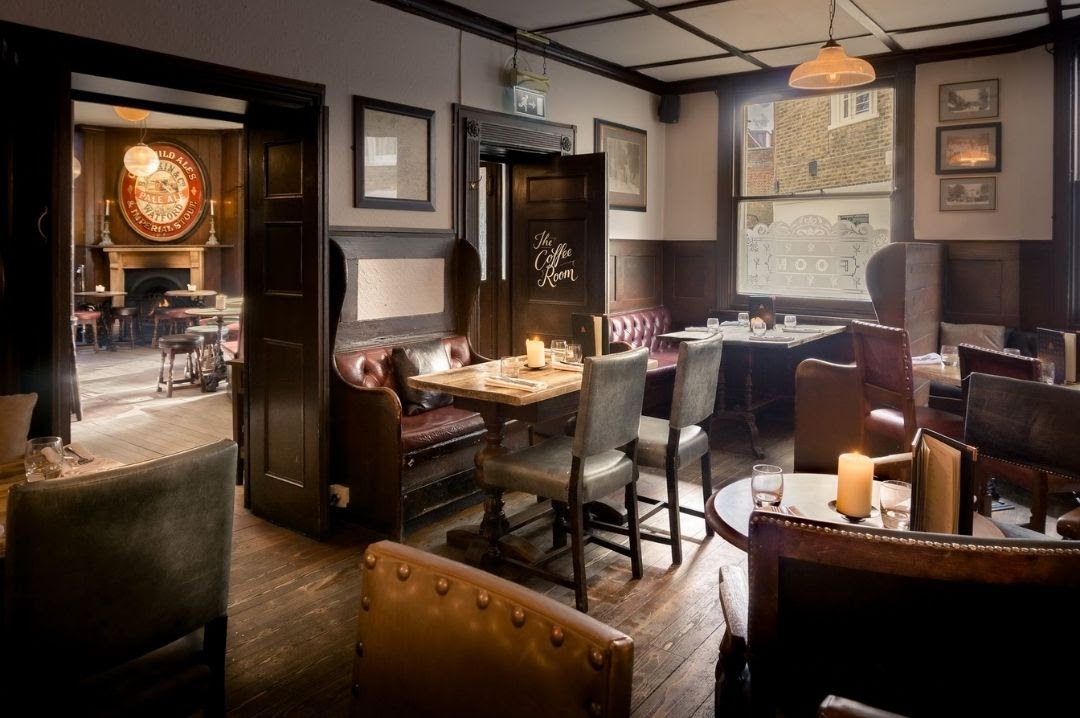 The Holly Bush in Hampstead, Source: Website
Nestled in the quaint district of Hampstead, The Holly Bush qualifies as one of London's best fireplace bars with its century-old heritage and cosy interior. The simple yet sophisticated decor is exalted with plush chairs and sofas enveloped in the warmth of the chimney.
Cellar wines, renowned spirits from all over the world, craft lagers, pilsners, and guest ales keep the bar counter overflowing with joy while you keep up with nibbles, starters, sides, and main course dishes like the grilled octopus, aged parmesan gnocchi, and autumn leaf salad.
The apple and pear crumble with coconut ice cream, lemon meringue tart, and sticky toffee pudding will take care of those with a sweet tooth.
All in all, the residential community of Hampstead keeps gastro pubs and restaurants in the area on their toes with this one being nailed down in history.
Location - 22 Holly Mount, London NW3 6SG.
Timings - 12 pm to 11 pm (Monday to Saturday)
12 pm to 10.30 pm (Sunday)
Prince of Peckham in Peckham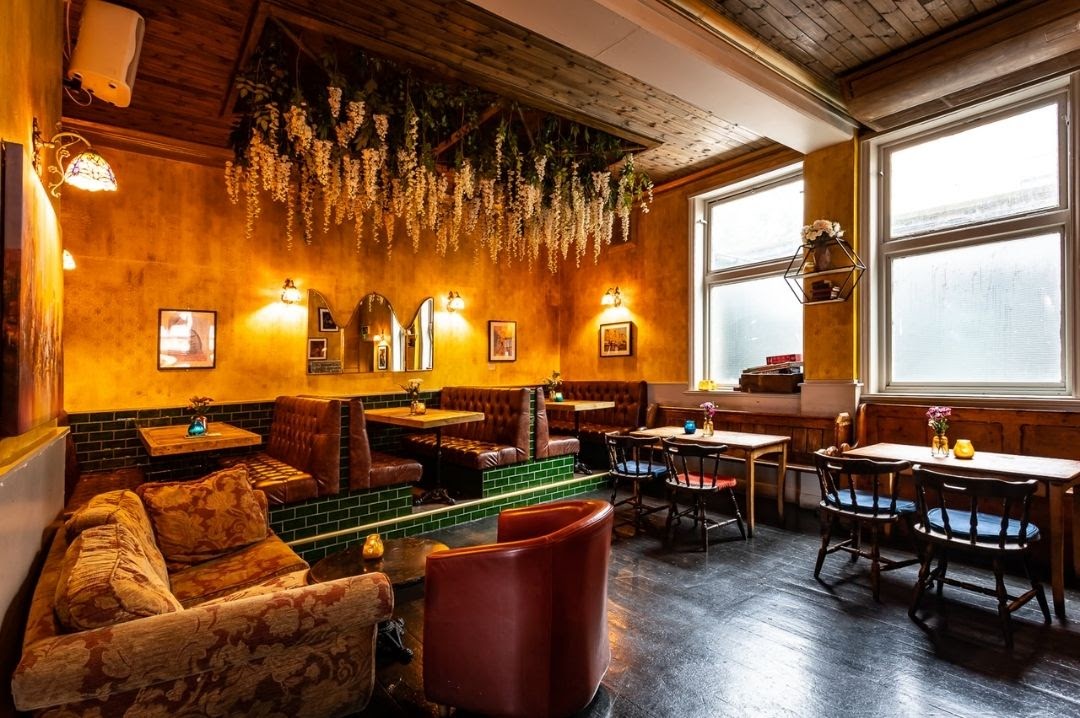 Prince of Peckham in South London, Source: Facebook
Boasting a long and distinguished drinking history, Peckham made its name in the city with an insurmountable amount and variety of beers that flow in traditional pubs, hotel bars, and restaurants.
From having a separate menu for each day of the week to hosting small ceremonies and receptions, Prince of Peckham will welcome you to the invigorating district in South London. The classic British pub has a variety of draft beers, cider, spirits, and cocktails that are served in a rustic-chic environment making noise with the patrons gathered for a pint over football.
The jerk chicken and halloumi buns tee up spectacularly with The Burna Boy cocktail made with chilli infused tequila, lime juice, and agave. But if you are planning to go classic, the Lazy Old Fashioned, Peckham Negroni, and Whiskey Sour will bring delight to your cocktail sensations.
We recommend the drinks package that comes with a bottle of a premium spirit and two jugs of mixers (lemonade/coke/ginger beer/tonic water) for when you are looking to break the regular round sequence with your mates.
Happy hours - 6 pm to 8 pm (Monday to Friday)
Location - 1 Clayton Rd, London SE15 5JA.
Timings - 4 pm to 12.30 am (Monday)
12 pm to 12.30 am (Tuesday, Wednesday, Thursday, and Sunday)
12 pm to 2.30 am (Friday to Saturday)
The Whiskey Tumbler in Brixton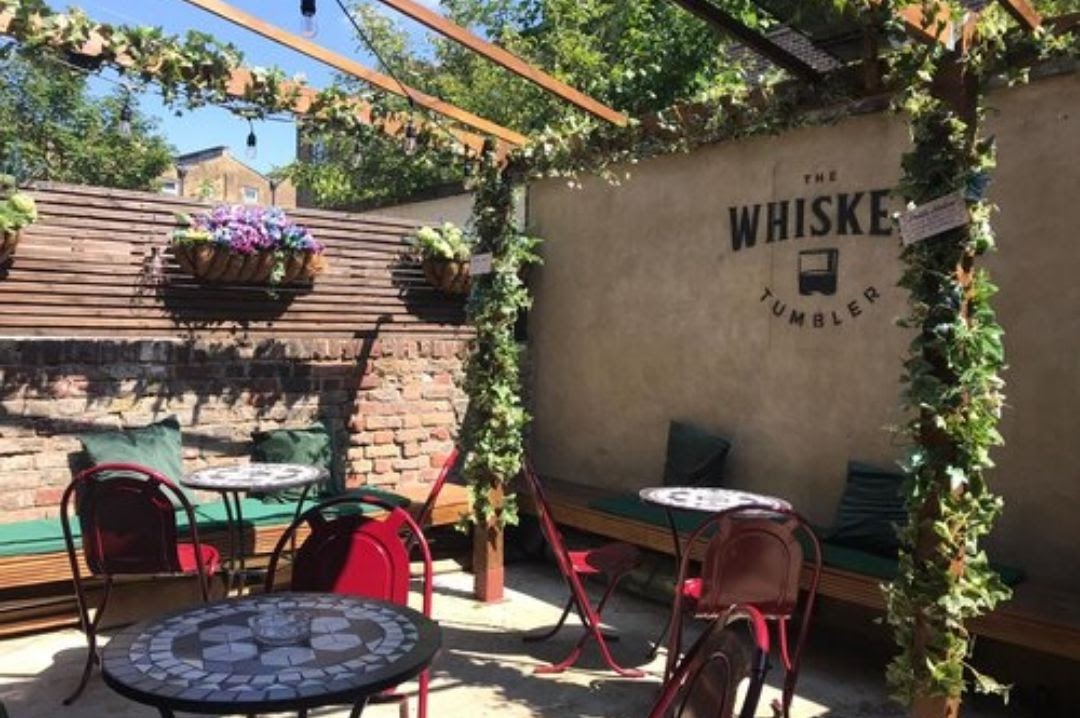 The Whiskey Tumbler in Brixton, Source: Website
Located in the heart of Brixton, The Whiskey Tumbler merges Irish surroundings with a modern cocktail bar and over 70 whiskies from all over the world in their drinks armoury.
Whether it is just a casual night out with your buddies or a laid back meal with your family, The Whiskey Tumbler will attend to all your impulses with draught beers, Guinness pints, bottled ciders, and delicious bites while reggae, hip-hop, and indie rock music sets the acoustic beats in play.
The Whiskey Tumbler, Discarded Banana Daiquiri, French Fizz, Seven Drunken Berries, Paddy Express, and Four Zero One make up their signature cocktail list curated with a lot of boozy inclusions. For something light and refreshing, turn to their Spritz & Boilermakers menu that includes the likes of Cucumber & Mint, Brixton, Black Velvet, and more.
There is always something for everyone in Brixton, may it be multicultural street markets displaying food and goods from Africa and the Caribbean or the customary pubs open till late at night.
Location - 401 Coldharbour Ln, London SW9 8LQ.
Timings - 5 pm to 12 am (Monday to Thursday)
5 pm to 12.30 am (Friday)
3 pm to 12.30 am (Saturday)
3 pm to 3 am (Sunday)
Header image - Tequila Mockingbird, Source: Website
Royal Horticultural Halls, London, The Lindley Hall, 80 Vincent Square, London SW1P 2PB, United Kingdom, United Kingdom
Register Now
Royal Horticultural Halls, London, The Lindley Hall, 80 Vincent Square, London SW1P 2PB, United Kingdom
Register Now